Most Shared
After sidestepping questions about past work with Allen, the 'Lady Bird' director makes her position clear.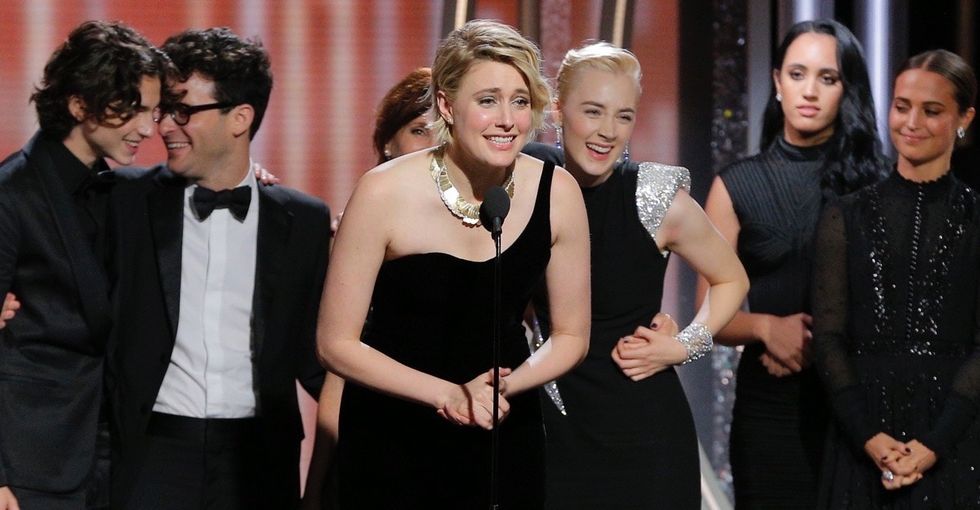 Greta Gerwig and her film "Lady Bird" had a big night the Golden Globe Awards.
The film landed the award for Best Motion Picture (Musical or Comedy), and star Saoirse Ronan nabbed that category's Best Actress designation. Though Gerwig, who wrote and directed the film, was snubbed when it came to Best Director honors — somehow, she wasn't even nominated — it was a great night for her work.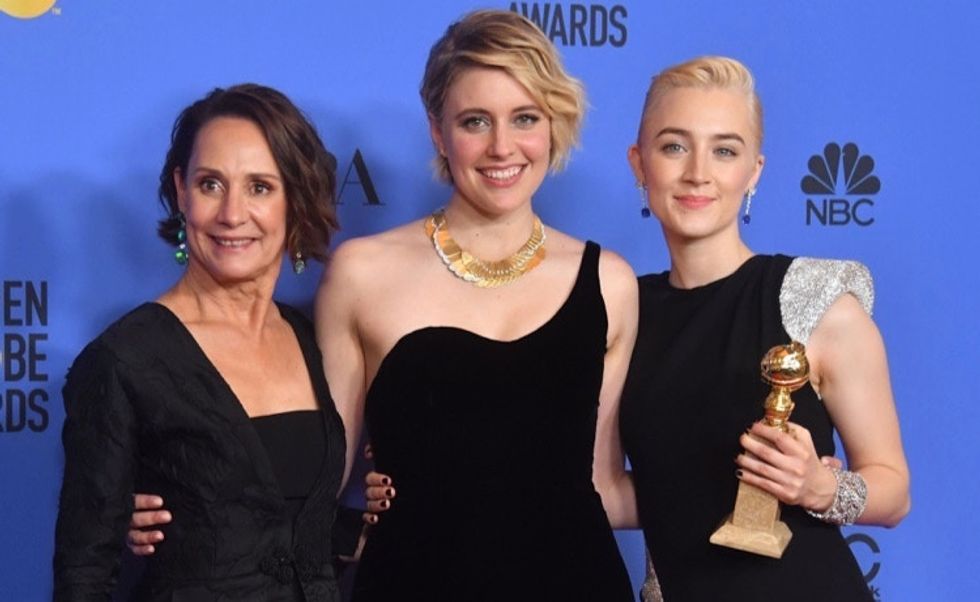 Gerwig, flanked by "Lady Bird" stars Laurie Metcalf (L) and Saoirse Ronan (R) take photos after winning the award for Best Motion Picture, Musical or Comedy, during the 2018 Golden Globe Awards. Photo by Frederick J. Brown/AFP/Getty Images.
---
Like many in Hollywood, Gerwig wore black to the awards in solidarity with others pushing back on sexual harassment and assault in the entertainment industry — which made one of the post-awards questions she received a bit awkward.
Backstage at the awards, BuzzFeed reporter Susan Cheng asked Gerwig a question about her past decision to work with Woody Allen, who has been accused of molesting his adoptive daughter Dylan Farrow when she was just 7 years old. Gerwig and Allen both worked on 2012's "To Rome With Love." Her answer to Cheng's question left a lot to be desired.
"It's something that I have thought deeply about, and I care deeply about ... and I haven't had the opportunity to have an in-depth discussion where I come down on one side or the other, but it's something that I've definitely taken to heart," she told Cheng.
How Greta Gerwig feels about previously working with Woody Allen https://t.co/4tmrNMdHiL

— Variety (@Variety)1515428763.0
It echoed a similar response she delivered in a November interview with NPR's Terry Gross, in which she deflected a bit from the question at hand.
Before the show, Farrow wondered why Time's Up and the #MeToo movement had spared her father.
"I thought it would make a difference," she wrote, referring to a 2014 post detailing the abuse Allen had inflicted on her. "I thought things would change. I learned quickly (and painfully) that my optimism was misplaced. His time wasn't up."
I thought it would make a difference. I thought things would change. I learned quickly (and painfully) that my opti… https://t.co/bMbvrFHtJJ

— Dylan Farrow (@Dylan Farrow)1515336304.0
But I have to wonder - is time really up now? Is this really the turning point? I have no doubt it can be. I have n… https://t.co/zvsEYvjfWR

— Dylan Farrow (@Dylan Farrow)1515336375.0
I will be watching tonight with a very different feeling than I had at this time four years ago. I will watch with… https://t.co/TUavsV267W

— Dylan Farrow (@Dylan Farrow)1515336471.0
"The people who join this movement without taking any kind of personal accountability for the ways in which their own words and decisions have helped to perpetuate the culture they are fighting against, that's hard for me to reconcile," she told BuzzFeed, a nod to many of the actors who've continued to work alongside her father.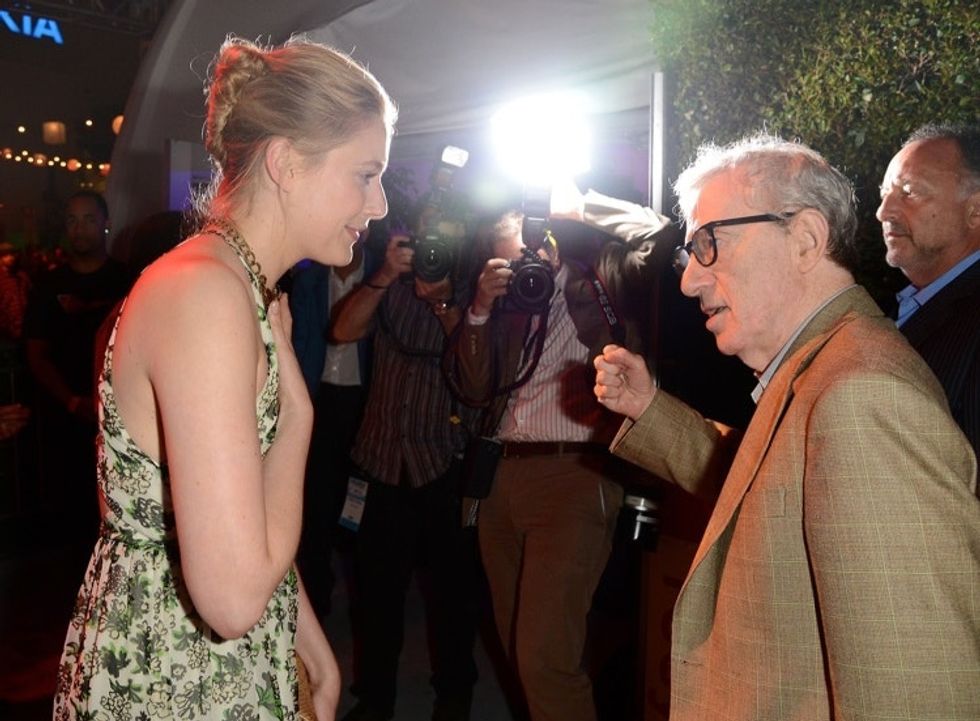 Gerwig and Allen at the 2012 premiere of "To Rome With Love." Photo by Jason Merritt/Getty Images.
On Jan. 9, Gerwig finally addressed the issue head-on in an interview with The New York Times, acknowledging the cognitive dissonance involved in some of her past statements.
Asked whether people who've been outed as sexual predators — such as Allen, Kevin Spacey, and Roman Polanski — should ever work again, Gerwig seized the opportunity to issue a firm, unambiguous statement on her personal employment history with Allen.
"I would like to speak specifically to the Woody Allen question, which I have been asked about a couple of times recently, as I worked for him on a film that came out in 2012. It is something that I take very seriously and have been thinking deeply about, and it has taken me time to gather my thoughts and say what I mean to say. I can only speak for myself and what I've come to is this: If I had known then what I know now, I would not have acted in the film. I have not worked for him again, and I will not work for him again. Dylan Farrow's two different pieces made me realize that I increased another woman's pain, and I was heartbroken by that realization. I grew up on his movies, and they have informed me as an artist, and I cannot change that fact now, but I can make different decisions moving forward."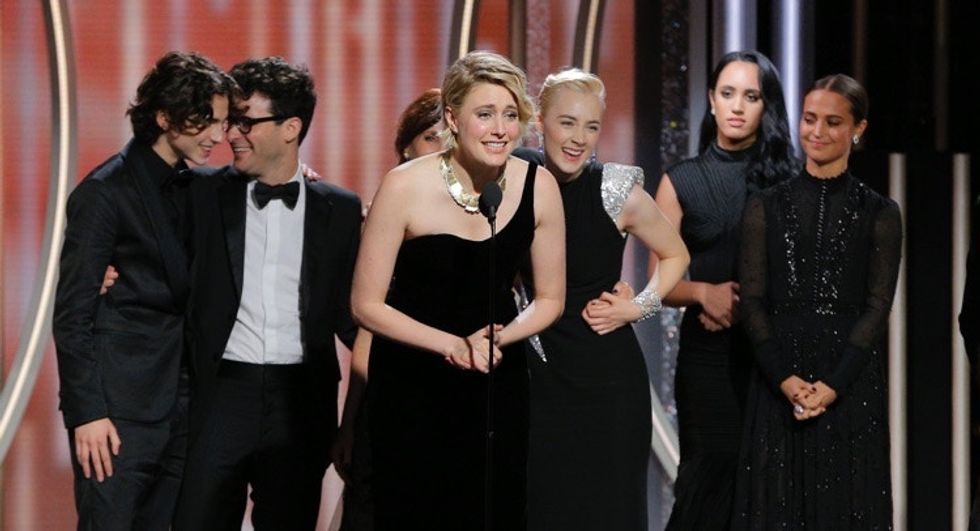 Gerwig speaks on stage after winning Best Picture, Comedy or Musical, at the Golden Globe Awards. Photo by Paul Drinkwater/NBCUniversal via Getty Images.
Compared to what usually passes for a statement of clarification or apology in the entertainment industry, this was really, really good. A lot has changed in the world since 2012, and even since November 2017, and it's fair to say that Gerwig has grown a lot in the years after "To Rome With Love" came out. She can't change her decision to work with Allen in the past, but she can commit to using what she now knows to inform what she does in the future.