popular
Harry Styles stopped his concert to answer a fan's dating question and it was simply great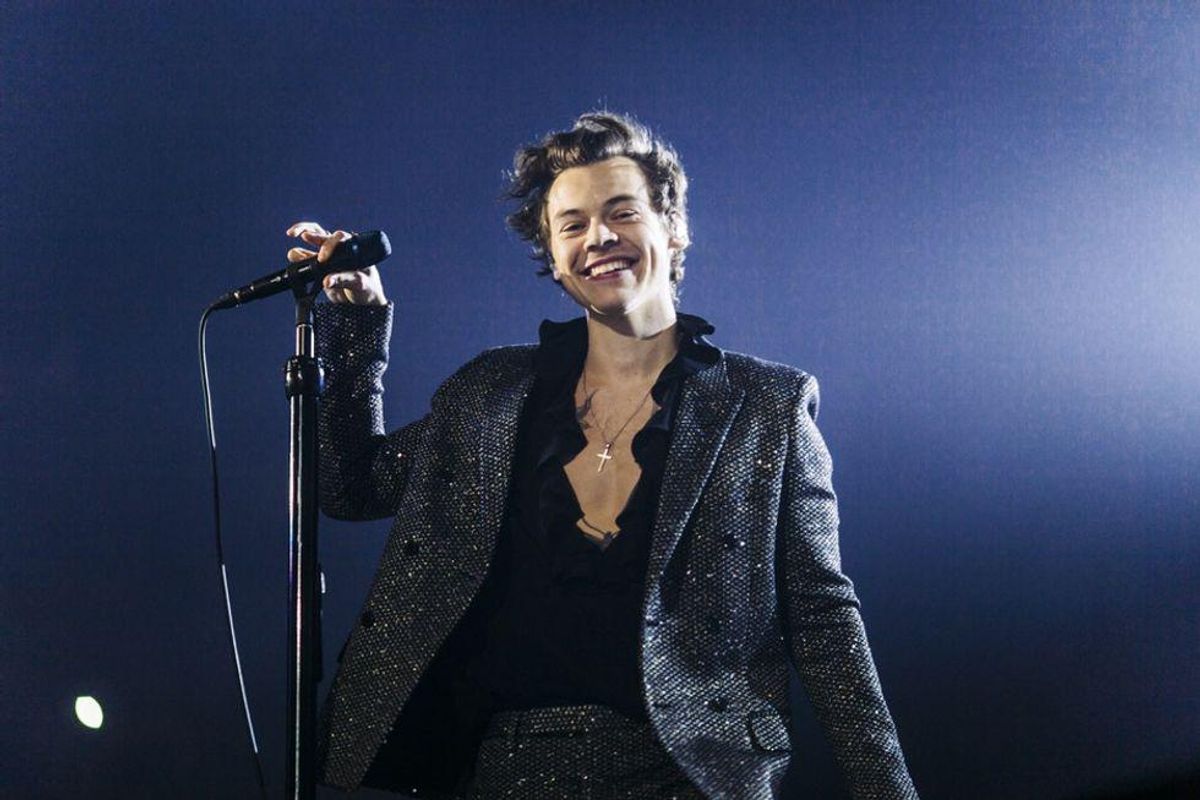 No stranger to being an advocate for treating people with kindness, gentleman heartthrob Harry Styles gave some straightforward dating advice mid-concert that left female fans feeling empowered.
During his Love On Tour stop in Detroit, Styles found a fan holding a sign that read, "Should I text him?" which received boos among the crowd. However, in typical Harry fashion, his reply was simply, "is he nice to you?"
You can watch the full video here:
---
"should i text him?" TRASH TRASH TRASH!! @Harry_Styles https://t.co/B2cvfzzAKW

— 𝚡𝚘𝚡𝚘, 𝚊𝚕𝚣. ♡︎ (@𝚡𝚘𝚡𝚘, 𝚊𝚕𝚣. ♡︎) 1632370280.0
He concluded with, "My personal opinion is that if there's any sort of games, trash, trash, trash, not for you," a piece of advice that resulted in raucous applause and a flood of tweets from fans.
This is more than your run-of-the-mill fan-girling. There's plenty of evidence out there that shows Harry Styles has been a champion for feminism in a way that few men have succeeded. And that goes far beyond his fashion choices.

Take for instance in 2014 when he joined the #HeForShe movement in supporting gender equality.
I'm supporting @UN_Women and @EmWatson in #HeForShe As should you.. http://t.co/RYtM4SKkqN

— Harry Styles. (@Harry Styles.) 1411659942.0
Or in 2017, when he wore T-shirt that bearing the slogan "Women are smarter."
Or my personal favorite, in 2017 when Harry had his Rolling Stones interview, and was quick to defend his fanbase.
"Young girls like the Beatles. You gonna tell me they're not serious? How can you say young girls don't get it? They're our future. Our future doctors, lawyers, mothers, presidents, they kind of keep the world going. Teenage-girl fans—they don't lie. If they like you, they're there. They don't act 'too cool.' They like you, and they tell you. Which is sick."
It's no wonder why some dub him the "Feminist Prince." And with his special brand of sincerity and charm that encourages women to step into their own power...long may he reign.