popular
Delta Airlines has been adding people to the no-fly list for refusing to wear masks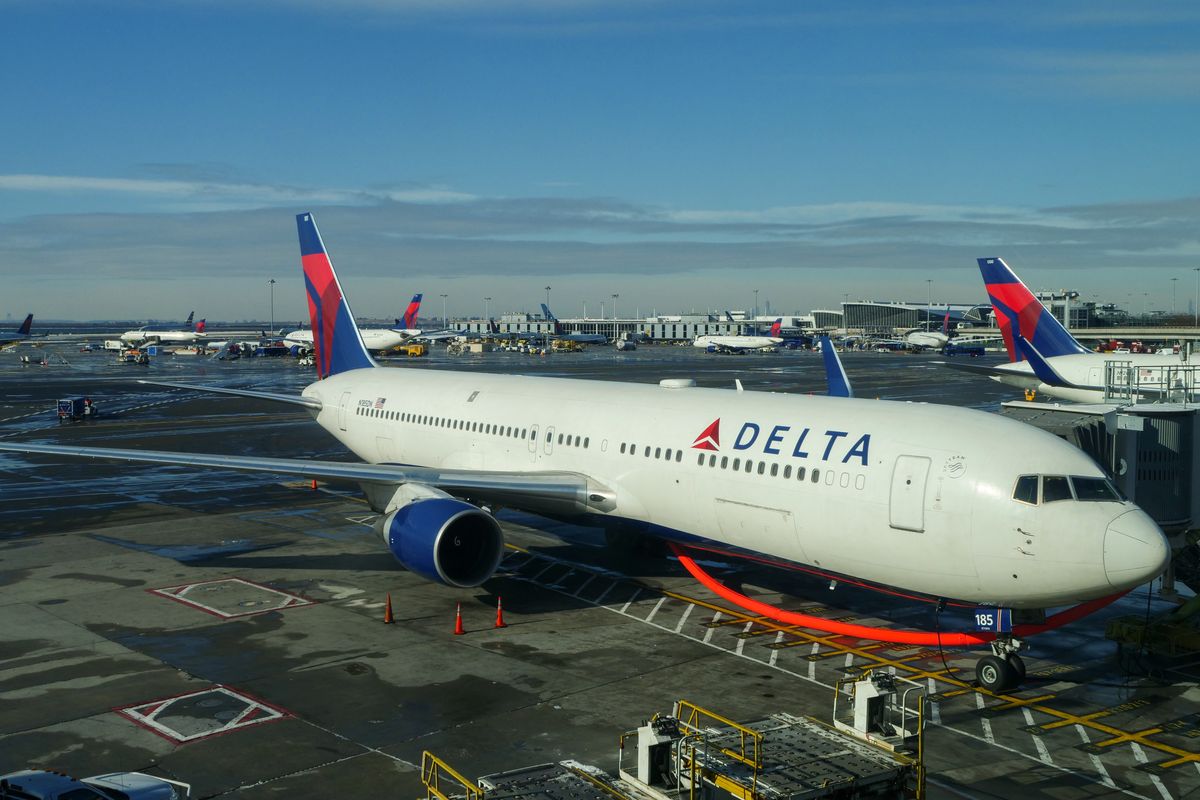 Want to land yourself on a no-fly list? Refuse to wear a mask on an airplane. Delta is actually having to ban people from flights for not wearing masks. "As of this week, we've added 460 people to our no-fly list for refusing to comply with our mask requirement," Delta CEO Ed Bastian said in a message to employees per CNN. The number is up from 270 people in August. It's kinda nuts that people are so against covering their nose and mouth that they're actually willing to get kicked off an airline, but here we are.
We're a good seven months in to the pandemic, so having to wear some kind of protective covering isn't new anymore. Delta flights have been requiring face masks on flights since May 4th, and has been barring rule breakers from traveling since June. Delta is also one of two major U.S. airlines that keeps the middle seat open (at least until the end of 2020).
---
The memo also described a couple of the incidents that have led to passenger bans. Like the time someone delayed a flight from Detroit to Las Vegas for 90 full minutes because they wouldn't put on a mask. Or the time when a flight from Detroit to Atlanta had to return back to the gate because two customers who refused to wear masks got into it while the plane was taxiing. Is not wearing a mask really worth being the jerk who literally turns the flight around? And why do people still think they can get away with not wearing a mask, especially since the rule has been in place for almost half a year?
All major airlines now require face coverings to fly, and they've been banning passengers for not complying since June. However, airlines don't share their no-fly lists with each other, so someone can theoretically get kicked off of a Delta flight, then turn around and fly on American. Or United. Or whatever airline is cool with letting your runny nose go commando-slash-putting other passengers at risk.
Wearing a face covering while flying protects you, protects others, and makes other people feel comfortable. At the bare minimum, that flash of fabric can put otherwise nervous flyers at ease. On top of that, the CDC says it's a good idea. Earlier this month, the CDC updated their guidelines on the virus, acknowledging that COVID, like airplanes, can travel through air. According to the CDC, travel, "increases your chances of getting and spreading" coronavirus. "CDC strongly recommends appropriate masks be worn by all passengers and by all personnel operating the conveyance while on public conveyances," the CDC says, per CNN.
Yes, face masks can be uncomfortable, and yes, sitting on a five-hour flight with fabric scratching at your upper lip is nobody's idea of a good time. However, wearing a face mask is the least that's being asked of us during the pandemic, and the temporary discomfort of a face mask is nowhere near the discomfort of COVID.