Culture
Man pulls off elaborate scheme involving body double to get his overweight cat on an airplane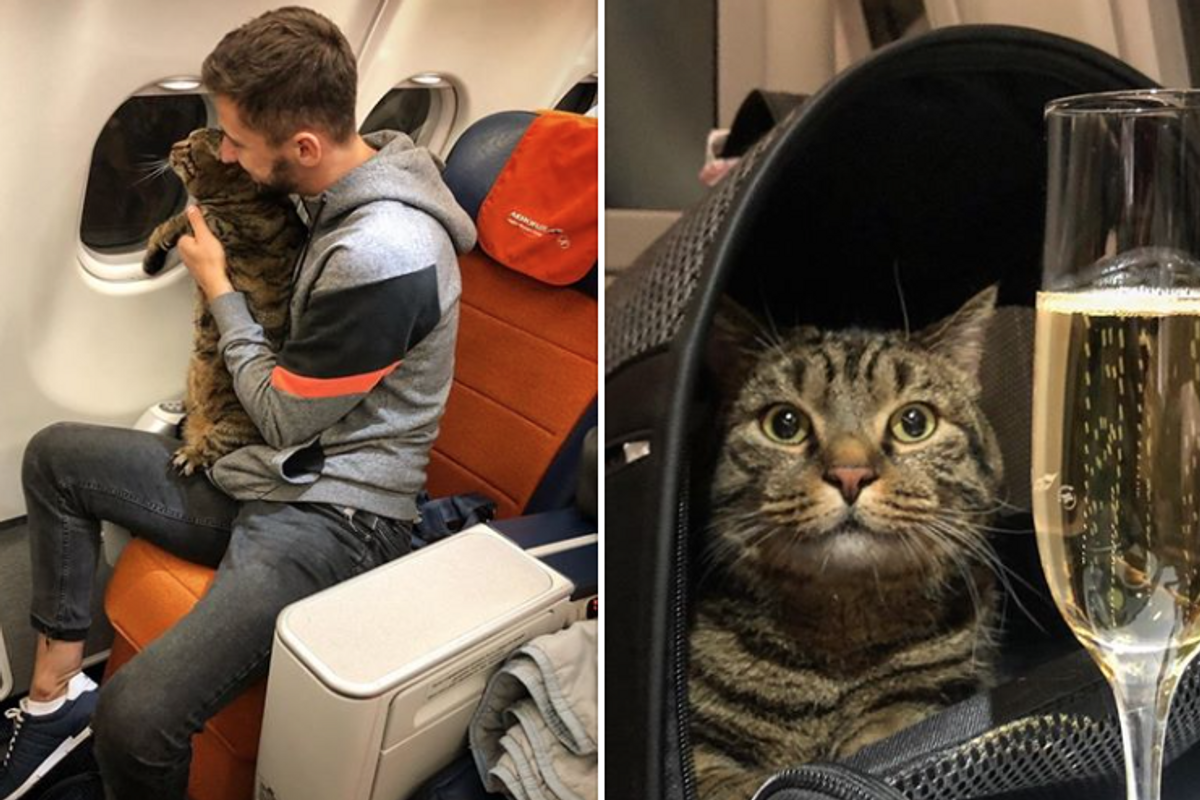 Facebook / Mikhail Galin
Putting your pet in cargo during a flight isn't always safe. In 2016, the Department of Transportation reported a total of 26 pet deaths and 22 injuries on flights. Because conditions in cargo can be uncomfortable for animals, the Humane Society recommends taking your pet aboard when you fly, or just leaving it at home.
It's not surprising that one Russian man didn't want to put his overweight cat in cargo during an eight-hour flight from Moscow to Vladivostok. What is surprising is the great lengths he took to fly with his four-legged friend.
Russian airline Aeroflot allows pets to fly inside the plane's cabin, as long as the cat weighs under 17.6 pounds and stays in its carrier during the flight. When Mikhail Galin went to check in, he was told he couldn't fly with his four-year old cat, Viktor. Viktor weighed in at 22 pounds and would have to be relegated to cargo.
But Viktor was sick from their earlier flight from Riga, Latvia to Moscow. And besides, Viktor had been allowed to fly inside the cabin during that flight. The airline staff didn't even bother to make Viktor sit on the scales. Galin was unable to persuade staff to bring his fur baby on board.
"To all attempts to explain that the cat won't survive there on an 8-hour flight with the baggage and would haunt her in her nightmares for the rest of her life, she (the Aeroflot staff member) replied that there are rules," Galin wrote in a Facebook post translated from Russian.
---
Galin hatched a plan that's like something out of a low-stakes heist movie. Cue the intense plotting music.
Galin skipped the flight, instead opting to book two business class seats on a flight two days after his original flight. "Next, a strategic decision was made to find a similar cat of less physical mass," he wrote on Facebook.
He asked friends for help via Facebook post, and found a body double for Viktor, a svelte miniature cat named Phoebe, or a "mini-Viktor," if you will.
"After spending another night in the capital, we went to the airport with a cat, a cat double and his owners," Galin wrote on Facebook. "The operation to replace the fat cat Viktor with a miniature cat Phoebe was successful -- the scales showed an acceptable norm, and the airline employee kindly issued a boarding pass wishing a happy flight."

Galin would have gotten away with it if he didn't brag about the switcheroo on social media. Galin posted a photo of the rotund Viktor in the plane outside of his cat carrier on Instagram and Facebook. The caption detailed his master plan.
After the post went viral, Aeroflot launched an investigation. They found "several instances of deliberate violation" of their policies. "This information was confirmed by recording from video surveillance cameras -- during the pre-flight inspection procedure, the passenger took out a large-sized cat that looks like a photograph of the cat he posted," Aeroflot said in a statement.

Galin has been stripped of his frequent flyer miles as a result of the caper (370,000 to be exact), and was booted from the airline's loyalty program. Galin accepts his fate. "I did break their rules," Galin told the Washington Post. "Because of that, their internal program decided to hand down a punishment, and I can only agree with it."
Twitter users rallied in support of Viktor.
"I don't think the Kremlin can or should comment on a situation regarding a cat," Putin's spokesman Peskov was quoted by RIA.

— Leonid Ragozin (@Leonid Ragozin) 1573652754.0
Shame on you @aeroflot! Viktor belongs in business class. https://t.co/8wFuaDdThT

— Rita Panahi (@Rita Panahi) 1573700801.0
This man is a genius and a hero. Also how can anyone not love Viktor the #FatCat? #chonker https://t.co/Kxe1qJZqY4

— Ellen Lind (@Ellen Lind) 1573654090.0
@fsmikey Can't believe airlines are still body shaming cats like Viktor with these unreasonable weight limits

— Liz Kilmer (@Liz Kilmer) 1573652766.0
"Photos showed Viktor standing on Galin's lap, gazing out the window, as his owner sipped champagne." LET CHONKY… https://t.co/BzmEuG3uj2

— Caroline McCarthy (@Caroline McCarthy) 1573652317.0
Christ, cat Viktor the fattie now used as a 10 kilo weight in hockey training. Make it stop! https://t.co/mgM02gptce

— Maria Antonova (@Maria Antonova) 1573756143.0
And as for Viktor… a follow up post from Galin said he is now eating special diet food.