Culture
American Airlines has apologized for demanding a black woman 'cover up' for wearing a romper.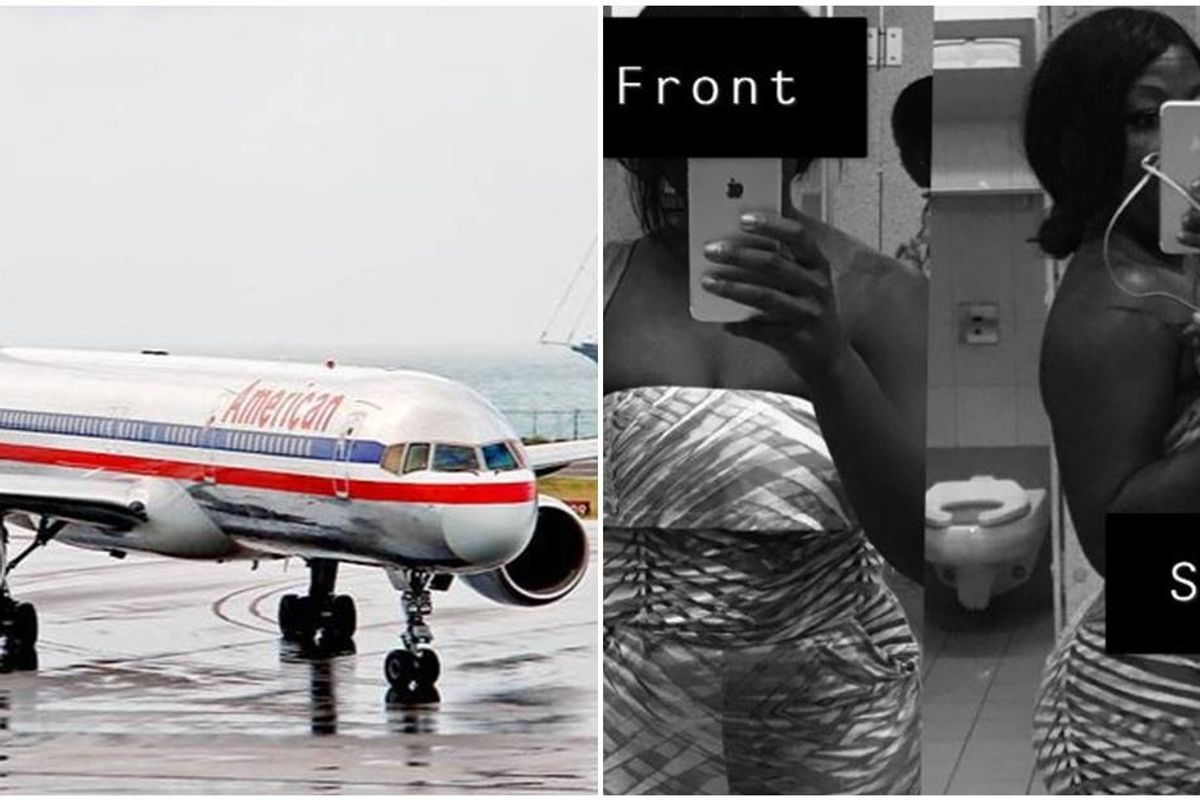 There have been dozens of stories that have gone viral over the past few years about black people being harassed for going about their everyday lives.
There was the black family who had the cops called on them for having a barbecue, the little girl who was harassed for selling bottled water on the street, and recently the metro worker who's job was threatened for eating on the train.
Now, American Airlines has apologized for humiliating a black doctor for wearing vacation attire on a flight home from Jamaica.
---
Tisha Rowe, who practices family medicine in Houston, had boarded a flight home from Kingston with her son, Chase, when she was asked to deplane and have a talk with a flight attendant.

During the talk, Rowe was asked if she had a jacket to cover up the sleeveless romper she wore to the airport. When Rowe said she did not, the flight attendant said the only way she would be allowed back on the plane was by covering up with a blanket.
"I felt powerless," she told Buzzfeed News. "There was nothing I could do in that moment other than give up my money and my seat to defend my position that I was completely appropriate."

When she returned home, Rowe posted this photo to Twitter that showed she wasn't dressed inappropriate, especially returning from a tropical island. The tweet quickly went viral, earning over 10,000 likes and capturing the attention of American Airlines.
She also recounted the incident on Facebook, where she made an important point about how black women's bodies are unfairly policed. "We are policed for being black," she wrote.
"Our bodies are over sexualized as women and we must ADJUST to make everyone around us comfortable," she wrote. "I've seen white women with much shorter shorts board a plane without a blink of an eye. I guess if it's a 'nice ass' vs a Serena Booty it's okay."
Rowe also pointed out an article from Elle magazine where white women white were called fashionable for wearing similar airport attire.
Rowe's tweet won her a lot of support on Twitter from people who clearly saw her as the victim of a racial double-standard.
I'm really sad this happened to you @tisharowemd. You are not dressed inappropriately at all. It's not your clothes, it's your curves. Shame on @AmericanAir.
— Jasmine R Marcelin, MD (@DrJRMarcelin) July 1, 2019
I've seen white dudes get on planes in flip-flips, swim trunks and sleeveless tees. This is utter bs.
— Resister In The Rain (@meerkatrodeo) July 1, 2019
I bet if it were a skinny white girl in a miniskirt it would have been fine.
— Natasha Millikan (@usmousie) July 1, 2019
There is absolutely nothing wrong with this outfit. That flight attendant was jealous because she'd never look this good in a Romper!
— Gina Brown (@mzgee41) July 9, 2019
Another physician here demanding you apologize for the way you hypersexualized and policed an African American woman's body and traumatized her son. #womenarenotyourproperty
— Elizabeth DeLuca, MD (@LizFromMedicine) July 2, 2019
It was not about how much flesh was shown, but whose flesh was shown.

I would also like to see a video of Americans at a hot location boarding. Many would be dressing similarly. I would like to see if they stop every third person.
— Natasha Millikan (@usmousie) July 1, 2019
You look great! Fun vacay outfit. I'm sure if my skinny little white butt had that on nothing would've been said. The absolute constant shaming of women's bodies, especially women of color is completely unacceptable. Power, peace, and ❤️ to you and your son, Dr Rowe!
— Tara TRex 🦖♥️🦖 (@tarassexton) July 1, 2019
After the incident went viral, American Airlines reached out to apologize to Rowe.

"We were concerned about Dr. Rowe's comments, and reached out to her and our team at the Kingston airport to gather more information about what occurred," American Airlines spokesperson Shannon Gilson said in a statement.
"We apologize to Dr. Rowe and her son for their experience, and have fully refunded their travel," she added. "We are proud to serve customers of all backgrounds and are committed to providing a positive, safe travel experience for everyone who flies with us."
Rowe responded by saying she appreciates the support received and American Airlines' accountability. "Chase is too young to appreciate what is happening but on behalf of our tiny family the outpouring of love, the support, the demand for ACCOUNTABILITY is greatly appreciated," she said, according to Fox News. "Thank You."