Culture
Blood center goes on rant in defense of its 'racist' request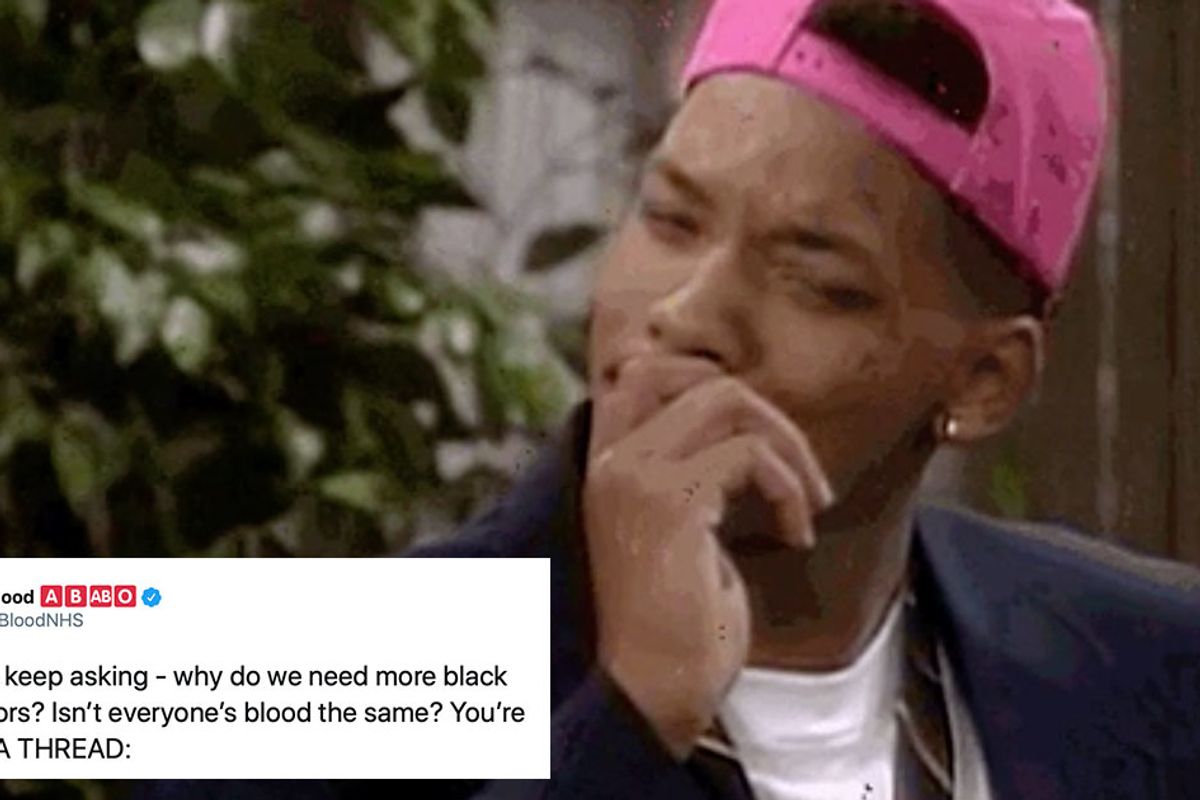 If a blood donation organization asks for more donations from black people, does that make them racist?
[rebelmouse-image 19474546 dam="1" original_size="500x399" caption="GIF from "The Fresh Prince of Bel-Air."" expand=1]GIF from "The Fresh Prince of Bel-Air."
No, no it does not. But it's an argument the folks at NHS' Give Blood in the U.K. have heard one too many times.
---
In a hilarious, GIF-ridden, informative tweet thread that's since gone viral, Give Blood addressed the often-asked question.
"Do black people have 'special' blood? Are we being racist?" the center asked. "Let's break it down."
First things first: While blood basically operates the same in every body, that doesn't mean it is the same in every body.
"Everyone's blood IS NOT the same," they tweeted. "So you can stop calling us racist."
In fact, there are more than 30 different types of blood.
Blood can also be positive or negative.
And O-negative blood is super special because anyone can use it.
Second, depending on a person's race or ethnicity, they're more or less likely to have certain types of blood.
Here's where all of that starts coming together.
There's a "rare subgroup" of blood that is 10 times more likely to be found in black donors than white donors.
Sickle cell anemia, a genetic condition far more common in black people, is really serious stuff.
Red blood cells are supposed to be round and flexible. But in sickle cell patients, those cells become rigid and sticky. This can block or slow the flow of oxygen to various parts of the body, as the Mayo Clinic explained.
Many people with the condition rely on blood transfusions to stay healthy. But if their blood transfusions aren't good matches, the body can build up a resistance to those transfusions, Give Blood noted in its thread.
Thus, many blood centers aren't being racist when they ask for more black blood donors — they're really just in need of more Ro blood donors.
"Why, you may ask, don't we just say we need Ro blood then?"
Most people don't know they have Ro blood until they come in to donate.
Most potential donors have no idea if they have Ro blood. But they likely do know what race or ethnicity they are.
Yes, blood centers need more donors of all races and ethnicities. But it makes perfect sense that some centers — particularly in the U.K., where just 1% of donors are black — would try to solicit certain donors.
So, what are you waiting for?
It's ridiculously easy to find a blood donation center near you. (Psst, it'll usually come with a free snack too.)
Help save a life and get some free food? A total win/win.
This article was originally published on November 9, 2017.