Identity
Half of the head coaches in the NBA are now Black
More great progress in the world of sports.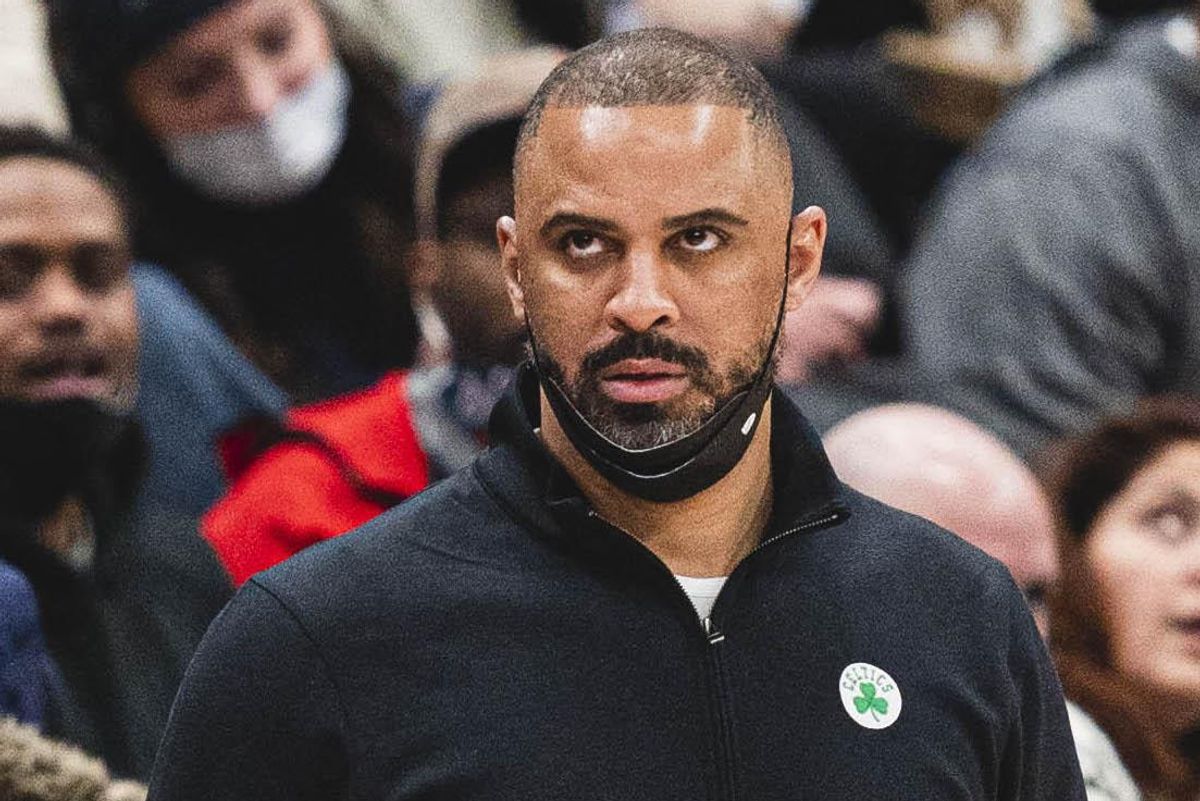 It's been almost 60 years since Bill Russell became the first Black head coach in the NBA. In the years since, there have been 260 regular coaches that have come and gone, and only 1 in 3 have been Black. Most of them haven't lasted more than three years in their first job—they also haven't gotten a chance to have another head coaching position. But the times they are a-changin'. Currently, 15 of the 30 head coaches in the NBA are Black. And it's about time.
Boston's Ime Udoka, Sacramento's Mike Brown, Portland's Chauncey Billups, Dallas' Jason Kidd, Orlando's Jamahl Mosley, Washington's Wes Unseld Jr., New Orleans' Willie Green and Los Angeles' Darvin Ham are the eight newest full-time head coaches in the NBA. They join Detroit's Dwane Casey, Phoenix's Monty Williams, Cleveland's J.B. Bickerstaff, Philadelphia's Doc Rivers, the Los Angeles Clippers' Tyronn Lue, Houston's Stephen Silas and Atlanta's Nate McMillan, who were all head coaches last year.
"It means a lot," Brown, who will take over as head coach in Sacramento next season after finishing the current season as the assistant coach for Golden State, said.
---
"When my son, and my oldest son's about to have his first son, when they turn on the TV and they see people that look like them leading an NBA team on the sidelines, it can be inspiring. For me, carrying the torch and then passing it to the next generation is something that I think about often — not just for my family, but for others out there."
The last time there were this many Black head coaches in the NBA was the 2012-13 season. There has been no explanation as to why it took almost 10 years to get back to that number, but there are some theories.
"This is not a sports issue," Nate McMillan, the head coach for the Atlanta Hawks said back in February. "It's a society issue that the opportunities sometimes certain people, they don't get the opportunities because of the color of their skin."
He also gave credit to Dallas Mavericks owner Mark Cuban for making sure the organization has not only a Black head coach (Jason Kidd) but other Black people in the room. Aside from Kidd, there are three prominent Black people in the organization: Cynt Marshall (chief executive officer), Nico Harrison (general manager and president of basketball operations) and Michael Finley (assistant general manager and assistant vice-president of basketball operations). Marshall is the first Black female CEO in the history of the NBA.
"I think that's just what Mark has done is really open his mind to interviewing people and giving them an opportunity where they have the skills to fit into those positions. They've done well and I think that's great," said McMillan.
According to the site Statista, 73.2% of the players in the NBA are Black, and that's not including ones who identify as more than one race because it doesn't do an interracial breakdown. In a league where almost three-quarters of the players are Black, it only makes sense that the head coaching staff be reflective of what you're seeing on the court. Not just for optics, but for a general kind of understanding that may not exist otherwise.
While Steve Kerr is a great example of an white ally who "gets it," there are certain experiences that he just won't understand on anything other than a deep level of empathy. But a coach like McMillian or Ime Udoka, head coach of the Boston Celtics, will understand in a different way. When things happen in Black America, a Black coach is going to be able to do more than empathize—they will be able to sit in that space with their players.
"I don't understand what took so long, to be honest," Jaylen Brown, guard for the Celtics said in an AP article.
That's the real question here. Why did it take so long for half of the league's coaches to be Black? In February 2019, NBA Commissioner Adam Silver, Chief People and Inclusion Officer Oris Stuart and President of Social Responsibility and Player Programs Kathy Behrens met with Rick Carlisle, Indiana coach and president of the National Basketball Coaches Association. After that meeting, the NBA Coaches Equality Initiative was created to address the inequity.
"For many years qualified young coaches of color like Ime Udoka, Jamahl Mosley, Willie Green, Wes Unseld Jr., Darvin Ham and Stephen Silas, to name just a few, were not getting consistent opportunities to interview for NBA head coaching positions," Carlisle said. "The last two years changed everything. The league office has tirelessly made franchises more aware of the qualifications and journeys of these talented young coaches. This increased awareness has led to qualified coaches of all backgrounds having greater opportunity to interview and the numbers speak for themselves."
Commissioner Silver is aware of the inequity still facing the NBA. Many basketball organizations still don't have Black people in the front office. Legendary basketball player Michael Jordan is the only Black principal owner of a sport's franchise, the Charlotte Hornets. The Hornets currently have an open coaching spot, and hopefully it'll go to another Black coach.
For Mike Brown, "the dream" is to get to a point where 50% of head coaches being Black isn't something worth talking about. If the league keeps up its current hiring practices, maybe it could happen.