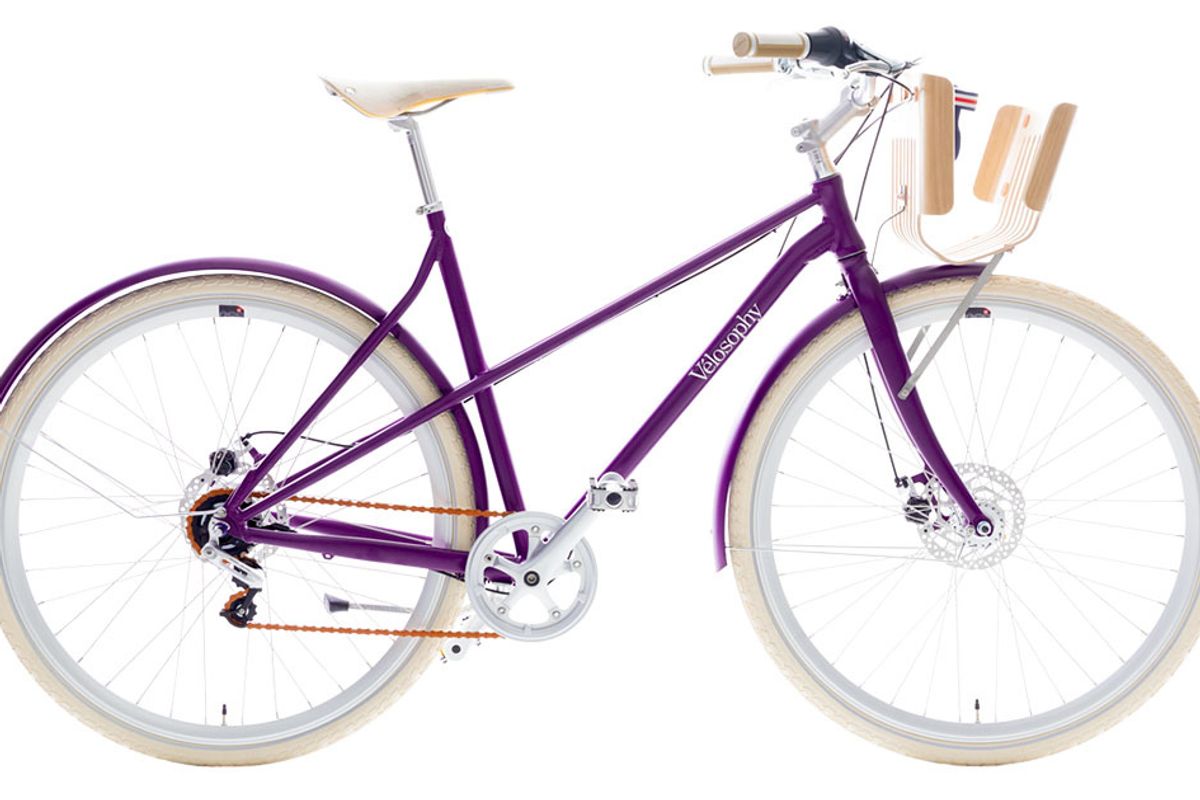 Vélosophy
Single-use coffee pods might make a good cup of joe, but they're detrimental to the environment.
"Coffee pods are one of the best examples of unnecessary single-use plastics that are polluting our planet," John Hocevar, the campaign director of Greenpeace USA, an environmental nonprofit organization, told USA Today. "Many end up getting incinerated, dumping poison into our air, water and our soil."
Currently, 29,000 single-use coffee pods are thrown awayeach minute. You have to ask yourself, is it worth filling up the landfills to satisfy your caffeine habit? While the aluminum capsules are recyclable, it's not as easy as tossing them in the bin. Instead, you typically have to take them a designated collection point created by the brand.
But Nespresso has taken it one step further by using its recycled pods to make a bicycle, illustrating the potential for repurposing the often thrown out by-product of its coffee.
---
The company partnered with Swedish lifestyle bike brand Vélosophy to create the design, dubbed RE:CYCLE, "a perfect balance of sustainability and style, designed to illustrate the potential of recyclable aluminum and motivate Nespresso fans to recycle their capsules," according to a press release.
The limited-edition RE:CYCLE is the brainchild of former Ikea communications manager and current entrepreneur,Jimmy Östholm, who founded Vélosophy. It retails for $1,446 on the Vélosophy website. Each bike is made out of 300 Nespresso pods, and yes, it has a cup holder. For each bicycle sold, Vélosophywill donate a bicycle to a girl in Ghana so she can get to school.
Östholmapproached Nespresso about acquiring recycled aluminum after being inspired by the company's recycling campaigns. Östholmsays it was a bit of a challenge to shape the lightweight aluminum into a sturdy and safe bicycle, but he soon figured it out. "I wanted to start a conversation about aluminum," Östholm told Fast Company. "I think many consumers are interested in knowing where their materials come from, but there is just less awareness about aluminum as, for example, plastic."
Because the material can be repurposed indefinitely, Nespresso encourages its customers to make sure they aren't single use products by recycling them. If they end up in the landfill, they'll take 150 years to decompose. But if you recycle them, you can have a full bicycle on your hands in a fraction of that time. As of right now, Wired estimates 25% of Nespresso pods are recycled.
This isn't the only time Nespresso pods have been turned into something other than a cup of coffee. They've been used to create Swiss Army knives, ballpoint pens, and even other Nespresso pods.
If you want to recycle your Nespresso pods and consume your coffee guilt-free, you can take your pods to one of the company's collection points. There are 122,000 locations across the world. Once turned over, they will be processed by a recycling plant where the aluminum from the pods will be separated from the coffee grounds. The coffee grounds are then turned into topsoil, compost, and even biogas.
And who knows? Maybe you'll be able to ride your former coffee pods to work one day.