Democracy
Panoramic 'tour' of Auschwitz helps us see the massiveness of the largest Nazi death camp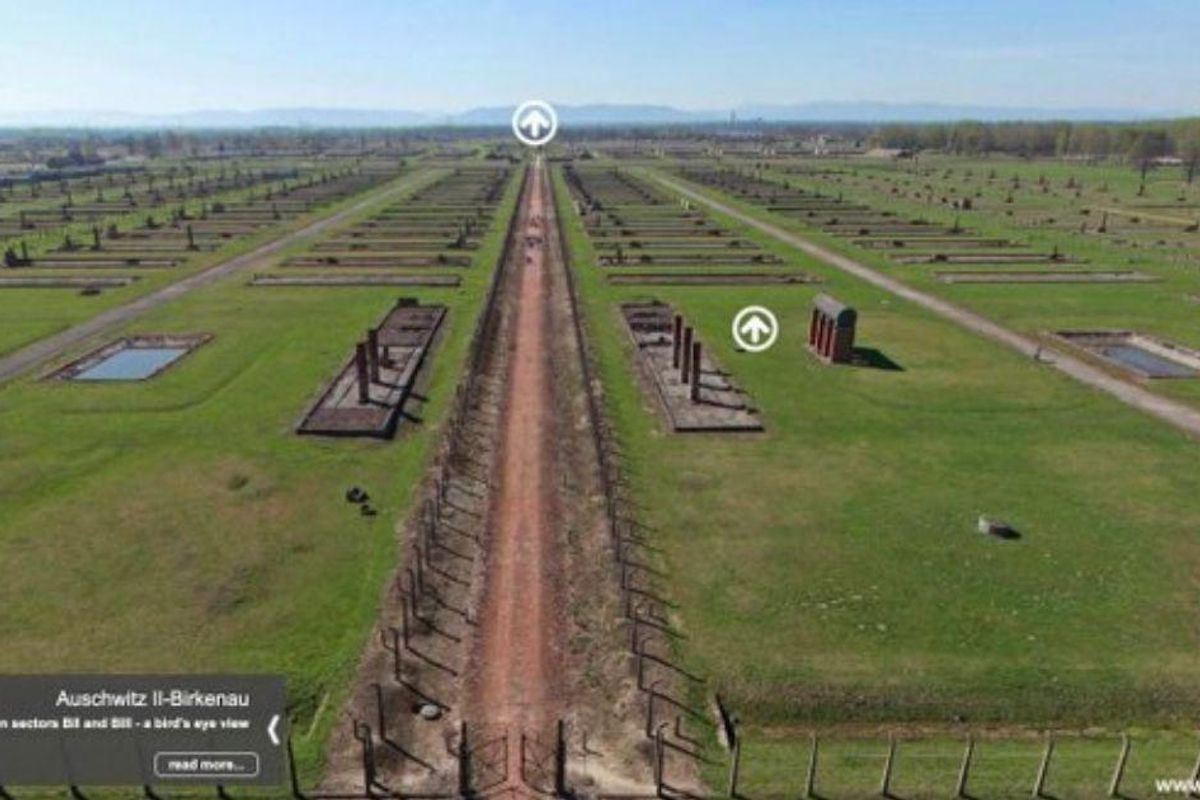 When I interviewed 91-year-old Holocaust survivor Ben Lesser a few months ago, I was blown away by his story. I also felt dismayed hearing him explain how Holocaust education is sorely lacking in so many places. Right around the time of our interview, a report came out that our younger generations have a shockingly woeful understanding of the Holocaust. Nearly two-thirds of Millennials and Gen Z participants in a 50-state survey didn't know that 6 million Jews were killed by the Nazis. Nearly half couldn't name a single concentration camp.
If we lose that history, we are less likely to recognize when the precursors to such atrocities repeat themselves. Additionally, the victims and families of victims of the millions of men, women, and children who were systematically tortured and killed in the 40,000 concentration camps and ghettos established during WWII deserve to have their experiences remembered and acknowledged.
The largest Nazi camp complex was Auschwitz, which included concentration, extermination, and forced-labor camps. Of the estimated 1.3 million people who were sent to Auschwitz, 1.1 million died there between 1940 and 1945. Nearly five years, and more than a million people murdered in just one camp complex. The statistics alone are mind-blowing.
Such large numbers are hard to wrap our minds around. That's why individual stories like Ben Lesser's matter so much. He himself is an Auschwitz survivor, and his descriptions of what he experienced there are difficult but important to hear.
But what makes the Holocaust especially chilling is the premeditated, factory-like automation of the killing. Camps like Auschwitz were built for the purpose of exterminating as many human beings as possible as efficiently as possible. Men, women, and children crammed into cattle cars like sardines. Men, women, and children stripped and shaven. Nazi soldiers making split second decisions of who was strong and healthy enough to be worked to death and who would be marched straight to the gas chambers.
---
While individual stories are vital, so are broader visuals that help us understand the scope of what took place. Perhaps paradoxically, some of the most powerful visuals from the Holocaust don't include people themselves. I remember the first time I saw a photo of an enormous pile of shoes from a concentration camp—there must have been thousands of them. That image stuck with me more than any other when I was first learning about the Holocaust. Each pair of shoes belonged to a person, and seeing them systematically yet carelessly tossed into a huge heap encapsulated the inhumanity that kept piling up as Nazi killings kept going and going.
Those who have visited Auschwitz remark about the size of the place—how it keeps going and going and going—but that's hard to capture in photographs. Thankfully, the Auschwitz Museum has an educational tool for those of us who haven't been there to get a sense of the scale of it—a panoramic, interactive tour of the grounds.
The panoramic tool lets you click arrows to move around the grounds, where you see row after row of buildings, some of which still stand and others where you can only see parts of the brick and chimneys. There's a "read more" link in each area that describes a bit about what you're seeing. You can click the link in the tweet or go here to take the interactive tour.
The size of the space is one of the most impressive elements of the experience of visiting the authentic site of th… https://t.co/yuNxDV2FKJ

— Auschwitz Memorial (@Auschwitz Memorial) 1607087560.0
The Auschwitz Memorial Twitter account used the word "impressive" to describe the size of the grounds, which feels like a bit of an odd word choice, but the scope and size of it really is incredible. Imagine the resources that went into creating this place, solely dedicated to destruction and dehumanization. Imagine the number of people it took to run it, to go along with a plan so heinous and horrific that we consider it one of the very worst chapters in human history.
And it really wasn't that long ago. I recently spoke to a living, breathing human being who was taken to this place by train, who watched his siblings' incinerated ashes fall from the sky there, who barely survived the of savagery and genocide that took place on that soil.
As difficult as it is to digest, we need to learn everything we can about the Holocaust. We need to understand that such atrocity happened in one of the most advanced, cultured societies at the time. We need to see what led up to it, how propaganda and prejudice fueled it, how people allowed it to happen. We need to know what hatred can lead to—not just on an individual level, but on a mass scale.
We need to look at the entire Holocaust epic, learn how it played out in all its systematic horror, and vow—continually—to never allow ourselves to even flirt with the opening act.