Identity
'Pyrography' artist makes hyper realistic portraits on wood using only fire and razorblades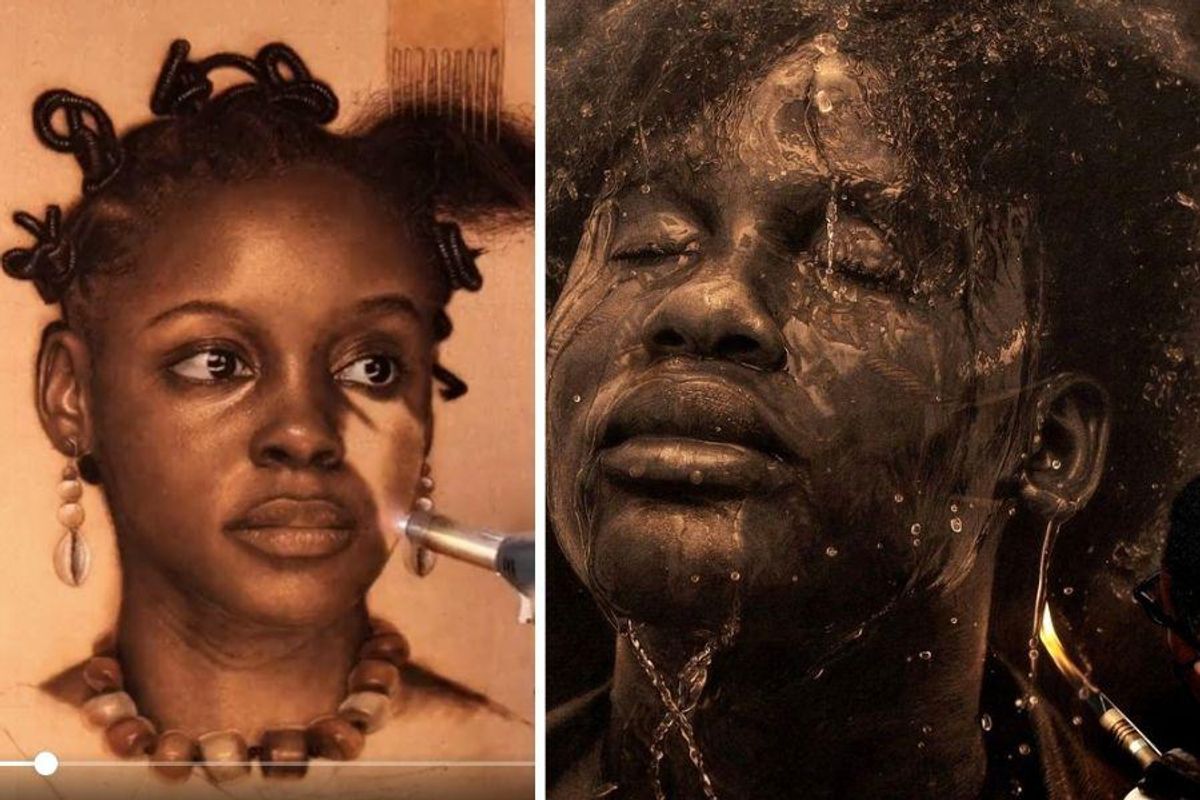 Creating art is possibly the most uniquely human thing people do, and some of us do it exceptionally well. Just when it seems like humans couldn't possibly come up with more inventive ways to express the artistic impulse, someone comes along to surprise us. What is more fun than being blown away by artists who master various art forms and find new methods and mediums to create with?
Enter Alex Peter Idoko's pyrography art.
Pyrography literally means writing or drawing with fire, and Idoko makes incredibly realistic "paintings" on wood with a blow torch, sandpaper, razorblades and charcoal. The final pieces are almost unbelievable, and watching his process in action is equally mind-blowing.
---
Idoko is a self-taught pyrography artist from Nigeria and his works focus on "writing, rebranding, and editing the Black story," both on the African continent and beyond. He portrays issues and challenges that surround Black people and also provides positive images for the next generation to look to for inspiration.
His pieces make powerful statements, in addition to being artistically impressive. I mean, if most of us took a blowtorch to a piece of wood, it certainly wouldn't result in something like this:
This is how I draw with Fire on wood. Progress stagepic.twitter.com/g8fu8cRe0h

— AlexPeter_Idoko (@AlexPeter_Idoko) 1649101599
Some of his works are hyperrealistic, looking nearly indistinguishable from a photograph. The fact that he can create something like this by burning, sanding and scraping wood is just beyond.
Here is a time lapse progress of how I draw with Fire and Blade on wood\n\nSee more on Instagram @alexpeter_idoko http://Instagram.com/alexpeter_idoko\u00a0pic.twitter.com/4JxTYl71ty

— AlexPeter_Idoko (@AlexPeter_Idoko) 1649143877
Idoko has shared some glimpses into his process, which usually involves burning a wood canvas to create dark shades, then using sandpaper and razorblades to create lighter shades. He utilizes those tools along with charcoal to create minute details such as skin pores and water droplets as well.
Incase you are wondering how I create details and pores. I use Razorblade after burning and creating tones with fire and sandpaperpic.twitter.com/mde4qO4Tok

— AlexPeter_Idoko (@AlexPeter_Idoko) 1649162799
Idoko shares his work on Instagram as well as his website, where he has a blog explaining the intent and meaning behind many of his pieces.
Below is the final version of the piece he was working on above, which the caption on Instagram describes as a woman "dressed in a royal regalia and adorned with beautiful jewelries of cowries and beads with the poise of a Queen which doubtless marks her a member of a royal family."
The caption says the piece "compels viewers to understand that there is an unwritten history in history that is visible to all that wants to see, he also enables all to see that Africans ancient and present were not and are not cowards, barbaric or lazy as the history might document."
Check out more examples of his works and his process: