More
After 246 days of separation, this woman and her daughter are finally reunited.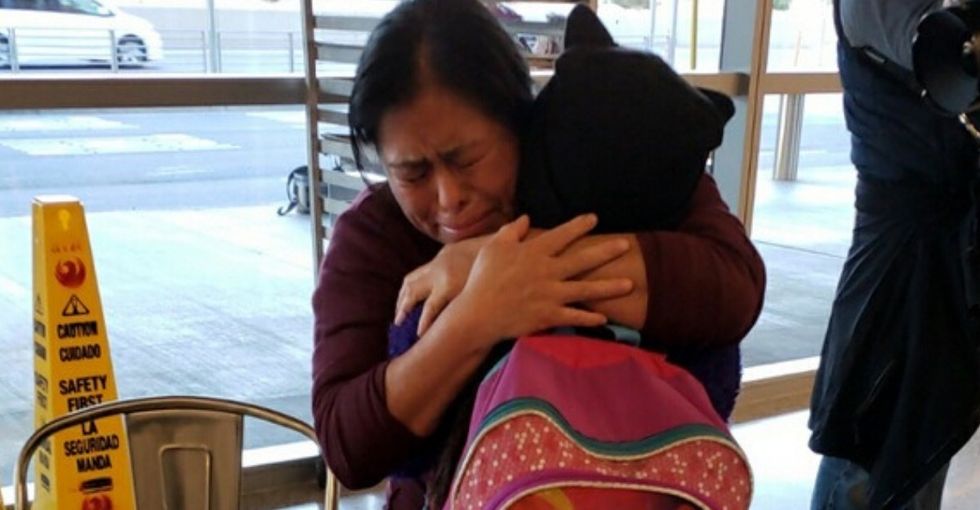 Vilma and Yeisvi Carrillo's story captured the hearts of Americans who yearn for a more compassionate immigration system.
Vilma Carrillo came to the Mexico-United States border seeking asylum in the spring of 2018. Carrillo is an indigenous Guatemalan woman whose daughter Yeisvi is an American citizen. A victim of extreme domestic violence in a country that provided no legal protections for women like her, Carrillo felt that her best chance for safety for herself and Yeisvi was to return to the United States, where Carrillo lived and worked the year Yeisvi, now 12, was born.
However, the Trump administration's zero tolerance policy resulted in mother and daughter being forcibly separated when they reached the border and claimed asylum. Carrillo was detained by ICE, while Yeisvi was placed into the care of the state of Arizona. Carrillo's case has been dragging on for 8 months, with Carrillo holed up in a detention facility in Georgia and Yeisvi living with a foster family in Arizona.
---
Carrillo is one of many asylum seekers who have been unjustly affected by Trump administration policies.
In previous administrations, most asylum seekers with credible claims were temporarily released in the U.S. while they awaited their hearings, as long as the government determined they were not a flight risk. The Trump administration policy has been to release as few asylum seekers as possible, and it has recently enacted a policy to make asylum seekers remain in Mexico rather than stay with friends or family in the U.S. Carrillo and Yeisvi also arrived just as the Trump administration's "zero-tolerance" policy of separating parents from children was being enacted in full force.
Carrillo's case is complicated by the fact that her daughter is an American citizen. As a citizen, Yeisvi could not legally be detained and was not subject to a judicial ruling that detained parents and children had to be reunited by July 26, 2018. As a result, the mother and daughter did not see one another for 8 months.
Upworthy shared Carrillo's story last month, as the family's future hung in the balance. Legal advocates from Tahirih Justice Center shared a petition requesting ICE to release Carrillo while her case was pending, which was signed by more than 14,000 people.
Actor Penn Badgley (from CW's "Gossip Girl" and Neflix's "You") became Tahirih Justice Center's partner in advocating for Carrillo, and even visited her in the detention facility with Carrillo's lawyer, Shana Tabak. Badgley used his social media outlets to raise awareness of Carrillo's story, and detailed his experiences in an article he wrote for Teen Vogue. "Her treatment reflects the explicit use of fear as a tactic in certain U.S. policies," he wrote. "Vilma was being made into an example."
After 246 days of separation, Carrillo has been released and finally reunited with her daughter.
The mother and daughter were forcibly separated on May 10, 2018, and they weren't even able to talk on the phone until late June. After that, they spoke twice a week, but didn't see one another until ICE released Carrillo on January 11, 2019.
I can hardly believe it. Vilma has been reunited w/ her daughter, Yeisvi! They are in the care of a local family wh… https://t.co/qQOaXSp4Hp

— Penn Badgley (@Penn Badgley) 1547340781.0
Imagine having your child taken from you, not fully understanding why or where your child is being taken, and then having no contact for almost two months and not being able to see them or hug them for eight months—all because you were going through the legal process of seeking safety after suffering severe trauma already.  
Carrillo's lawyer, Shana Tabak, told Upworthy that while Carrillo still has a long road ahead with her pending asylum appeal, she is just overjoyed to be with her daughter again. "Every time I see her, she's holding her hand or hugging her," Tabak says. "They're both just so thrilled to be back together."
However, their separation has taken its toll on both of them. "I did hear from Vilma that Yeisvi continues to get anxious anytime that her mom's not in eyesight," Tabak says. "She needs to be with her day and night now. She doesn't even want to go into the next room."
Asylum seekers have a temporary legal status in the U.S., pending the resolution of their case. Carrillo will apply for a work permit in Georgia, which asylum seekers are allowed to do 150 days after applying for asylum. Tabak says that Carrillo may go back to work in the onion fields in Vidalia, where she worked previously, and that "she is eager to work again and eager to have the opportunity to contribute to society in that way."  
Regarding her asylum claim and what the future holds, Tabak says Carrillo relies on her deep and abiding faith. "May God's hands touch the immigration judge's heart," Carrillo says. "I'm praying for the best. Everything is in God's hands."