Top Splash
New Zealand firefighter shares video of his new best pal — a rescued baby magpie named 'Swoop'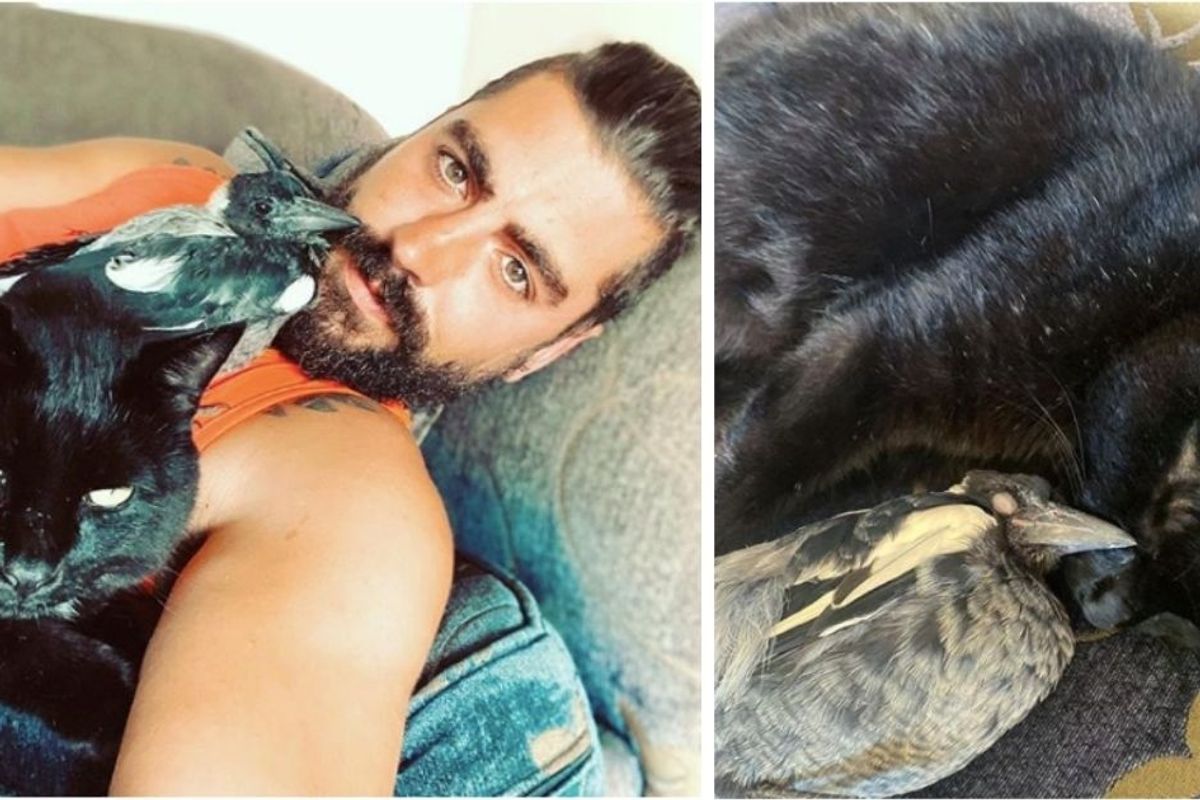 Most of us don't think of a bird as a cuddly pet, but Swoop the snuggly magpie didn't care what humans think. After he was rescued by New Zealander Matt Owens, the baby bird became a beloved part of the family—the family being Owens and his cat, Mowgli.
"It was just sitting there bleeding, sort of unable to walk properly and it looked like it had been abandoned by its mum so I just picked it up and decided to take it home," Owens told Newshub. The timing of finding Swoop couldn't have been better. Owens' dad had just been diagnosed with terminal cancer, and the bond he formed taking care of Swoop gave Owens an extra dose of love and comfort.
Mowgli wasn't sure about the new family member at first, but soon took to Swoop and the two became fur-feather friends. The Dodo recently shared a video on Facebook highlighting Owens, Swoop, and Mowgli's story, and it's unbelievably adorable.
---
There's more to the story, though. Owens documented Swoop and Mowgli's story on Instagram, and in February, he posted an update on Swoop's life:
"When I found wee swoop as an injured baby and decided to raise him/her. I always had the intention of getting him/her healthy and capable of looking after him/herself in the wild. It seems that time has finally arrived. Swoop came to me when I found out about my dads illness and Ironically now dad has left us, swoop has also decided to leave the nest, I'm sure he/she will be out the with a new family or partner and I'm sure he/she will be back one day. Maybe with babies :O What an amazing experience it has been looking after this beautiful creature that bought me so much joy at a time I needed it the most. Ill miss ya buddy ❤️ I'll continue to post memories from time to time for all you swoop lovers out there. :) love, Dad."
Owens has since adopted another bird named Niwa. He does still share photos of Mowgli and Swoop, though, as fond memories.
How sweet is this?
And this?
Come on...
You never know when life will bring you exactly what you need, whether you're a man or a bird or a cat. Best wishes to Scoop in his/her new life beyond the Owens nest. And thanks for sharing your sweet little family and giving us all the uplifting dose of sweetness we could all use right now.