Most Shared
A high school principal created a dress code for parents. It's being called racist and sexist.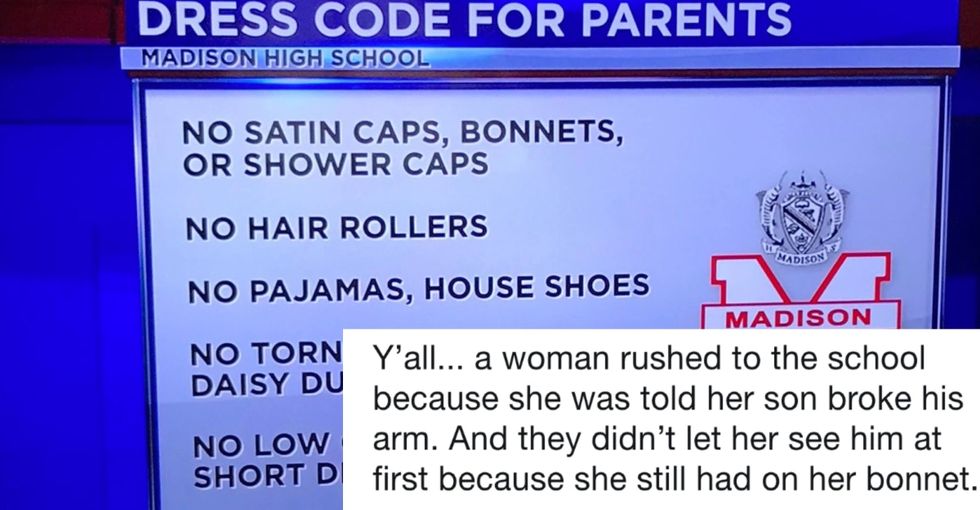 Parents whose children attend James Madison High School were taken aback when they received a letter from Principal Carlotta Outley Brown outlining a strict dress code they needed to adhere to while on school grounds.
"We are preparing your child for a prosperous future," Brown wrote. "We want them to know what is appropriate and what is not appropriate for any setting they may be in."
The list of banned items was pretty extensive. It included satin caps, bonnets, shower caps, hair rollers, pajamas or any pajama-looking attire, jeans "torn from your buttocks to all the way down showing lots of skin," leggings "showing your bottom and where your body is not covered from the front or back," very low cut or revealing tops, sagging pants, shorts or jeans, Daisy Dukes, low rider shorts, undershirts on men and dresses that are "up to your behind."
---
According to reports, the letter was provoked after a mother was kicked off the school campus by an administrator for her ensemble.
Joselyn Lewis was unable to register her daughter for school, after showing up on campus wearing a Marilyn Monroe t-shirt dress and headscarf — an item commonly worn by black women to protect their hair.
Mother claims she wasn't allowed to enroll daughter in school due to outfit https://t.co/uzLGoRtvPd #kprc2 #HouNews

— KPRC 2 Houston (@KPRC 2 Houston) 1554778801.0
"[Principal Brown] went on to say that she still couldn't let me on the premises because I was not in dress code and I still didn't understand what that meant," Lewis told Click 2 Houston. "She said that my headscarf was out of dress code and my dress was too short."
Lewis said she was in the headscarf because she was in the process of getting her hair done, but pointed out that there are other reasons people might wear them.
"I'm not saying that it's a part of my religion, but it could have been, but I just wanted to have it up. Who are you to say that I can't wear my hair up? In a scarf? Who are you to tell me how to dress?" she continued.
Many people, including Zeph Capo, president of the Houston Federation of Teachers, can understand why racy clothing should be banned from schools. However, he finds this particular policy "a little classist" in nature.
"Having body parts exposed is one thing. Turning someone away because their hair's in rollers ... is a little ridiculous," he told CNN. "This is an issue of a principal issuing a dictatorial edict rather than having substantive conversation."
@CNRush A parent dress code???? Anti Blackness jumps through every hoop

— Prime Mamaguy Material 🇩🇲 (@Prime Mamaguy Material 🇩🇲) 1556128448.0
Social media, as well as mass media, has been on fire debating the issue. Some claim that imposing these specific dress code violations is racist (note that the principal herself is black) while others deem it sexist, as most of the dress code restrictions are targeted at women. Several also point out that the school should be focusing on education rather than policing parents on dress code.
Dear Houston High School, Parenthood is hard. Life is hard. We're all just doing the best we can. Please worry abou… https://t.co/yVxmUk6ZAl

— Danielle Christensen (@Danielle Christensen) 1556217423.0
Imagine your school has an average ACT score of 13 and you are focused on a black parent wearing a bonnet. Just cal… https://t.co/szAGjU3Sxv

— Nia Educational (@Nia Educational) 1556214518.0
One woman, a PhD, noted that white women are rarely banned for wearing tight yoga pants to pick-up and drop-off.
I'll stop here but let me add one last thing: I want all y'all to realize that nobody says anything about Becky™️ w… https://t.co/MW9d9oDNfv

— Roni Burren, Ph.D. (@Roni Burren, Ph.D.) 1556115180.0
This isn't the first time a dress code has been deemed racist or sexist in nature.
Back in 2017, Chicago restaurant and bar, Bottled Blonde, came under fire for issuing a dress code policy that many felt targeted black people. "No excessively Baggie [sic], Sagging, Ripped, Dirty, Frayed, Overly Flashy, or Bright clothing," "No plain white tees, long tees, denim, flannel (not even around one's waist)" "No gang attire...no camouflage," and "shorts must be no longer than one inch past your knees," were just a few of the items that ignited controversy.
And in 2016, three girls at a North Carolina private school revolted against a dress code requiring them to wear skirts to school or risk punishment. After creating and circulating a petition, the rules were overturned when a judge found the dress code unconstitutional.
"The skirts requirement causes the girls to suffer a burden the boys do not, simply because they are female," wrote US District Judge Malcolm Harris on March 28 in response to the 2016 ACLU lawsuit against the Charter Day School in Leland.
Thankfully, there's organization working to create a model school dress code that's meant to be entirely inclusive.
In February 2016, Oregon NOW (National Organization of Women) created a dress code that wouldn't marginalize or oppress any group based on gender, ethnicity, religion, sexual orientation, household income, gender identity or cultural observance.
The basic principle is that certain body parts should be covered — genitals, buttocks and nipples — but that cleavage is okay. Most clothing is allowed, however items banned include anything with words or images promoting violence, drugs and alcohol, hate speech, profanity or pornography, or anything promoting a hostile environment. Visible underwear, bathing suits and helmets that obscure the face are also prohibited.
"Oregon NOW created this Model Dress Code to help school districts update and improve their student dress code policies and enforcement processes," policymakers explained.
"Student dress codes should support equitable educational access and should not reinforce gender stereotypes. Student dress codes and administrative enforcement should not reinforce or increase marginalization or oppression of any group based on race, gender, ethnicity, religion, sexual orientation, household income, gender identity or cultural observance."