Family
Black mom confronts restaurant manager's racist 'dress code' after he refuses to seat her son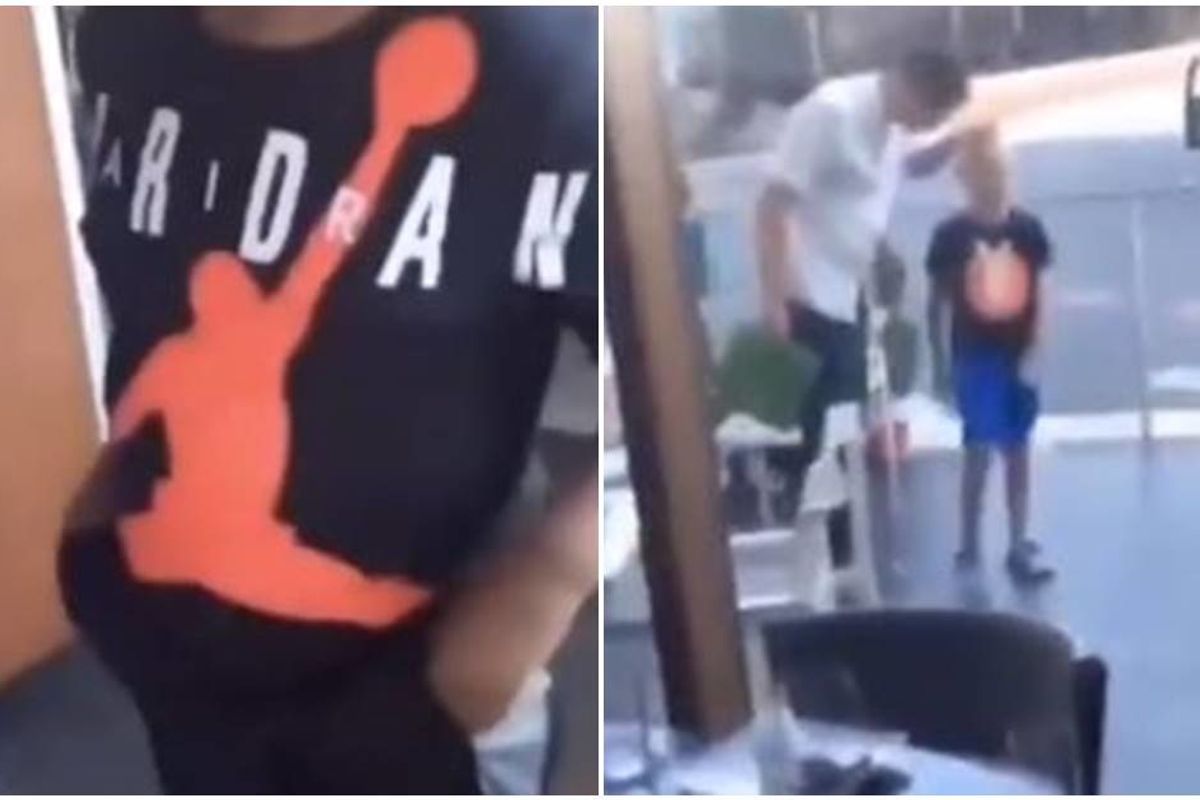 via Rex Chapman / Twitter
A Baltimore restaurant has released a public apology after refusing to serve a black woman and her son because of its dress code. In a video taken of the incident, the boy's mother, Marcia Grant, clearly points out that while her son, Dallas, wasn't allowed to be seated, a white child who is wearing a very similar outfit was eating in the restaurant.
The white manager at Ouzo Bay verbally ties himself into knots over why the black child cannot be seated in the restaurant but the white kid —who he can clearly see out the window — was eating with his parents.
The video shows that the black child is wearing athletic shorts, tennis shoes and an Air Jordan T-shirt. The white child, who appears to be just getting up and leaving the table after eating, also has on tennis shoes, an athletic shirt, and blue shorts that may or not be athletic in nature.
---
"I'm sorry, I would love for you to be able to come back and eat here," the manager said.
"So you're telling me my son can't eat here because he has on athletic stuff?" Grant pushes back.
"No, no, no, just the shorts," the manager replied. "It is part of our dress code."
Dress codes only apply to some of us — apparently. This is ridiculously heartbreaking... https://t.co/93fhnNPPe3

— Rex Chapman🏇🏼 (@Rex Chapman🏇🏼) 1592925431
The problem is that the manager is really sticking to his guns and splitting hairs over the two nearly identical outfits. He could have seen the similarities and let them sit down to eat, but he instead refuses service to them when he should have given them the benefit of the doubt.
At that point, it's nearly impossible not to see his decision as being discriminatory. Especially when he states that the white child's shirt wasn't athletic but also admits that he didn't get a "good look" at the shirt.
Plus, he's a child. It's not like his choice of dress is going to disturb other patrons.
"This was not about dress code it was about a black child being treated differently than a white child," Grant wrote on Instagram. "My 9yo was so hurt to see a white child that looked like one of his friends at school and somehow you adults can not seem to understand that this was not about dress code."
The restaurant's parent company, Atlas Restaurant Group, apologized for the incident and said the manager had been placed on indefinite leave. It also immediately changed its dress code so that children 12 and under will not have to adhere to one as long as they are accompanied by a parent.
Today, we learned of an incredibly disturbing incident that occurred at one of our restaurants in Baltimore, Ouzo B… https://t.co/h24sKChjkN

— Atlas Restaurant Group (@Atlas Restaurant Group) 1592870961
The incident calls attention to the sometimes not-so-subtle dress codes at bars and restaurants that are aimed at specific ethnic groups. Some places specifically call out baggy clothing, Jordan shoes, flat-bill hats, facial tattoos, and doo-rags.

While others have codes that are ambiguous and allow the door person to make a judgements based on their personal prejudices.
Ouzo Bay's vague ban on athletic shorts invites the manager to project their own biases on the customers, allowing situations where black patrons are discriminated against and white are allowed to eat.
In the end, the sad news is that a nine-year-old boy had to face the ugly reality of racial inequality in America by seeing it in full view, first-hand. "He's 9 years old. It was so hard for him. He goes to a school that's about seventy-percent white," grant told Black News Network.
"They always teach the kids they are the same," she added. "It was really hard for Dallas to see a kid that looked like one of his friends at school sit and eat there and he couldn't."