More
A school insisted the girl students wear skirts. 3 girls fought the code in court — and won.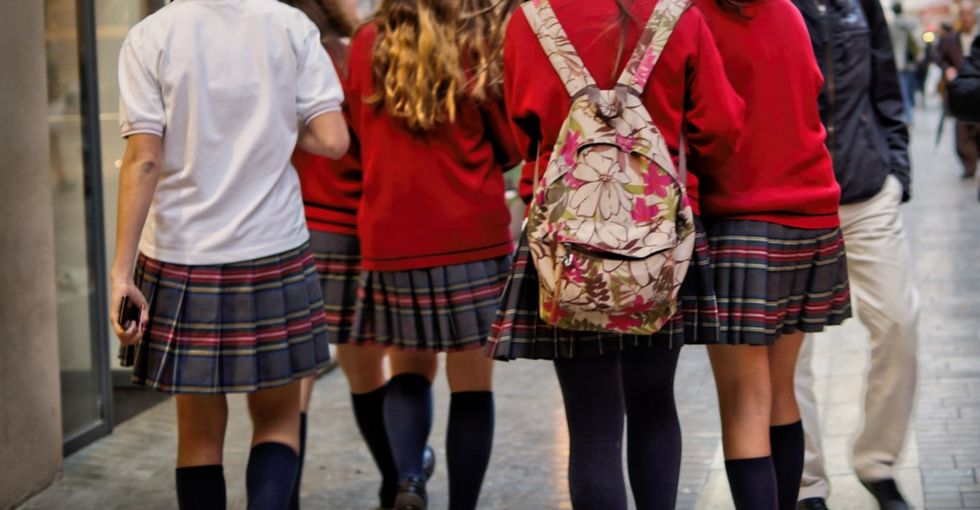 A North Carolina school required girls to wear skirts as part of their uniform. Two years ago, three female students decided to take a stand against the outdated code.
Keely Burks, 14, and the oldest of the three, created a petition asking her school to change its policy requiring the female students to wear skirts or risk punishment, which under the school's policy could include calling parents, removing them from class and possibly expulsion. She herself had been punished for wearing shorts and was forced to "sit in the office all day" until her mother came to pick her up.
Burks explained that wearing skirts was a burden early on in her education. They kept her from sitting cross-legged like the boys, do cartwheels at recess or play soccer.
---
"My friends and I got more than 100 signatures on our petition, but it was taken from us by a teacher and we never got it back," the eighth grader said in a post on the ACLU website. She continued by explaining that a few parents asked about changing the policy, but the school refused to hear them, claiming that making girls wear skirts promotes "chivalry" and "traditional values."
The girls weren't deterred. Instead of dropping the issue, they asked the ACLU to step in.
The human rights organization obliged, filing a lawsuit claiming the policy "violates the law and discriminates against girls."
We're proud to represent Keely in a lawsuit filed last year. #InternationalWomensDay https://t.co/yEi73m0UUZ

— ACLU of North Carolina (@ACLU of North Carolina) 1489022520.0
In their lawsuit, the group pointed out the obvious: that forcing girls to wear skirt was not only a distraction from academics, but also made it hard for them to engage in physical activity, sometimes resulting in discomfort and them being unnecessarily cold.
What gave the lawsuit weight was this is far from an isolated situation. Many girls across the United States are required to wear skirts as part of their school uniform.
However, the recent ruling on the ACLU's case, courtesy of a North Carolina judge could change that.
"The skirts requirement causes the girls to suffer a burden the boys do not, simply because they are female," wrote US District Judge Malcolm Harris on March 28 in response to the 2016 ACLU lawsuit against the Charter Day School in Leland.
"In the year 2016, I don't think anyone should have a problem with young women wearing pants," said Burks in the ACLU post. "There are so many professional women – businesswomen, doctors, and world leaders – who wear pants every day."
Judge Harris found no merit to the school's claims supporting the sexist uniform rules, slamming the policy in his ruling.
"The plaintiffs in this case have shown that the girls are subject to a specific clothing requirement that renders them unable to play as freely during recess, requires them to sit in an uncomfortable manner in the classroom, causes them to be overly focused on how they are sitting, distracts them from learning, and subjects them to cold temperatures on their legs and/or uncomfortable layers of leggings under their knee-length skirts in order to stay warm, especially moving outside between classrooms at the school," he wrote. "Defendants have offered no evidence of any comparable burden on boys."
While parents were supportive of the ruling, they were a little disturbed by the fact that getting the policy changed required an intervention by the legal system. "We're happy the court agrees," one of mothers, Bonnie Peltier, explained in a statement provided by the ACLU, "but it's disappointing that it took a court order to force the school to accept the simple fact that, in 2019, girls should have the choice to wear pants."
Hopefully this ruling will inspire other schools with similarly old-fashioned dress codes to reconsider their own policies, giving young women the same opportunities to dress as comfortably as their male counterparts. Gender equality may still have a long way to go, but giving young women the right to wear clothing on par with young men in 2019 should be a no-brainer.