Family
A 3-year-old gave her mom a 25-word master class on what forgiveness really means.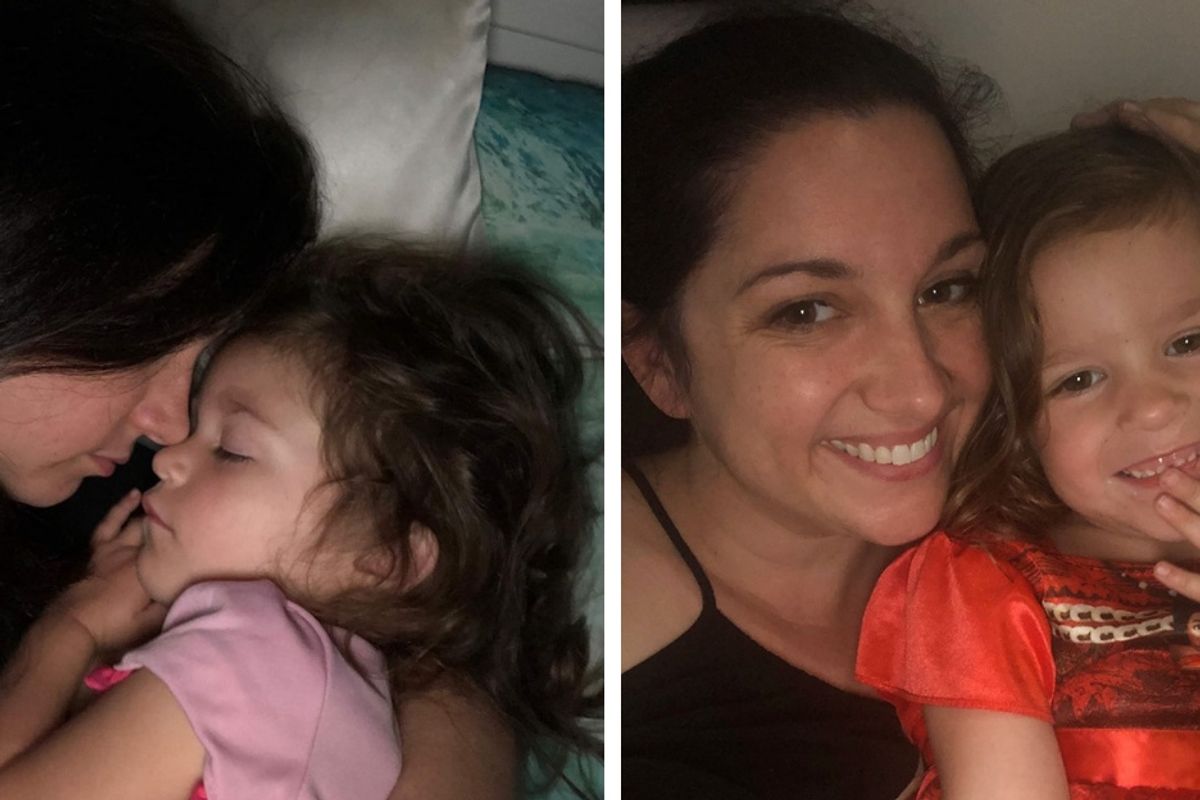 Mom and blogger Mary Katherine Backstrom regularly shares snippets of life with her two children on her Facebook page . One particularly touching interaction with her daughter is melting hearts and blowing minds due to the three-year-old's wise words about forgiveness.

Even adults struggle with the concept of forgiveness. Entire books have been written about how and why to forgive those who have wronged us, but many still have a hard time getting it. Who would guess that a preschooler could encapsulate what forgiveness means in a handful of innocent words?
---
Backstrom told the story in a now viral Facebook post:
"My daughter and I just had a knock-down, drag-out bedtime hour. Finally, about ten minutes ago, I put her to bed and through clinched teeth said 'I love you, Holland, but not another word tonight. You are going to sleep now. I'm done fussing over stuffed animals.'

'Mommy?'
I paused on the way out the door, literally biting my tongue I was so frustrated.
'What is it, Holland?'
'I DO have one more thing to say.'
Of course she did. She was standing on the bed with her hands on her hips, too. Her hair was wild and she was using her arm to wipe her tears and snot away from her face.
'Mommy,' my three year old said, staring me down with venom in her tiny voice...
'I FORGIVE YOU!!!'
Then she laid down and cried and honest to goodness, for a hot minute, I didn't know what to do.
The way she said 'I forgive you,' made it sound like cuss words.
I walked over to the bedside and leaned over.
'Baby girl, do you know what forgiveness means?'
She was still sniffling, her face shoved deep into her Little Mermaid pillow.
'Yes,' she muttered.
I really had to hear this.
'It means you were wrong, and I'm tired of being mad, and now I'm going to sleep and my heart won't have a tummy ache.'
So there you have it, folks.
Tonight I was taught a lesson in forgiveness by a three year old. It was a gut punch, too. And you're dang right I climbed in that bed and loved on her.
Because to be honest, MY heart had a bit of a tummy ache.
I was reminded by my toddler to never go to bed in anger. Because when you do, your heart will have a tummy ache.
And you know what? I've been alive for 35 years, and I've got to give it to her:
She's not wrong."
According to experts, the preschooler really isn't wrong.
According to UC Berkeley's Greater Good Science Center :
"Psychologists generally define forgiveness as a conscious, deliberate decision to release feelings of resentment or vengeance toward a person or group who has harmed you, regardless of whether they actually deserve your forgiveness.

Just as important as defining what forgiveness is , though, is understanding what forgiveness is not . Experts who study or teach forgiveness make clear that when you forgive, you do not gloss over or deny the seriousness of an offense against you. Forgiveness does not mean forgetting, nor does it mean condoning or excusing offenses. Though forgiveness can help repair a damaged relationship, it doesn't obligate you to reconcile with the person who harmed you, or release them from legal accountability.

Instead, forgiveness brings the forgiver peace of mind and frees him or her from corrosive anger. While there is some debate over whether true forgiveness requires positive feelings toward the offender, experts agree that it at least involves letting go of deeply held negative feelings. In that way, it empowers you to recognize the pain you suffered without letting that pain define you, enabling you to heal and move on with your life."
Basically, Holland said the same thing, just in 25 kid-friendly words.
The post has been shared more than 92,000 times, and Backstrom told Upworthy she was pleasantly surprised when it went viral.
"It makes me happy when heartwarming stories go viral," she said, "because I think it's a shared slice of humanity that everyone is finding in common. And in this case, the innocence and profound wisdom that at times comes from the mouths of children."
"I think children are able to speak profound truths," she added, "because they address complex emotions in simple ways. As adults we complicate our approach to conflict. We could learn a lot from toddlers who express their frustration, hug it out, forgive, and move on. It would certainly save us a few 'heart tummy aches.'"
Indeed it would. Thank you, Holland, for the sweet reminder.