Science
British town canceled its New Year's Eve fireworks to let Thor the walrus sleep
Scarborough residents rallied to protect their unexpected visitor.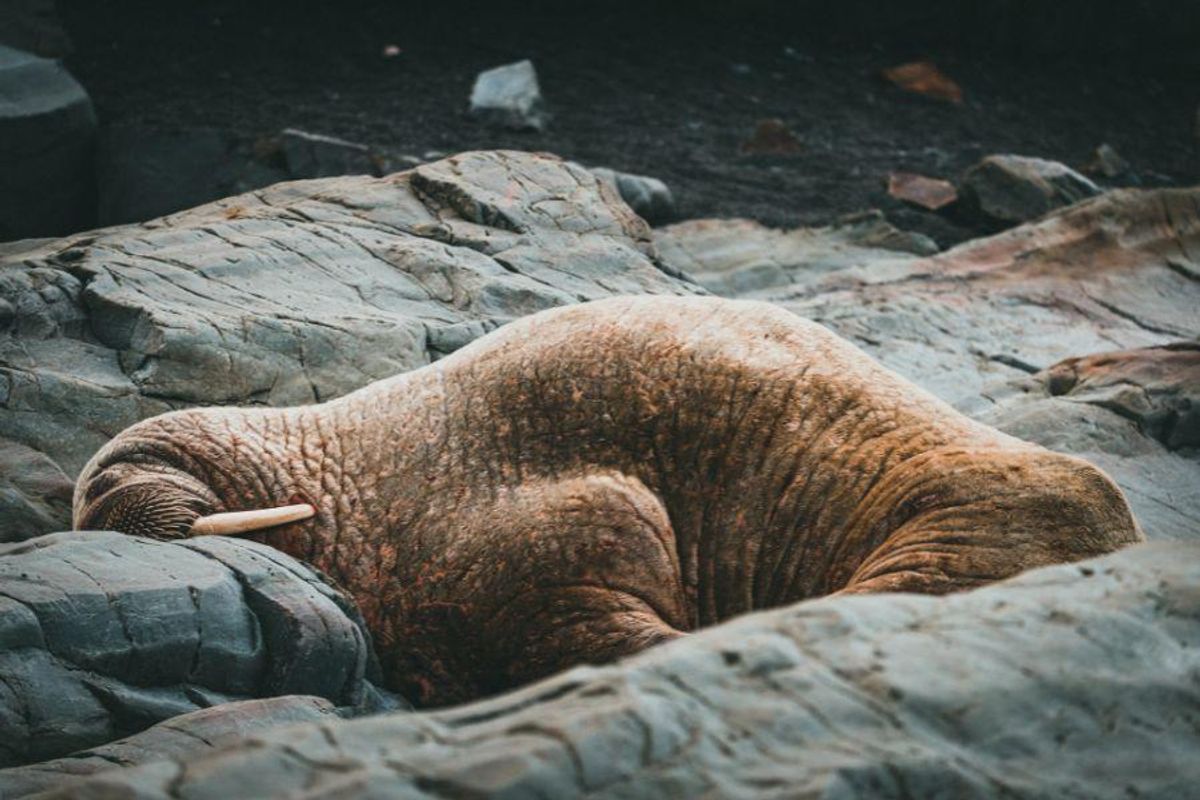 There are plenty of predictable reasons a New Year's Eve fireworks show might get canceled, but "let's let the walrus sleep" isn't one of them.
That's exactly what happened in the U.K. town of Scarborough, however, as residents rang in 2023.
According to British Divers Marine Life Rescue, a walrus was sighted on a boat ramp in Scarborough around 11:30 p.m. on December 30. The wildlife rescuers had hoped that the male walrus—nicknamed Thor—would rest for a bit and then slip back into the harbor by the time the public woke up the next morning. Instead, he got comfy and decided to park it for a while.
Authorities cordoned off the area to prevent anyone from messing with Thor, and as news spread of the walrus's presence, thousands of people came to see him. It's not every day that an Arctic walrus shows up in the middle of a British town.
---
"Kind public asked many questions, offered and bought hot drinks and food, and expressed their appreciation of Thor being protected, with the overwhelming majority being immeasurably respectful to our visitor," shared British Divers Marine Life Rescue.
During the night, Thor appeared to be agitated by some passing cars and lights, which led wildlife rescuers and local council members to reconsider the town's New Year's Eve fireworks show. Not wanting to cause stress to the walrus, they agreed to cancel the fireworks display "without hesitation."
The Sea Life Scarborough aquarium shared a photo of Thor resting near the water along with a request to the public.
"Please be respectful of his rest and try not to disturb him. While it is a very exciting opportunity for us, naturally they do not like lots of noise and are not familiar with domestic animals so please keep pets on leads and remain a safe distance for your own welfare and his. Hopefully within a few days he will have got enough rest to move on and continue his adventures North!"
As it turns out, Thor did return to the sea after his respite in Scarborough and showed up in Blyth, another British town 70 miles north of Scarborough, a couple of days later.
Dan Jarvis, director of welfare and conservation at the British Divers Marine Life Rescue, told the BBC that Thor was "heading in the right direction," which is good, but that walruses increasingly being seen in European waters could be a sign of climate change causing a loss of sea ice. Walruses feed mainly on cockles, clams and mussels on the seafloor, but they use sea ice to rest and to digest their meals. With less sea ice in their habitat, they may wander to find land on which to rest.
Having a walrus interacting with humans can also lead to tragedy for either people or the walrus. Freya, a wandering walrus who kept hoisting herself onto boats around Northern Europe in the summer of 2022, was euthanized by Norwegian authorities who deemed her a danger to the public.
As climate change creates more and more unexpected wildlife encounters, people will have to defer to experts on how to handle them. But when it comes to fireworks, even local wildlife and pets can find them stressful. Fireworks displays have been shown to cause panic responses in birds and can result in pets trying to flee otherwise familiar environments out of fear. And according to The Humane Society, "Wildlife rehabilitation centers are often flooded with traumatized, injured and orphaned wild animals after the holiday." As an alternative, many cities are exploring replacing fireworks with drone light displays.
Kudos to the town of Scarborough for putting the well-being of Thor ahead of its traditional New Year's Eve celebration, and kudos to the public as well for heeding the call to not disturb the walrus during his respite. Here's hoping Thor continues his way north and makes it back to his Arctic home safe and sound.