More
Pixar's short film makes a bold statement about toxic masculinity in the workplace.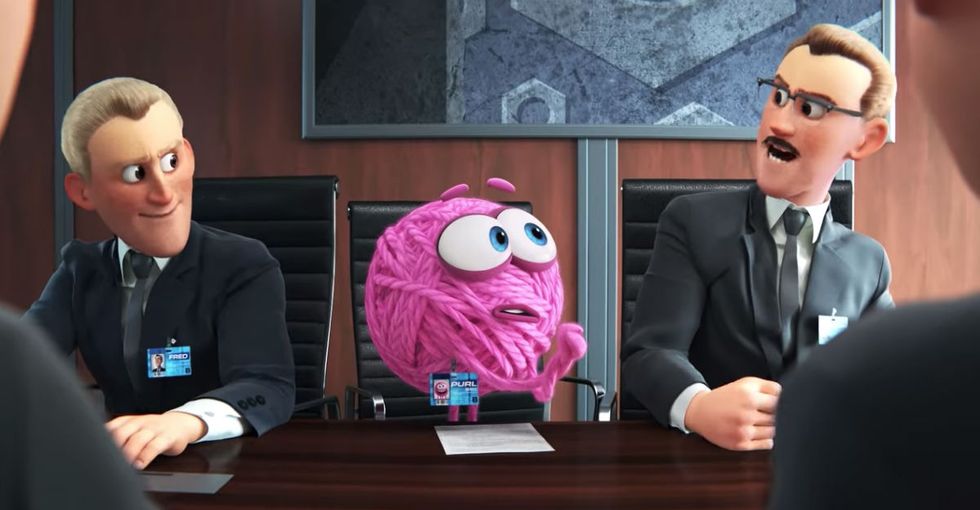 Pixar just dropped the first film in its new SparkShorts program, and the film tackles an issue we've never seen discussed in a Pixar film – toxic masculinity.
Its message of gender diversity and inclusion is just as inspirational as what we're used to seeing from the studio.
---
Purl, written and directed by Kristen Lester and produced by Gillian Libbert-Duncan, follows a pink ball of yarn on her first day of work at B.R.O. Capital.
The titular character starts out her day optimistic and eager to do her best, but is quickly worn down by her inability to fit in with the all-male office culture.
Purl finds herself with doors literally slammed in her face and forced to conform to the norm (and lose her femininity) in order to succeed at her job. It's a story that's all too familiar for many women in the workforce.
Purl is much more adult than Pixar's normal fare. The film contains a few slightly off-color office jokes and language not appropriate for children, or offices, for that matter. But the film has an important message children should be learning from a young age. Gender diversity in the workplace is, indeed, a happy ending.
The film comes from a personal place for Lester, as Purl's experiences follow her own. "It's based on my experience being in animation," Lester says in Pixar's meet-the-filmmakers video. "My first job, I was like the only woman in the room, and so in order to do the thing that I loved, I sort of became one of the guys. And then I came to Pixar and I started to work on teams with women for the first time, and that actually made me realize how much of the female aspect of myself I had sort of buried and left behind."
Lester's experience isn't unique. "When Kristen came to me and said, 'This is a story that I want to tell,' I looked at her and I said, 'Oh my gosh, I have lived the exact same thing,'" said Purl producer Libbert-Duncan.
Pixar's SparkShorts is a more experimental venture for the studio."The SparkShorts program is designed to discover new storytellers, explore new storytelling techniques, and experiment with new production workflows," said Jim Morris, president of Pixar Animation Studios. "These films are unlike anything we've ever done at Pixar, providing an opportunity to unlock the potential of individual artists and their inventive filmmaking approaches on a smaller scale than our normal fare."
We can expect films Smash an Grab on February 11thand Kitbull on February 18th. It seems like we can expect more positive messages as well."Diversity and inclusion are at the heart of SparkShorts," said Lindsey Collins, vice president of development for Pixar. "The program was created to provide opportunities to a wide array of artists—each with something unique to say." We're ready to listen!