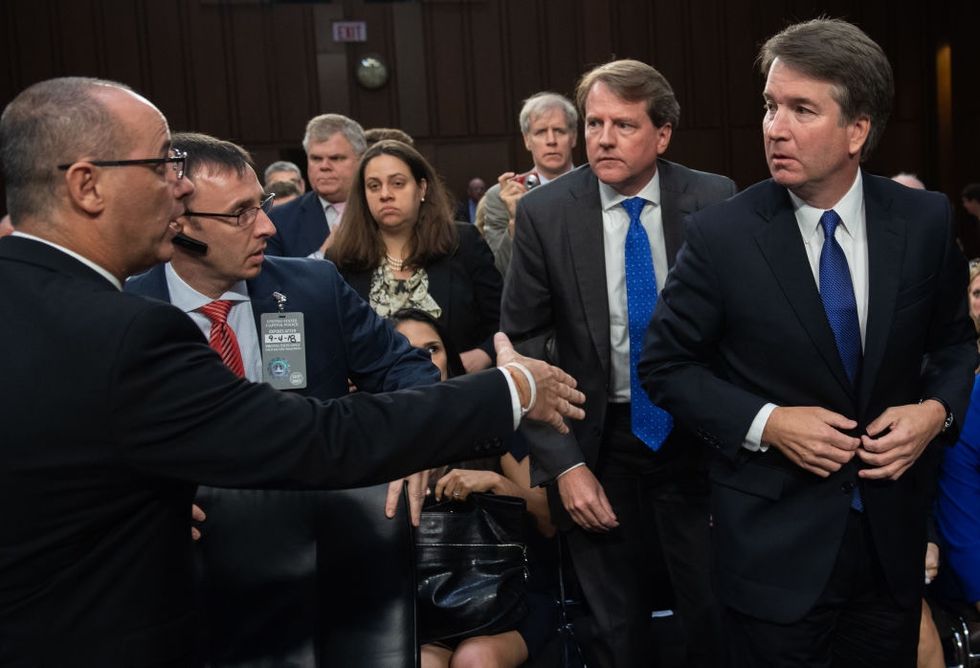 Photo by Saul Loeb/Getty Images.
It wasn't a good opening day for Brett Kavanaugh
Tuesday was the most important day of Kavanaugh's professional life. As Donald Trump's second Supreme Court nominee, the eyes of the political world were squarely on his appearance before the U.S. Senate.
But it was a decidedly human moment that could end up making the biggest impression.
---
During a break in the hearing, Fred Guttenberg attempted to shake Kavanaugh's hand. Guttenberg is the father of Jamie Guttenberg, who was murdered during the Parkland mass shooting earlier this year.
Here's the video: @fred_guttenberg tells Kavanaugh that his daughter "was murdered in Parkland" and holds out his h… https://t.co/4ZoHclBG3B

— Shannon Watts (@Shannon Watts)1536085516.0
In a shocking moment, Kavanaugh paused to look at Guttenberg before turning his back and walking away before a security guard quickly stepped in between the two men.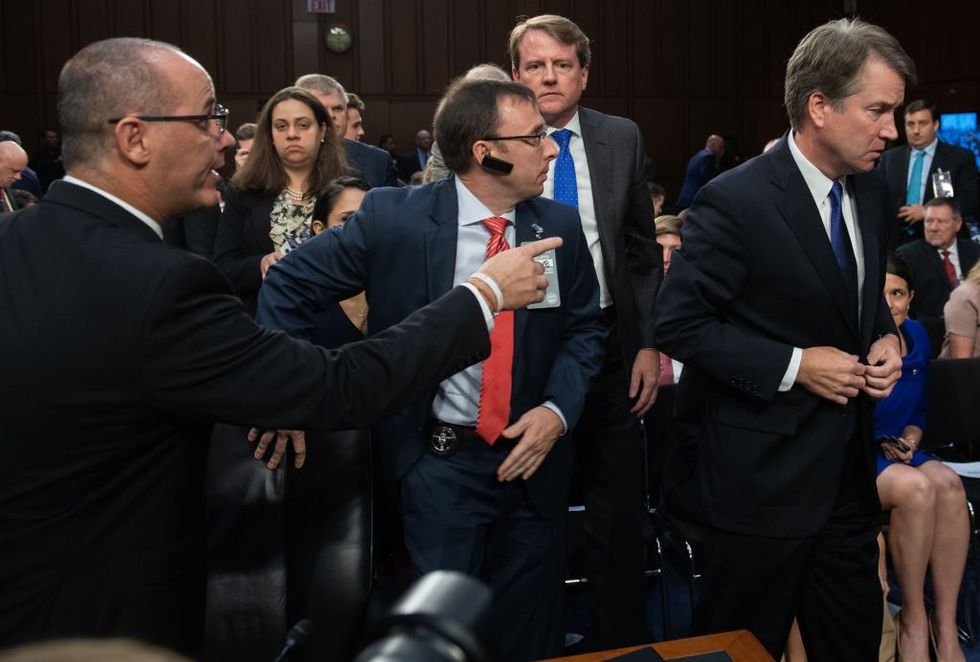 Photo by Saul Loeb/Getty Images.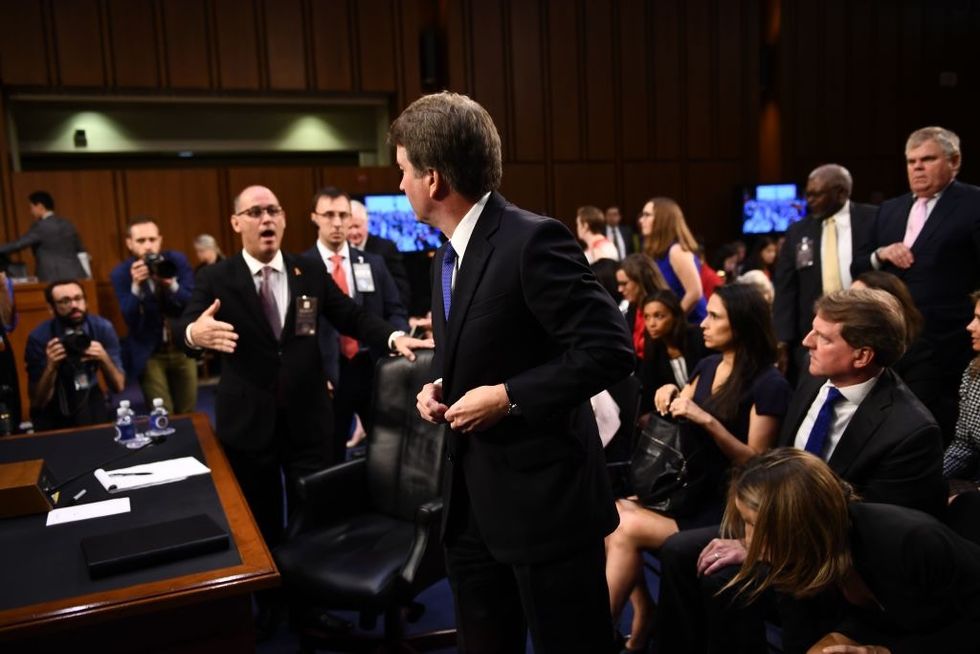 Photo by Brandan Smilowski/Getty Images.
Just walked up to Judge Kavanaugh as morning session ended. Put out my hand to introduce myself as Jaime Guttenber… https://t.co/OhU9rlYRec

— Fred Guttenberg (@Fred Guttenberg)1536080589.0
The moment was as strange as it was shocking.
Twitter quickly erupted in understandable outrage.
Fred Guttenberg, the father of Jamie Guttenberg who was killed in the shooting in Parkland, Fla., left, tries to sh… https://t.co/6RWYF0rswm

— Andrew Harnik (@Andrew Harnik)1536084276.0
Wow, here you can hear @fred_guttenberg telling Kavanaugh that his daughter "was murdered in Parkland," and Kavanau… https://t.co/0JEgAueg47

— Tommy Xtophernobyl (@Tommy Xtophernobyl)1536084394.0
Putting aside Kavanaugh's Neanderthal/Handmaid's Tale-esque opinions on abortion & executive power. We should all… https://t.co/IBwVVSVFJq

— Elizabeth Thorp (@Elizabeth Thorp)1536090153.0
Fred Guttenberg is one of the most wonderful people I know. Mr. Kavanaugh, 4 year olds have better manners than yo… https://t.co/aG8bYGbX1y

— Emma González (@Emma González)1536093817.0
In a follow-up tweet, Guttenberg made it clear this wasn't an attempted political stunt, even if that's what it has rapidly evolved into.
To be clear, I was invited by Senator Feinstein to attend today. Anyone who knows me knows I will talk to anyone.… https://t.co/Rqfu5PJ8CH

— Fred Guttenberg (@Fred Guttenberg)1536100501.0
No matter what Brett Kavanaugh thinks about gun laws, or how nervous he might have been in the moment, there's no excuse for turning his back on someone who literally just offered his hand in greeting.
Sometimes the smallest of human interactions reveal the largest truths about a person's character. And in this case, it could be fairly damning evidence for Brett Kavanaugh, someone whose questionable nomination to America's highest court already hangs perilously in the balance.