More
This teacher's viral door decoration highlights a gut-wrenching truth about slavery.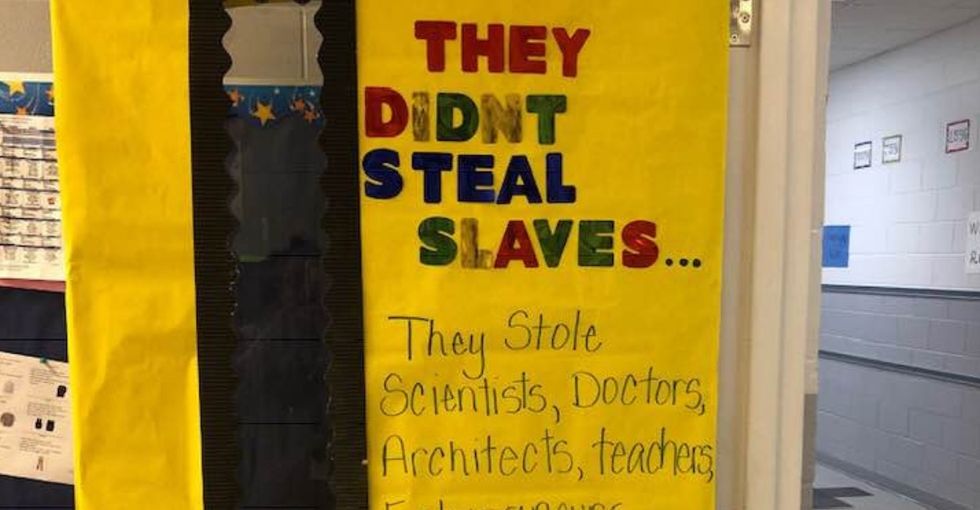 Black History Month reminds us that the story of America is not always told accurately or honestly.
The common saying "history is written by the victors" is not necessarily true. History is written by everyone. We have written narratives of the defeated, the oppressed, the commoners, and the enslaved—we just don't get to see those stories as often.
Perhaps it's more accurate to say that history is usually taught by the victors, which affects how stories get told, what parts are emphasized or deemphasized, and the language chosen to tell those stories. How history is shared and talked about and passed down through the generations makes a difference in how we view it.
---
A combination of historical white supremacy and shame over the truth about chattel slavery has caused American history to be whitewashed in many school textbooks. For example, some books repeatedly refer to people who were enslaved as "workers," which grossly dilutes the reality of what was done to them. Even the more accurate term "slaves" lessens those people's humanity and removes the fact that hey had identities and cultures outside of their violently enforced servitude.
Perhaps that's why this teacher's Black History Month door decoration has been shared more than 100,000 times on Facebook.
Jovan Bradshaw's door decoration highlights the vast human potential that was destroyed by slavery.
Bradshaw is a math teacher at Magnolia Middle School in Moss Point, Mississippi, a school where almost three quarters of the students are African American. For Black History Month, Bradshaw wrote a note to students on her door that read:
"Dear Students,
THEY DIDN'T STEAL SLAVES...They stole Scientists, Doctors, Architects, Teachers, Entrepreneurs, Astronomers, Fathers, Mothers, Sons, Daughters, Etc. and MADE THEM SLAVES.
Sincerely,
Your Ancestors"
It's a simple but gut-wrenching account of the human cost of slavery, and a sobering reminder of the diversity of people's lives destroyed by its atrocities.
"Stay dropping knowledge," Bradshaw wrote on her Facebook share of the photo.
Bradshaw says the idea for the door started with a boy's comment in her class.
Bradshaw has been amazed by the response her door photo has gotten, and has said she simply wanted to shift her students' mindsets about the history of their ancestors.
"It all started with this little boy in my class," Bradshaw told WLOX. "We were talking and he said, 'Slaves didn't do much because they couldn't read or write.' He kinda caught me off guard. I said, 'Baby, if I snatched you up and dropped you off in China or Germany or Africa even, you wouldn't be able to read and write their language either. Does that make you useless or any less educated?'"
So many of our African-American students don't know where they come from," she continued. "All they are taught is slavery, the servitude side only. They need to know that we were great long before slavery. We built a country with our blood, sweat and tears, and the strength of our ancestors is why they can be great today. You have to see people who look like you contributing to society, and the African contribution is left out at school. I teach math, but I'm woke and I plan on waking up every student that comes through the halls of MMS."
Bradshaw joked that she would have used a ruler if she'd known her door was going to go viral. But she has made one addition to the door to drive home the point for her students, written in red letters: "There is greatness in you!!"
Bradshaw has set up a GoFundMe page to raise money to take students to the Black History Museum in Hattiesburg, MS and the Whitney Plantation in Wallace, LA, and to kickstart a business to "assist school districts in designing programs, activities, and curriculum that will allow the most growth of every student."