More
This powerful, history-making photo is pure fire, and people can't get enough of it.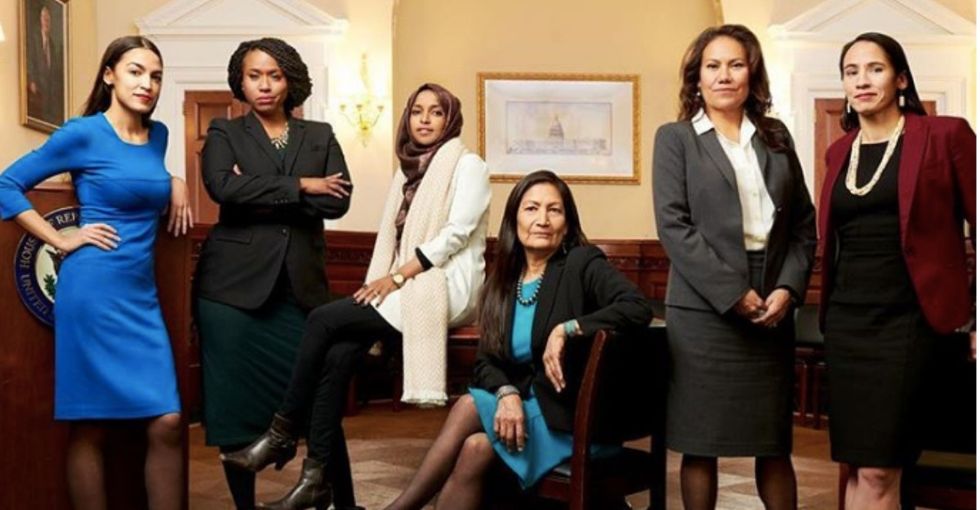 The 2019 Congress is being sworn in, with some history-making women leading the way.
American politics has always been dominated by white males. And by dominated, I mean dominated. For the majority of U.S. history, our lawmakers have been almost exclusively white males, with only an occasional woman or person of color filling the highest decision-making roles in the land.
Even as recently as 2015, Congress was 80% white and 80% male. I have nothing against white males (I'm married to one and am raising one), but one specific demographic having that much historical power is an issue. People rail against "identity politics" as if the concept is something women and minorities invented, but no one in America has played the race and gender cards harder and longer than white male politicians; they just always had the power to do so without explicitly admitting it.
---
However, we are finally seeing significant waves of change to that status quo, and it is so freaking refreshing.
Alexandria Ocasio-Cortez shared a photo of the beautifully fierce new face of politics.
Ocasio-Cortez shared a photo taken by Martin Schoeller for Vanity Fair on her Instagram and Twitter accounts, and people can't get enough of it. Six new Congresswomen, each making history in her own way, standing in the Capitol building, ready to take on those hallowed halls with their heads held high.
Sí, se puede. https://t.co/Mdkf01qKZQ

— Alexandria Ocasio-Cortez (@Alexandria Ocasio-Cortez) 1546456871.0
Ocasio-Cortez takes her place not only as a Latina, but as the youngest woman ever elected to Congress. Ayanna Pressley is the first Black woman to be elected to Congress from Massachusetts, while Ilhan Omar of Minnesota will be the first Somali-American and first Muslim woman to wear a hijab on the House floor. Sharice Davids and Deb Haaland are the first Native American women elected to Congress, with Davids (far right) also being the first openly LGBTQ+ woman serving from Kansas. Veronica Escobar (fifth from the left) enters as the first Latina Congresswoman from Texas.
These women are making history, and so many of us are 100% here for it.
There's a reason people can't stop staring at and sharing this photo—it's pure fire.
There's something about fire that mesmerizes us—its heat, its power, its beauty, its immense potential. Even though we've seen it a million times, when we're face to face with it, it pulls us in. This photo is fire. It's been liked and shared hundreds of thousands of times for a reason. Can't. Stop. Staring.
This photo says, "Behold, the new face of power." It says, "We have arrived and are not here for your bullshit." It says, "Our foremothers sacrificed everything to make this happen, and we aren't here to play—we're here to stay." It says, "This is what the promise of America is supposed to mean."
23 years ago, from a refugee camp in Kenya, my father and I arrived at an airport in Washington DC. Today, we ret… https://t.co/h9wkBb0MJv

— Ilhan Omar (@Ilhan Omar) 1546469425.0
This is the poster our daughters need on their walls. This is the image I want my girls to burn in their brains when they think of who is in charge and who is sitting at the decision-making table.  
Welcome to Congress, you fierce and fabulous women. Can't wait to see what outdated norms you burn down to make room for the future.