More
This man asked people on Twitter how they'd react if they caught their son wearing makeup. The responses were unforgettable.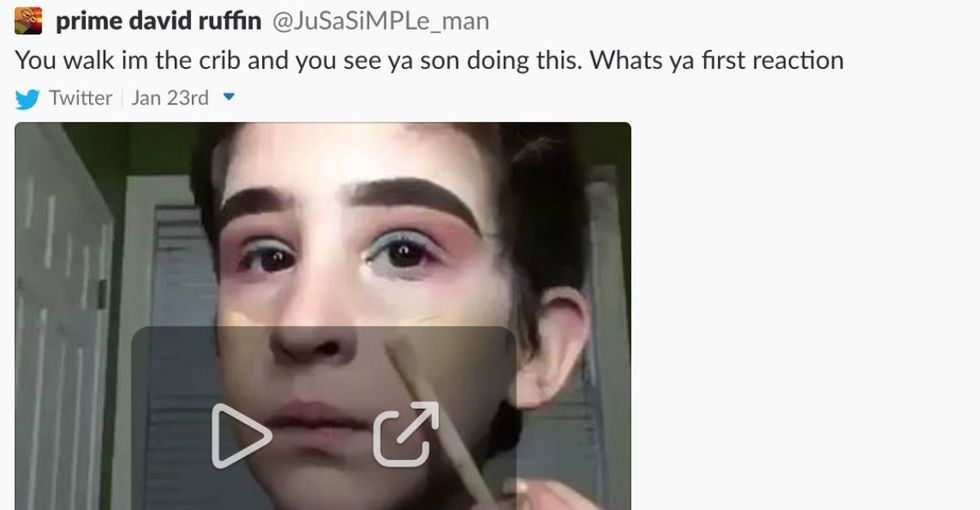 Twitter is the best barometer of the ever-changing winds of cultural opinion. As the dynamics of accepted masculinity and gender roles shift, we can learn exactly how this shift is occurring through social media.
When Twitter user @JuSaSiMPLe_man posted a hypothetical question regarding parental reactions to a son wearing makeup, he expected a response.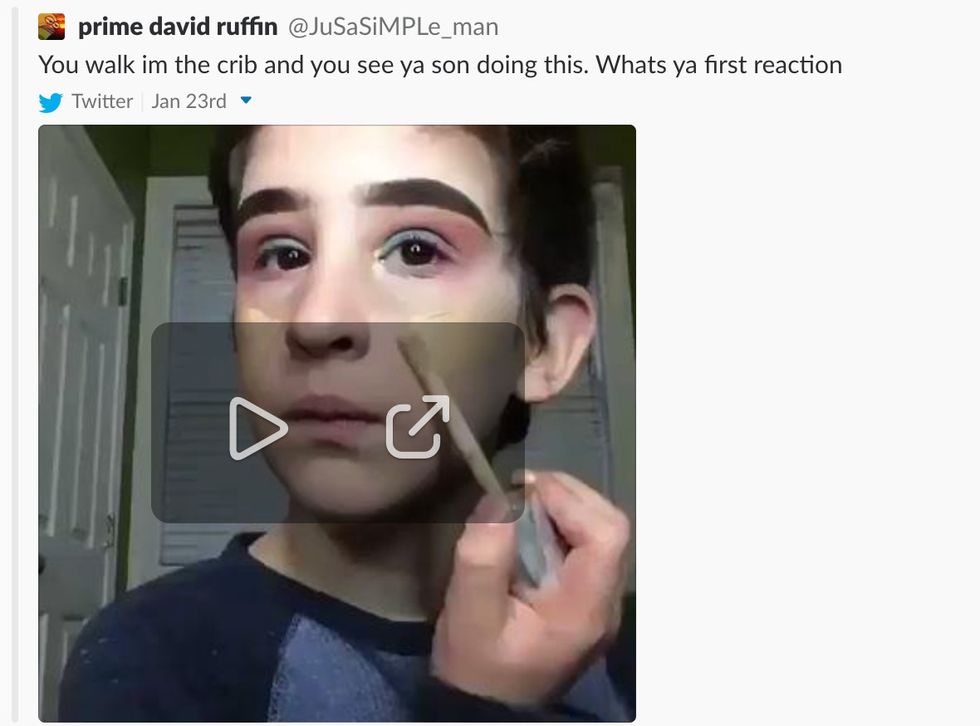 ---
But the response received was overwhelming. The since-deleted Tweet garnered a whopping 5.5K replies.
While the Tweet drew some mean comments, the response was overwhelmingly positive, with many of the comments focusing on the quality of the boy's rather than the fact he was putting on makeup in the first place.
@JuSaSiMPLe_man Ask if he would want to do my makeup as well! And make sure he got makeup kits if that was something he wished for

— #FreeBritney (@#FreeBritney) 1548375847.0
@JuSaSiMPLe_man Ask him if there's any product or something I can get him to help him with his make up

— racistgetoffendedforbeingcalledracist (@racistgetoffendedforbeingcalledracist) 1548322870.0
@JuSaSiMPLe_man Hug him or something, I'd be awkward with my children. But I'd be that dad who secretly pays attent… https://t.co/c1HuA9owXd

— Nightknight-77✨🎸 (@Nightknight-77✨🎸) 1548306660.0
@JuSaSiMPLe_man Make sure he got all the brushes he needs. If my sons happy I'm happy. And anybody that had an issue could see me

— Tristian Thompson Conscience (@Tristian Thompson Conscience) 1548346470.0
@JuSaSiMPLe_man buy him a damn foundation that matches his skin

— 𝖊𝖒𝖔 𝖘𝖓𝖆𝖎𝖑 (@𝖊𝖒𝖔 𝖘𝖓𝖆𝖎𝖑) 1548311667.0
@JuSaSiMPLe_man Tell him no product endorsements without 💲💲💲

— Erin Donovan (@Erin Donovan) 1548318966.0
The responses send the message that it's more important to love your son than it is to hold on to a prejudice. However, people will still not tolerate using the wrong foundation!