Most Shared
This art teacher helped stressed out students 'chill' with a Bob Ross flash mob.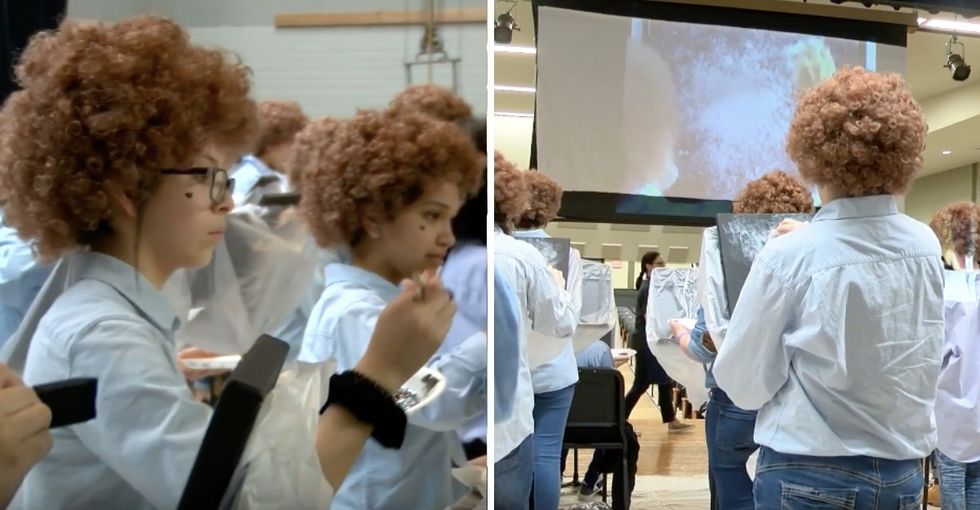 This art teacher knows that the best way to battle stress is to turn on a Bob Ross painting tutorial.
Thanks to Netflix airing "Chill with Bob Ross," a whole new generation is enjoying the smooth vocal stylings and relentlessly positive vibe of everyone's favorite paint-by-television icon. I grew up watching episodes of "The Joy of Painting" after school. I can't count how many times I've watched Ross mix a little Phthalo Blue with a little Titanium White and tap out happy little cloud after happy little cloud.
My husband and I recently introduced the show to our kids, and we all came to an agreement: There is nothing more oddly therapeutic than chilling with Bob Ross.
---
Brady Sloane, who teaches art at Madison Middle School in Abilene, Texas, agrees. She noticed that many of her nearly 50 advanced art students were under a lot of stress because of their workload, and she wanted to find a way to reward them for their hard work.
That's when she decided they could use a little Bob Ross therapy.  
Sloane provided Bob Ross costumes to make it extra fun for students.
Ross's bushy perm, buttoned-down button up shirts, and 80's jeans have become a classic Halloween costume. So Sloane took advantage of the look and created a painting "flash mob" in her classroom, making her nearly 50 pre-AP art students into mini-Bob Rosses, complete with curly wigs.
The students seemed to enjoy the goofy costumes. "We were laughing so much when we put our wigs on," one student told KRBC news.
"I was really wanting to reward my students in a meaningful way and provide an enriching art-related experience," Sloane told the news station, "But also honor the hard work that they've been doing."
It wasn't all silly fun and games—the students actually learned some valuable art skills during the class period.
Sloane said her students got a lot out of the Joy of Painting episode they painted from, in which Ross painted a landscape scene in grayscale.
"They're actually learning sponge brush techniques, landscape painting, alla prima painting, working at an easel. But they're really getting to paint like so many artists do in real life."
They're also undoubtedly learning to internalize Ross's favorite phrase of encouragement he offered his students: "We don't make mistakes—we only have happy little accidents."
What a fun lesson for these eighth graders. Watch more about the students' Bob Ross day here: