Culture
Don't worry, the new Netflix Bob Ross documentary doesn't ruin Bob Ross for us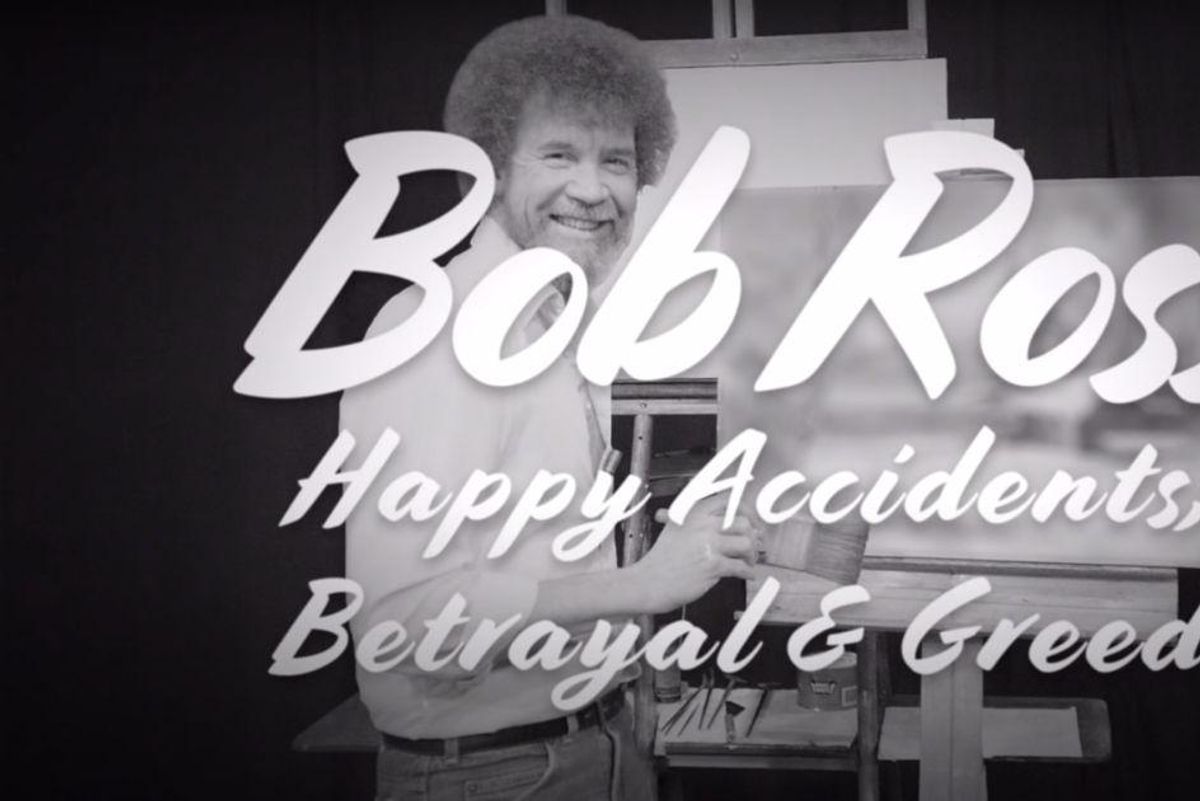 Few people in the public eye have been as universally beloved as Bob Ross, especially across multiple generations. The first time my husband and I shared "The Joy of Painting" with our kids, they were almost instantly mesmerized. Just as I had remembered from my own childhood, Ross's calm voice and "happy little trees" commentary as he painted felt almost like a form of therapy.
So naturally, when Netflix announced the release of a new documentary titled "Bob Ross: Happy Accidents, Betrayal and Greed," people (me, I am people) freaked out a bit.
With a title like that, how could you not? Bob Ross is up there with Fred Rogers and Steve Irwin in the "pure, wholesome, and untouchable" category, and even just seeing the words "betrayal" and "greed" so close to his name is enough to make a fan plug their ears and yell, "Na na na na, I can't hear youuuuu!"
---
@NetflixFilm This is such a 2021 title. That thing you thought was great? HAHA NOPE! LIFE SUCKS AND EVERYTHING IS A LIE.

— Kristen Skeet (@Kristen Skeet) 1629946265.0
But fans needn't worry. The betrayal and greed referred to in the title aren't about Bob Ross himself, but rather the key players in the management of his business after his death.
If you're looking for a purely feel-good film about Bob Ross, this isn't really it. Thankfully, you won't walk away with a tarnished view of the man himself—the most "scandalous" thing you might learn is that he permed his hair to get that famous 'fro. But many people are walking away feeling angry and frustrated over the way his art and name have been handled by the Kowalski family who manages them. You'll still love Bob Ross as much as ever, but you might feel some not-so-happy little feelings about Bob Ross, Inc.
The documentary was produced by actress Melissa McCarthy and her filmmaker husband Ben Falcone, and the couple spoke with NPR about some of the making the film and some of the legal perils they faced.
Bob Ross: Happy Accidents, Betrayal & Greed | Official Trailer | Netflixwww.youtube.com
"Bob certainly wanted it to go to — most of the business — to his son," McCarthy said. "He left it to his son and his brother. And very quickly, that was kind of taken through litigation. And because at the time [Bob's son] Steve was so young, Bob thought, you know, let's have an adult still guiding him with where he's going to take this company. ... But he didn't get to take hold of it at all."

The crux of the film is how Ross's business partners, the Kowalskis, have held a tight grip on Bob Ross, Inc. and how Ross's son, Steve, has allegedly been shut out of his father's business. Getting to the bottom of it all posed a challenge, however, as apparently few of the people involved wanted to speak to the filmmakers.
"Everyone's afraid of getting sued," Falcone said. So that's neat.
Now the Kowalskis have responded to the accusations in the film with a statement defending their role in the business they started in partnership with Bob Ross. They wrote, in part:
Bob Ross Inc. never pursued or threatened legal action against Steve Ross, and, in fact, no one at Bob Ross Inc. heard from Steve Ross for almost twenty years, until 2017 when Steve filed suit against the company without any prior communication.
Bob Ross may not have shared the inherent structural features of his company with family and friends – which are very common in small private companies – resulting in many of the unsubstantiated accusations made in the film.
They also claim that the merchandise they sell with Bob Ross's image on it is meant as a way to share the late painter's message of positivity. "Bob Ross Inc.'s hope is that items bearing Bob's likeness and messages prompt smiles as they remind people of the love of painting Bob shared with all," they wrote.
At the very least, we can all still agree that Bob Ross himself was a national treasure whose love of painting and positive outlook were genuine. Nobody mess with the legacy of the man himself, please. None of us could handle that. Let us keep our happy little memories of him pure and untarnished.