More
These awesome teens take tampons to school to help their friends in case of an 'emergency'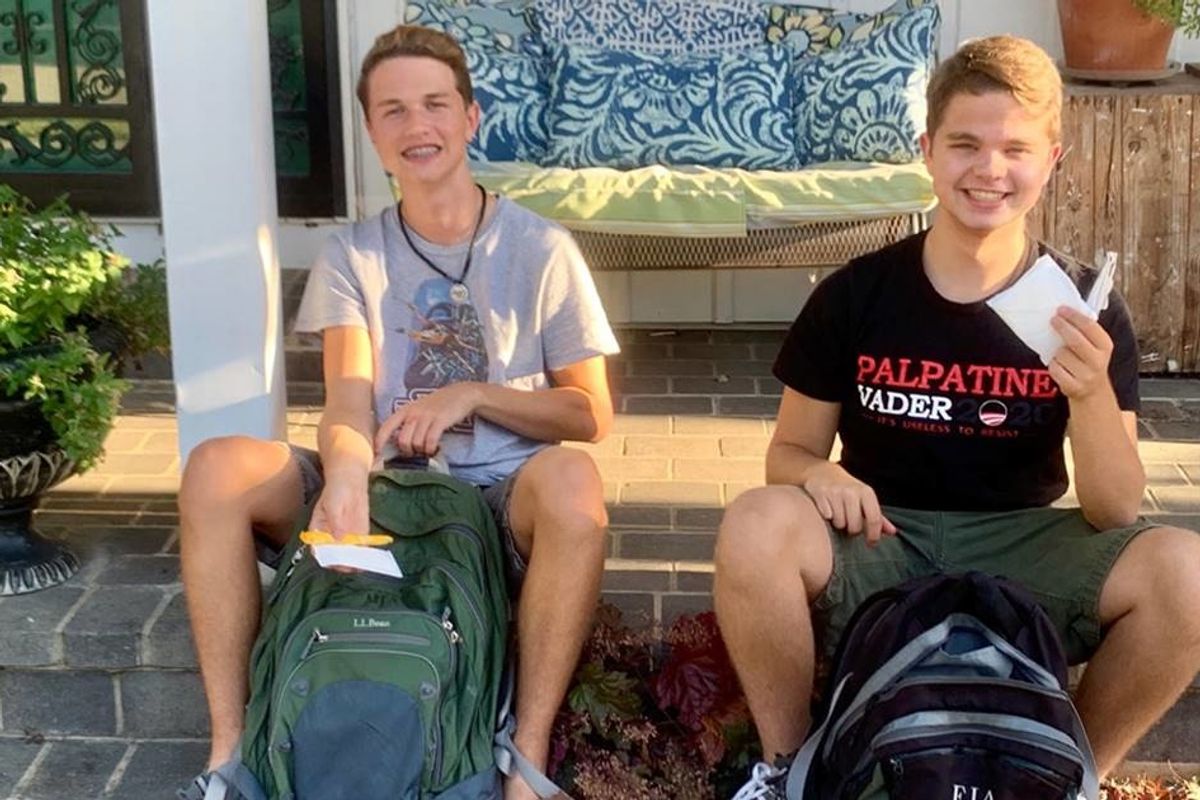 via Tara Ahrens
Earlier this month, blogger Tara Ahrens posted a photo of her teenage sons, Micah, 15, and Elijah, 16, to the private Facebook page Pantsuit Nation, and it received over 65,000 reactions.

It was an image of them back-to-school shopping at Target that read: "My teenage boys helped me shop today which included buying their little sister's first bras … because breasts happen."
"Both boys carry a tampon and a pad in their backpacks in case one of their friends needs one," she continued. "Just a mom out here, trying to erase gender taboo!!"
---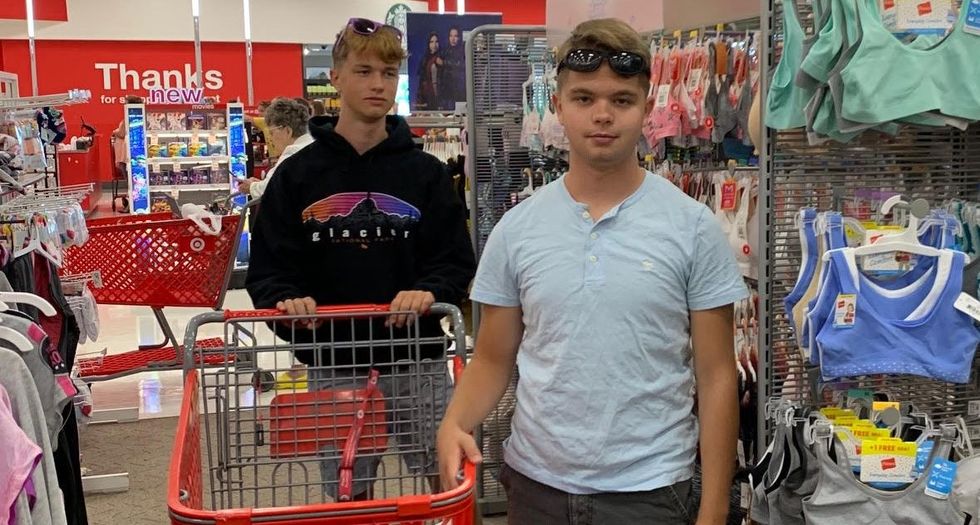 via Tara Ahrens
Ahrens' comfort discussing menstruation with her teenage sons was a breath of fresh air for many on the Pantsuit Nation page.

It broke down a long-standing taboo surrounding teenage boys and periods. Most males of that age group live in a mensuration-free bubble, only to learn the ropes when they become husbands or fathers.
While some men reject any involvement with menstruation or period products for their entire lives.
It also prompted a lot of people to ask themselves an important question: Why can't boys help their friends when they're having period troubles?
She discussed the origins of her idea in a blog post she wrote for CafeMom:
I first started talking about this with them last year, after reading an article about a man on the Appalachian Trail who gave a tampon from his backpack to a woman who had bled through. He reportedly said something like, "It's no big deal; I grew up with a mom and sisters … " and that rocked my world. As I was driving in my car one day, I looked at my boys in the rearview mirror and nonchalantly told them that they should probably put a tampon in their backpacks in case any of their friends had an emergency. They seemed to think it over and didn't say much, because teenagers.
Intrigued by her taboo-busting, out-of-the-box parenting skills, Upworthy got the chance to speak with Ahrens about the discomfort our society has surrounding menstruation and how people have reacted to her unique parenting policy.
Upworthy: What were your sons' first reactions to you asking them to carry period products with them to school?
Tara Ahrens: When I nonchalantly suggested they carry a tampon in their backpacks, they were a little surprised. I explained that it might come in handy in case one of their friends has a crisis at school. We had already discussed periods and how traumatic it can be for a girl to have a bleed-through at school, so they already knew to behave like a gentleman and never mock or laugh. It was a logical next step for them to just tell their friends they always have products, in case they ever need one.
Upworthy: What do the teachers at your sons' school think about theirwillingness to help out their friends when they've having period problems?
Tara Ahrens: This has all snowballed so quickly that they really haven't had a chance to discuss it with many teachers. The few that read the the article think it's "awesome," "astounding," "so cool," and they love all of it.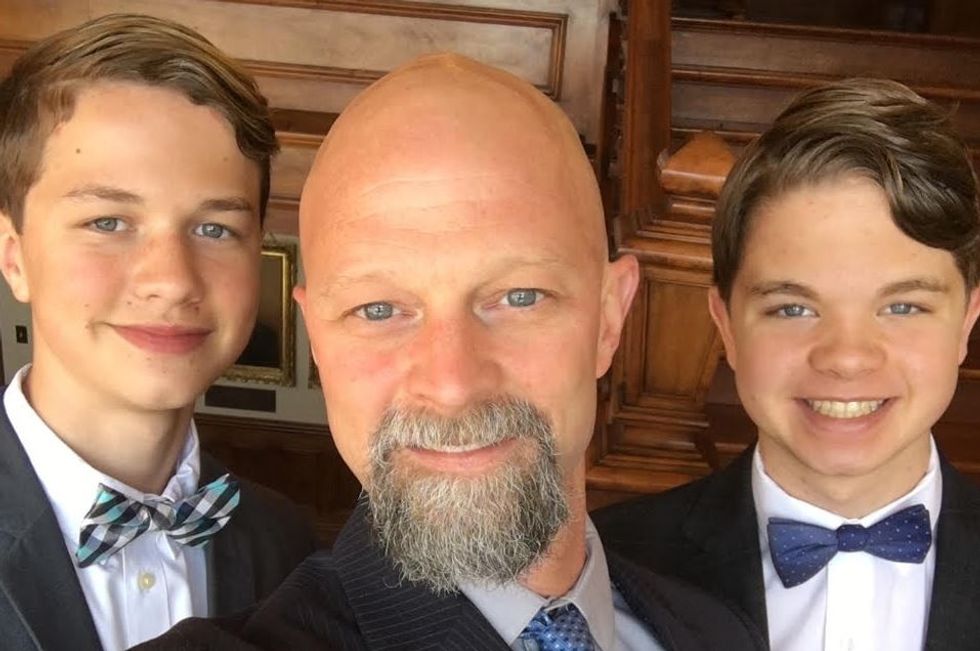 via Tara Ahrens
Upworthy: What does their father think about it?

Tara Ahrens: My husband, Lucas, is a bit puzzled by the response on the internet. He says "if someone needs help, you help them; that's just being a good human."
Upworthy: Have you inspired any other parents you know to do the same thing?
Tara Ahrens: I have some friends of girls who have said they appreciate this. Some of my friends will remember it for the future (when their sons are older). I have talked with a few friends who love the idea of this; but their sons don't have the same personalities as my boys so this approach wouldn't be a good fit for their families. They have mentioned discussing menstruation more often to normalize it.
Upworthy: I'm sure that a lot of parents who read this article will want to encourage their sons to do the same. Do you have any advice for helping them approach such a sensitive topic?
Tara Ahrens: My advice to other parents is; know your child! Like all parenting ideas, some will work for our children and others we just disregard. If your son is in a friend group that is both male and female and they are a kid not easily swayed by the opinions of others, this might be a great fit.
You get to that point by taking the embarrassment and shame out of menstruation conversations from the time they are young. I've always given my kids short, age appropriate, medical answers. Long talks do not work, but a bunch of quick, teachable moments over time, can easily erase any taboos.
Upworthy: It's 2019, why is menstruation still such an uncomfortable topic for many?
Tara Ahrens: I think that menstruation has been a tricky thing historically. It has definitely been used to control women. The fact that women were referred to as "unclean" is a stigma that still exists. Women have been told their thoughts are "crazy" or "unclean" based on their "time of the month". This misconception is going to take time to change. The more we talk frankly and biologically about it, the more we can normalize it.
Upworthy: What's the most common criticism you've received from talking about menstruation?
Tara Ahrens: The most common, and surprising criticism, is that my boys are somehow forcing tampons on strangers. I think a lot of people read a title and based on their own period shame, their first response is "No." The truth is, my boys have discussed this with their existing friend group.
Another baffling comment is that girls and women should handle this themselves. Period poverty in the USA is a very big reality. Our school is a low-income school. Fifty-one percent of girls nationwide miss out on classroom time due to a lack of period products. We have students who don't have a "mom" or even a mom-figure in their life. We have students who don't have a home. To insinuate that everyone has access to the same resources is pretty asinine. No girl should suffer just because she doesn't have access to period products. Generosity and kindness are choices we make and they are not gender-related.
Many doubters scoffed at the idea that any teenage girl would ever ask a boy for a period product. They are wrong! The day my essay for CafeMom was published, Elijah came home in need of more supplies because one of his friends came to him with an emergency. He's been asked twice. It is working!
I'm not any better of a mom than anyone else. I'm winging it and trying to add some big teachable moments in between the extreme living that is parenting four kids.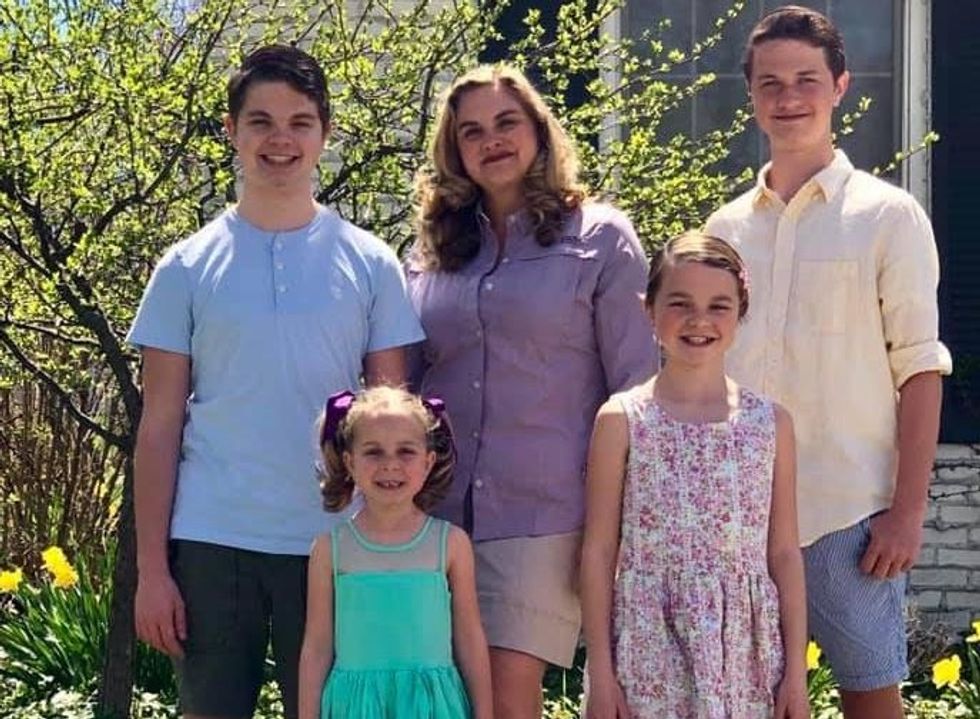 via Tara Ahrens