Family
Justice has finally been served to Big Tobacco in the U.S.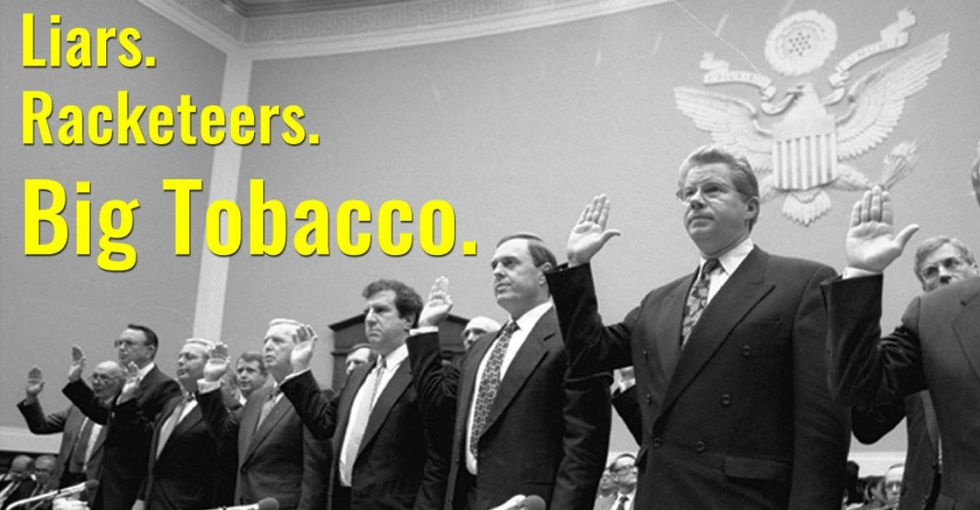 "More people die every year from smoking than from murder, AIDS, suicide, drugs, car crashes, and alcohol, combined."
After decades of growing evidence telling us smoking kills, you may not be all that shocked to see a message like that being advertised.
What if I told you a cigarette company paid for it?
---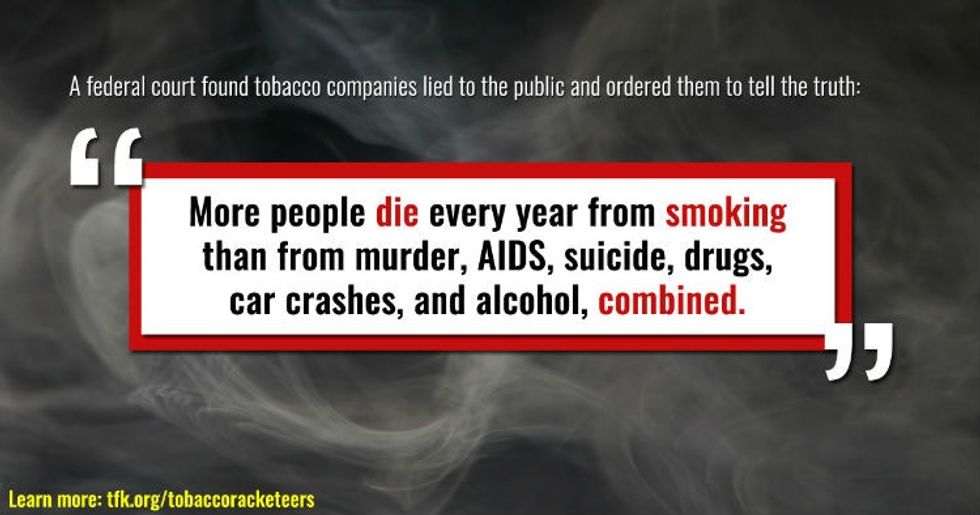 Graphic by the Campaign for Tobacco-Free Kids.
Starting Nov. 26, anti-smoking ads — paid for by Big Tobacco companies — will start appearing in newspapers and on TVs across the U.S.
These companies aren't running the ads voluntarily, of course.
Back in 2006, U.S. District Judge Gladys Kessler found that tobacco giants Altria, R.J. Reynolds Tobacco, Lorillard, and Philip Morris USA conspired to hide the health risks associated with smoking from the public, NPR reported. The suit was originally filed by a number of medical and advocacy groups in 1999.
In her scathing ruling — in which she called cigarettes "highly addictive" products that lead to "a staggering number of deaths per year [and] an immeasurable amount of human suffering" — Justice Kessler ordered the companies run "corrective statements" to counter their harmful and misleading messages from years past. After years (and years and years) of appeals and disputes over the exact wording of the statements, the companies' ads are finally being published and aired to an audience of millions.
So you may start seeing ads like this one — a full page spread in The Wall Street Journal — that spells out the facts about cigarettes and their effects.
Starting today, tobacco companies are running court-ordered "corrective statements" in newspapers and on TV, includ… https://t.co/sRe50Pph8Y

— Cara Lombardo (@Cara Lombardo)1511546740.0
Or a TV spot like this one, which will air on networks during prime time.
The ads are void of color and flashy imagery; they simply state the facts.
All in all, 50 major American newspapers will carry full-page, weekly anti-smoking ads, and NBC, ABC, and CBS will air five spots like the one above every week for the next year — all paid for by Big Tobacco, NBC News reported.
The Campaign for Tobacco-Free Kids, which has been part of the suit since the beginning, created graphics to be shared on social media to help boost news of the ad launch.
There's this graphic, in which the group notes why tobacco executives are a bunch of "frauds."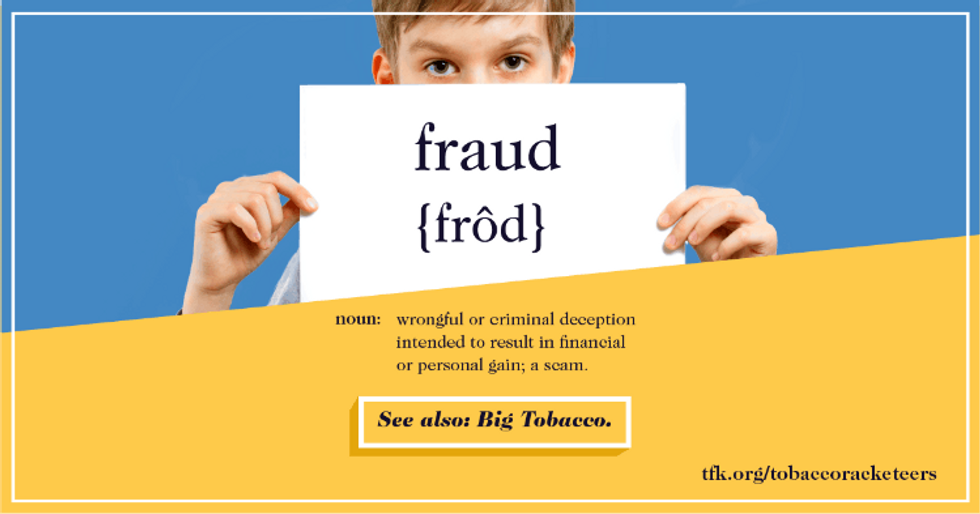 Graphic by the Campaign for Tobacco-Free Kids.
Or this one, in which the organization highlights the fact that Big Tobacco all but admitted to lying and racketeering.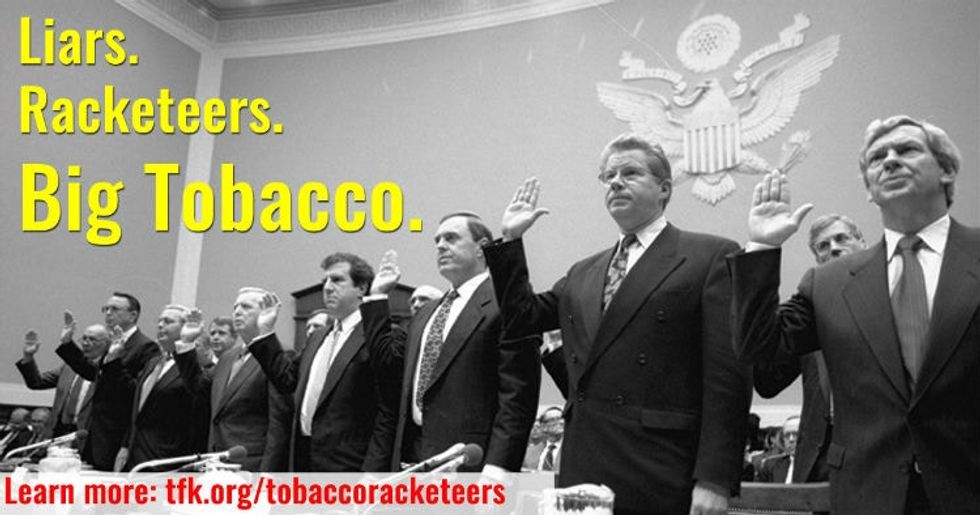 Graphic by the Campaign for Tobacco-Free Kids.
"It's both an important victory and a frustrating one," Matthew Myers, president of the organization, told The New York Times. These companies, he explained, have spent millions of dollars and over a decade avoiding having to simply tell the truth about their products.
Anti-smoking advocates see a few drawbacks to the ad launch though. For starters, the 11 years it took for these corrective statements to go public means the media landscape has evolved in favor of the tobacco companies. Newspaper ads, for instance, are significantly less influential than they were in 2006 since social media and internet advertising has grown. The wording on the ads has also been tampered down throughout the appeals process; the companies' lawyers argued earlier versions were crafted with the sole intent to "shame and humiliate them," according to The New York Times.
These ads will still make a difference, however, advocates argue.
The public may already know smoking cigarettes is harmful because the health effects are well-documented by now, Myers said. But this is still an opportunity to further inform Americans about just how deadly they can be and just how far their makers are willing to go to get customers to buy them.
"Very few people know that the court found that the tobacco industry intentionally manipulates cigarettes to make them more addictive," Myers told NPR.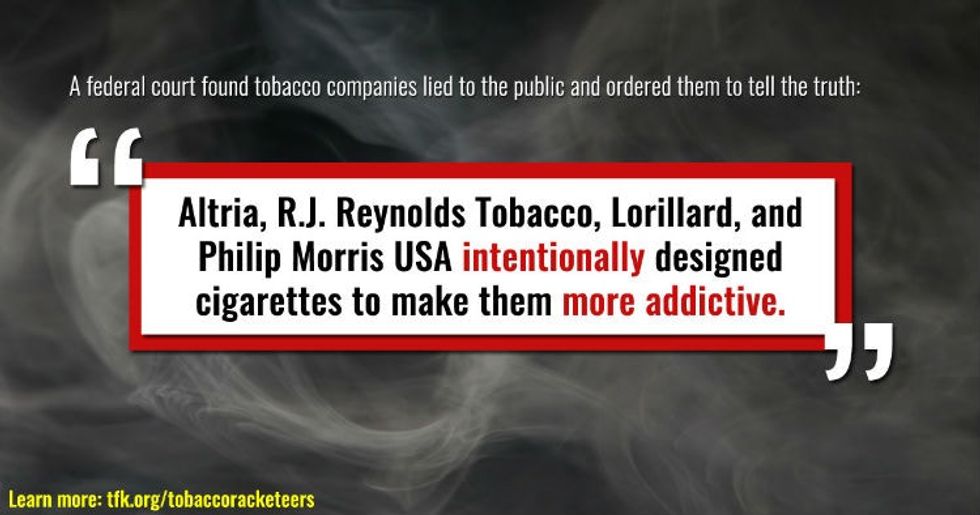 Graphic by the Campaign for Tobacco-Free Kids.
Robin Koval, CEO and president of anti-smoking nonprofit Truth Initiative, agreed: The ads take on important new meanings in 2017.
"People have forgotten over time all of the practices of the tobacco industry," Koval told NBC News. "Not only the fact that they lied about the products but also the fact that the products they were selling to the American people were engineered to be addictive as possible."
It's about time Big Tobacco got its facts straight.