popular
If the NFL really cares about racial justice then they need to hire Colin Kaepernick back
Let me get this straight: Colin Kaepernick still doesn't have a job in the NFL. It's disgraceful to the league. If the NFL is saddened by the events of George Floyd, Breonna Taylor, Tracy Walker, Ahmaud Arbery and many others, then the biggest statement they can make is hire Colin back. It's never too late. Even if he isn't a quarterback, there is such an obvious position for him. I will get to that later, but let us focus on his accomplishments on the field for now.
---
Stats do not lie. The San Francisco 49ers made a trade with the Denver Broncos to move up and pick Kaepernick as 36th overall in the 2011 NFL draft. After replacing an injured Alex Smith midway through the 2012 season, the quarterback quickly became a defensive coordinators nightmare throwing for 1,814 yards and 10 touchdowns while rushing for 415 yards and five scores on the ground in just seven starts, posting a record of 5-2.
In Kaepernick's first playoff start, he led his team to a 45-31 victory over the Green Bay Packers while chalking up 181 rushing yards, which was an NFL playoff record for a quarterback. He came within three points of winning the Super Bowl but fell short to the Baltimore Ravens 34-31. The following year, he went 12-4 making it to the NFC championship game.
Football fans know that the eyeball test is often times more important than stats—and to watch Kaepernick play the game was something truly special. He started to tail off after his first initial run. We all saw it. But to say that a talent like his doesn't belong in the NFL, even as a second or third string quarterback, means you don't understand football.
But it does mean that team owners and the NFL in general may not understand something essential about race in America in 2020. However, there is a solution.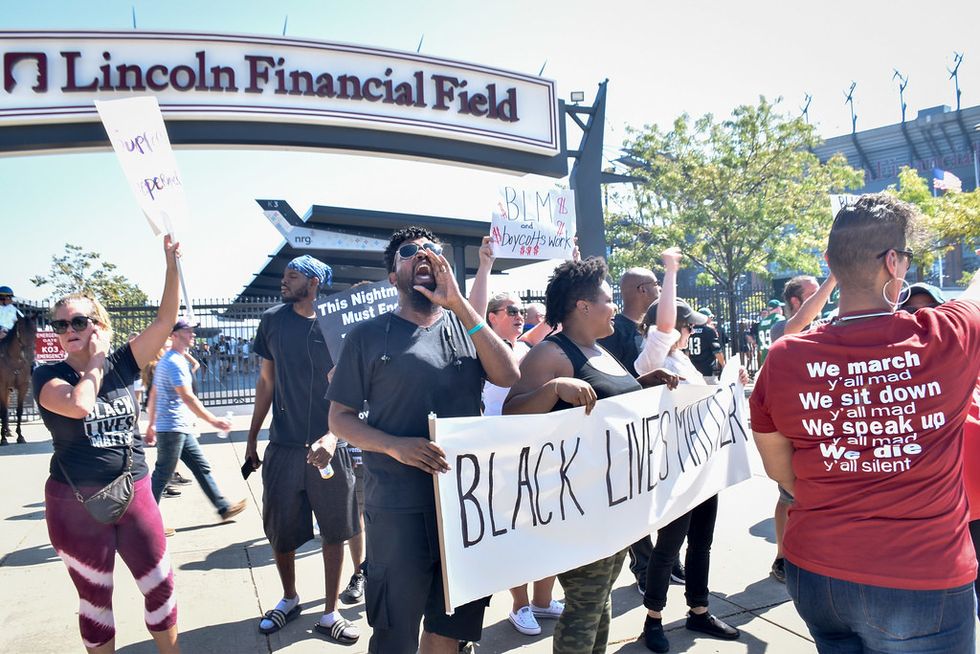 Not only has Kaepernick been out of the league without the physical wear and tear of four years of playing in the NFL, but he's entering his 30's where most quarterbacks hit their prime. The last time I checked, the New England Patriots have won Super Bowls signing players like Chris Long, Jamie Collins and Danny Amendola who were once great and had something to prove. Kaepernick could be the same.
His style fits perfectly with offenses like the Baltimore Ravens and the Seattle Seahawks, where he could easily be a backup. Or if anyone wants to run the wildcat or bring him in as a curveball on third or fourth and short situations. You mean to tell me that the Bengals, the longtime doormats of the league regarding both moral and on-the-field success, can't use a player like Kaepernick?
The Cincinnati Bengals drafted running back Joe Mixon in the 2nd round of the 2017 draft after a brutal, and I do mean brutal, video that surfaced from a surveillance camera that shows him knocking a woman out. Baltimore Ravens running back Ray Rice was caught on a security camera punching his girlfriend unconscious in an elevator. Ray Rice never played in the NFL again. The difference?
Ray Rice was at the end of his career, so it was extremely easy to say that they didn't want a guy like that playing on their team anymore. So, what moral high ground did the Bengals take on a guy who had fallen in the draft based on his questionable character? (and by that, I mean, horrifically hurting a woman with one incredibly ruthless and unnecessary closed first to the face). They drafted him.
But heaven forbid any NFL team sign a quarterback who led his team to a Super Bowl his first year playing and decided to speak out on social injustice.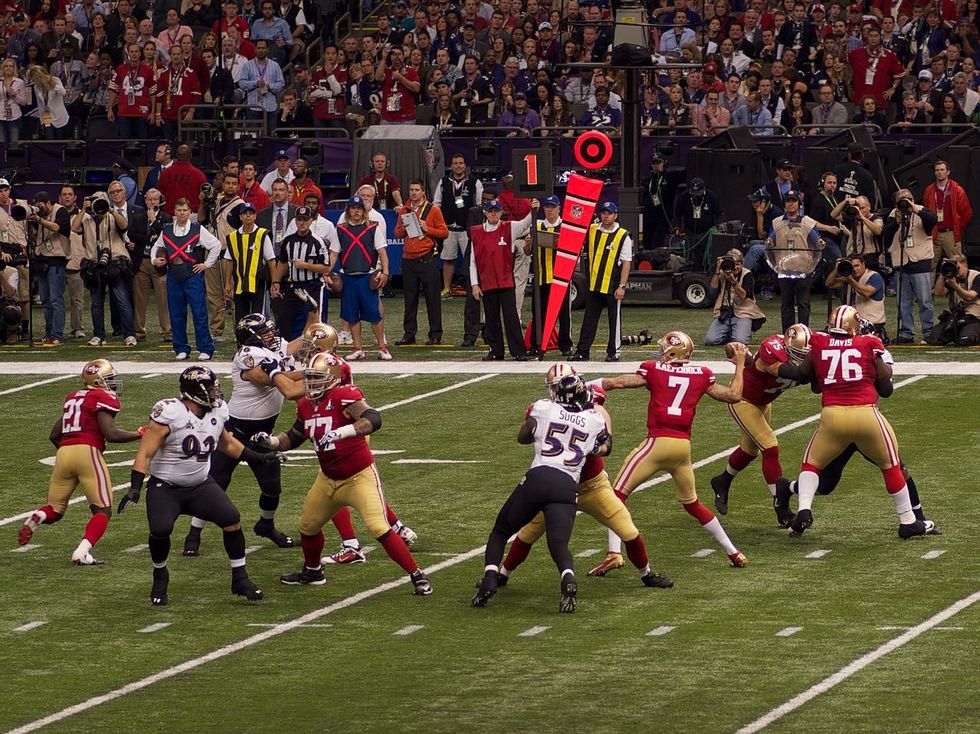 Kaepernick started the movement by sitting down on the bench during the national anthem before a preseason game. The problem people had was that he took a knee in the games to come. For those of you who do not know, Kaepernick took a knee after consulting with his friend and retired green beret, Nate Boyer, who explained the most respectful way to go about making his voice heard. It was Nate who said that it was a sign of respect to take a knee— that's what soldiers do for fallen brothers.
The question begs which is worse: standing up for something you believe in and being respectful or violently assaulting women? The NFL owners will do right by their fans. Apparently, it is more forgivable to hit women than it is to bring awareness to inequality.
The real reason no team would touch Colin Kaepernick is because they think it will hurt their fan base. Football fans are extremely patriotic and cheer when the national anthem reaches the line "and the rockets' red glare," and go nuts when the fighter jets roar above the stadium. Of course, I also love a good flyover. But it was the action of kneeling that people took as disrespecting the flag. Except it wasn't.
Had Kaepernick raised a fist instead, I don't know if we would be having this conversation, which is the point. He made us have this conversation. That was his biggest crime. He was simply exercising his right to freedom of speech without saying a word. That sounds pretty damn patriotic to me.
Pete Carroll said "we owe a tremendous amount" to Colin Kaepernick for taking a stand against police brutality and… https://t.co/42LshhC7yM

— SportsCenter (@SportsCenter) 1591200116.0
Thx to your support we've expanded the @yourrightscamp legal defense initiative nationally to defend arrested Freed… https://t.co/ipHdy8kFPo

— Colin Kaepernick (@Colin Kaepernick) 1591210654.0
Even if there is not one NFL team that thinks Colin Kaepernick can make their team better, there is the other role he can play. The National Football League, a multi-billion-dollar machine, can hire him to be a racial liaison. NFL commissioner Roger Goodell claims the league is serious about implementing change. He issued a statement on Saturday:
"The NFL family is greatly saddened by the tragic events across our country. The protesters' reactions to these incidents reflect the pain, anger and frustration that so many of us feel. Our deepest condolences go out to the family of Mr. George Floyd and to those who have lost loved ones, including the families of Ms. Breonna Taylor in Louisville, and Mr. Ahmaud Arbery, the cousin of Tracy Walker of the Detroit Lions. As current events dramatically underscore, there remains much more to do as a country and as a league. These tragedies inform the NFL's commitment and our ongoing efforts. There remains an urgent need for action. We recognize the power of our platform in communities and as part of the fabric of American society. We embrace that responsibility and are committed to continuing the important work to address these systemic issues together with our players, clubs and partners."

So, I ask you Mr. Goodell, why not hire Collin Kaepernick as a racial liaison, the man who brought this awareness to the national stage? Rather than talking about change, be the change.
More importantly, say his name: Collin Kaepernick. Hire him.