Most Shared
The new 'Impossible Burger' is so realistic the human body might not be able to tell the difference.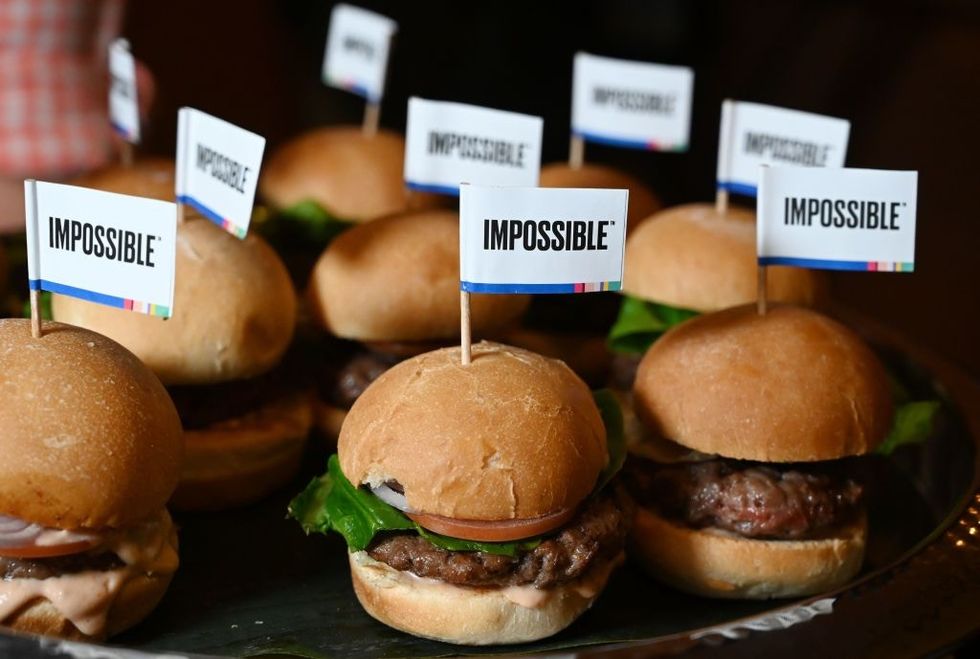 ROBYN BECK/AFP/Getty Images
Have you heard of the Impossible Burger? It's widely considered to be the best vegetarian burger for folks who want a veggie burger that most closely resembles one made from meat.
It's become a massive hit in America, showing up in restaurants across the country and often selling out in popular dining spots.
The founders recently unveiled the "Impossible 2.0" during the annual Consumer Electronics Show in Las Vegas. In fact, it's the first ever food product to be displayed by the legendary trade show and reportedly "left the crowd stunned with its smell, texture, flavor and color -- almost like a real hamburger."
---
And the 2.0 is such a masterful approximation of the "real thing" that it made one vegetarian food critic physically ill as his primal mind told his body he was eating meat, even though his conscious mind knew he was eating a plant-based food.
"I have a pretty strong stomach. Roller coasters are my jam. Virtual reality never makes me queasy," Joan Solsman writes on CNET, noting she's been a vegetarian for more than 10 years.
Solsman was tasting out some of the 2.0 in the form of a pseudo steak tartare, noting that even the local Vegas chef said he couldn't tell the difference between animal-based steak other than tasting less iron. So far so good. Then Solsman swallowed her first bit of the Impossible creation.
My stomach started objecting to what was going on in my mouth. "I haven't had beef in more than a decade," I said through my mouthful, hoping the disclaimer might mask my growing revulsion. "It's kind of grossing me out."
Solsman said she had a much better experience eating the traditional preparation of the Impossible -- in burger form:
The very best was the actual burger -- with the soft bun, tangy sauce, zesty crunch of barely-there raw onion and refreshing crisp of lettuce and tomato. Combined with the juicy, chewy patty, it tasted amazing because it tasted like a real burger.
However, she also notes that she's not necessarily opposed to meat -- after all, she only became a vegetarian because of her husband.
And even the real steak tartare isn't necessarily a big hit with traditional carnivores. Still, it's hard to deny the allure of one vegetarian's body literally rejecting what on some level it is convinced is actual meat.
Like the emerging industry of lab-grown meat, the Impossible line of products is offering an increasingly viable alternative that has much, much more to offer than simply a tasty option for those already on the vegetarian or vegan side of the aisle.
After all, reducing our consumption of meat -- and eventually phasing out livestock farms entirely -- is great for the environment, good for reducing the spread of viruses, and, of course, great for the animals we're not killing.
If we can do all that while enjoying a burger so good it makes some people sick, all the better.
And if you think that's something special, just wait. Impossible founder Pat Brown said the company's next unveiling is going to be a vegan steak.