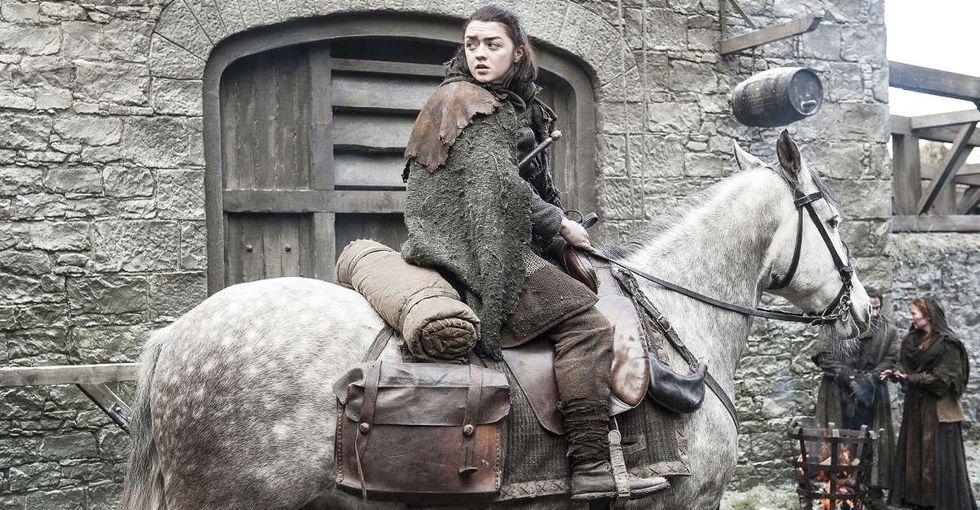 Welcome to "A Song of Nice and Fire" Upworthy's weekly series recapping one of the most brutal shows on TV. Since brutality is not really in our wheelhouse, Eric March has taken it upon himself to dig deep, twist and turn, and squint really hard to see if he can find the light of kindness in all the darkness. He may not always succeed, but by gosh if he won't try his best.
Here's what he found on this week's "Game of Thrones."
---
If seven years of bumping around Westeros has taught me anything, it's that the game giveth, and the game taketh away. No more so than for those of us who recappeth the game on the internet.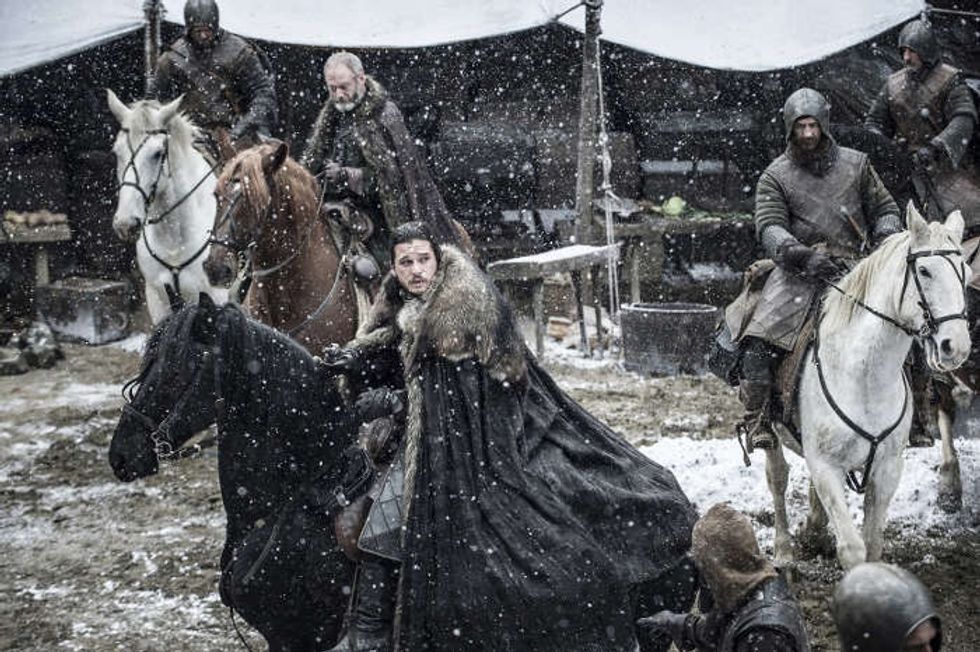 Poor snowy horsemen. Image by Helen Sloan/HBO.
Last week was full of human kindness. This week, not so much. So ... I'm going to do things a little differently.
I'm going to summarize the down and dirty of what happened in each location. Then, I'm going to give the nicest person in that location special props. An award, of sorts. Named after the kindest, gentlest soul ever to visit there.
Let's give this a shot, shall we?
Dragonstone
The episode opens just a few days (weeks? months? What timescale are we operating at here again, anyway?) into Daenerys' triumphant homecoming to Dragonstone, where she and Varys are just not getting along.
The spymaster tries to whisper sweet, manipulative nothings to the breaker of freaking chains to no avail because, of course, there's the tiny matter of Varys trying to have Dany killed way back in season one. Varys does manage to slip back into the dragon queen's good (or, let's be honest, medium) graces by playing the complete and total honesty card and declaring his loyalty to the continent's smallfolk, a concern Daenerys purports to share, even though she will shortly be raining dragonfire down on a fair percentage of them.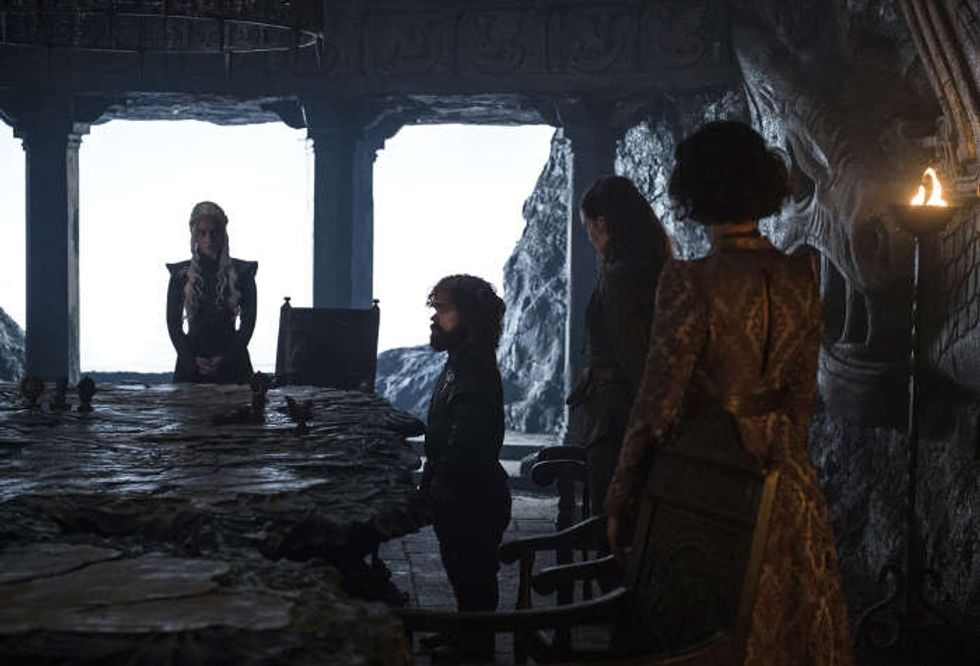 Image by Helen Sloan/HBO.
Later on, trying to warm herself with the world's most pitiful fire, Arya finds Nymeria! Her direwolf! And asks her to come back to Winterfell with her! And because this is "Game of Thrones," she does and they live happily ever after!
Just kidding. The direwolf unceremoniously trots in the opposite direction. Because, as Arya realizes, "that's not her." (Not, as in literally not her, but as in that's not her style to come along. Apparently, this was a reference to a line from season one? Gotta stay past the credits, I guess.)
And the Brienne of Tarth Honor of Heartwarmingness goes to: Hot Pie, for giving Arya his secret pie recipe. First brown the butter, before slaughtering your enemies' family members and baking their digits into the filling. Gonna stow that one away for Thanksgiving.
The high seas.
Below deck, all is smooth sailing in the Iron Fleet on its way to collect the Dornish army. The Sand Snakes lay in their hammocks fantasizing about the various Lannisters they're going to whip/throwing star to death while Yara and Ellaria get to know one another a little-to-a-lot better.
Of course, then Uncle Euron ruins the moment when he comes flying in like the lead singer of Rhode Island's third best Iron Maiden tribute band and spoils everything, slaughtering various extras and the two Sand Snakes you probably didn't care about, while taking the one Sand Snake you also didn't care about but at least definitely recognized, Ellaria, and Yara hostage. Confronted by his father's brother holding his sister at ax-point, Theon takes a deep breath, screws his courage to the sticking place, and ... bravely jumps into the sea.
Oh well. You'll get him next time, Theon.
And the Ser Davos Seaworth Herald of Compassion goes to: Random piece of shipwreck, for holding Theon afloat after he abandons ship. Perhaps he doesn't deserve it — he sexually harassed his sister, killed two innocent farm boys, and sold out the entire North to a crazed serial killer — but hey, everyone deserves a 27th chance. Right? Way to come through in the clutch, hunk of driftwood!
Random Acts of Niceness
It was cool of those wolves not to eat Arya's horse, who was definitely like "screw this" throughout that entire scene.
Varys is a "small-d" democrat? Could we be headed toward a revolution of the Westerosi political system? Five years from now, will we be arguing about Pentosi interference in the Targaryen-Lannister election?
Ser Davos knows how to read! All those lessons with Shireen finally paid off. Thanks, Shireen! Wonder whatever happened to that scamp.
That's all for now, folks! Join me next week when hopefully Daenerys and Jon bro out over their vinyl collections, the Night King helps paint the Wall a lovely burnt umber, and Randall and Dickon Tarly's father-son road trip back to Horn Hill ends in a tearful game of catch.