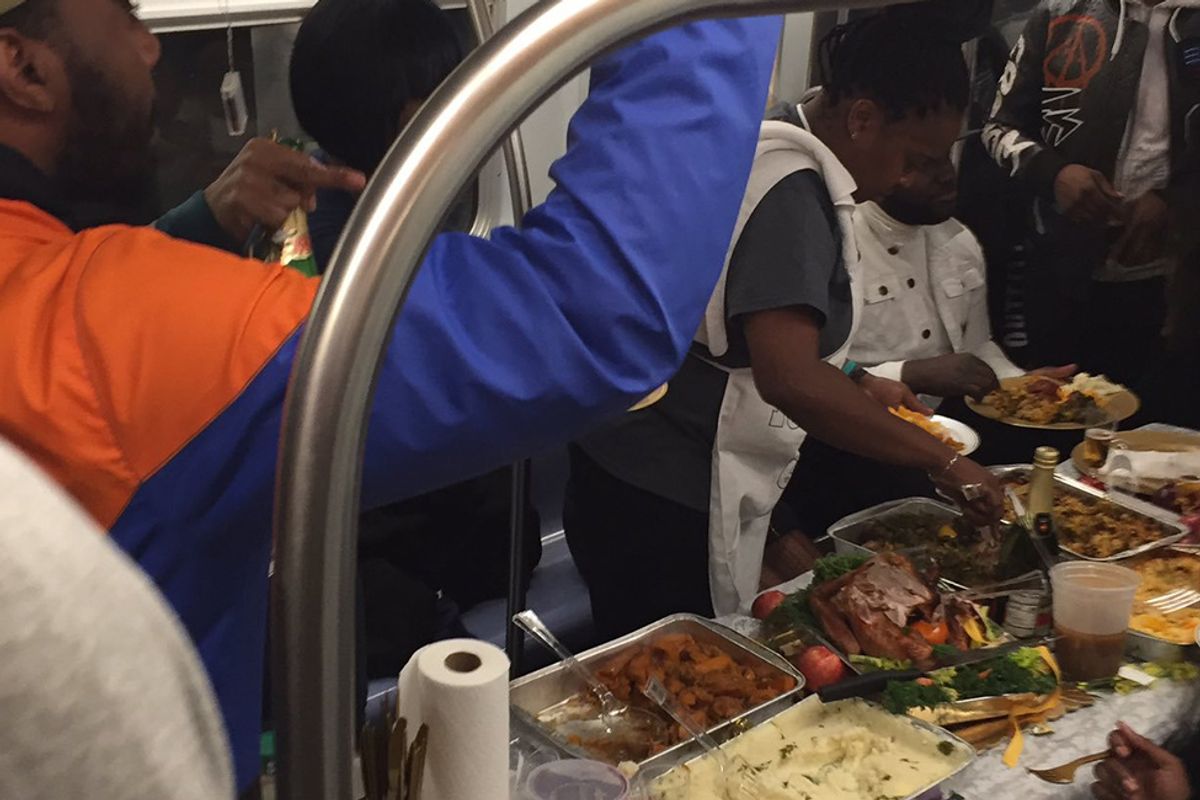 The New York City subways can be miserable, but one Brooklyn-bound L train became a lot more festive when a pop-up Thanksgiving feast appeared onboard. It was like Friendsgiving, but the friends were strangers that you'd fight for a seat if it ever came down to it. It's nice to be reminded that New Yorkers can display a strong sense of community when the occasion presents itself.
A table with a full Thanksgiving feast was set up in the middle of the car. Collard greens, mashed potatoes, homemade mac and cheese, cider, stuffing, and of course, turkey, were available to everyone riding the car. The table was even draped with a table cloth, making this subway Thanksgiving dinner a classy affair. After a prayer, everyone on the train was allowed to eat. All in all, about 40 people were fed on the train.
---
The Thanksgiving dinner went viral.
Of course, there were some people who wondered how sanitary the meal was. The New York City subways don't exactly have the best track record when it comes to cleanliness.
The dinner was staged by comedian Jodell "Joe Show" Lewis. Lewis and his friend Christopher Dupree, a Brooklyn rapper and model, came up with the idea over the summer. They chose to set up the meal on the L train because he could see "how dreary and upset riders were at the inconvenience the new construction provided." The black-Caribbean inspired meal was created by Brandi Baxter.
Even though the dinner was a stunt, it doesn't make it any less cool. "It was definitely a bit of a stunt but these guys were really respectful of space - It was a 7 PM Sunday L from Union Square and was not crowded at all. They said it was an inclusive gesture to emphasize no one should go without food on Thanksgiving. They were loud but not rowdy or a nuisance. They even handed out plates to everyone in the car - I got one and the turkey was a solid 7/10 and collard 8.5/10. I'm glad I got to experience something like this. Makes a great story! There were even MTA employees amongst us but no one objected," one Thanksgiving feast "guest" posted on Reddit.

MTA employees were present on the train, however no one shut down the meal. That was thanks in part to clever planning. The duo decided to put on the event with enough "communal flair" to not get busted. "It was about embracing New York City," Dupree told the Washington Post.
If the subway was this friendly the rest of the year, maybe the daily commute wouldn't be so bad!