Family
Birth is intense. It's also beautiful.
When San Francisco photographer Lisa Robinson was about to have her second child, she was both excited and nervous.
Sure, those are the feelings most moms-to-be experience before giving birth, but Lisa's nerves were tied to something different.
She and her husband already had a 9-year-old son but desperately wanted another baby. They spent years trying to get pregnant again, but after countless failed attempts and two miscarriages, they decided to stop trying.
Of course, that's when Lisa ended up becoming pregnant with her daughter, Anora. Since it was such a miraculous pregnancy, Lisa wanted to do something special to commemorate her daughter's birth.
So she turned to her craft — photography — as a way to both commemorate the special day, and keep herself calm and focused throughout the birthing process.
Normally, Lisa takes portraits and does wedding photography, so she knew the logistics of being her own birth photographer would be a somewhat precarious new adventure — to say the least.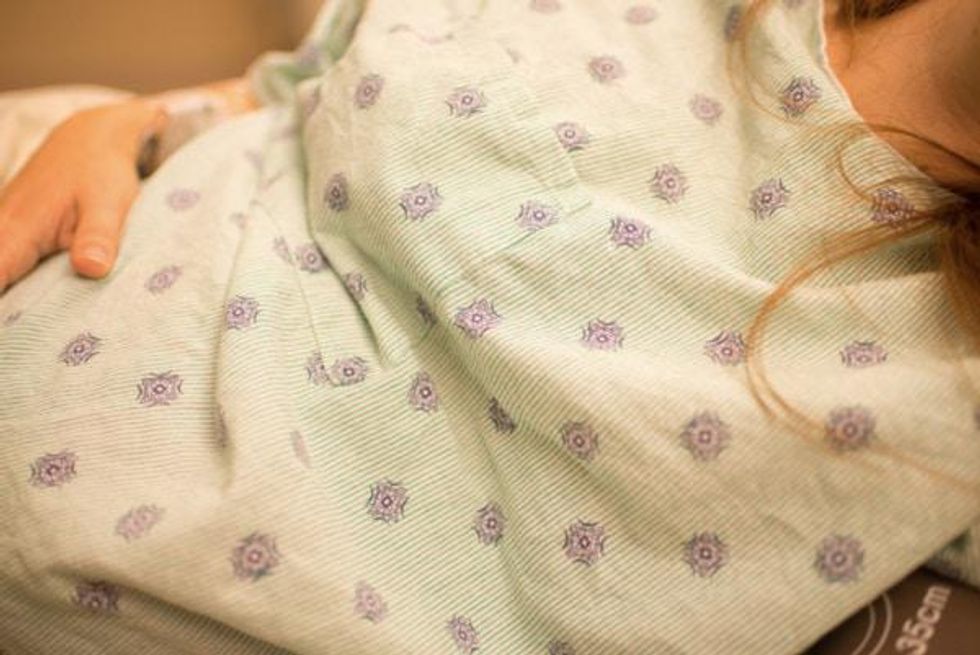 She initially suggested the idea to her husband Alec as a joke.
Photo by Lisa Robinson/Lisa Robinson Photography.
"After some thought," she says, "I figured I would try it out and that it could capture some amazing memories for us and our daughter."

In the end, she says, Alec was supportive and thought it would be great if she could pull it off. Her doctors and nurses were all for Lisa taking pictures, too, especially because it really seemed to help her manage the pain and stress.
In the hospital, she realized it was a lot harder to hold her camera steady than she initially thought it would be.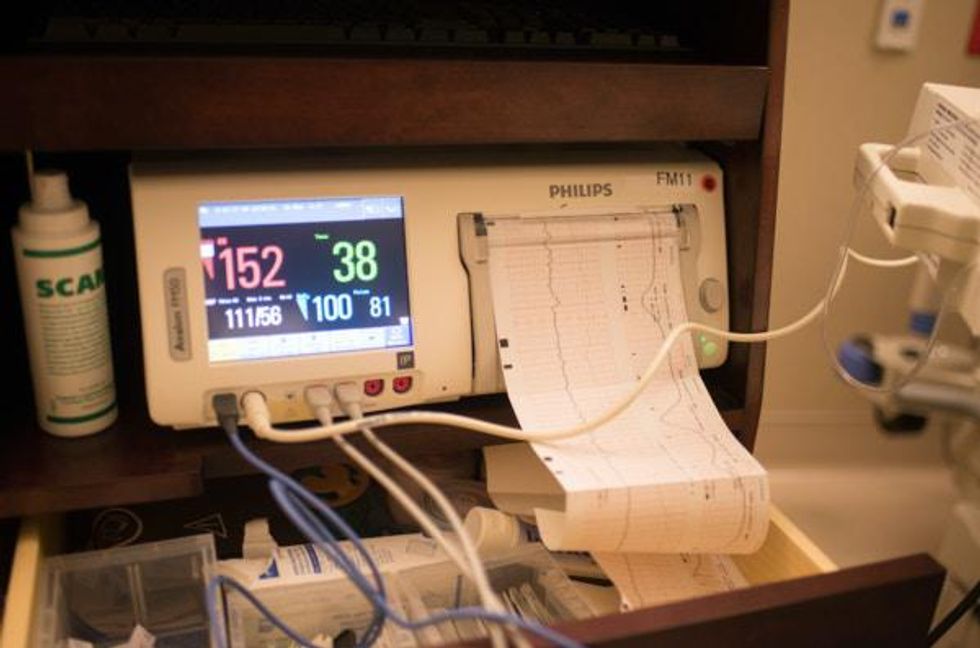 She had labor shakes but would periodically take pictures between contractions.
Photo by Lisa Robinson/Lisa Robinson Photography.
"Eventually when it was time to push and I was able to take the photos as I was pushing, I focused on my daughter and my husband and not so much the camera," she says.

"I didn't know if I was in focus or capturing everything but it was amazing to do."
The shots she ended up getting speak for themselves: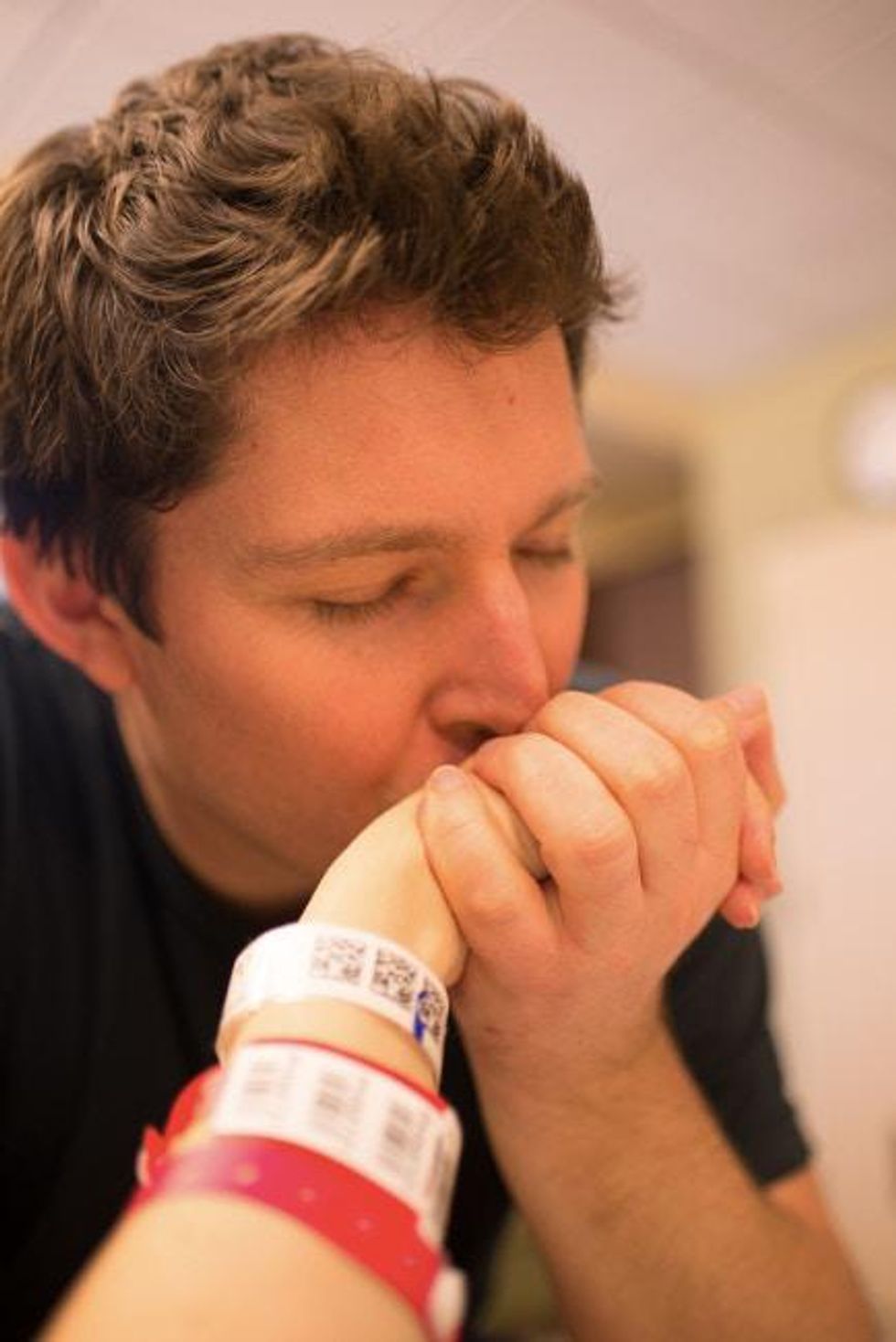 Lisa's husband Alec.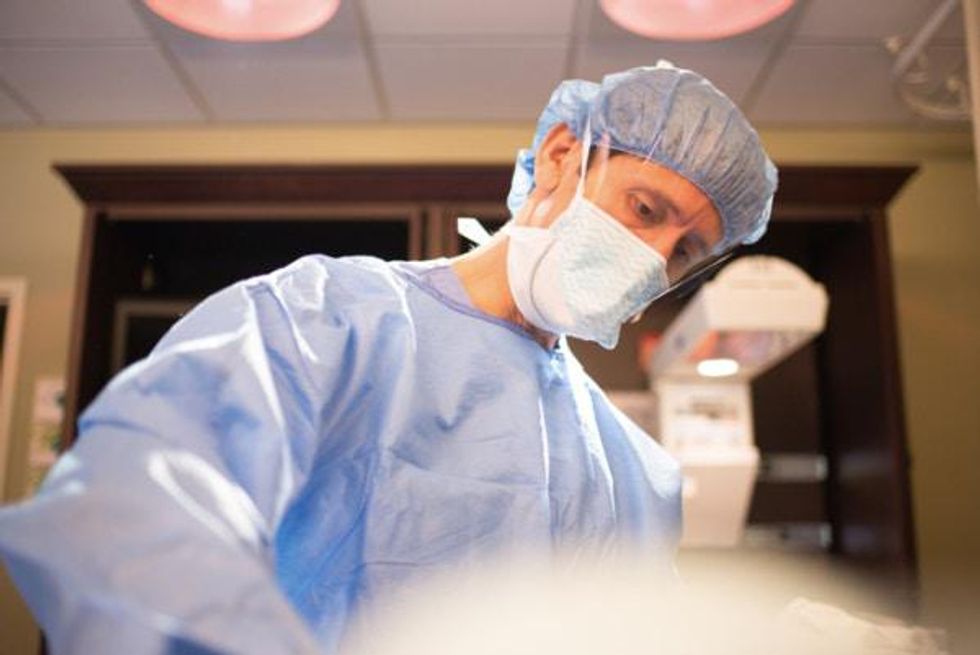 Hello Doc.
Photo by Lisa Robinson/Lisa Robinson Photography.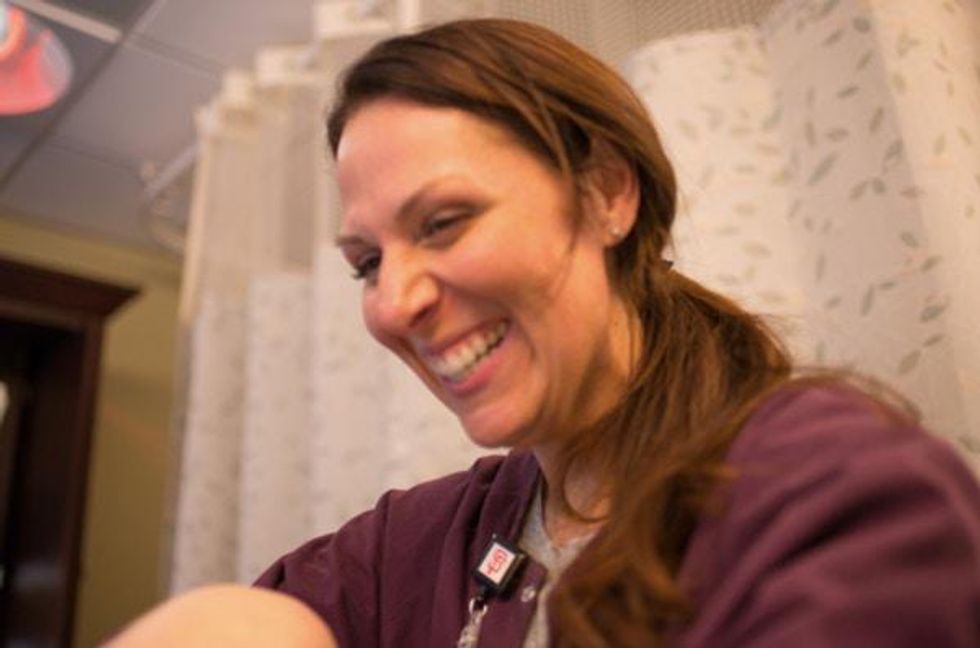 Warm and encouraging smiles from the nurse.
Photo by Lisa Robinson/Lisa Robinson Photography.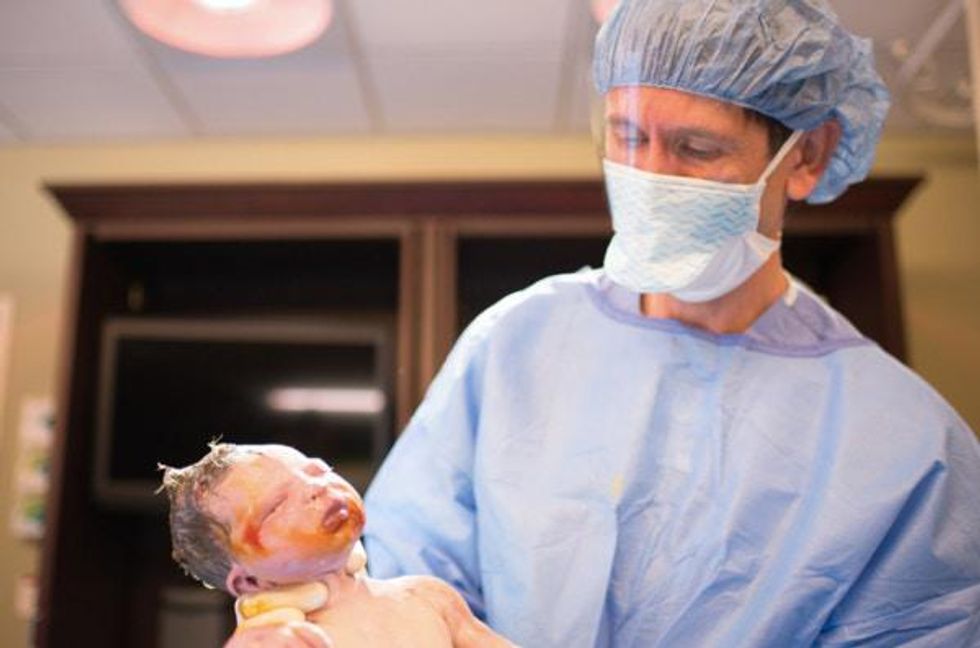 Hello, baby Anora!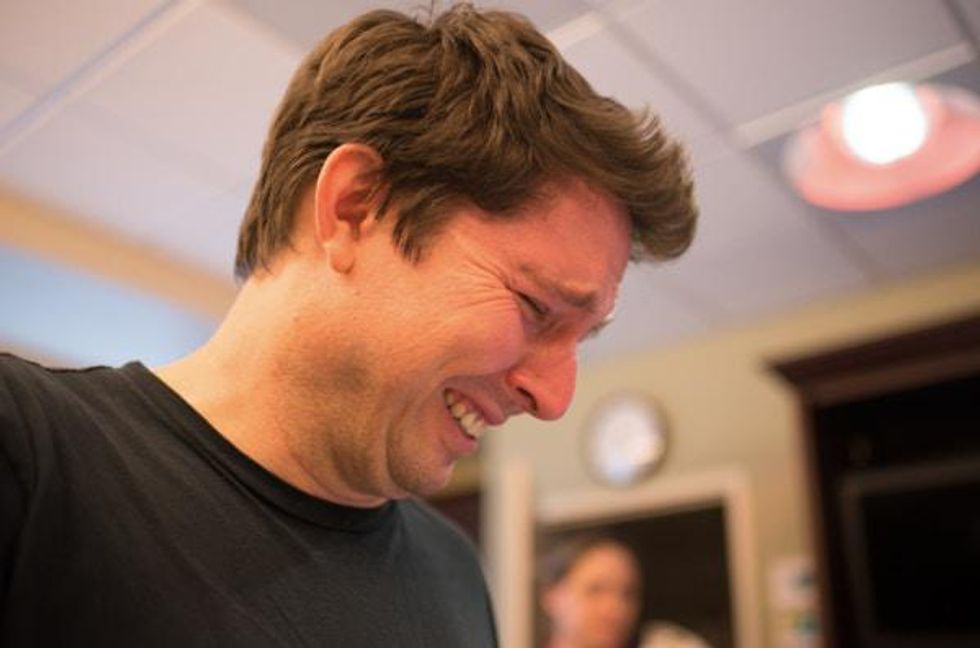 An overcome father.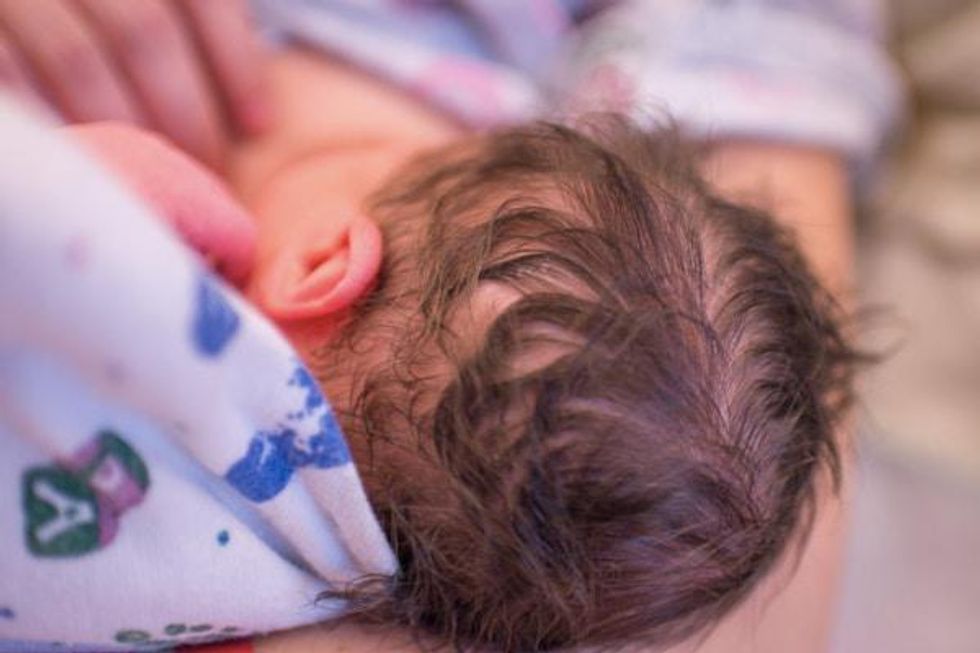 Newborn Anora's first experience with breastfeeding.
Photo by Lisa Robinson/Lisa Robinson Photography.
"Everybody was supportive and kind of surprised that I was able to capture things throughout. I even remember laughing along with them at one point as I was pushing," Lisa recalled.
In the end, Lisa was so glad she went through with her experiment. She got incredible pictures — and it actually did make her labor easier.
Would she recommend every mom-to-be document their birth in this way? Absolutely not. What works for one person may not work at all for another.
However, if you do have a hobby that relaxes you, figuring out how to incorporate it into one of the most stressful moments in your life is a pretty good way to keep yourself calm and focused.
Expecting and love the idea of documenting your own birthing process?
Take some advice from Lisa: "Don't put pressure on yourself to get 'the shot'" she says, "and enjoy the moment as much as you can."
Lisa's mom took this last one.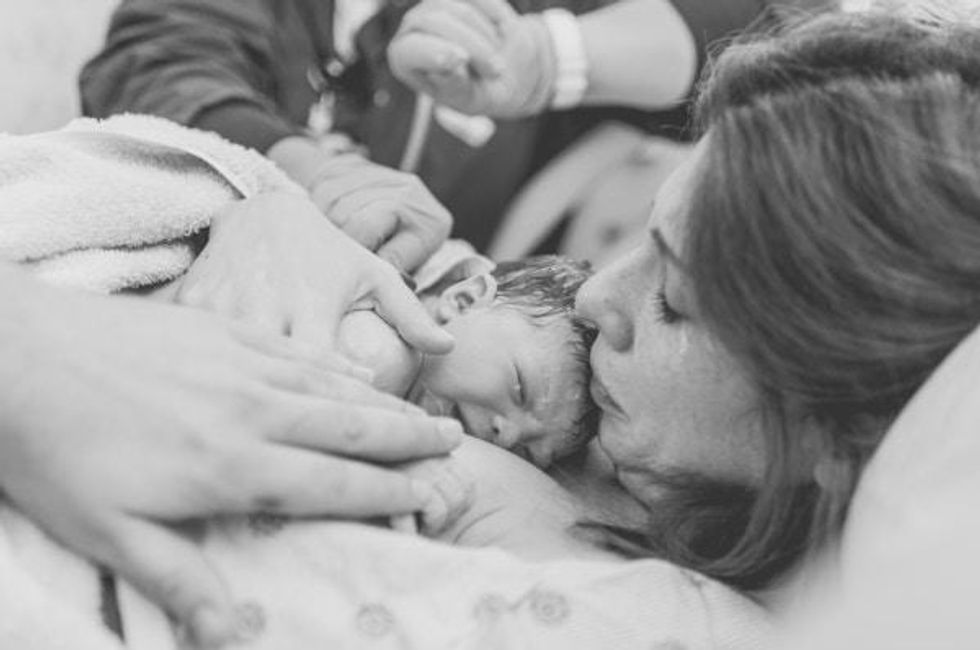 Mom and daughter earned the rest.
Photo via Lisa Robinson/Lisa Robinson Photography.
This article originally appeared on 06.30.16