popular
Woman who was already expecting twins finds out she became pregnant again at the same time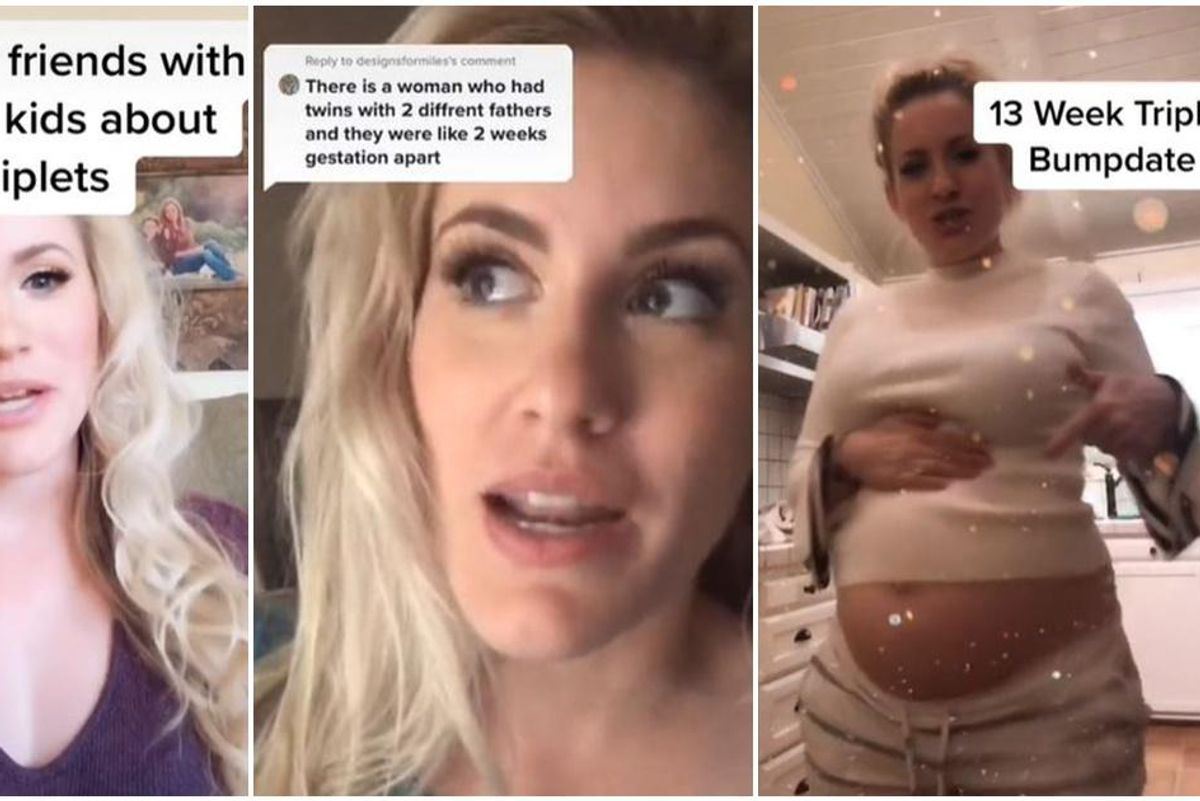 A week after learning she was pregnant with twins, TikTok user @theblondebunny1 and her fiancé, got the stunning news she was pregnant again. And, no it wasn't because the doctor missed a kid when they did the first count.

She was impregnated again ten days after the first embryos took hold. How in the world did that happen?
This pregnancy is known as superfetation and according to Healthline, it's so rare that there are only a few cases noted in medical literature.
---
"Superfetation is when a second, new pregnancy occurs during an initial pregnancy," an article published by Healthline says. "Another ovum (egg) is fertilized by sperm and implanted in the womb days or weeks later than the first one."

This rarely ever happens because it requires three unlikely events to occur.
First, the mother must ovulate while pregnant, which is unlikely because after pregnancy occurs, hormones are released to prevent further ovulation. Second, the ovum must then be fertilized, another rarity because after a woman is impregnated, the cervix blocks the passage of sperm.
Finally, the second fertilized egg must implant in the womb, another extraordinary occurrence, because implantation requires the release of certain hormones that wouldn't be released if a woman were already pregnant.
"Normally your body is supposed to switch up your hormones and stop you from ovulating again once you're already pregnant. In my circumstance it did not," the mother-to-be-told her followers on TikTok.

The couple learned that it was a second pregnancy instead of triplets because the third baby was younger. "The first two babies are 10 and 11 days older than our third baby, so that's how we knew straight away it was a second pregnancy,' she explained.
However, the doctor had to confirm that it wasn't an undeveloped third baby.
"To confirm it was superfetation and not just twin absorption or a malnourished baby, the doctors have been doing ultrasounds every two weeks," the expectant mom said. "And, sure enough, it's been hitting every single milestone, growing at a healthy rate, just 10 to 11 days behind the first two babies we have."
The mother is 17 weeks pregnant and wants to carry the pregnancies to the 28-week mark, but hopes she can hold on longer.
The historic pregnancy inspired the mother-to-be to create a series of TikTok videos to share her journey and ask for advice from her followers.
The couple plans to raise the three children as triplets and when the time is right, share the beautiful surprise with them.

"When we raise them, we're going to raise them all as triplets, love them equally, but one day we will tell them the story," she added. "I want them to know. It's such a special, unique circumstance."
The couple is over the moon about the upcoming delivery, but the mother has a warning for any pregnant women who follow her. "So when your man doesn't want to use protection because you're already pregnant — I would be cautious," she said.