Pop Culture
Sting sings his rarely performed song 'Russians' as 'a plea for our common humanity'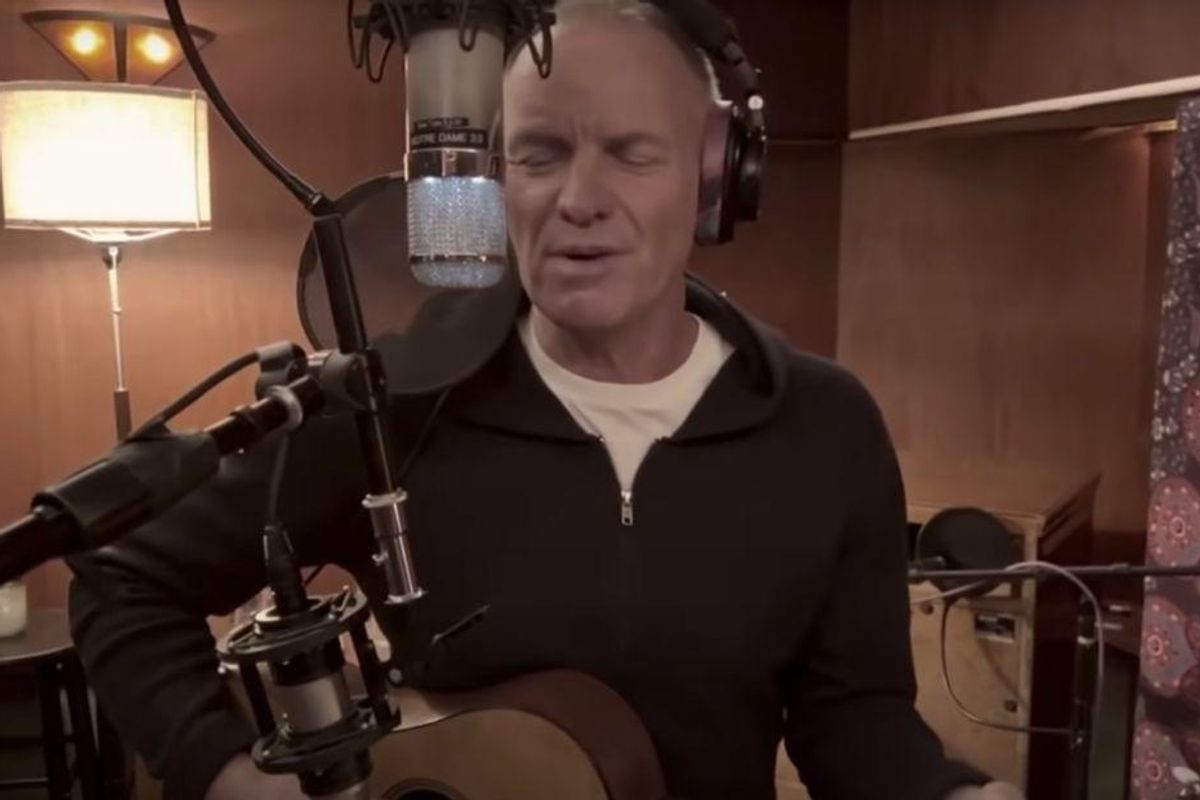 I was a teen when the Cold War ended, so my childhood memories are marked by the ever-present threat of nuclear war with Russia. This was pre-internet, obviously, so we didn't have easy, direct access to people in different countries around the world like we do now. It's probably hard for younger generations to imagine, but the only Russians we ever saw were in TV shows and movies, and maybe occasionally on the nightly news.
Spoiler alert: They were not usually portrayed favorably. Russia was our country's longtime mortal enemy, after all. The Red Scare was over, but anti-communist and anti-Russian sentiment in the U.S. still lingered.
However, in the mid-1980s there was a peace movement that influenced—and was influenced by—artists and entertainers. We saw Russian ballet dancer Mikhail Baryshnikov's humanity in the movie "White Nights" in 1985. And we were compelled to consider that Russians were really no different from us on a human level in Sting's 1986 song, "Russians."
---
The former frontman of The Police included the song on his debut solo album "The Dream of the Blue Turtles," and he told the British daily newspaper the Express that the song was inspired by his watching illegal broadcasts of Russian children's television shows.

"I had a friend at university who invented a way to steal the satellite signal from Russian TV," he told the Express. "We'd have a few beers and climb this tiny staircase to watch Russian television. At that time of night we'd only get children's Russian television, like their 'Sesame Street'. I was impressed with the care and attention they gave to their children's programmes."
Hence the iconic line about hoping the Russians love their children too.
The song fit the era perfectly, coming out the year after "We Are the World" and a few years before the Cold War finally came to an end. Listening to it has always felt like looking at a snapshot of a specific moment in time, with time giving it a bit of the sepia tone of a bygone era. But now here we are again, with the threat of nuclear war with Russia hanging over our heads. And here we are again with anti-Russia sentiment too easily morphing into anti-Russians sentiment, making Sting's "Russians" almost feel like it could have been written yesterday (minus the references to "the Soviets" and Reagan).
It's a little easier this time around to remember the humanity in the people on the other side, especially seeing how many Russian soldiers have been young conscripts with no idea what they were being sent to Ukraine to do. But there are still people lumping the Russian people in with the sins of their government, which is both unfair and inhumane. Many Russians are victims of intense state-run media propaganda and censorship of outside information sources and genuinely have no idea what's really happening in Ukraine. Many people in Russia who do understand what is happening have risked their lives protesting the war, with arrests of protesters growing into the thousands.
Sting shared a new live performance of the song with a message that reflects what many of us are feeling.
"I've only rarely sung this song in the many years since it was written, because I never thought it would be relevant again," he wrote. "But, in the light of one man's bloody and woefully misguided decision to invade a peaceful, unthreatening neighbor, the song is, once again, a plea for our common humanity. For the brave Ukrainians fighting against this brutal tyranny and also the many Russians who are protesting this outrage despite the threat of arrest and imprisonment - We, all of us, love our children. Stop the war."
It's a beautiful rendition. And for those who may not know, the cello part of the song is actually a theme from "Lieutenant Kijé Suite" by Russian composer Sergei Prokofiev.
The combination of war and media can influence people's thinking about a group of people. In war times, it's far too easy to start dehumanizing people on one side or the other, especially when one side is quite clearly the aggressor.
But everyday people don't choose to go to war. Those decisions are made by government and military leaders, with no input from the people they are charged to protect and defend. So we have to guard ourselves against blaming an entire people for the evil deeds of those in charge.
Calls to our common humanity are always needed, but they're especially needed in times of war.