More
Mass shooting survivor says she tried to ​befriend killer​ before tragedy struck but it didn't make a difference.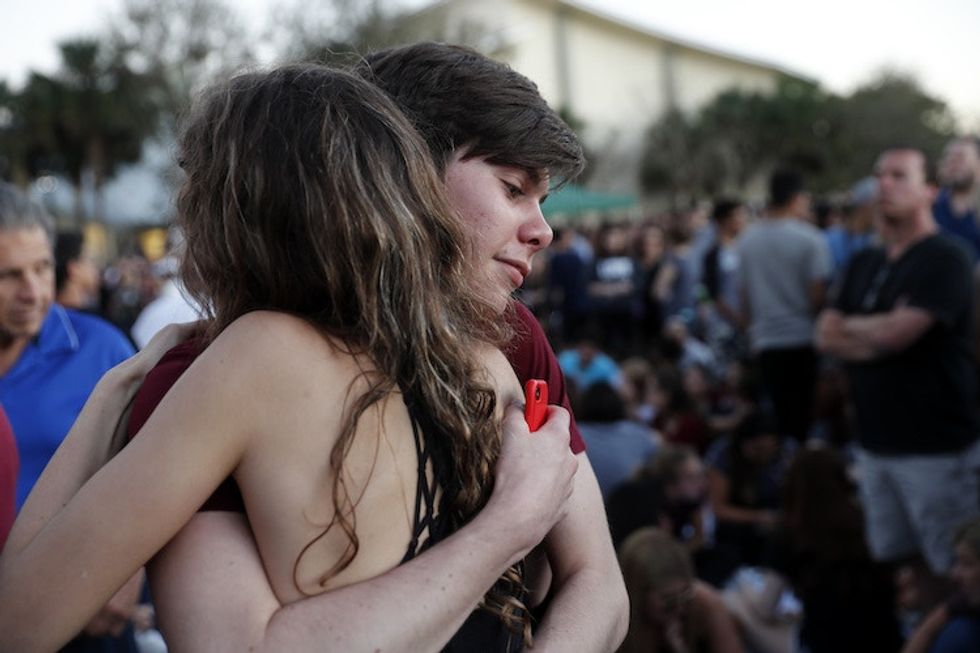 Julia Suconic, hugs her friend Nathan Schoedl. Both are students at Marjory Stoneman Douglas High School. Photo by Gerald Herbert/AP Photos.
The first time Isabelle Robinson met Nikolas Cruz, he knocked the wind out of her and smirked as he watched her cry.
"The force of the blow knocked the wind out of my 90-pound body; tears stung my eyes. I turned around and saw him, smirking," Robinson, a survivor of the Parkland shooting, writes in an op-ed for The New York Times. "I had never seen this boy before, but I would never forget his face. His eyes were lit up with a sick, twisted joy as he watched me cry."
---
It's a chilling picture, one made even more frightening by the fact that Robinson assumed that adults would take notice and take care of the situation. She even showed Cruz kindness. Five years later, Robinson writes, she was huddled in a closet as he took 17 lives.
Robinson's piece isn't a personal takedown of Cruz. Rather, it's a reality check for those who believe that "kindness" will stop school shootings.
This is an idea that has been perpetrated by the leaders of the "Walk Up, Not Out" movement that made headlines leading up to nationwide school walkouts on March 14.
On the surface, the idea is deceptively logical: If more people were friendly to those deemed "outsiders," gun violence would decrease and schools would become safer places.
On March 14, encourage students to walk up. Walk up to the kid who sits alone at lunch and invite her to sit with you. ...
Posted by Amy Flynn on Thursday, March 8, 2018
But the reality of the situation is much different. As Robinson recounts in her op-ed, kindness is exactly what she tried to show Cruz. In eighth grade, a year after she says he physically assaulted her, she was assigned to tutor him. She did her best to push down her feelings of fear as Cruz continued to harass her.
"Despite my discomfort, I sat down with him, alone," she writes. "I was forced to endure his cursing me out and ogling my chest until the hourlong session ended. When I was done, I felt a surge of pride for having organized his binder and helped him with his homework."
"Looking back, I am horrified. I now understand that I was left, unassisted, with a student who had a known history of rage and brutality."
The reason Robinson didn't refuse the assignment? She cites a "desire to please" and to be seen as mature. "I would have done almost anything to win the approval of my teachers."
That's what those who believe that kindness alone is the answer are missing: that the children they're entrusting with the task of ending violence are just that — children.
@donttrythis Mythbusting the NRA c.2018 https://t.co/gPRQvcuF1R

— David Hogg (@David Hogg) 1521832854.0
Make no mistake, Robinson isn't against the idea of kindness. But kindness isn't enough. And when it comes to solving issues like gun violence, students — who load up their backpacks and go to school with the expectation of learning in a safe environment — should never be the first line of defense. Nor should the blame for violence be placed squarely on those who have been victimized in school shootings.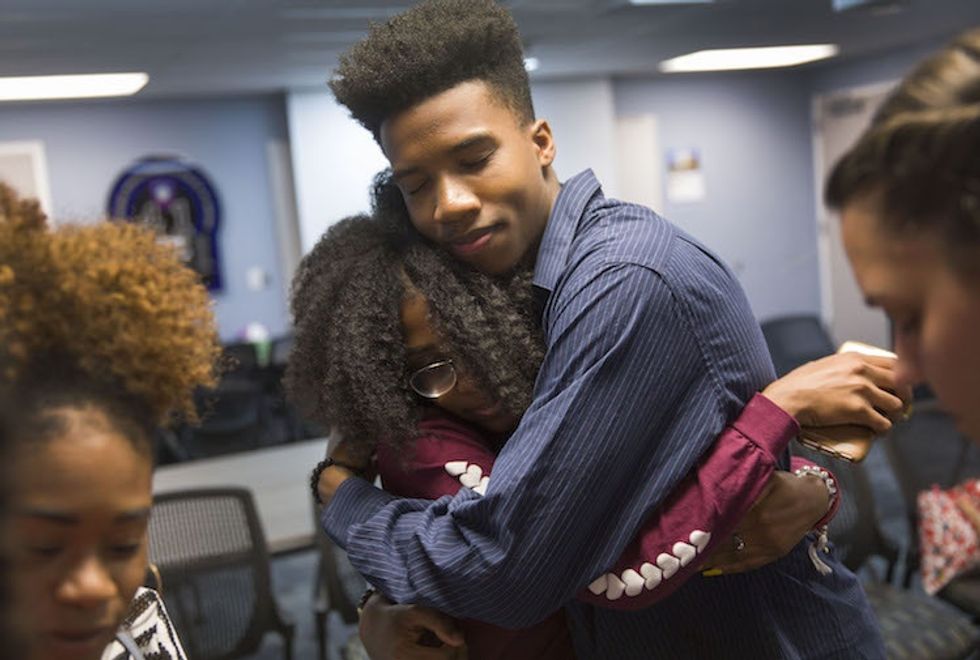 Brandon Dasent and Tyah-Amoy Roberts, students at Marjory Stoneman Douglas High School. Photo by Joe Raedle/Getty Images.
"It is not the obligation of children to befriend classmates who have demonstrated aggressive, unpredictable, or violent tendencies," Robinson writes. "It is the responsibility of the school administration and guidance department to seek out those students and get them the help that they need, even if it is extremely specialized attention that cannot be provided at the same institution."
Robinson's story is both heartbreaking and all too familiar. A tragedy like Parkland has everyone demanding answers and seeking solutions. But too often, the conversation steers to victim-blaming, with fingers quickly being pointed at the survivors for not doing enough to prevent the tragedy. Even when, as in Robinson's case, students actually put themselves in potential danger trying to be kind.
Asking children to put themselves in danger in the name of kindness is not the answer.
"The implication that Mr. Cruz's mental health problems could have been solved if only he had been loved more by his fellow students is both a gross misunderstanding ... and a dangerous suggestion that puts children on the front line," Robinson states.
But then what should be done? While children are leading the #NeverAgain movement, they can't be the only ones who demand change. As adults, we must protect them at all costs. And that means we must listen. And we must take action by recognizing that kindness isn't the first line of defense against mass shootings — widespread gun reform is.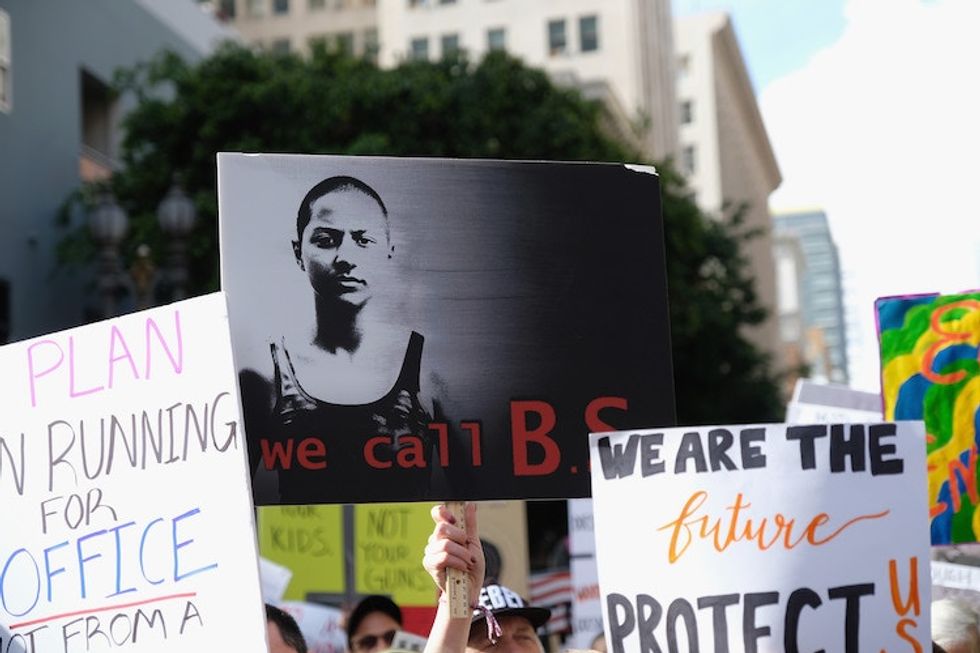 Sarah Morris/Getty Images
This article was originally published on March 28, 2018.