More
NY Post slammed for inciting violence against Muslim congresswoman over her 9/11 comments.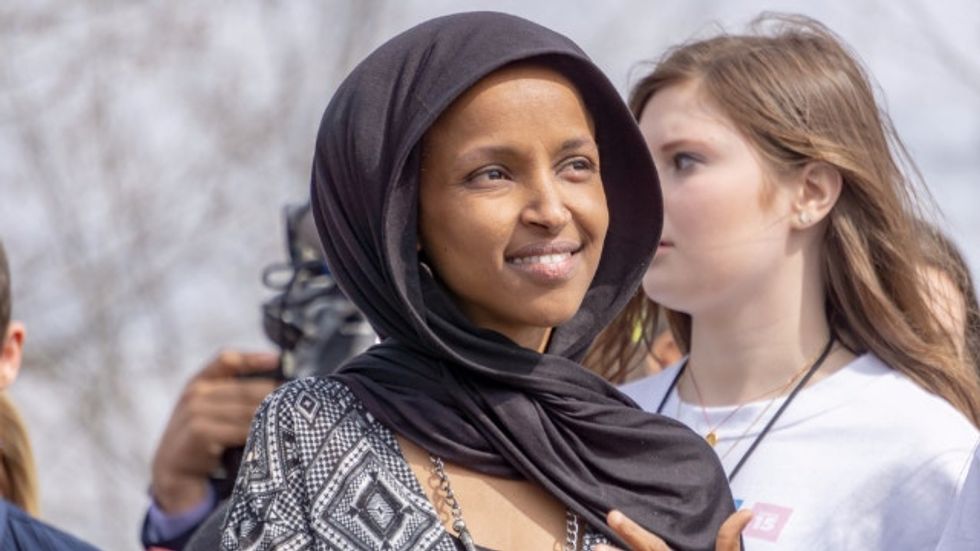 In a speech to the Council on American-Islamic Relations, Congresswoman Ilhan Omar discussed the Islamophobia Muslims received after 9/11, as many hateful racists associated every Muslim with the attack. On Thursday, The New York Post decided to prove her point with a horrific cover associating her with the attack.
Here's Omar's full quote:
"[The Council on American-Islamic Relations] was founded after 9/11 because they recognized that some people did something, and that all of us were starting to lose access to our civil liberties."
---
And here's what The Post ran with:
This is ugly https://t.co/R2XVyS4dq8

— Harry Siegel (@Harry Siegel) 1554984759.0
Right-wing media, and its members of Congress, decided to pluck out Omar's "some people who did something" clause and pretend it was an attempt to downplay the biggest terrorist attack on American soil in history, rather than its intended use of explaining that innocent Muslims are innocent.
First Member of Congress to ever describe terrorists who killed thousands of Americans on 9/11 as "some people who… https://t.co/fZmyD9cqwF

— Dan Crenshaw (@Dan Crenshaw) 1554831909.0
Without quoting The Post or fellow congressperson Dan Crenshaw, Rep. Alexandria Ocasio-Cortez (ever heard of her?) pointed out the hypocrisy behind the anti-Omar crusade.
I'm not going to quote the NY Post's horrifying, hateful cover. Here's 1 fact: @IlhanMN is a cosponsor of the 9/11… https://t.co/H9XfG241tl

— Alexandria Ocasio-Cortez (@Alexandria Ocasio-Cortez) 1555001755.0
Crenshaw has yet to support renewing the Victim Compensation Fund, a fund which compensates victims, but I'm sure 9/11 survivors appreciate all he is doing to whip up hate.
You refuse to cosponsor the 9/11 Victim's Compensation Fund, yet have the audacity to drum resentment towards Ilhan… https://t.co/Mn6GlPvPuh

— Alexandria Ocasio-Cortez (@Alexandria Ocasio-Cortez) 1555002815.0
Just last week, the FBI arrested a man for allegedly threatening to murder Omar, and since then, the rhetoric has only gotten worse.
Monday: FBI arrests someone for threatening @IlhanMN Tuesday: Rep. Dan Crenshaw and Brian Kilmeade (Fox) attack Om… https://t.co/lXaxN7Tra7

— jordan (@jordan) 1555038058.0
Omar responded to the attacks, calling the dangerous incitement "dangerous incitement."
This is dangerous incitement, given the death threats I face. I hope leaders of both parties will join me in condem… https://t.co/UBPvu7Z1Jx

— Ilhan Omar (@Ilhan Omar) 1554913916.0
She also pointed out that President George W. Bush used the same language as her, referring to Al Qaeda as "people."
"The people — and the people who knocked these buildings down will hear all of us soon!" President George W. Bush… https://t.co/6dt8LZymFa

— Ilhan Omar (@Ilhan Omar) 1555073144.0
What kind of person would look at a terrorist attack and think, "very fine people on both sides"?
Not Rep. Omar.
This article was originally published by our partners at someecards and was written  by Orli Matlow.