More
He just jumped in and said, 'Yeah. I'll push you.'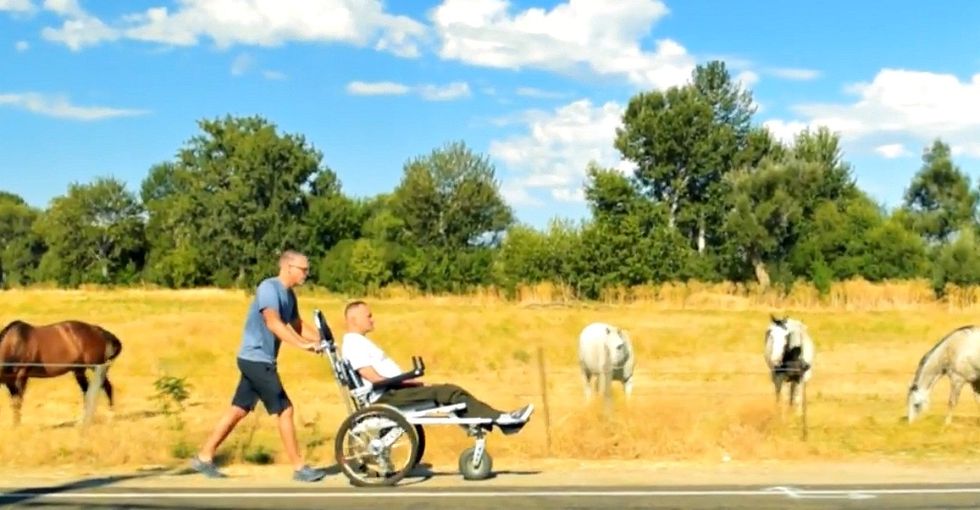 True
MDA Live Unlimited
One day, Justin Skeesuck asked his longtime friend Patrick Gray, "Do you want to go across 500 miles of northern Spain with me?"
He was talking about the Camino de Santiago — a pilgrimage hike which, on foot, usually takes about a month to complete.
Today, people of all different religious and cultural backgrounds make the journey for many different reasons, and it would be challenging for anyone.
---
It was especially challenging for Skeesuck, who doesn't have use of his arms or legs.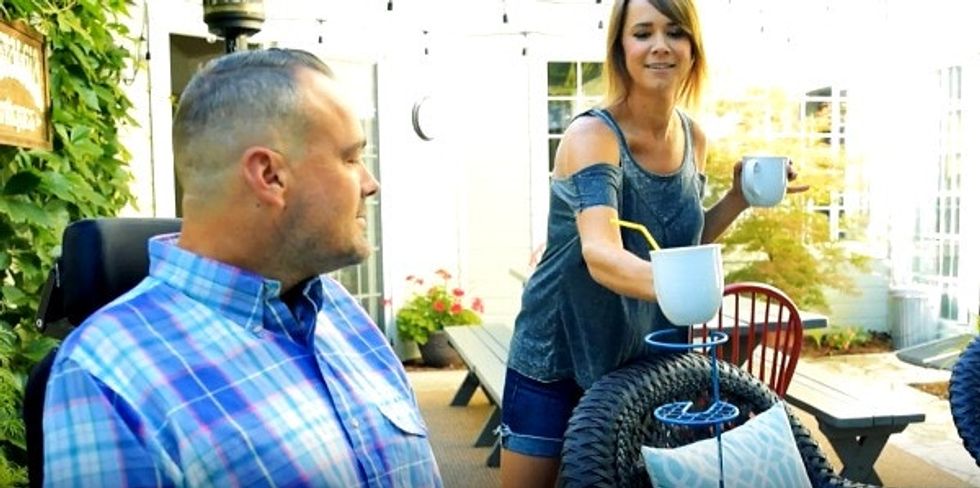 Justin with his wife Kristin. Image via MDA/YouTube.
Skeesuck uses a wheelchair and has minimal upper arm and upper torso mobility due to multifocal acquired motor axonopathy (MAMA), a type of neuromuscular disorder that affects the body's motor functions.  
However, this wasn't always the case. Before the disorder began to take hold, he and Gray had a very physically active friendship.
As kids, they only lived a few miles apart and would often skateboard to each other's houses. But, once they reached college, Skeesuck's foot began to weaken, so they had to hang up their boards.
The progression of Skeesuck's disorder changed the dynamic of his friendship with Gray forever.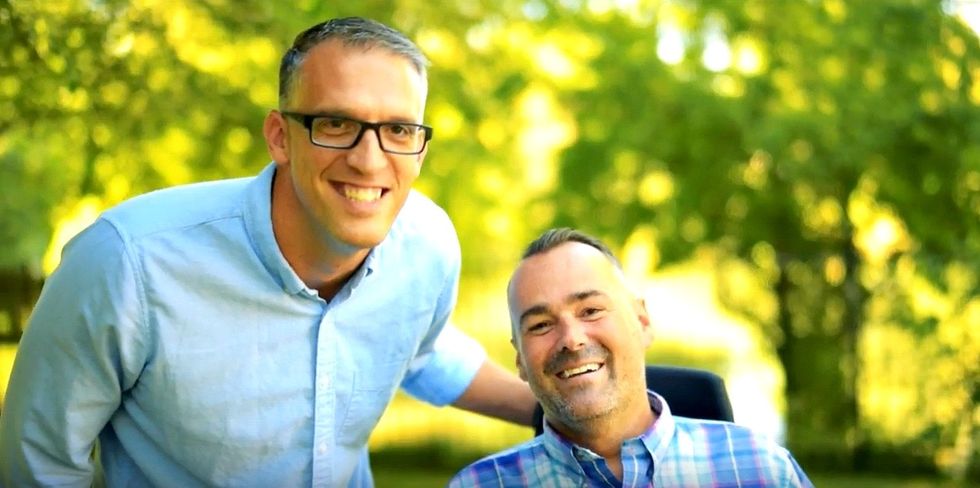 Gray and Skeesuck. Image via MDA/YouTube.
The hardest adjustment came in January 2010, when Skeesuck lost the use of most of his upper body. That's when he and Gray went through a dark period where it was incredibly difficult to feel hopeful.
Then, slowly but surely, they began to adapt.
Since he can no longer dress himself, bathe himself, or feed himself, his loved ones — like Gray — stepped up to help him. While certainly challenging, it strengthened their bond in a big way.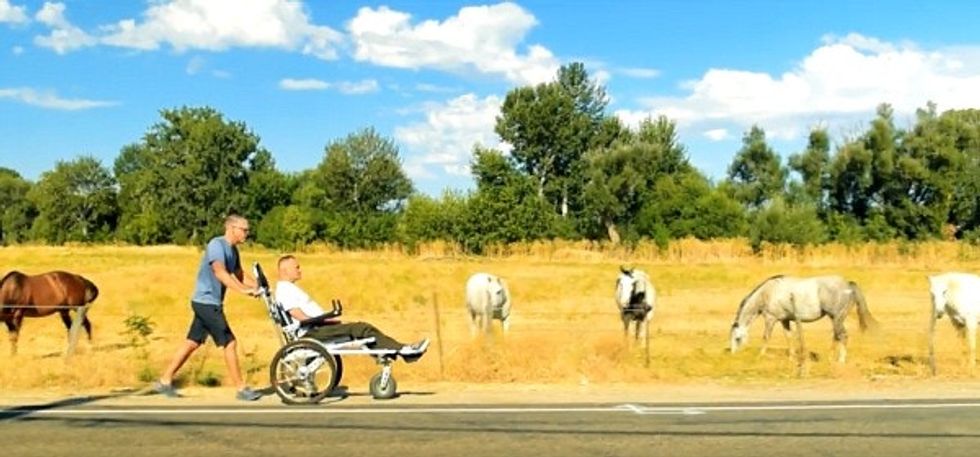 Gray pushing Skeesuck in his wheelchair. Image via MDA/YouTube.
"His willingness to invite me into the rawest and most difficult parts of life demonstrated a trust few people are given," writes Gray in an email.
Skeesuck and Gray's decision to hike the Camino was by far the greatest challenge the friends had undertaken.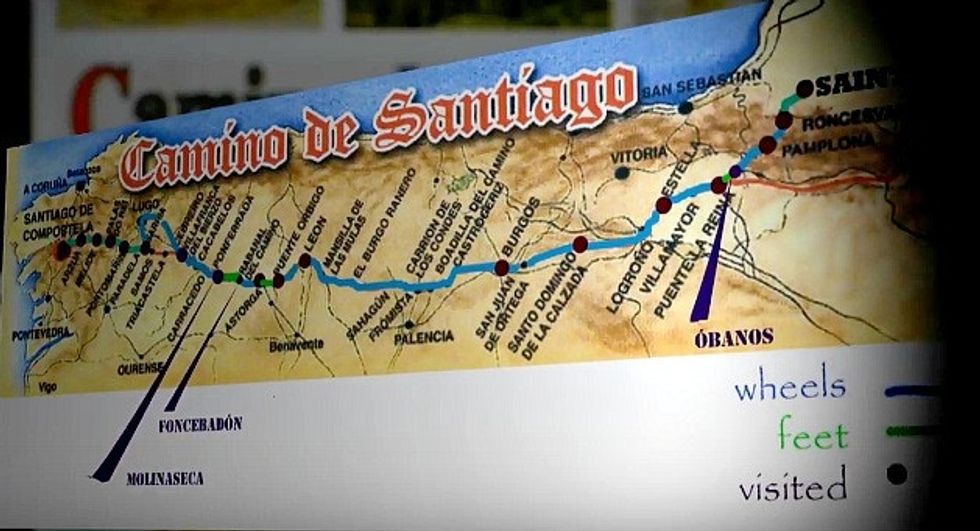 The Camino de Santiago. Image via MDA/YouTube.
Skeesuck found himself inextricably pulled to it, but he knew he couldn't make the pilgrimage without his best friend. And when he asked Gray if he'd come with him, he didn't hesitate. Gray simply replied, "Yeah, I'll push you."
What followed were two years of careful planning and 35 days of an adventure they would never forget.
The pilgrimage had never been done by someone in a wheelchair, so their strategy had to be planned down to the smallest detail. In the end, it took over 100 people helping out to make it feasible.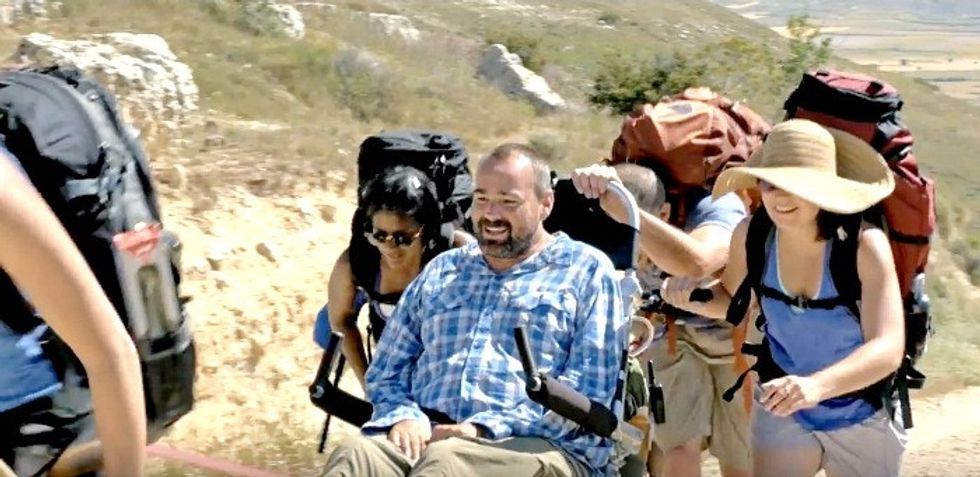 Skeesuck on the trail with his helping hands. Image via MDA/YouTube.
Gray trained for 12 months, six times a week, pushing himself to the limit. Three months before the journey, he was pushing Skeesuck on all types of terrain, working to increase his endurance up to 12 miles at a time.
Meanwhile, Skeesuck prepped in a different way. The trip was quite expensive, so he created a fundraising campaign to help get them there.
"The journey was made possible by countless individuals providing grassroots support," Skeesuck writes.
They went into it with no expectations. They came back with a newfound strength of those who live life without limits.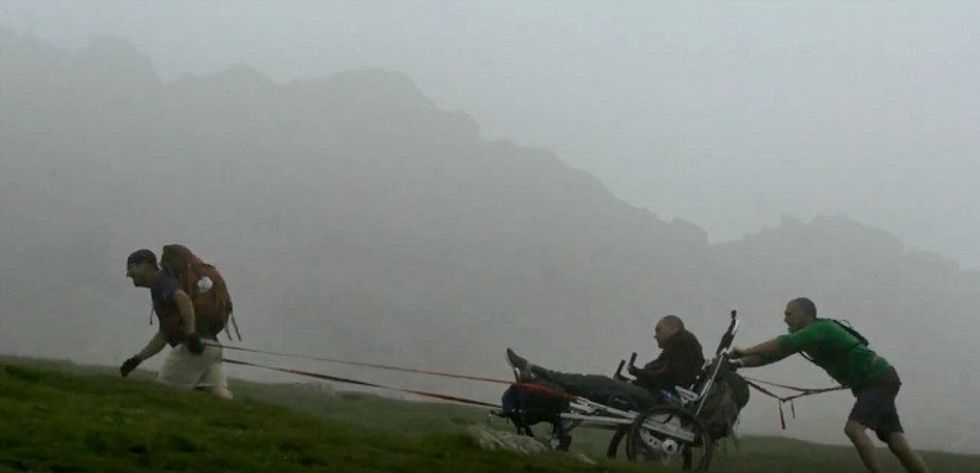 Skeesuck and Gray on the trail. Image via MDA/YouTube.
The journey was more challenging than they could've anticipated, often in ways that had nothing to do with physical efforts. Both friends missed their families immensely and faced many personal demons along the way. For one thing, it was hard for Skeesuck to watch Gray and fellow helpers push themselves beyond their physical limits.
In the end, however, it taught him that such an offering can be a gift for everyone involved, no matter who's doing the physical pushing.
"Being willing to let someone pick up something for us is just as much a gift for them as it is for us," Gray explains. "The flip side is obvious."
Their life-changing experience inspired Gray and Skeesuck to help push others to achieve more.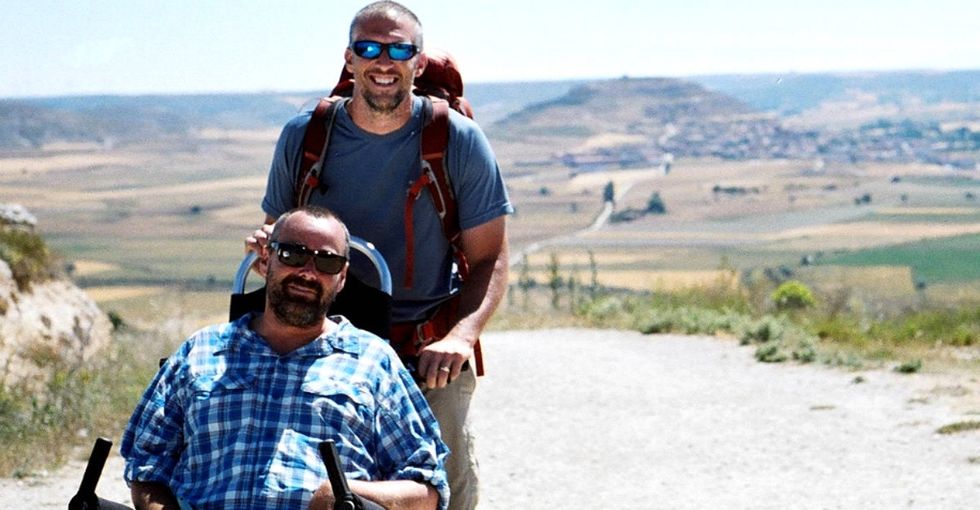 Gray and Skeesuck. Photo via "I'll Push You."
That's why they decided to share their story with the world in a new book and documentary film, both entitled "I'll Push You." They also started Push Inc. to present the film, and they've partnered with the Muscular Dystrophy Association (MDA), which helps fund neuromuscular disorder and disease research that can lead to more people having experiences like this.
The film will be presented in more than 500 theaters across the county in a special one-night-only release and feature information about MDA and the work the organization does to support families like Justin's.
That and Push Inc. are part of their post-Camino emphasis on motivating individuals and organizations to strive for what they thought was impossible. For Skeesuck, that starts with asking yourself why you want to get there.
"If your why is strong enough that no matter what you face you will continue on, then it's time to look at the how," Skeesuck writes.
Everyone needs help every now and again. When that time comes, you'll want to have people you trust at your back, pushing you forward.
Watch Skeesuck and Gray's whole story here:
This beautiful friendship shows just how much is possible when you have a support system.

Posted by Upworthy on Wednesday, September 20, 2017