All images provided by Prudential Emerging Visionaries
True
A changemaker is anyone who takes creative action to solve an ongoing problem—be it in one's own community or throughout the world.
And when it comes to creating positive change, enthusiasm and a fresh perspective can hold just as much power as years of experience. That's why, every year, Prudential Emerging Visionaries celebrates young people for their innovative solutions to financial and societal challenges in their communities.
This national program awards 25 young leaders (ages 14-18) up to $15,000 to devote to their passion projects. Additionally, winners receive a trip to Prudential's headquarters in Newark, New Jersey, where they receive coaching, skills development, and networking opportunities with mentors to help take their innovative solutions to the next level.
For 18-year-old Sydnie Collins, one of the 2023 winners, this meant being able to take her podcast, "Perfect Timing," to the next level.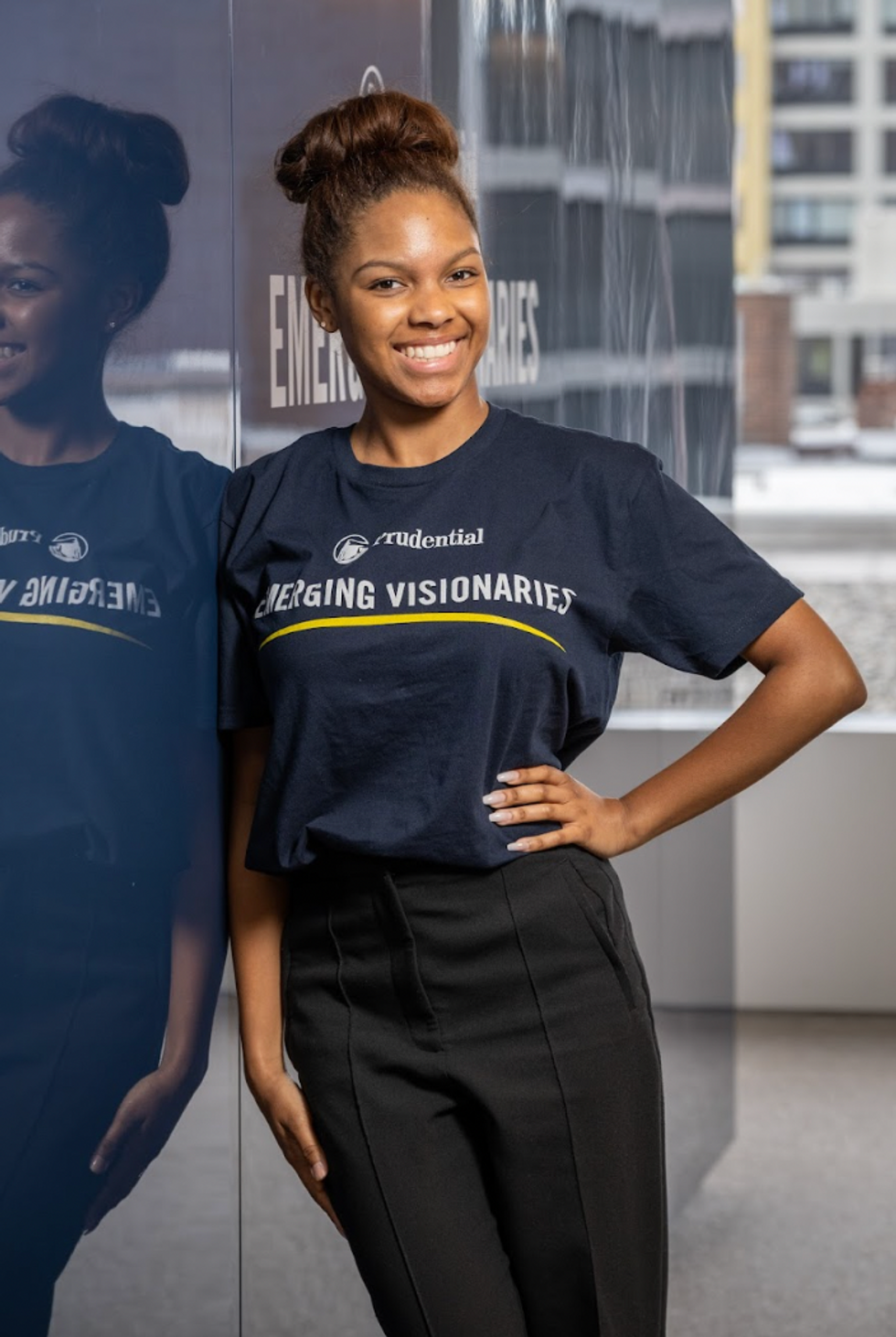 Since 2020, the Maryland-based teen has provided a safe platform that promotes youth positivity by giving young people the space to celebrate their achievements and combat mental health stigmas. The idea came during the height of Covid-19, when Collins recalled social media "becoming a dark space flooded with news," which greatly affected her own anxiety and depression.
Knowing that she couldn't be the only one feeling this way, "Perfect Timing" seemed like a valuable way to give back to her community. Over the course of 109 episodes, Collins has interviewed a wide range of guests—from other young influencers to celebrities, from innovators to nonprofit leaders—all to remind Gen Z that "their dreams are tangible."
That mission statement has since evolved beyond creating inspiring content and has expanded to hosting events and speaking publicly at summits and workshops. One of Collins' favorite moments so far has been raising $7,000 to take 200 underserved girls to see "The Little Mermaid" on its opening weekend, to "let them know they are enough" and that there's an "older sister" in their corner.
Of course, as with most new projects, funding for "Perfect Timing" has come entirely out of Collins' pocket. Thankfully, the funding she earned from being selected as a Prudential Emerging Visionary is going toward upgraded recording equipment, the support of expert producers, and skill-building classes to help her become a better host and public speaker. She'll even be able to lease an office space that allows for a live audience.
Plus, after meeting with the 24 other Prudential Emerging Visionaries and her Prudential employee coach, who is helping her develop specific action steps to connect with her target audience, Collins has more confidence in a "grander path" for her work.
"I learned that my network could extend to multiple spaces beyond my realm of podcasting and journalism when industry leaders are willing to share their expertise, time, and financial support," she told Upworthy. "It only takes one person to change, and two people to expand that change."
Prudential Emerging Visionaries is currently seeking applicants for 2024. Winners may receive up to $15,000 in awards and an all-expenses-paid trip to Prudential's headquarters with a parent or guardian, as well as ongoing coaching and skills development to grow their projects.
If you or someone you know between the ages of 14 -18 not only displays a bold vision for the future but is taking action to bring that vision to life, click
here
to learn more. Applications are due by Nov. 2, 2023.
Family
She had to know the truth.
Pop Culture
Two souls connecting over the loss of their fathers. (Phew, grab a tissue for this one, folks.)
via Mandy Patinkin / TikTok
There was an emotional exchange on TikTok between two people who lost their fathers to cancer. One was actor Mandy Patinkin, the other was TikTok user Amanda Webb.
Patinkin currently stars on "The Good Fight" but one of his most famous roles is Inigo Montoya in the 1987 classic "The Princess Bride." In the film, Montoya is a swordsman who is obsessed with confronting a six-fingered man who killed his father.

Webb recently lost her father Dan to mantle cell lymphoma. She had heard a rumor that Patinkin used his father's death from cancer as motivation in a pivotal scene where he confronts the six-fingered Count Rugen (Christopher Guest) in a duel.
Rugen tells Montoya he will give him anything he wants after being bested by Montoya who passionately replies, "I want my father back, you son of a bitch."
delete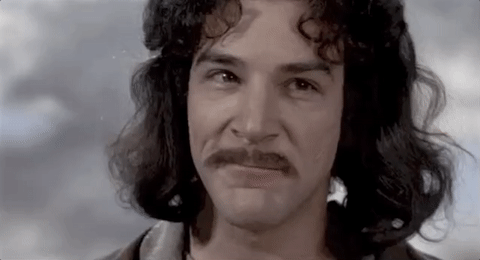 The Princess Bride You Killed My Father GIF
Giphy
Webb's father was a big fan of Montoya's performance in the film so she reached out to TikTok to learn if the rumor was true.
"I saw on the internet the rumor that when Mandy Patinkin said that line, he was thinking of his own father who had passed away from cancer," Webb said while crying. "And it was a very raw emotion. Ever since then, it's kind of really stuck with me."
Patinkin, who is a TikTok user, heard that the woman had reached out to him and he gave a heartfelt response.
"First of all, your dad is taking care of you," he said. "Secondly, it is true, 100% true. I went outside in this castle and walked around and I kept talking to my dad."
"The minute I read the script, I knew, I said to [his wife], I said, 'I'm going to do this part because in my mind, if I get the six-fingered guy, that means I killed the cancer that killed my dad and I'll get to visit my dad," he said.
"That moment was coming, and I went and I played that scene with Chris [Guest], and then I went back out there and talked to my dad," Patinkin said.
He then told Webb that she has the power to talk to her father, too.
"And so, you can talk to your dad anytime you want, anywhere you want," he said. "If you could somehow let me know your dad's name because I say prayers for anyone I've ever known. Now I feel like I know you, and therefore I know your dad, and I will list his name in my prayers every day, and they make me feel like they're with me, wherever I go, and I'd like your dad to hang out with me."

Webb responded with a video where she's so emotional she can hardly speak.
This story originally appeared on 08.25.21
@mandypatinktok

@alaska_webb thank you for finding us and sharing this! ✨ Sending big love and light to you and yours. More in comments. #grieving #cancer #dads
Identity
These powerful before-and-after photos reveal just how beautiful aging can be.
Centenarians — people 100 years or older — are a rarity. Their lives are often scrutinized as holding the key to aging.
Czech photographer Jan Langer's portrait series "Faces of Century" shows them in a different light: as human beings aged by years of experience, but at their deepest level, unchanged by the passing of time.
In the series, Langer juxtaposes his portraits with another portrait of the subject from decades earlier. He recreates the original pose and lighting as closely as he can — he wants us to see them not just as they are now, but how they have and haven't changed over time. That is the key to the series.
These are the rare faces of people who have lived through two world wars, a cavalcade of regimes, and the rush of advancements in modern life. These photos, and the stories of the lives lived by the people in them, show not only the beauty of aging, but how even as we age, we still remain essentially ourselves.
1. Prokop Vejdělek, at age 22 and 101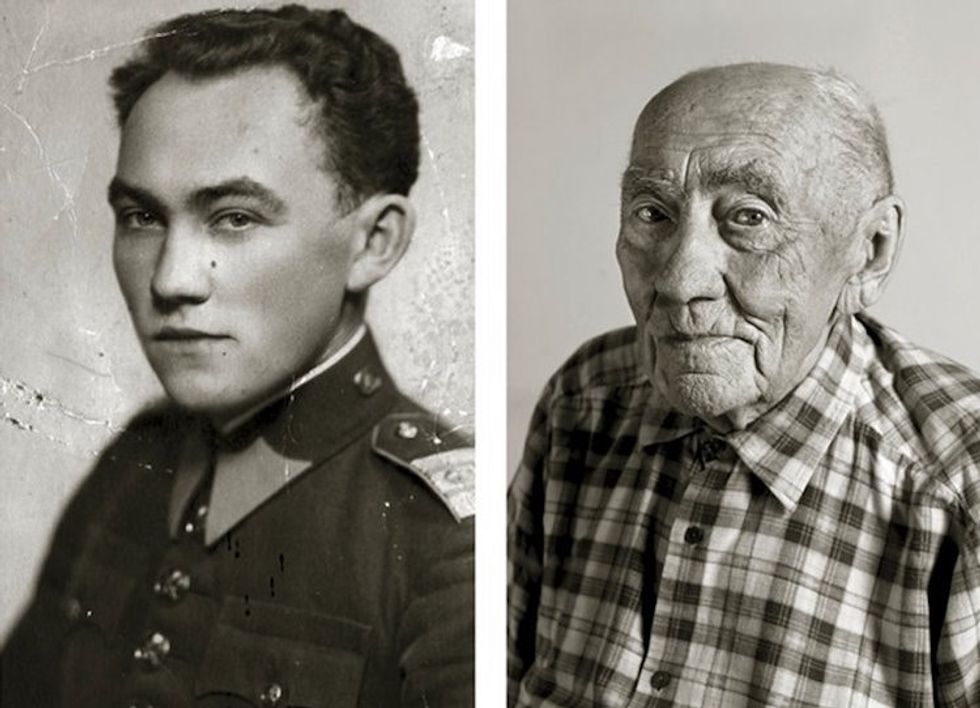 Vejdělek is a former metallurgical engineer who will never forget the taste of warm fresh goat's milk.
2. Bedřiška Köhlerová, at age 26 and 103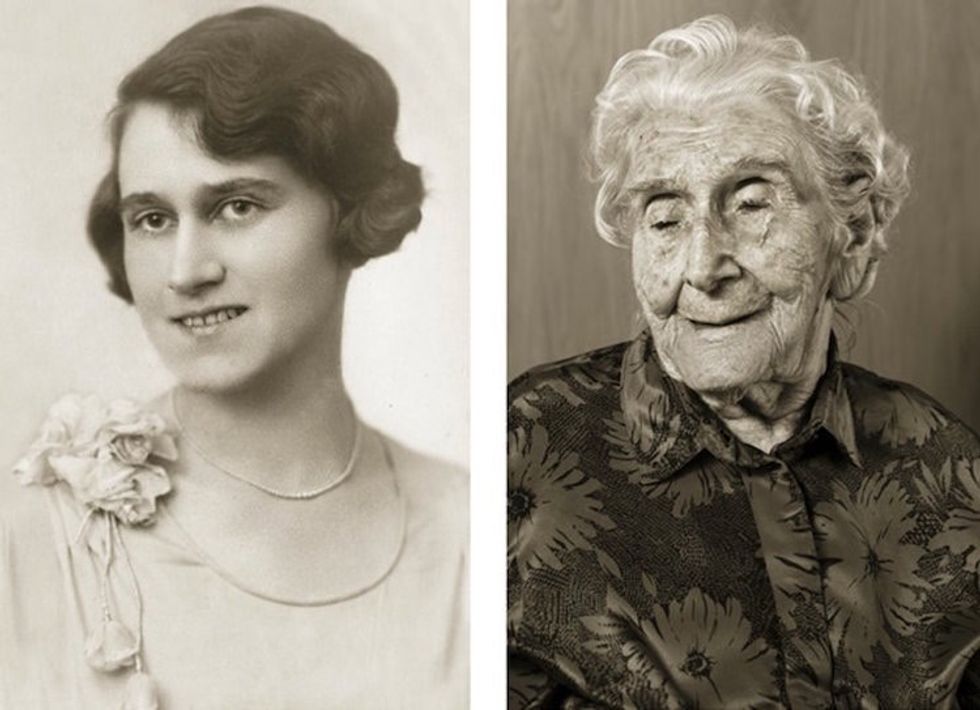 Originally born in Merano, Italy, Köhlerová wishes to visit Italy one more time.
3. Ludvík Chybík, at age 20 and 102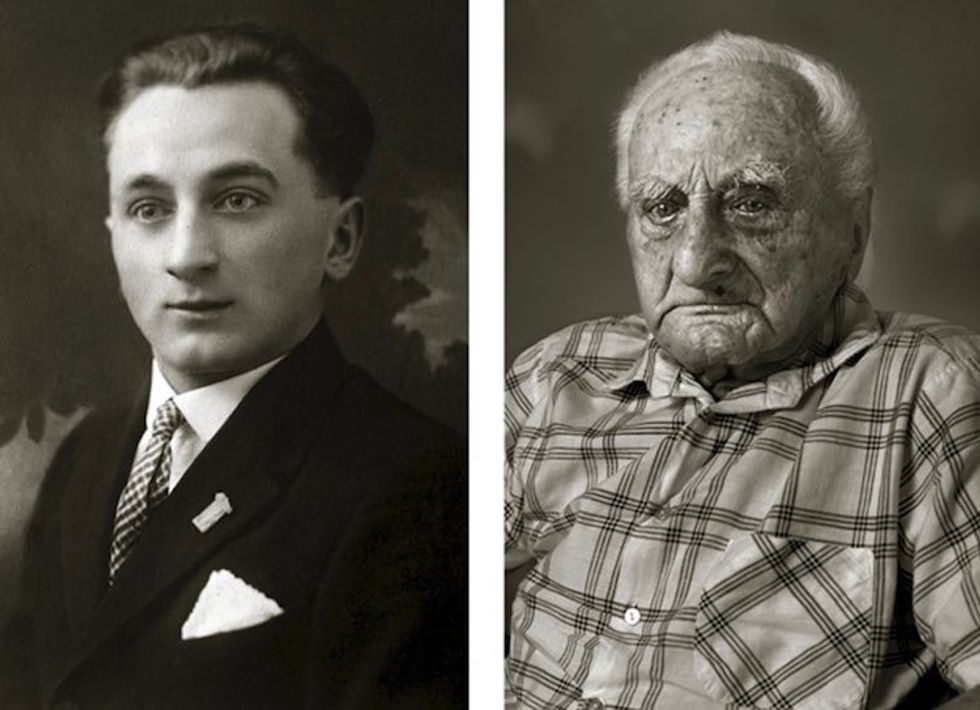 Chybík is a former postal carrier and says he will never forget the route he worked every day.
4. Vincenc Jetelina, at age 30 and 105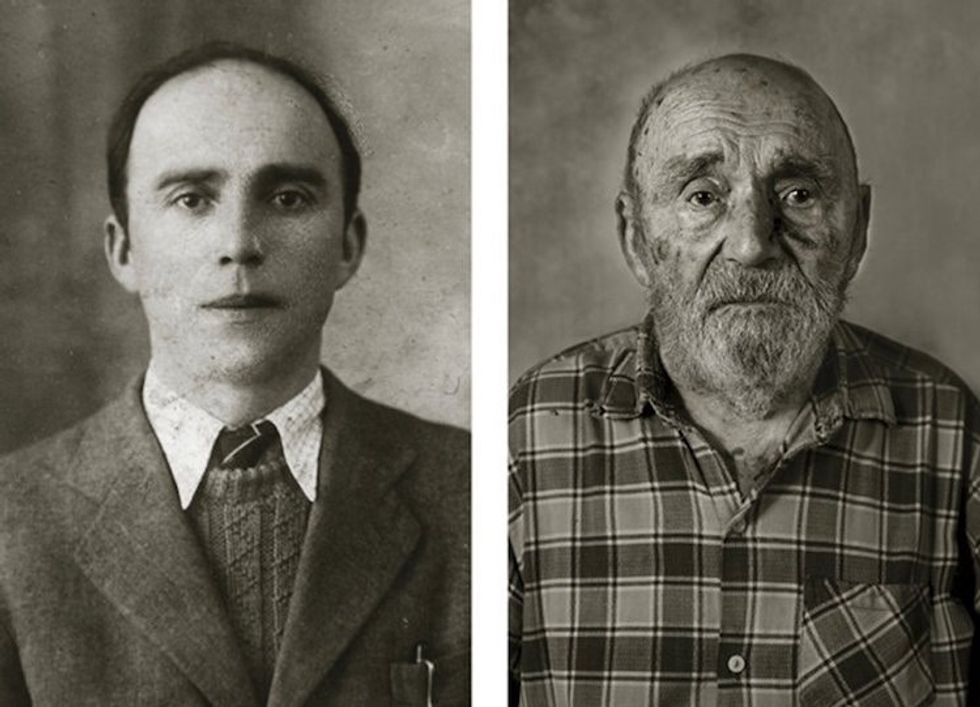 Jetelina spent eight years in prison after World War II. Now, he just wants to live the rest of his life in peace.
5. Marie Fejfarová, at age 101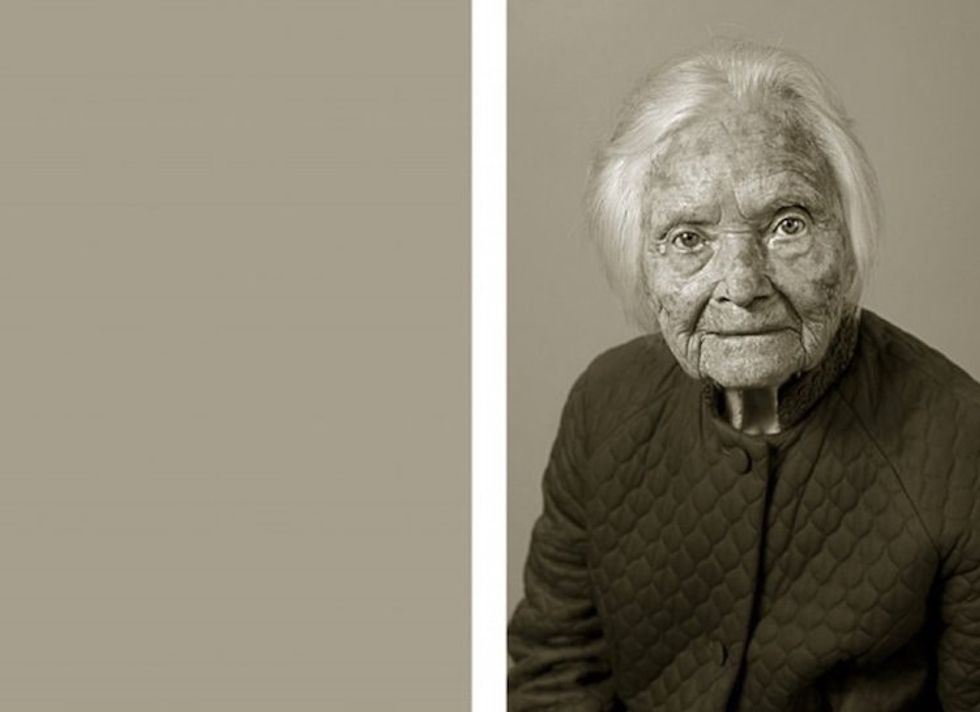 Fejfarová burned all her material memories, including old photographs, when she decided to move to a long-term care facility. She lived a dramatic life, hiding from the Nazis and then the Russians, but eventually she was able to travel the world with her husband. Her experiences show there's no such thing as too late in life to start a new chapter.
6. Antonín Kovář, at age 25 and 102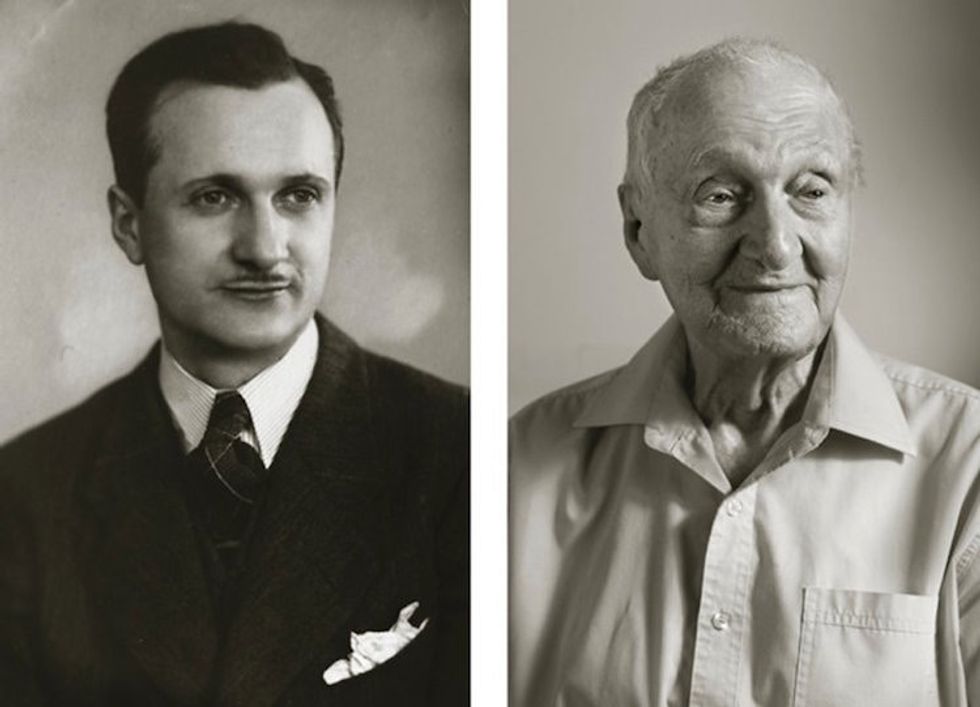 Kovář is a former musician whose daughter comes to visit him every day. He wishes to play the clarinet once more.
7. Anna Vašinová, at age 22 and 102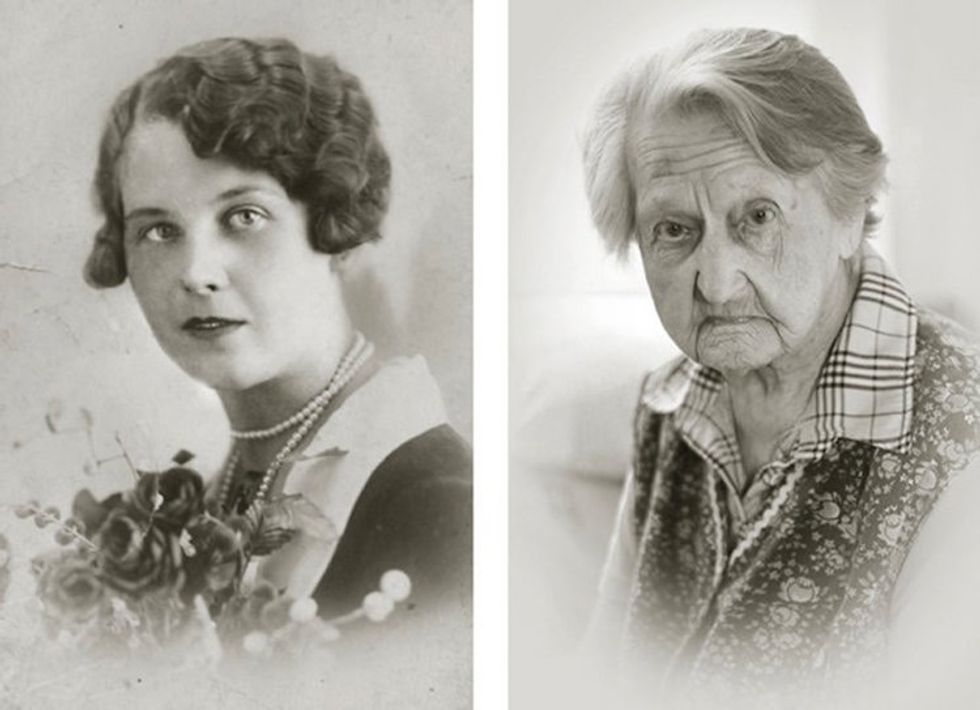 Vašinová will always remember the day her husband was taken away by the Nazis. She wishes to be reunited with him after death.
8. Stanislav Spáčil, at age 17 and 102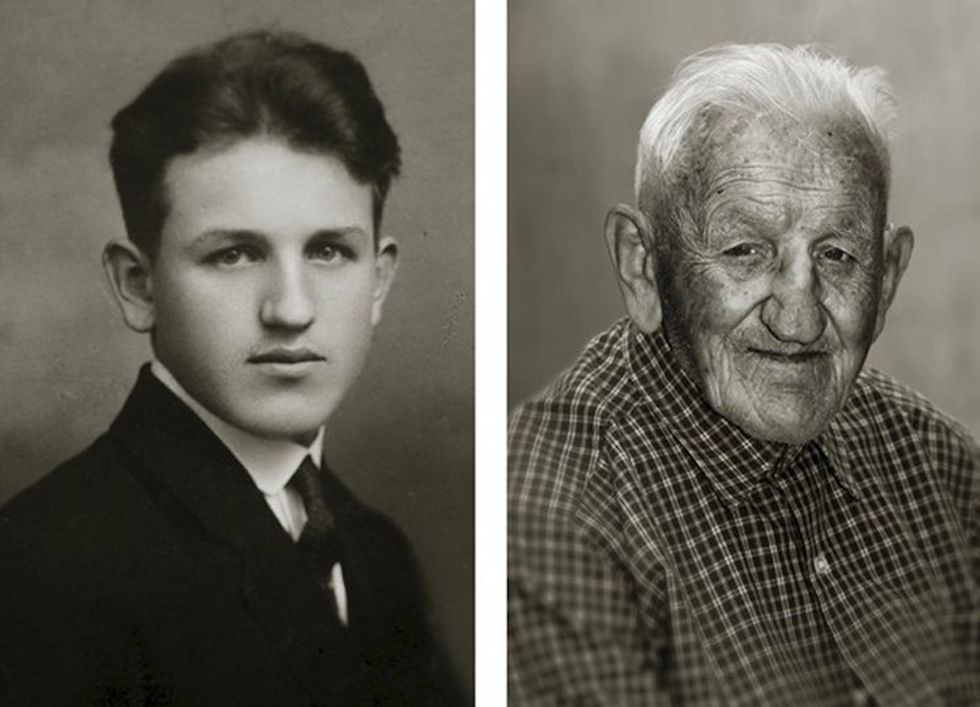 Spáčil was an electrical engineer throughout his life and thinks that it's too early in his life to think about the past.
9. Anna Pochobradská, at age 30 and 100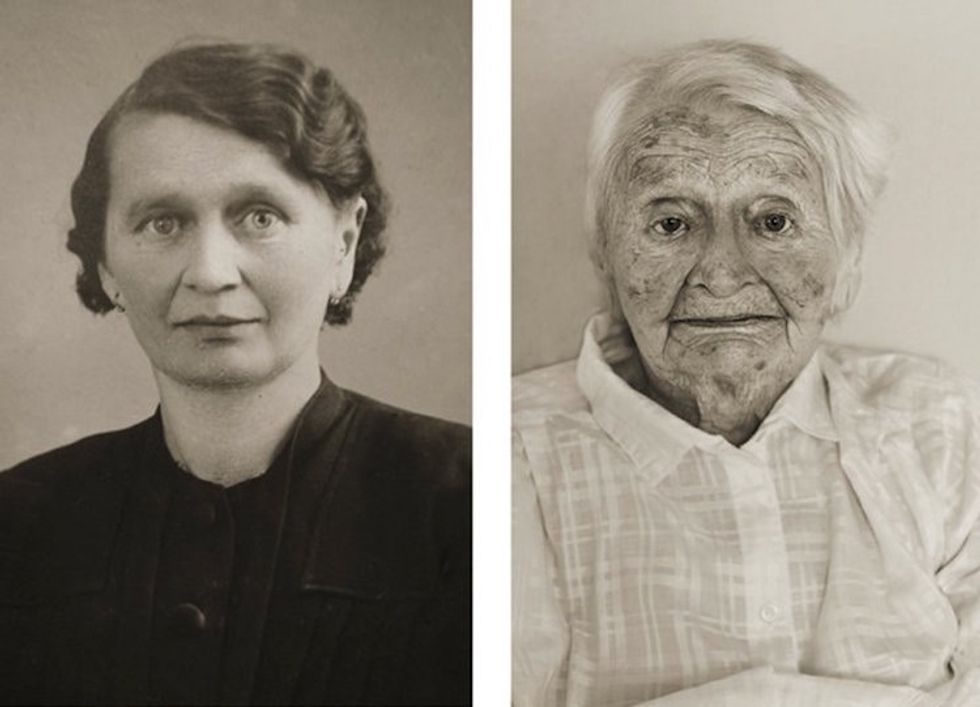 Pochobradská was a farmer. She now lives a quiet life and is thankful that her daughter visits her every weekend.
10. Antonín Baldrman, at age 17 and 101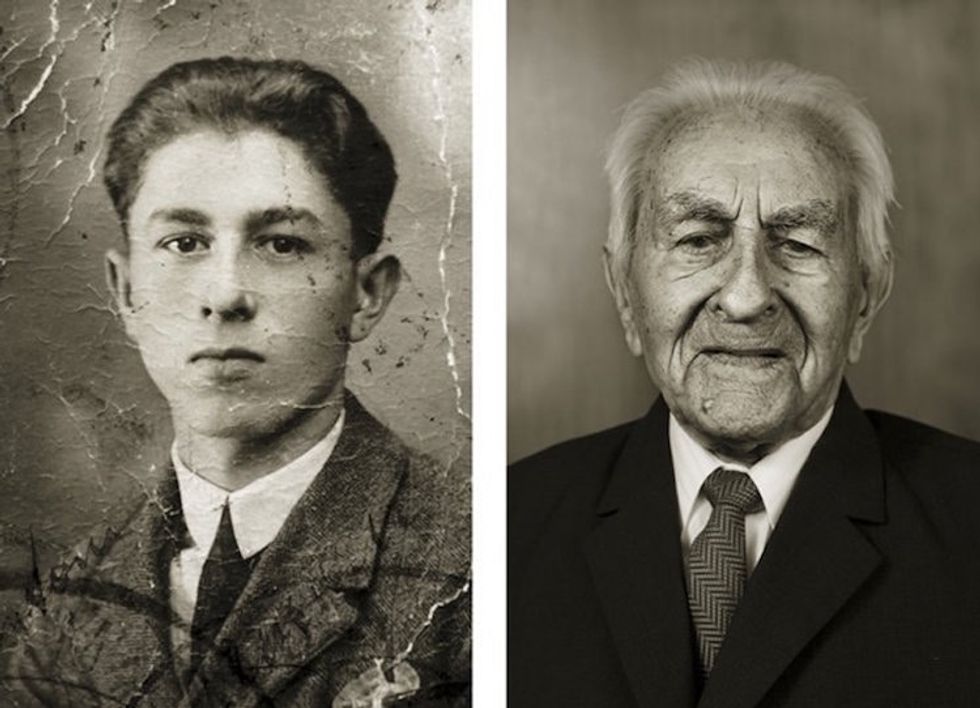 Baldrman was a clerk early in life and keeps up with current events by reading the newspaper.
11. Marie Burešová, at age 23 and 101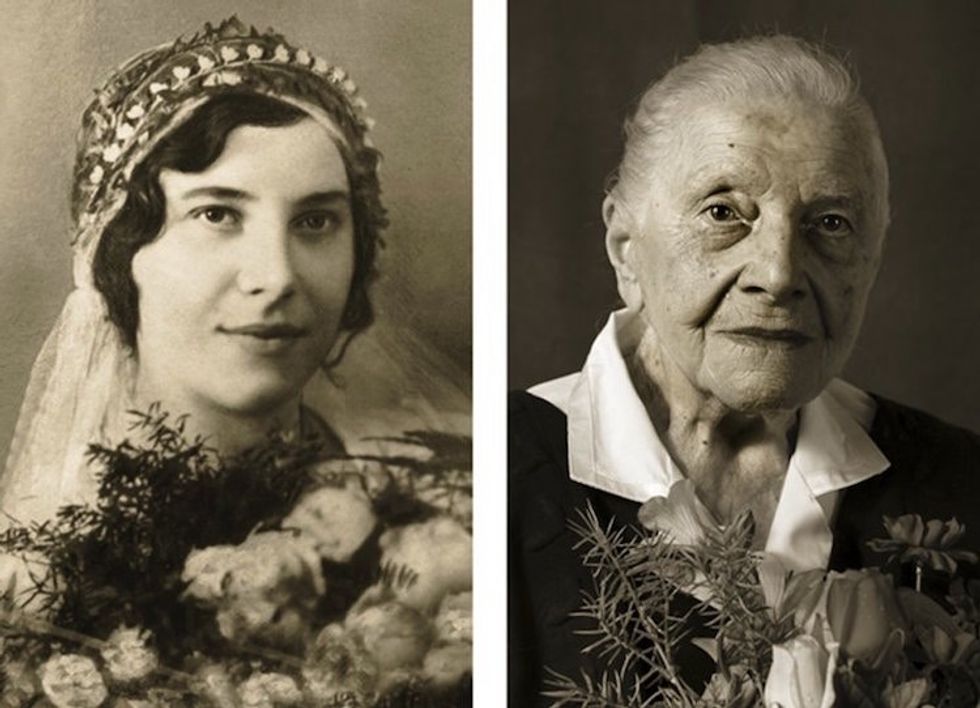 Burešová loves talking to her family and wishes to have them all together again.
12. Vlasta Čížková, at age 23 and 101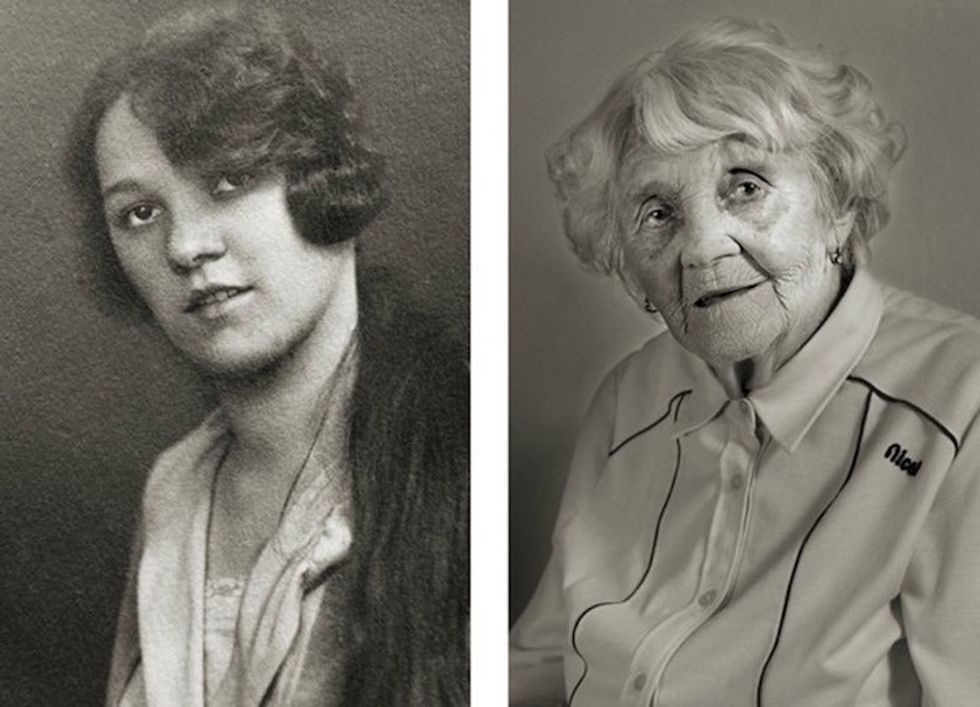 Čížková cooked in the dining room at the airport in the small village of Vodochody. She'll never forget reciting her own poetry at wedding ceremonies.
13. Ludmila Vysloužilová, at age 23 and 101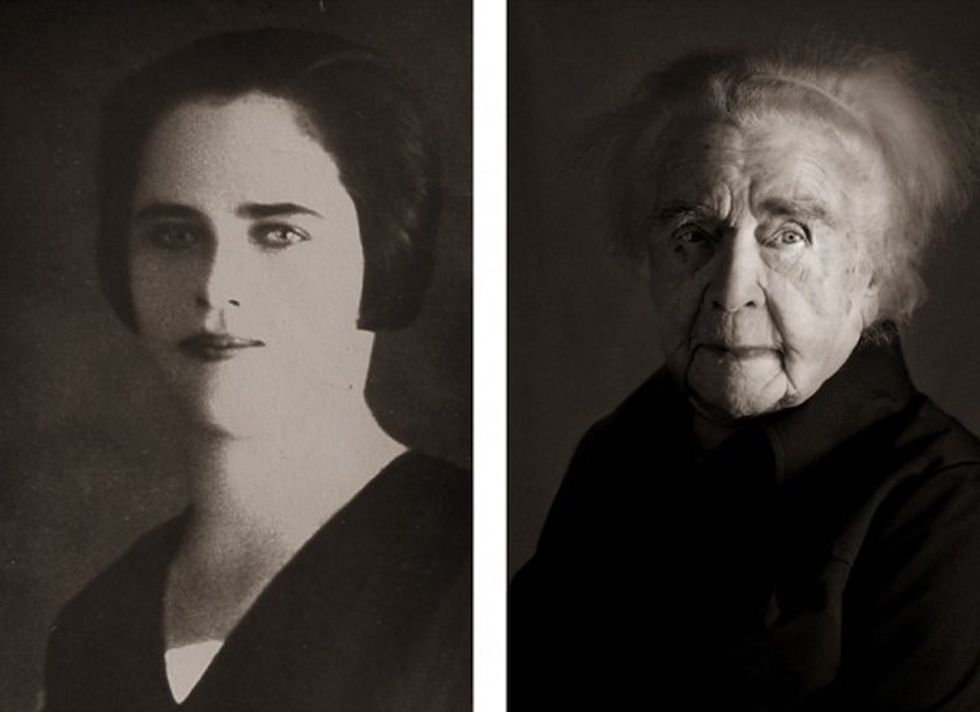 Vysloužilová stays active every day by chopping wood, shoveling snow, and doing work around her house.
The photographer Langer was initially inspired to document the lives of elderly people because of what he saw as the media's lack of coverage of them. He decided to focus on people over the age of 100 — a very rare demographic indeed. The 2010 U.S. Census reported only 53,364 centenarians, which is only 0.19% of the population of people 70 years or older.
"One should live every single moment according to their best knowledge and conscience because one day we will see clearly what has a real value," Langer says of what he learned from his subjects while photographing them.
The series was originally part of a story that Langer did for the Czech news outlet aktuálně.cz. You can see more photos from the portrait sessions by following the link.
This article originally appeared on 12.08.17.
Get stories worth sharing delivered to your inbox
Pop Culture
Watching our bodies change is a natural part of life. But we rarely talk about the complicated feelings that come from that.
Joy
Young people are very specific about what they want in a partner.
Family
Where do you draw the line?
Canva
A husband anonymously sought out the help of the Reddit community to see if he was in the wrong for keeping calendar reminders to ask his wife about stuff going on in her life.
On the popular "Am I The A**hole" subreddit, he explained that checking in and staying aware was something his wife was really good at, but something he struggled to maintain. He attributed part of it to what he called being "a fairly self-centered person."
"I wish that weren't the case," he wrote. "But in retrospect a lot of bad behavior on my part was not corrected and even enabled when I was young. By the time I realized this character flaw I was already well into adulthood and I have found that old habits die hard."
And now, in adulthood, this man found himself "getting lost in his own stuff" and forgetting about his partners. So in an effort to be better, he started secretly making reminders in his calendar.
It was a strategy working "really well," the man wrote.
That is, until his wife found out.
"She definitely found it weird and off-putting that I would need a system like that when she doesn't," the OP lamented. "I kind of agree with her. It never felt like a deep dark secret, but on the other hand there's obviously a reason I never told her or anyone else I was doing it."
"Still," he concluded, "taking action to make sure I show consideration and concern for stuff that matters to her has to be better than continuing to forget, right?"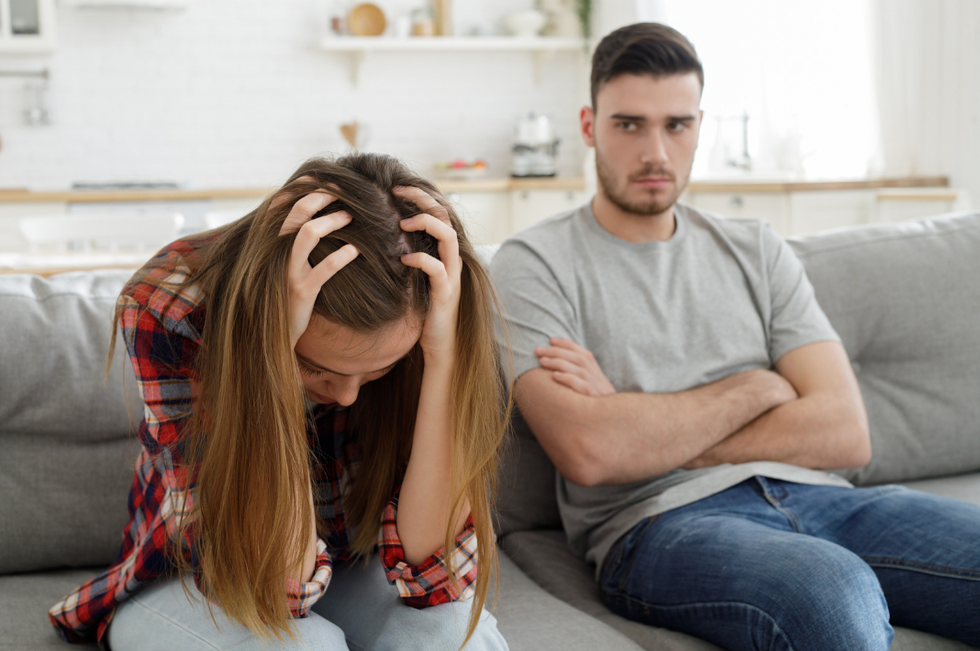 "Taking action has to be better than forgetting, right?"
Canva
People who read his story were inclined to agree.
"I think it's really sweet that you took the steps to help your wife feel valued," one person wrote, suggesting that the situation might just need further communication. "I'd sit your wife down and let her know that this has helped you engage with her more and to learn more about how she's feeling."
Quite a few noted that forgetfulness isn't always something people can control, especially for those who are neurodivergent. So putting systems in place like calendar reminders isn't actually a moral failing, but simply a different way of organizing important information.
"I'm married and have ADHD. I write EVERYTHING I can down bc I will not remember until it's too late if I don't…I would try to frame it as a tool you have used to try to better yourself for your relationship. Tell her you reflected on yourself and didn't like what you saw. Then tried to do something to correct it so you could be a better partner," one person commented.
One person even noted that they wished their partner did something like what the OP did.
"I'd love if my partner did something like this. We have had multiple arguments, because I remember everything, while he cannot remember the time he works the next day. So sometimes if I don't remind him, he will forget things, and it hurts," they wrote.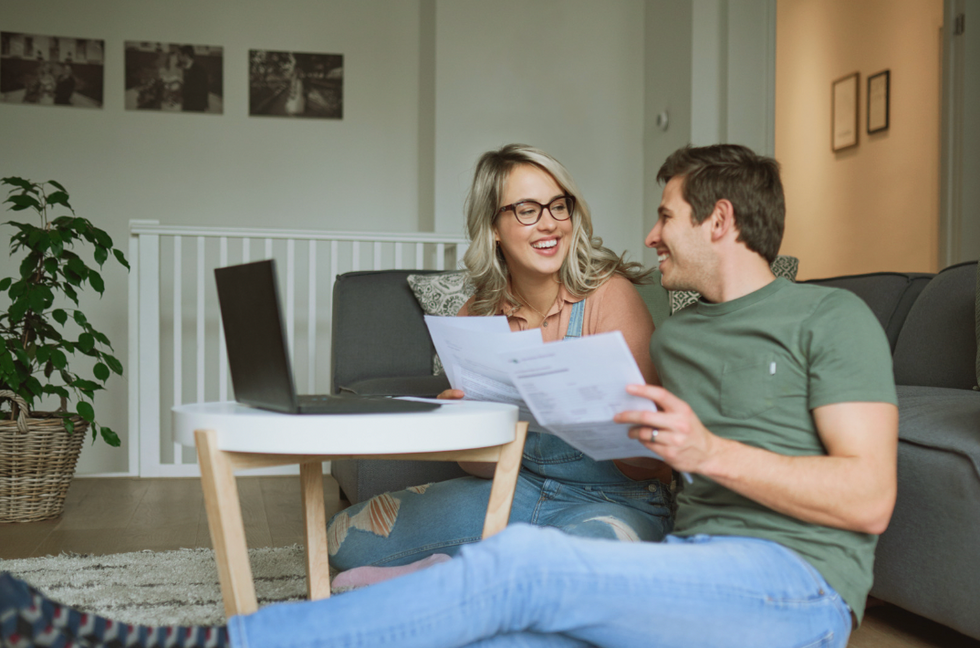 Putting in the effort is never a bad thing!
Canva
All in all, folks agreed that this husband was not in the wrong (or "Not The A**hole, in Reddit speak) for his check-in reminders, and that it would probably just take another conversation for his wife to fully understand where he was coming from.
As one person put it: "I think we can all tell that your wife and your relationship means a lot to you, and I think it's great that you came up with something like that, and hopefully your wife will after this, too. It shows you care. Most people never develop systems for that, and their relationships deteriorate because of it."
No two brains really think alike. And boy do we realize this in relationships. Even when we're lucky enough to find that soul mate that seems to "get" us on a deeper level, there are still going to be ways our partners operate that seem completely foreign to us. But that isn't nearly as important as whether or not a partner can take accountability, and put in the work to be the best partner they can be.
Get stories worth sharing delivered to your inbox