Animals & Wildlife
Amazing couple is building a 40-acre wildlife rescue in Florida to change how people think about alligators
"A lot of these animals are misunderstood, feared and hated by so many people. The root of the problem is miseducation."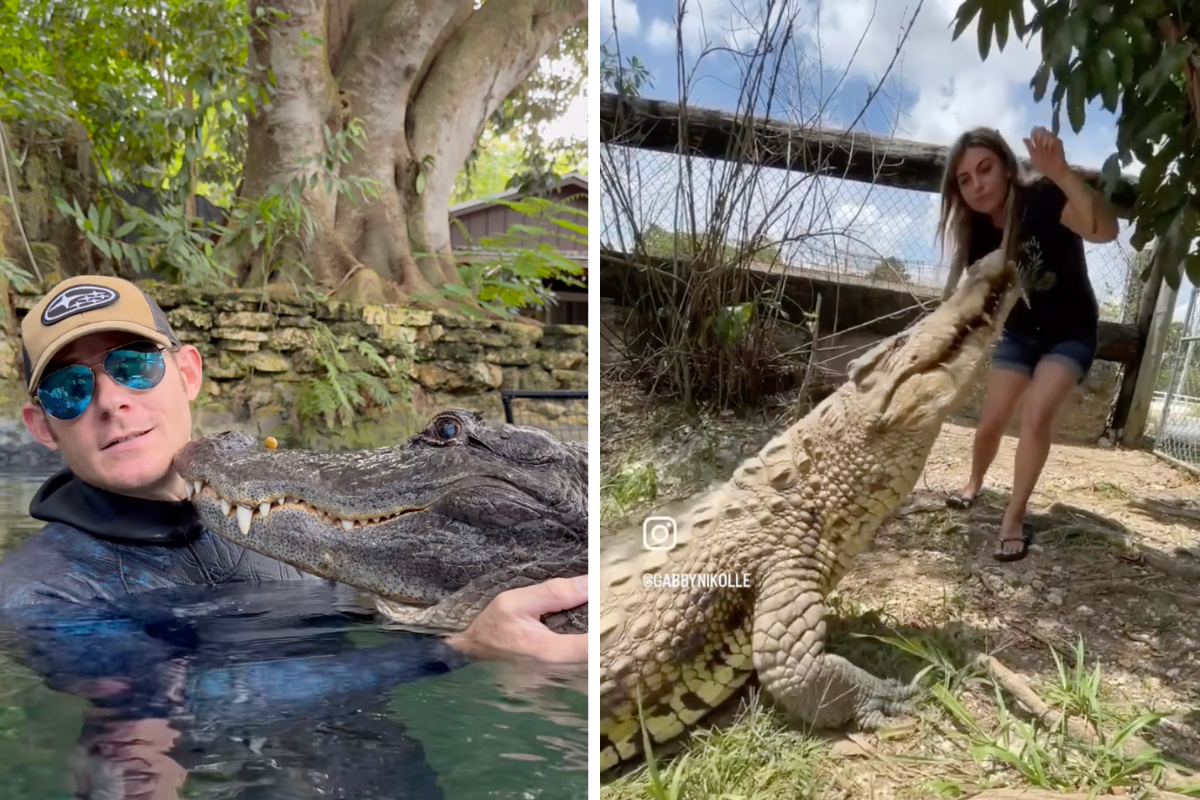 In the sun-soaked wilds of South Florida, a biologist and his girlfriend are building a one-of-a-kind animal sanctuary on a 40-acre property in Ocala. Chris Gillette and Gabby Sampone are on a mission for Florida's Wildest Animal Rescue to not only save animals but transform public perception of some of the state's most dangerous inhabitants.
"I was born and raised in Florida and grew up as a kid catching rattlesnakes and gators. I have been around wildlife my whole life and made their preservation my life mission," says Chris, who's been working in various animal parks and appearing on wildlife TV shows for over a decade. Today, he and Gabby, a New York transplant who shares his love for animals, are working towards the ultimate goal of providing a haven for rare and dangerous animals and the everyday wildlife of Florida.
Chris placed a massive bet on himself to pay for the rescue by putting up his life savings to fund the project. "This has been my dream my entire life, and I'm spending every cent I have on it," he says.
The couple hopes to open the rescue to the general public within weeks after the 8-foot-tall perimeter fence is built. When fully operational, the sanctuary will be a place where visitors can learn about wildlife and be inspired to protect these amazing creatures and the planet in which they live.
From iguanas with scoliosis and deformed turtles to a 250-pound tortoise, their sanctuary has a unique group of residents. Their recent rescues also include a three-legged goat, a coatimundi (a South American cousin to the raccoon) and foxes with adorably oversized ears. Chris says the foxes look like "Pokémon."
---
A primary goal of the sanctuary is to change public perceptions of alligators. "A lot of these animals are misunderstood, feared and hated by so many people. The root of the problem is miseducation. My goal is to make content that is fun and interesting, so people don't hate them," he explains.
"When people think of gators and crocs, they imagine them to be these mindless killing machines obsessed with eating humans, like some monster movie," Chris continued. "People don't realize gators and crocs are incredibly intelligent animals capable of learning training and have intricate social lives, as well as being keystone species in the ecosystems they inhabit. I have gators better trained than most people's dogs."
His commitment to these often-misrepresented creatures is evident in his gator presentations and posts on Facebook and Instagram. "If you read my comments on social apps, you'll see people who say they used to want gators killed, but now they're actually excited to see them in the wild," Chris says.

Social media plays a pivotal role in the rescue's operations, serving as both an educational tool and a fundraising platform. Gillette has over 2.5 million followers on social media, and Gabby has over 500,000. Through their considerable Facebook and Instagram followings, they've managed to rally the support of thousands. Their recent fundraisers have helped them tackle significant costs, from enclosure fencing to unexpected vet bills.

"I make reels, posts, and do fundraisers on Facebook and Instagram," Chris says. "The fundraisers on Facebook are really successful, and I raised $9,000 last time. On Instagram, I'll usually get $1,000 per fundraiser. These really add up and help with all the costs."
These fundraisers are necessary for the couple to keep operations going until they can open their doors and charge for tours. "We're required to have perimeter fences that are at least 8 feet high. That alone is $50,000. That's how we're spending most of the donations we're getting these days," Chris says.
Between raising funds, ensuring the construction of perimeter fences, and caring for the diverse dietary needs of animals like toucans and hornbills, rescue is a full-time endeavor that takes a lot of teamwork.
Chris works at two alligator parks in South Florida on weekends to keep up with the couple's everyday expenses and those at the rescue. "I'm doing tours and presentations there, so we have money," Chris says. "When I'm gone, Gabby's caring for all the animals and making sure everything's getting built."

Chris can't wait until the rescue is ready for its main attraction. "In a year, I hope everything for the alligators is set up. And in three years, maybe even have swimming tours," he says.
Beyond the fences of the sanctuary, Chris and Gabby hope to change hearts and minds. Whether it's emphasizing the intelligence of alligators or highlighting the ecological importance of rattlesnakes, he wants Floridians to appreciate and coexist with their local wildlife. "They were here before us and have just as much right to exist in this space as we do. It is our responsibility to be educated and act as good stewards of the environment we are lucky enough to have before us," Chris says.
The sanctuary's story is one of dedication, resilience and love for the wild inhabitants of Florida. As the founder aptly puts it, "To save ourselves, we must educate people to respect and protect native animals and ecosystems."