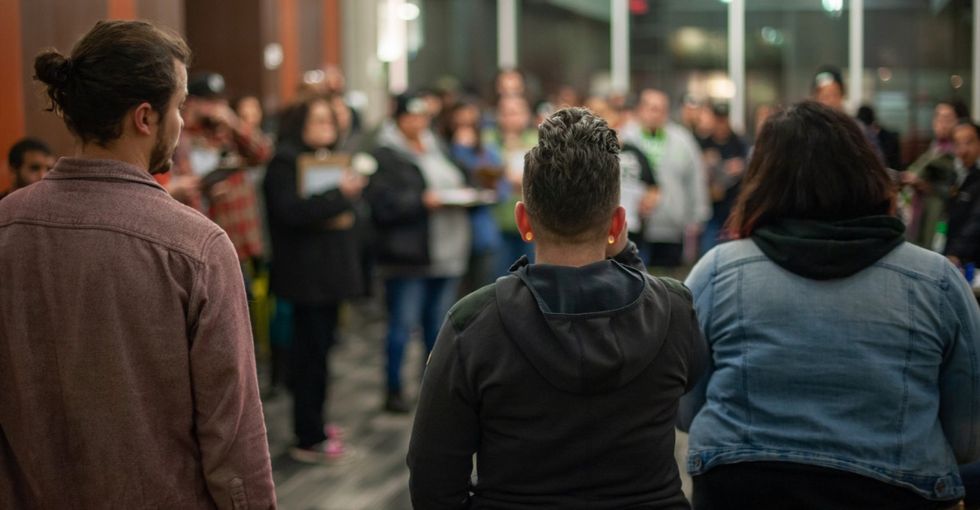 When you're homeless, finding a clean place where you feel safe can seem impossible.
Homeless shelters used to be nearly identical: they offered temporary shelter for a few hours a night. In most cities, people started lining up for shelters well before dusk. They'd get a meal and a few hours of sleep in a crowded room before being sent back out early in the morning. And shelter for the next night would not be guaranteed.
While these types of shelters certainly still exist, they're no longer the only option. In fact, more and more city governments are changing the way they think about fighting homelessness, moving away from a model where temporary shelter is seen as a solution to situational and chronic homelessness and towards one where permanent housing and social support are the goals.
---
Transition Projects is one of the shelters that's on the precipice of this necessary change.
At Transition Projects in Portland, the goal isn't simply to get people off the street. The organization is helping people regain hope, reclaim their dignity, and find long-term housing.
That journey begins with a safe environment that provides showers, a place to wash clothes, and a clean bed. Those may sound like simple things, but they're not often attainable for homeless people. The 24 hour shelters Transition provides allow them to take care of their hygienic needs, which can help them start their day feeling good. That outlook can be the catalyst they need to change their circumstances.
In Portland — where home prices have begun to be described as "unaffordable" — more than 4,000 people have no place to go on any given night. Many of these people are living with disabilities. Many are veterans. And most don't have a safe, clean place to be during the day either.
Transition runs eight shelters in the city. Seven are open 24 hours, meaning that clients can come in and take advantage of services whenever they need them. And because Transition's policy is built on meeting people where they're at, clients can enter with their partners (many traditional shelters separate mixed-gender couples), their pets, and their possessions.
"When you're living on the street, you already have a lot of barriers. We want the least amount of barriers to keep you from coming inside and getting our help," says Roma Peyser, Transition's Director of Development.
One such barrier is the late in/early out policy of many traditional shelters. At Transition, the staff know that this model often doesn't provide enough support to help people change their circumstances.
People who come in tired at the end of the night aren't prepared to do anything other than sleep. However, if they've had a good night's rest in a clean bed, the chance to take care of their basic hygienic needs, and know that they don't have to leave immediately, they're more likely to be open to assistance that can transform their lives. And Transition provides services that do just that right in their facilities.
"We only have one [shelter] that closes in the morning," says Peyser. "That's it. The rest are all offering wraparound services. It gives us a chance to develop a relationship [with the client] and get a good understanding of what each person needs so that we can guide the case managers."
With the 24-hour model, Transition's been able to offer clients more programming than they might find elsewhere. This includes AA meetings, art therapy, and mental health support. They provide clients with peer support from mentors who have lived in the shelter. They work to connect clients with medical services, and they have case managers who help veterans learn about and receive their benefits.
Transition also runs a resource center during the day. It's a clean space where people can come in, take a shower, take care of other basic needs like cleaning their clothes, get connected to a mental health counselor, and start working with a case manager to navigate the often difficult path to housing. The center allows participants to spend the day where they feel safe and supported — something many of us with homes can take for granted.
It's a testament to why clean matters* — it can be the difference between an ordinary day and one that puts you on the path to a better, brighter future.
Since approximately a quarter of Transition's shelter participants are working, having a place where they can come in and leave their belongings not only helps them stay in the program, it reduces the stigma around homelessness. Transition's goal is to end stigma while simultaneously providing services that clients need.
"We've flipped the way shelters work on its head," Peyser says.
For many people, Transition has made a life-changing difference. The program helps more than 1,000 people a year find housing.
For the people who use the services Transition offers, being involved in a group, taking a class, or even using the computer lab is a step towards feeling like an integral member of society again. And being able to do that in a space that's clean, bright and feels welcoming is just the beginning. What happens next means everything.
For Danita, a Transition client, having a place to go during both day and night meant that she could focus on getting a job. Now she's a program manager who helps women find and maintain affordable housing. It's thanks to Transition that she's come to a place in her life where she can give back.
Jon and Jennifer used Transition's day program because they knew that it was a place that they would always be welcomed. It's where they showered and did laundry. It's where they took classes. When the couple decided to pursue long-term housing, they used Transition's services to help them find and maintain it. After that milestone was achieved, Jennifer was reunited with her teen daughter (who now also lives with the couple).
Today, both partners work at Transition helping others who, like them, may only be looking for a warm, clean place to be for right now, but for whom a better future may be closer than they think.
"Housing is hope," says Peyser. For the thousands upon thousands of people that Transition has helped, that hope starts with consistently open doors to a safe space.
* Clorox believes clean has the power to transforms lives, which is why they've partnered with Upworthy to promote those same traits in people, actions and ideas. Cleaning up and transformation are important aspects of many of our social good stories. Check out the rest in the campaign to read more.