Culture
Colin Jost shares his mom's sneaky attempts to get him and Scar Jo to change their baby's name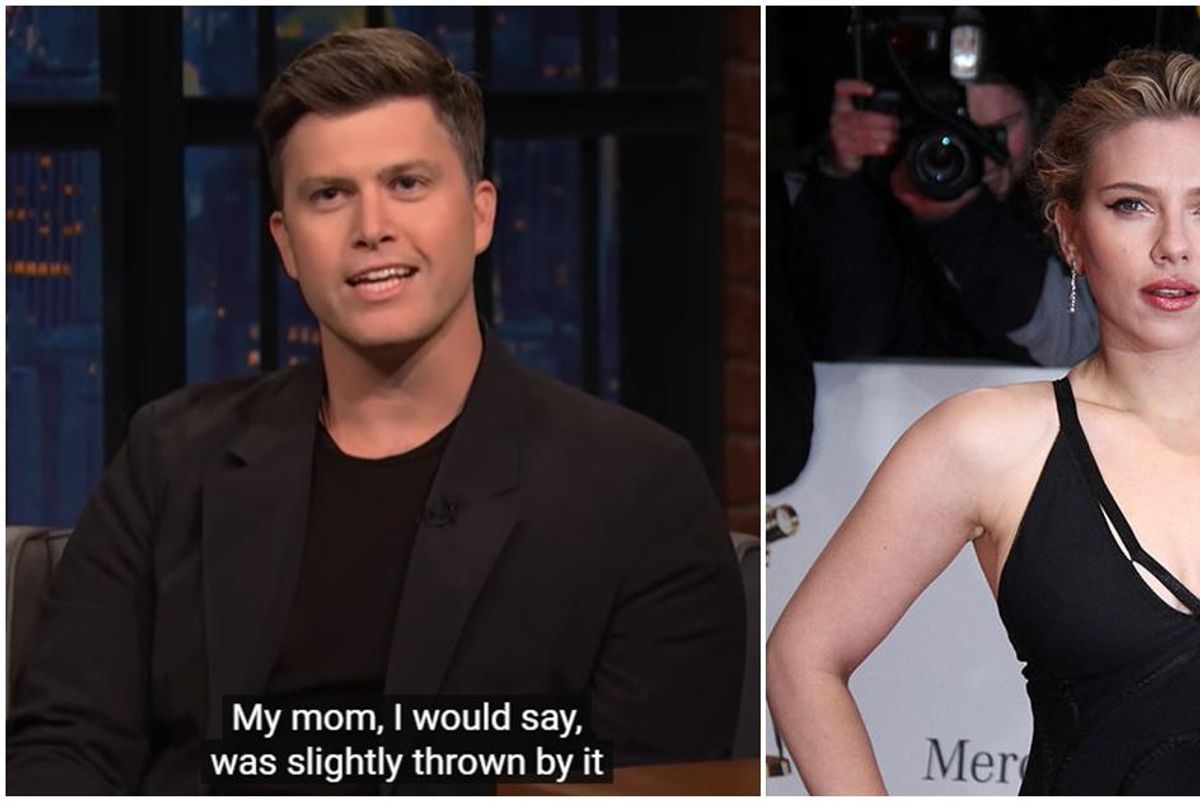 via Wikimedia Commons and Late Night with Seth Meyers
SNL "Weekend Update" host Colin Jost and his wife actor Scarlett Johansson welcomed a baby into this world in August. The high-profile, private couple was able to keep news of the pregnancy relatively quiet until Jost announced it the day before the baby was born.

The couple was married in October 2020. Cosmo is Jost's first child and their first as a couple. Johansson is already mom to daughter Rose, 6, who she shares with French journalist Romain Dauriac.
Jost announced the baby's arrival on Instagram where he couldn't waste the opportunity to take a jab at his "Weekend Update" co-host, Michael Che. He jokingly said to refer any questions to his publicist @chethinks, Che's Instagram account.
---
Your weekday update: Colin Jost & Scarlett Johansson have welcomed a son. ✔️ Michael Che officially has a new IG b… https://t.co/evM1Sbaq0q

— E! News (@E! News) 1629414062.0
Like many creative types, Jost and Johansson chose a name that's a little quirky and uncommon. In fact, the name hasn't been a popular American baby name in the past 100 years.
Cosmo hasn't appeared in the top 1000 U.S. baby names since 1926. However, it'll probably make a comeback in the coming years after being chosen by celebrity parents.
Appellation Mountain says the name Cosmo has a "quirky, not-quite-real quality," that could be why it was revealed as the first name of Kramer on "Seinfeld" in 1995.
Scarlett Johansson is pregnant and expecting her first child with Colin Jost. https://t.co/hWmUHErWWw

— Film Updates (@Film Updates) 1625619947.0
Jost was on "Late Night with Seth Meyers" on Thursday where he revealed that his mother wasn't really on board with the name and did everything she could to have it changed without seeming too pushy.
Colin Jost Reveals Why He Named His Baby Cosmowww.youtube.com
"My mom, I would say, was slightly thrown by it and didn't quite understand it," Jost said. "I don't know if she thought it was kind of like a hippie thing."
Even though the couple made the name official on the birth certificate, his mother wouldn't let the issue go.
"She would call us after three or four days," he explained. "And she'd be like, 'And now, is it final? Like, did you submit the birth certificate?' And we're like, 'Oh, yeah, we did that at the hospital.'"
Then she started suggesting names that sounded like Cosmo, but were a few letters off.
"She was like 'OK, interesting. Because I was reading that there's also a name Cosimo with an 'I,' so that could also be an option. Maybe Cosimo, that's his real name, but then you can call him still Cosmo,'" Jost said as his mother.
He recalled: "Then she goes, 'There's a patron saint called Cosmos, so that's another option.' We don't need more worse variants on Cosmo. But thanks, Mom."
Jost's mother's process of dealing with her grandchild's name followed the five stages of acceptance: denial, anger, depression, bargaining, and acceptance.
It appears as though she finally came to accept the baby's name when her neighbors on Staten Island told her that it's a common name amongst Italian-Americans.
"Eventually, she started meeting various members of the Italian community who have a lot of Cosmo relatives," Jost said. "And so then she would call, and she would say, 'I met someone — they said their uncle's name is Cosmo. So it is OK.'"