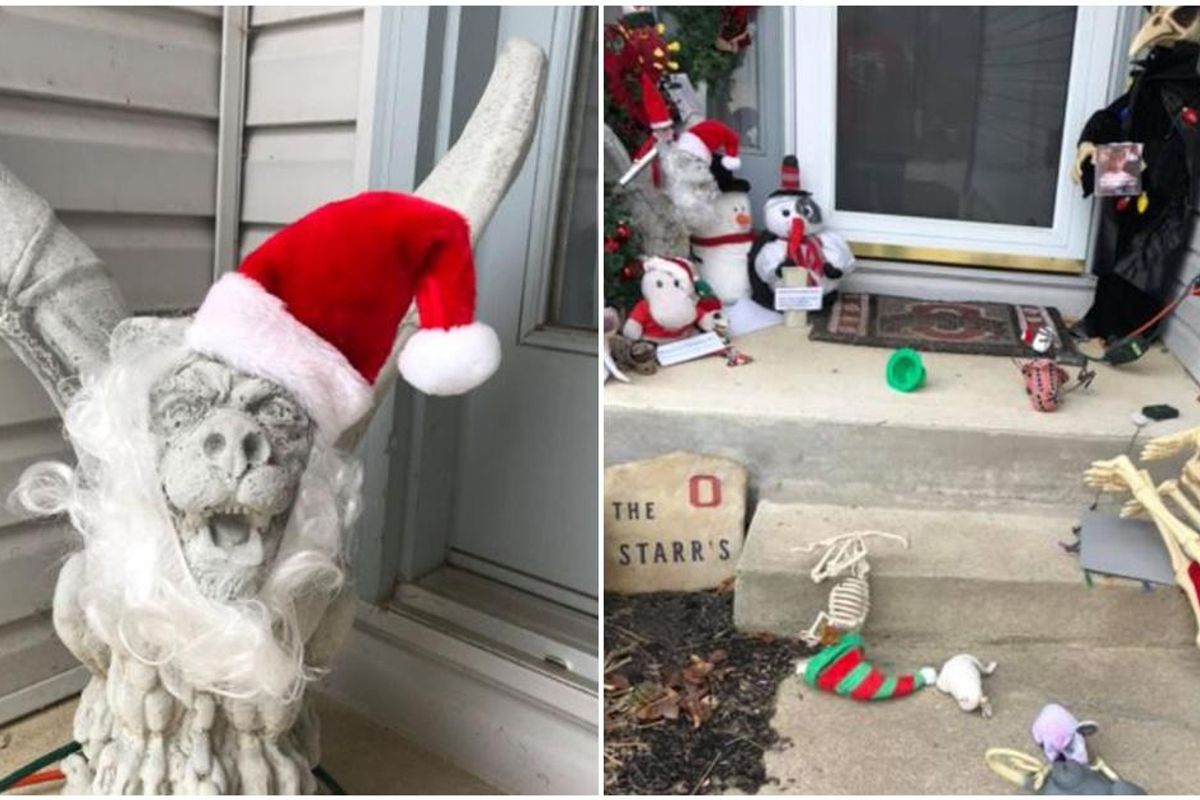 via Frank the Christmas Gargoyle / Facebook
It's amazing how many people have the inability to mind their own business and need to criticize their neighbors for the pettiest things. You see them every day on Nextdoor, complaining about overgrown lawns or paint colors that aren't "befitting the neighborhood."
Well one of these uptight neighbors, referred to in this story as a "Karen," messed with the wrong woman this holiday season (we'll call her "Our Hero" for the story's sake). She had no idea that criticizing her neighbor for having a gargoyle on her porch during the Christmas season would lead to a battle of epic proportions.
It all started with Our Hero's neighbor sending a note that gargoyles are not "in keeping with the Christmas spirit." So she responded by making Frank the Gargoyle festive with a Santa hat and beard.

Our Hero then took things up a notch on the festive meter by giving Frank some company, a Christmas tree.

Then, the angry neighbor sent over another note asking if Our Hero thinks they are funny. So she decided to add one new item a day, like an Advent calendar. Then, Elf on a Shelf joins the party.
The next day, Frosty the Snowman showed up on Our Hero's porch.

Taking things a step further, she added a photo of Bruce Willis from "Die Hard," because, for some, the film is a Christmas classic. These people deserve to be represented in such an inclusive holiday display.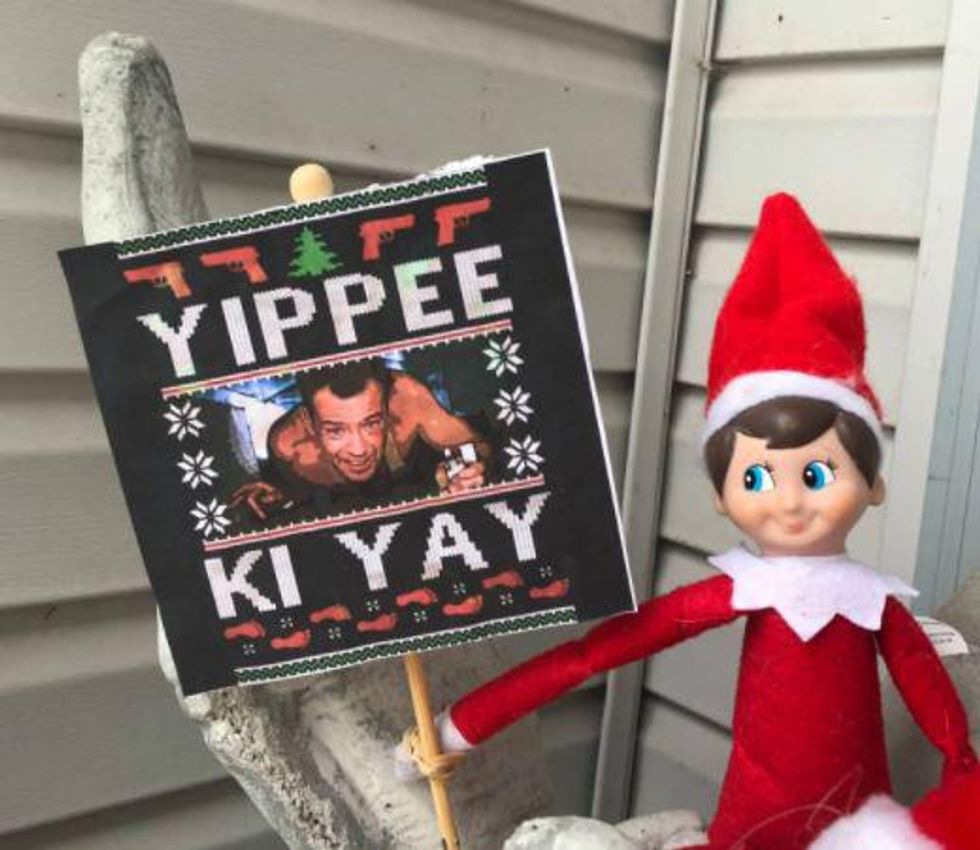 Things started to get a little more "A Nightmare Before Christmas" looking after the cat skeleton was added to the motley Christmas scene.
Then, the neighbor struck back with a note that called Our Hero "childish" and "ridiculous."
Next, Our Hero added a dog skeleton to the scene to keep the cat skeleton company.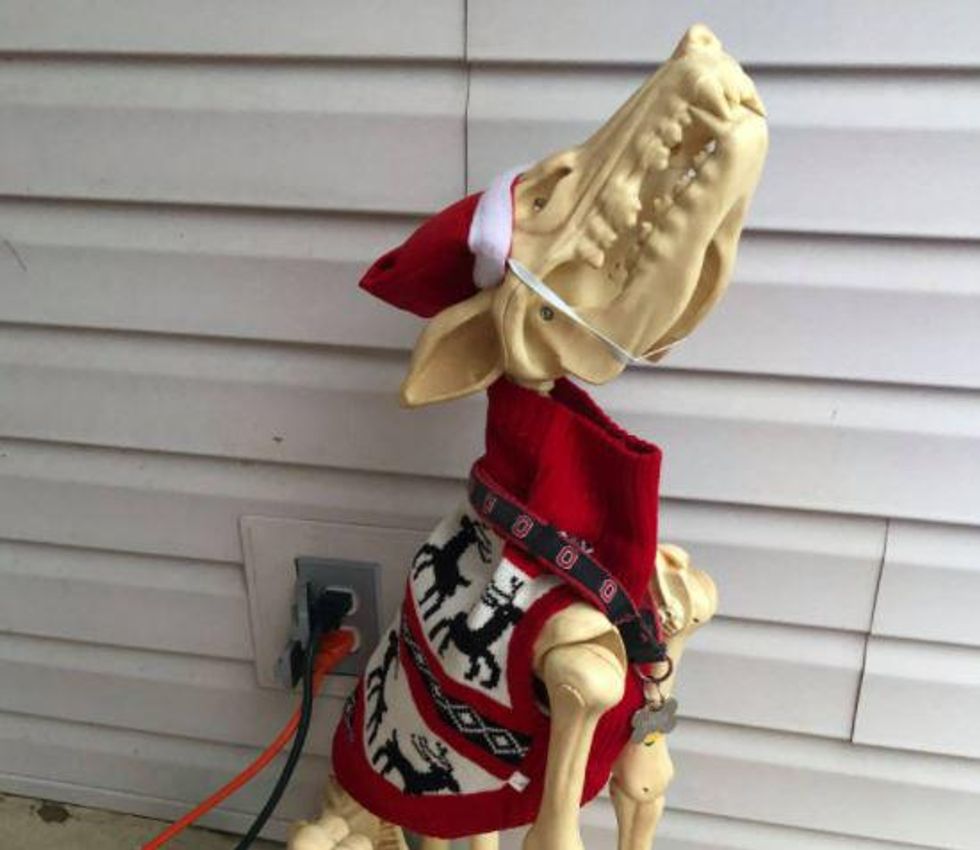 via Frank the Christmas Gargoyle / Facebook
The neighbor is really getting angry!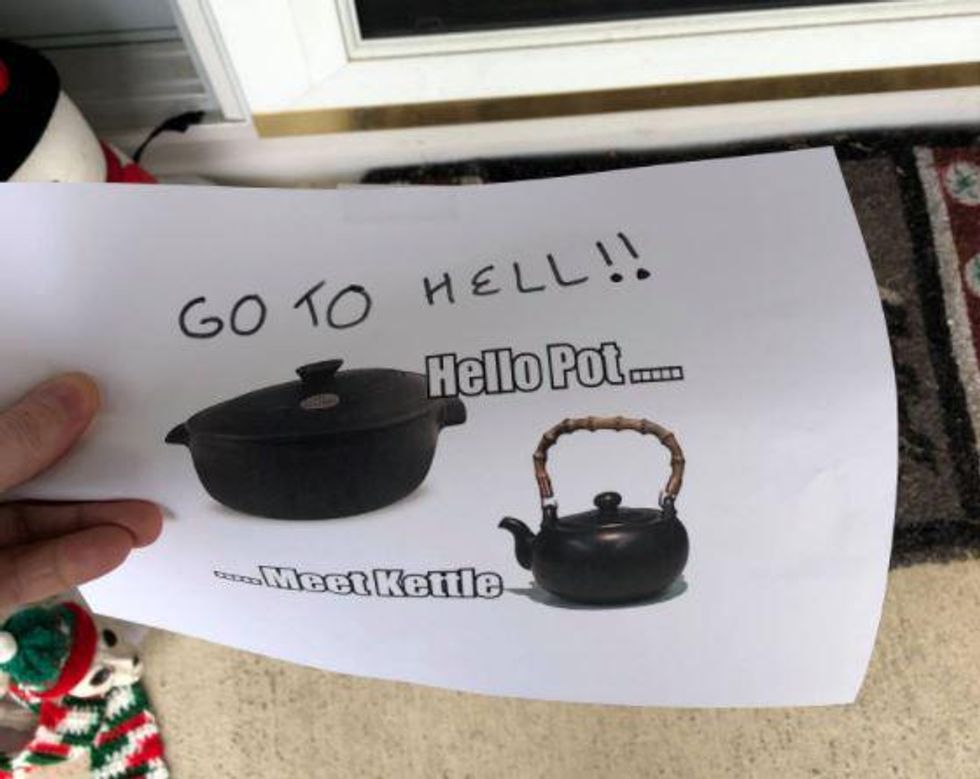 via Frank the Christmas Gargoyle / Facebook
The neighbor returned with another note that read: "HIPPOS HAVE NOTHING TO DO WITH CHRISTMAS!!!!!!!!!!" haven't they heard the famous song "I want a Hippopotamus for Christmas"?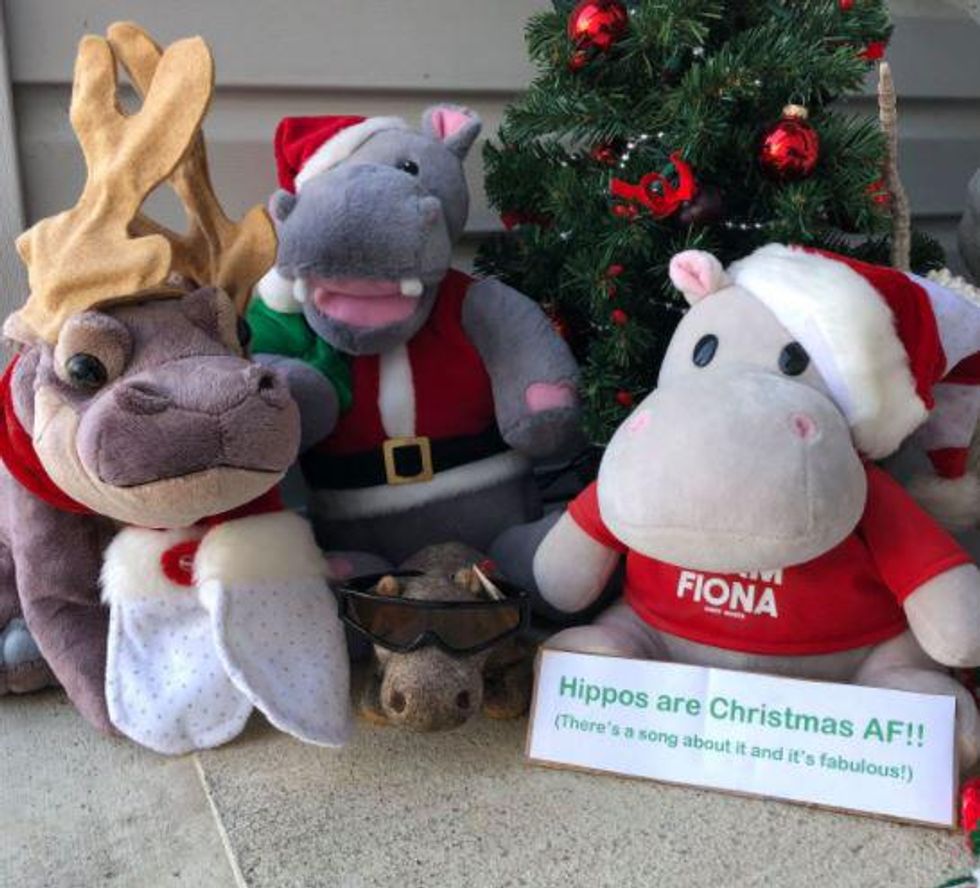 via Frank the Christmas Gargoyle / Facebook
"With all these notes I've been getting, it made me think about someone else who liked to write demanding notes—namely the Phantom of the Opera," Our Hero wrote. "I guess that makes me Monsieur Firmin now."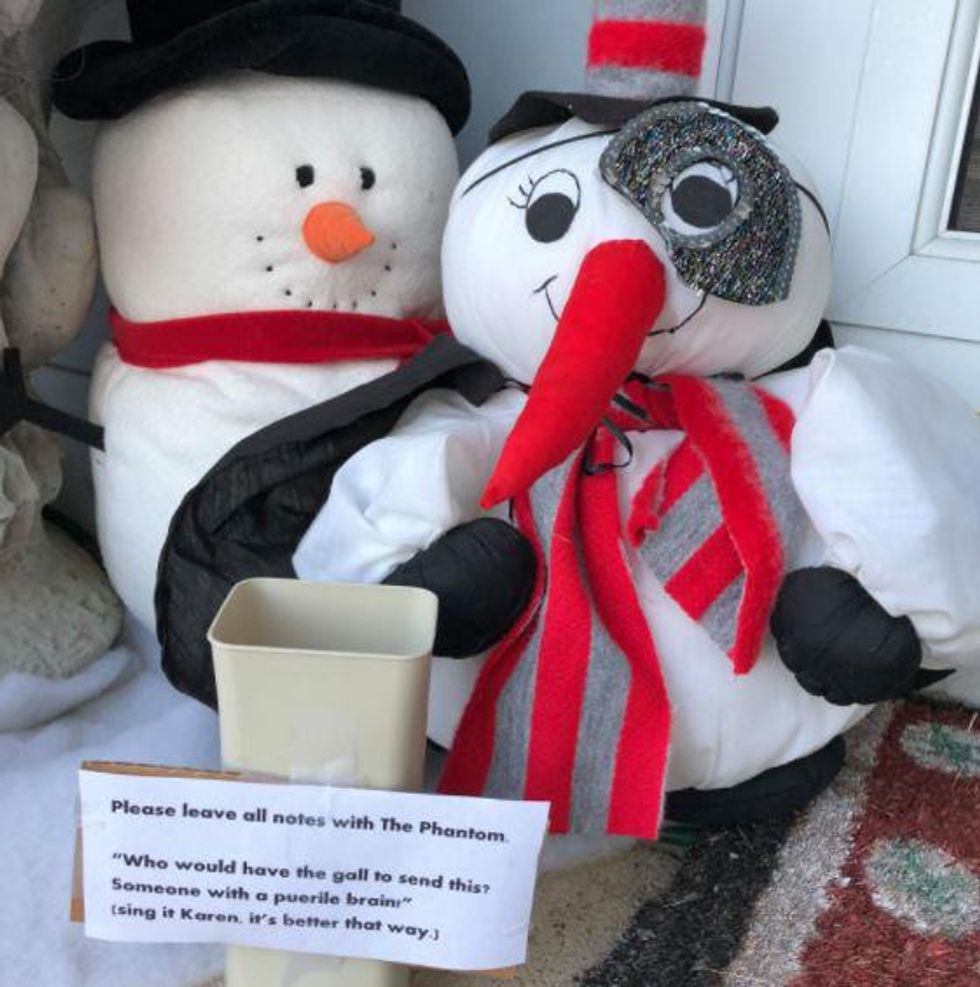 via Frank the Christmas Gargoyle / Facebook
The neighbor's next announcement was that they had reported Our Hero to the homeowners association. But much like Kevin McCallister in "Home Alone," she wouldn't back down. "You guys give up? Or are you thirsty for more?"

Nothing says Christmas 2020 quite like a plague doctor and rats.

Then, the neighbor got seriously angry and knocked over some of the Christmas scene.

"WHOA!! I go away for three hours and there was a melee!" Our Hero wrote. "Looks like we struck a nerve today. Karen's note today indicated that she is most unappreciative 'that I would choose to put VERMIN on my porch.' My display is 'horrid,' and my parents 'must be so proud to have raised such a completely disrespectful and spiteful daughter.' Well Karen, my parents are no longer with us, but I'm absolutely positive they would be proud and loving this whole thing. Where do you think I got my sense of humor and charm from? Plus, my mom taught to never back down from a bully."
Next, in a completely tasteful move, Our Hero added some Pink Flamingos to the scene. John Waters would be proud.
We've got ten more days until Christmas and this story is far from over. Who knows what will happen next? Will the neighbors get into fisticuffs on Christmas Eve after too much eggnog? Will the city step in and take down the festive Christmas scene? Or will the neighbors bury that hatchet in a display of Christmas spirit?

Follow Frank the Christmas Gargoyle on Facebook to see how it ends.
P.S. Our Hero took a moment to write a serious note to thank everyone for following her story.
"The holiday season can be a tough time for a lot of us, myself included, and this year has been particularly COVID craptastic, so knowing that my silly shenanigans with my nosey neighbor has brought even a small chuckle to so many people really warms my heart. I mean, I crack myself up daily, but knowing people all over the dang world are cracking up with me is pretty freaking cool.
She then thank those who are working to keep us all healthy during these tough times," she wrote.

"I wanted to give a special shout out to all the nurses, docs, EMTs, PAs, RTs, and all you other frontline badasses for all of your comments. It's so cool to know this silly page can provide even a moment of relief from all the stress you guys are under right now. You guys are the true heroes of 2020! Frank and friends salute you!" she continued. "Everyone stay safe and remember---Hippos are Christmas AF!!"