Education
Architect breaks down how the American diner got its signature look
It's a story as complex as America itself.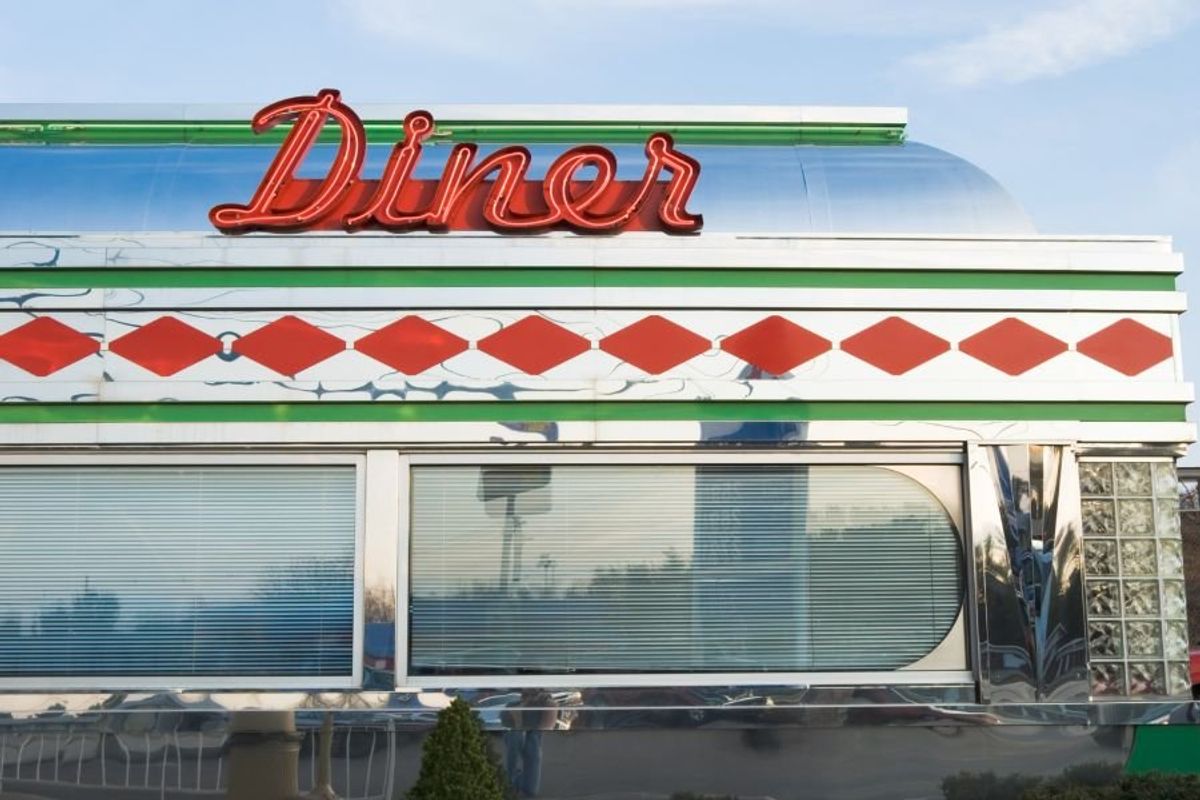 Canva
The classic American diner is a quintessential image of American culture. Even if each individual spot has its own nuance, there's a distinctive look that is instantly recognizable. What's more, there's a certain feeling that all diners seem to evoke—one of exuberance and electricity. (The neon lights certainly help with that.)
Since the look of retro American diners is so unmistakable, one might assume that it solely originates from the 50s, when in actuality, it's a history as complex as America itself.
In a video produced by
Architectural Digest
, Michael Wyetzner of
Michielli + Wyetzner Architects
breaks down the fascinating four-decade evolution of the American diner—going from the 1920s through to the 1960s—and reveals how that iconic diner look is an amalgamation of designs, all symbolizing America's relationship to
transportation
.
.
---
Diners were inspired by the dining cart of a train, hence how they first got their name. It also explains why the original diners emulated a train's design—stainless steel exterior, long and narrow interiors using booth seats, having an open kitchen, even the use of art deco typography, checkered floors, globe lights and jukeboxes. As Wyetzner explained, many diners were simply repurposed diner carts.
By the 1950s, the train was quickly being replaced by automobiles. To catch the eyes of potential customers passing by at 40 miles per hour, diners adapted to incorporate vibrant, happy colors and cartoony, geometric-shaped exteriors. John Lautner, an architect who designed the famous Googies in Los Angeles, really brought this trend to popularity, even leading to this particular style of architecture being named "Googie style."
Other diners would attempt to intrigue customers with the convenience of never having to leave their cars, bringing us the first glimpses of drive-thrus, though the first diners of this style looked nothing like today's McDonald's. Cars would park facing the diner and food would be served on automated conveyor belts. Even these buildings, Wyetzner noted, had a design similar to the wheel of a car, thus still keeping to a transportation theme.
Cut to 1955, and not only did we have a rise in airplane travel, but the space race had also kicked into high gear. So why not have people eating in a spaceship? This time period brought us flying saucer-shaped buildings boasting 360° views, with some, like Seattle's Space Needle or the Theme Building outside the LAX airport, even being suspended in midair.
"It sort of represents springing into the air this whole idea of space travel, where the impossible becomes possible. This is what the future could be, let's build it now," Wyetzner says in the video.
Eventually, this optimism and patriotism would come crashing down with the Vietnam War and the fight for civil rights, making the American diner no longer a symbol of America's bright future, but a relic of its past.
Just like much of America's culture, the American diner is a complex collage of ideas, blended together through equal parts hope and innovation. And though our views towards the U.S. might have changed since the 1950s, history has shown us time and time again that this is a good thing. After all, there are plenty of diners all over the country—all over the world, for that matter—that still bring people that kind of joy.
Watch the full video here: