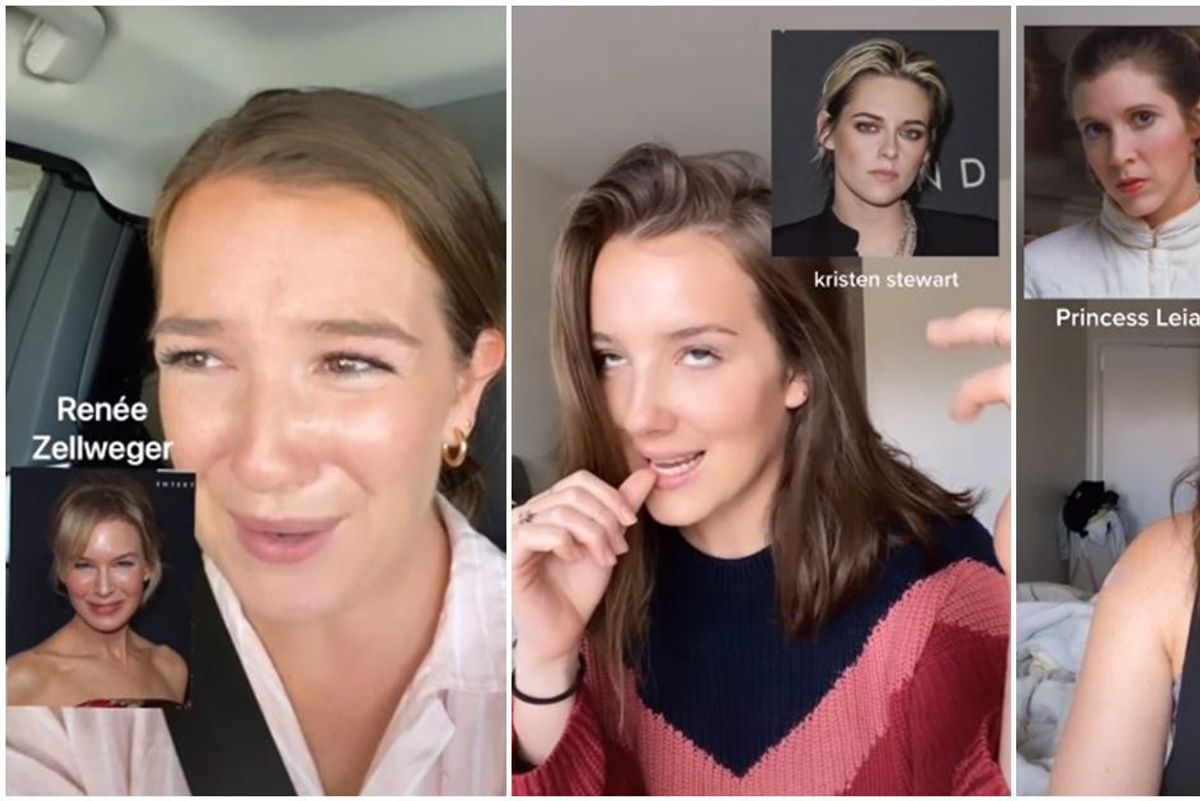 via @mare_kell / TikTok
Great impressionists are able to transform into their subjects after finding a unique hook that brings them into the character. Recently, we shared how master impressionist and "SNL" alum Dana Carvey was able to figure out Joe Biden by imagining him at a town hall rally.
Dana Carvey's Biden is A+. He's so cool. https://t.co/0f0gmYC85Y

— rob delaney (@rob delaney) 1616610121.0
---
Our favorite Trump impersonator James Austin Johnson says he was able to dial in his version of the former president after mimicking his rambling rally performances.
PRES TRUMP TODAY IN CALIFORNIA: " 'WEIRD AL' WAS VERY MEAN TO MR. COOLIO!! DIDN'T ASK FOR RIGHTS. NOT VERY NICE!" https://t.co/kgF5UFYRLP

— James Austin Johnson (@James Austin Johnson) 1603051742.0
Mary Elizabeth Kelly has earned over 14 million views on TikTok for mastering over a dozen impersonations of popular actors and actresses by figuring out their mouth movements. She calls this form of impersonating people "mouth acting."

Kelly is an actress who's appeared on "Master of None" and "Law & Order: Special Victims Unit."
It all started when she was watching "Pirates of the Caribbean."
"I'm a huge film and TV watcher and am always drawn to the mouth movements and idiosyncrasies of actors for my own study and for fun," she told the Shropshire Star. "I think I was watching 'Pirates Of The Caribbean' and noticed Johnny Depp's mouth movements were so much a part of his performance and after that I started noticing it in other actors and made a list.
"I love impersonating other actors and doing accents and such, so I thought it'd be fun to show all the actors who act with their mouths!" she added.
This led to a video of her mouth acting Jennifer Coolidge, Emma Stone, and Drew Barrymore that received over 1.2 million plays on Twitter.
"Mouth acting". This is amazing https://t.co/VdbyWHLE8k

— Declan Cashin (@Declan Cashin) 1610135016.0
What it would look like if Jennifer Garner, Nicole Kidman, and Mark Ruffalo were stuck in traffic?

@mare_kell

celebrities stuck in traffic 🚗 #impressions #celebrity #mouthacting #foryou #acting #comedy #celebs #SyncYourMiO #car #traffic
What would happen if Winona Ryder, Emma Stone, and Mandy Moore starred in their own cooking shows?
@mare_kell

if these celebs had instagram cooking shows 😂 #impressions #mouthacting #comedy #cooking #celebrity #famous #foryou #foryoupage #fypシ
On "Star Wars" Day she ran through a list of characters from the films and proved she does a seriously funny Mark Hamill.
@mare_kell

the 👄 acting of STAR WARS #starwars #maythe4thbewithyou #foryou #impressions #comedy #mouthacting #IFeelWeightless #ChipsGotTalent
What do your favorite stars look like ordering coffee?
@mare_kell

Celebrity Coffee Orders (inspired by @matturday.night.live!) #fyp #impressions #snl #funny #mouthacting #comedy #ShowerWithMoxie #EnvisionGreatness
Before she made a name for herself through mouth acting, she did a video showing her amazing ability to do accents.
@mare_kell

POV: we're in a bar and you make the mistake of asking me where i'm from. ya never know what'll come out! #fyp #EmilyinParis #accentchallenge #accent