Planet
The ocean is the heart of our planet. It needs our help to be healthy.
Ocean Wise
True
The ocean covers over 71% of the Earth's surface and serves as our planet's heart. Ocean currents circulate vital heat, moisture, and nutrients around the globe to influence and regulate our climate, similar to the human circulatory system. Cool, right?
Our ocean systems provide us with everything from fresh oxygen to fresh food. We need it to survive and thrive—and when the ocean struggles to function healthfully, the whole world is affected.
Pollution, overfishing, and climate change are the three biggest challenges preventing the ocean from doing its job, and it needs our help now more than ever. Humans created the problem; now humans are responsible for solving it.
#BeOceanWise is a global rallying cry to do what you can for the ocean, because we need the ocean and the ocean needs us. If you're wondering how—or if—you can make a difference, the answer is a resounding YES. There are a myriad of ways you can help, even if you don't live near a body of water. For example, you can focus on reducing the amount of plastic you purchase for yourself or your family.
Another easy way to help clean up our oceans is to be aware of what's known as the "dirty dozen." Every year, scientists release an updated list of the most-found litter scattered along shorelines. The biggest culprit? Single-use beverage and food items such as foam cups, straws, bottle caps, and cigarette butts. If you can't cut single-use plastic out of your life completely, we understand. Just make sure to correctly recycle plastic when you are finished using it. A staggering 3 million tons of plastic ends up in our oceans annually. Imagine the difference we could make if everyone recycled!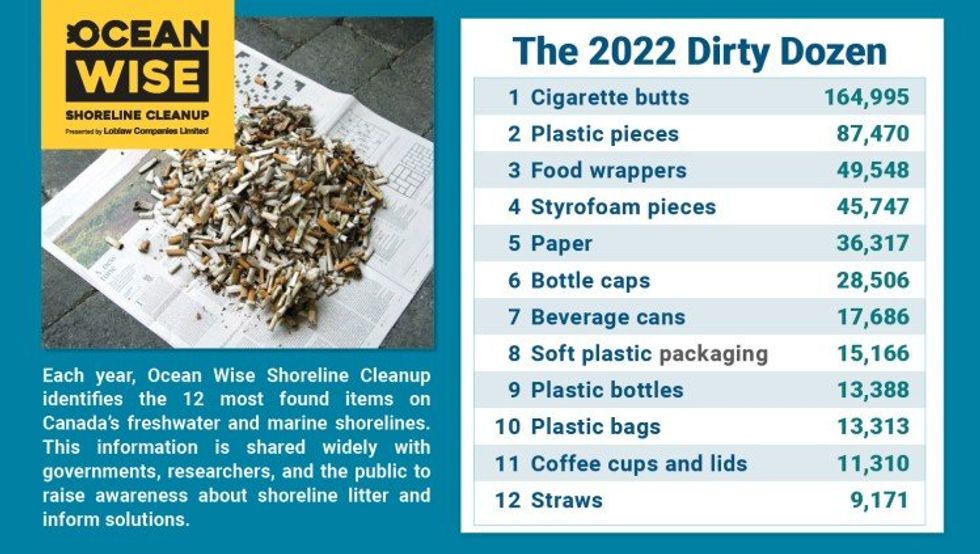 The 2022 "Dirty Dozen" ListOcean Wise
If you live near a shoreline, help clean it up! Organize or join an effort to take action and make a positive impact in your community alongside your friends, family, or colleagues. You can also tag @oceanwise on social if you spot a beach that needs some love. The location will be added to Ocean Wise's system so you can submit data on the litter found during future Shoreline Cleanups. This data helps Ocean Wise work with businesses and governments to stop plastic pollution at its source. In Canada, Ocean Wise data helped inform a federal ban on unnecessary single-use plastics. Small but important actions like these greatly help reduce the litter that ends up in our ocean.
Ocean Wise, a conservation organization on a mission to restore and protect our oceans, is focused on empowering and educating everyone from individuals to governments on how to protect our waters. They are making conservation happen through five big initiatives: monitoring and protecting whales, fighting climate change and restoring biodiversity, innovating for a plastic-free ocean, protecting and restoring fish stocks, and finally, educating and empowering youth. The non-profit believes that in order to rebuild a resilient and vibrant ocean within the next ten years, everyone needs to take action.
Become an Ocean Wise ally and share your knowledge with others. The more people who know how badly the ocean needs our help, the better! Now is a great time to commit to being a part of something bigger and get our oceans healthy again.

Innovation
"This thing has been cycling 10,000 cycles and it's still going."
There's an old saying that luck happens when preparation meets opportunity.
There's no better example of that than a 2016 discovery at the University of California, Irvine, by doctoral student Mya Le Thai. After playing around in the lab, she made a discovery that could lead to a rechargeable battery that could last up to 400 years. That means longer-lasting laptops and smartphones and fewer lithium ion batteries piling up in landfills.
A team of researchers at UCI had been experimenting with nanowires for potential use in batteries, but found that over time the thin, fragile wires would break down and crack after too many charging cycles. A charge cycle is when a battery goes from completely full to completely empty and back to full again.
But one day, on a whim, Thai coated a set of gold nanowires in manganese dioxide and a Plexiglas-like electrolyte gel.
"She started to cycle these gel capacitors, and that's when we got the surprise," said Reginald Penner, chair of the university's chemistry department. "She said, 'this thing has been cycling 10,000 cycles and it's still going.' She came back a few days later and said 'it's been cycling for 30,000 cycles.' That kept going on for a month."
This discovery is mind-blowing because the average laptop battery lasts 300 to 500 charge cycles. The nanobattery developed at UCI made it though 200,000 cycles in three months. That would extend the life of the average laptop battery by about 400 years. The rest of the device would have probably gone kaput decades before the battery, but the implications for a battery that that lasts hundreds of years are pretty startling.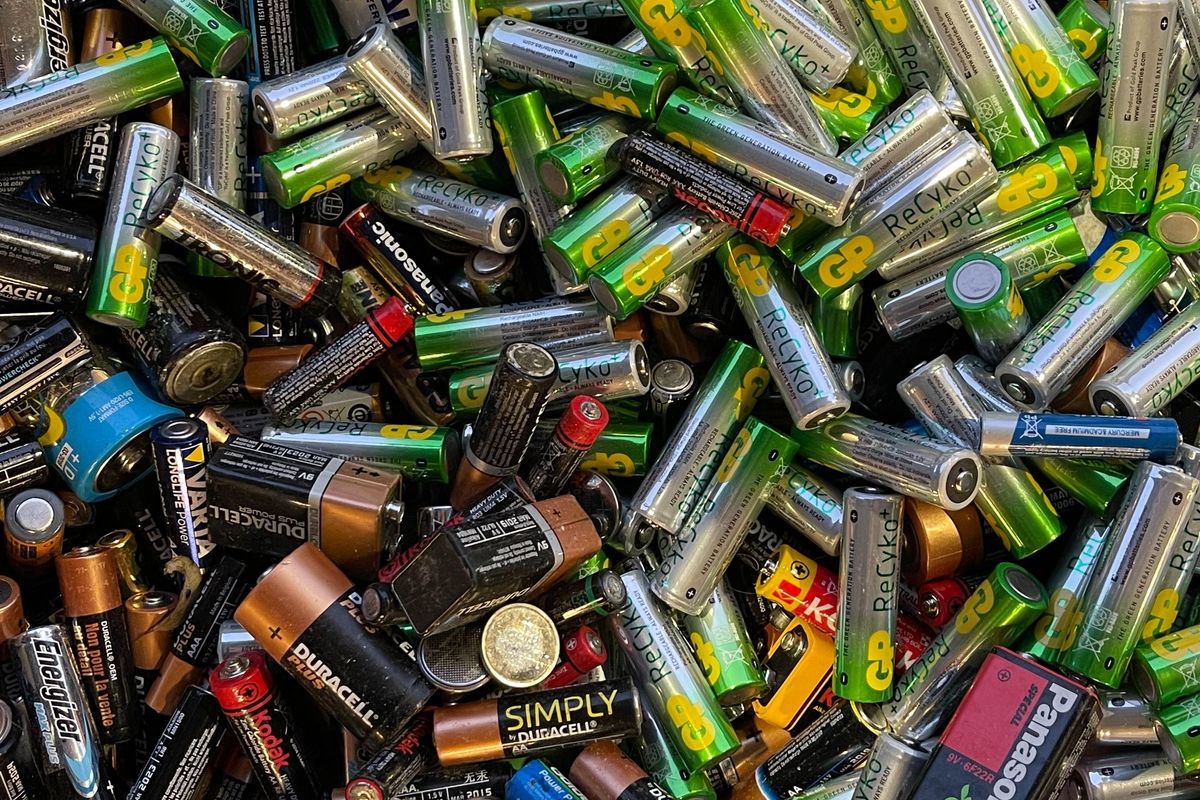 Batteries being recycled at WRWA, London. Nov '21Photo by
John Cameron
on
Unsplash
"The big picture is that there may be a very simple way to stabilize nanowires of the type that we studied," Penner said. "If this turns out to be generally true, it would be a great advance for the community." Not bad for just fooling around in the laboratory.
This article originally appeared 12.22.22

Mental Health
Sometimes anger is hiding something bigger than a fleeting emotion.
Science
30 dump truck loads and two years later, the forest looks totally different.
Get stories worth sharing delivered to your inbox
Here's what people facing food insecurity want you to know about solving the hunger problem in America
Even though America is the world's wealthiest nation, about 1 in 6 of our neighbors turned to food banks and community programs in order to feed themselves and their families last year. Think about it: More than 9 million children faced hunger in 2021 (1 in 8 children).

In order to solve a problem, we must first understand it. Feeding America, the nation's largest domestic hunger-relief organization, released its second annual Elevating Voices: Insights Report and turned to the experts—people experiencing hunger—to find out how this issue can be solved once and for all.
Here are the four most important things people facing hunger want you to know.
Hunger is still an urgent crisis despite signs of economic recovery. In the months following the peak of the COVID-19 pandemic, headlines report that the nation's economic health is bouncing back after years of hardship. However, a big chunk of our population is experiencing a different reality. Recovery has been uneven nationwide, and grocery prices are still higher than normal despite easing supply chain issues. With the end of the federal support offered throughout the pandemic, child poverty rates have shot up, and families like Donnette McManus' are feeling the squeeze.
"Even though you have your list, you have your budget, things are changing so quickly. Your salary can't keep up. So, you get to the store with the same exact list, the same 10 items can cost you 50% more," said McManus, who lives in Massachusetts.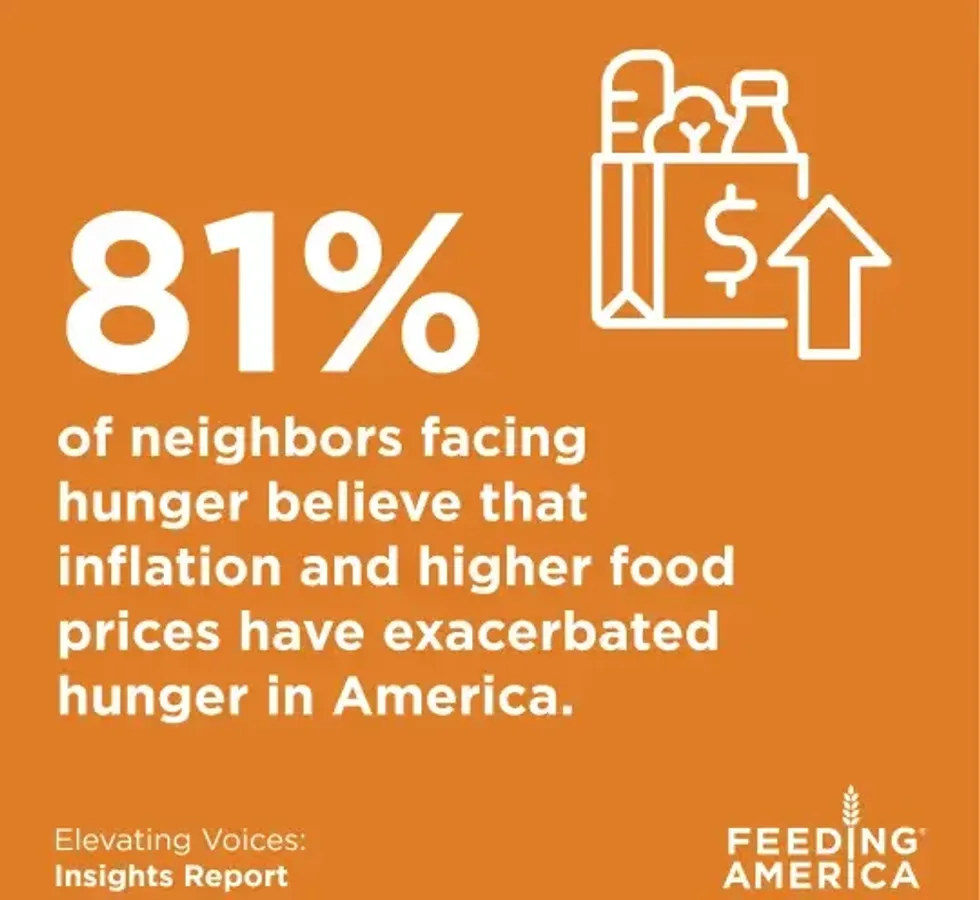 Feeding America Insights Report
People facing hunger say that ending food insecurity is about more than just food. Ending hunger may sound like a simple task: make sure everyone, regardless of who they are and where they live, has access to the food they need. However, as neighbor-advocate Jennifer Estrada of Wisconsin pointed out, the reality is a bit more complex, especially considering that hunger is only a symptom of bigger economic challenges.
"As much as you work, the system is set up for you to continue in a cycle of food insecurity," said Estrada. "Your whole check goes to a rent payment if you're not fortunate enough to own a house, with nothing leftover. But you get kicked off if you make $2 more. There needs to be some security, there needs to be a revamping of the whole system ... It seems like instead of creating less barriers to help the families in our community, it seems like policies and procedures continue to make more barriers."
One of the biggest takeaways from the 2023Insights Report is that housing is unaffordable. Working 40+ hours a week still isn't enough to get by for many folks. Stopping hunger in its tracks is as much about strengthening economic well-being as it is about providing equitable access to enough nourishing food.
Hunger is an issue that intersects with more than what we put on our plates. Hunger strikes without discrimination, affecting anyone, anywhere, at any time. Millions of people in the U.S. are just one job loss, missed paycheck, or medical emergency away from experiencing food insecurity. Due to a long history of racism, discrimination, and oppression in our country, hunger impacts some communities more than others, including communities of color and communities in rural areas.
While the impact of hunger is widespread, people facing it note that the stigma associated with it can strip people of their dignity or deter them from accessing the food assistance programs they're eligible for and need. There are also inequitable systems in place that do not work for everyone.
"Your basic clerk at your local DHS [Department of Human Services] office is only employed to input information and output information back to you. A lot of times, you feel like you're not even a human. You're just a number to them. And if I'm just going to be a number to you, I have a mental meltdown," said Kimberly Harris, a resident of Washington, D.C.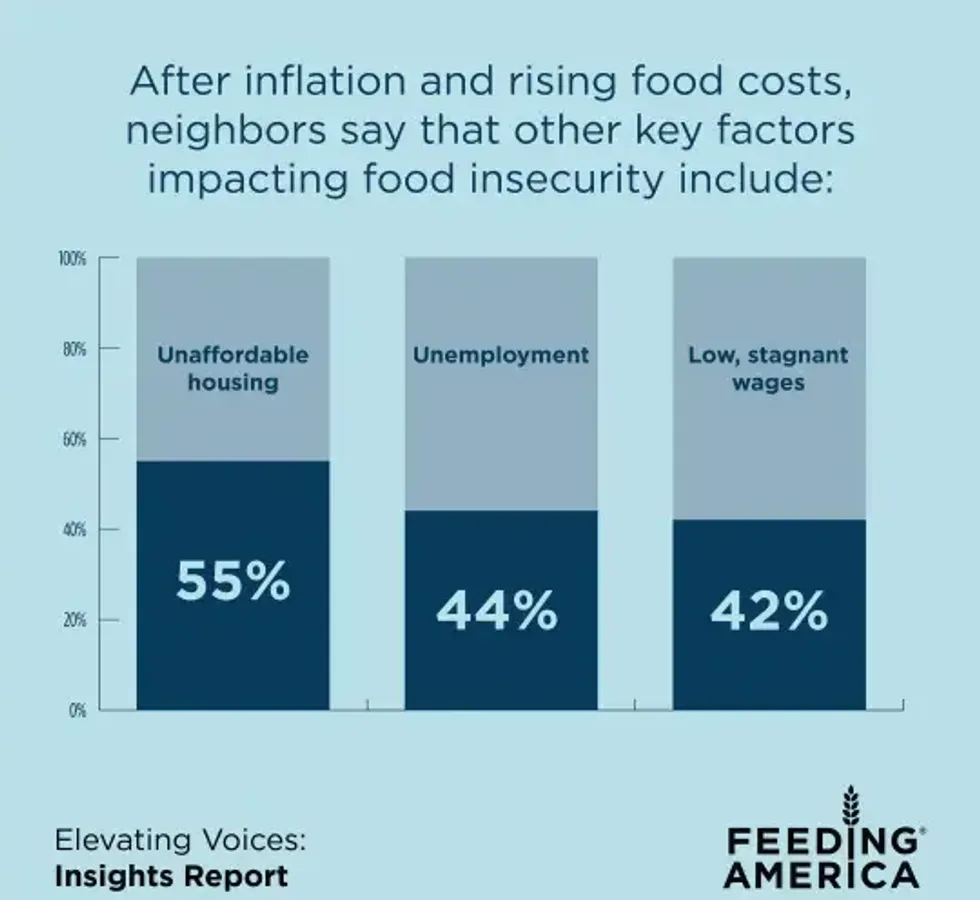 Feeding America Insights Report
Ending food insecurity requires a catalyzing movement. While hunger remains a widespread and persistent problem, our country already has the tools to eradicate it forever—they just need to be utilized. Most people facing hunger said that federal and local governments should treat hunger as an urgent crisis—signaling that it will take all of us to bring hunger to a halt.
So how can you take action right now? Do your part and visit FeedingAmerica.org/ElevatingVoices to read the 2023 Elevating Voices: Insights Report and sign a petition to encourage Congress to pass legislation that will help ensure no one in America goes hungry. Let's all pitch in to make the wealthiest nation become the happiest and most prosperous—for all.
Identity
Sorry, but you can't drive from New York to LA.
Joy
The other dogs can't believe what they are seeing.
Double H Canine Academy in Louisville, Kentucky is a place where dog owners can take their rambunctious pets and have them turned into respectable members of the family.

However, as you can tell in this hilarious video, not all dogs are meant to follow orders.
Ladies and gentleman, meet Ryker.
Double H Canine Training Academy... Epic Service Dog Training Failure
Ryker giving it his all before flunking our of Service Dog Training School

As you can see below, Ryker is living his life to the fullest. While he may never be the world's greatest service dog, he continues to provide an invaluable testament to being true to one's self.

RYKER "The Purpose Driven Dog"🐕........




This article originally appeared on 02.26.20
Get stories worth sharing delivered to your inbox