A Straight Pride parade was held in Dallas but only three people showed up
11.18.19
There is a strange right-wing logic that suggests when minorities fight for equal rights it's somehow a threat to the rights already held by those in the majority or who hold power.

Like when the Black Lives Matter movement started, many on the right claimed that fighting for black people to be treated equally somehow meant that other people's lives were not as valuable, leading to the short-lived All Lives Matter movement.
This same "oppressed majority" logic is behind the new Straight Pride movement which made headlines in August after its march through the streets of Boston.
---
Several dozen marchers walked the parade route carrying pro-Donald Trump messages such as "build the wall," "Trump nation" and "Blue Lives Matter." Which has little to do with being straight.
They were met by over 1,000 counter protesters who drowned them out.
"I am here to say, 'I am straight, hear me roar!'" said Mark Sahady, vice president of Super Happy Fun America, which put on the parade. "Whether you are straight and part of the oppressed majority, or here as an ally supporting us, we welcome you to the greatest parade in the history of the world!"

Super Happy Fun America say it's "committed to creating spaces for people of all identities to embrace the vibrancy of the straight community."
A Straight Pride Parade planned in Dallas, Texas on Saturday, November 16, didn't fare as well. Only three supporters attended the event at Dallas City Hall. Super Happy Fun America said it would send supporters to the rally, and only two showed up.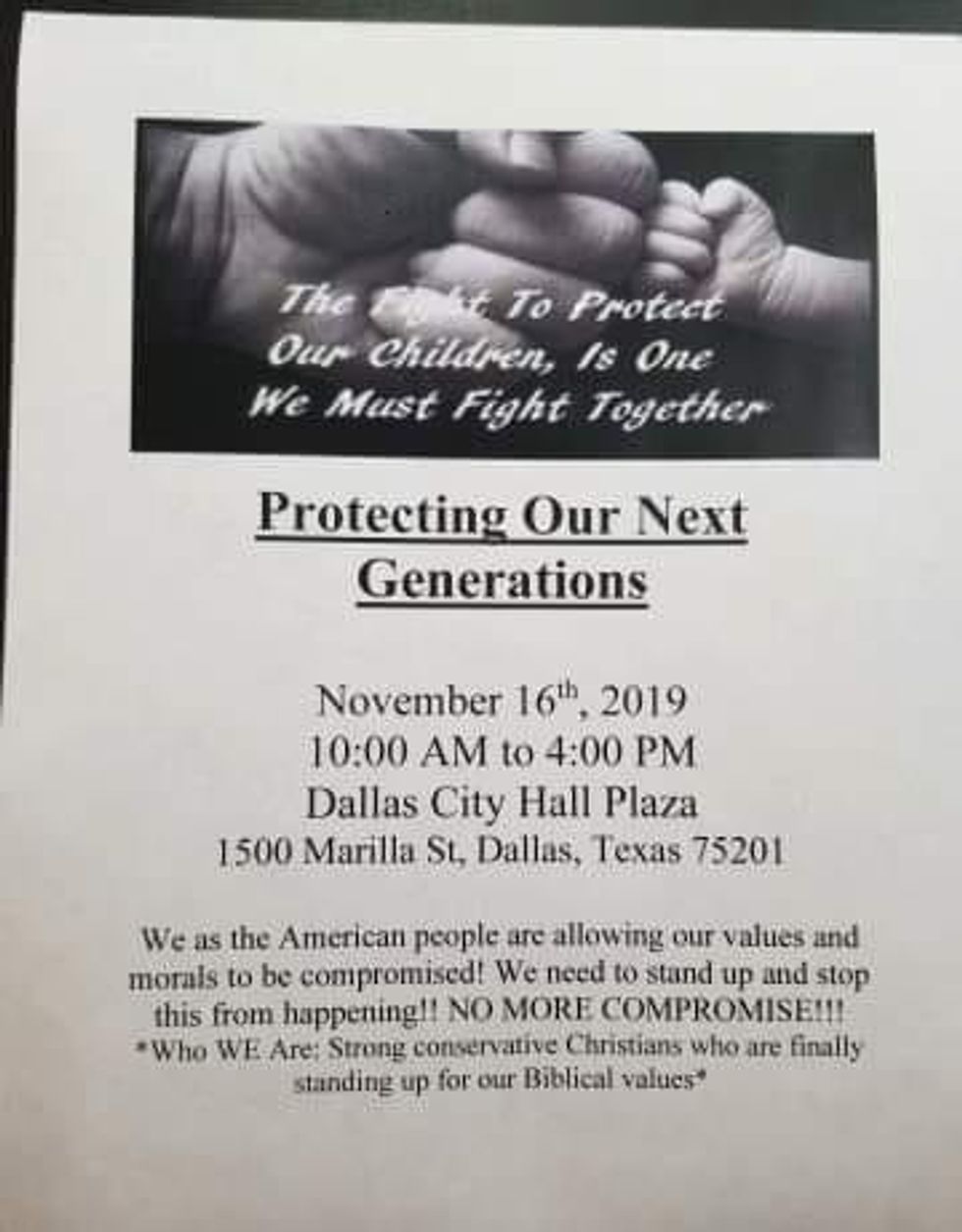 via Facebook / Protecting Our Next Generations
The march was promoted by Protecting Our Next Generations (PONG), an anti-LGBT group who says they are "Strong conservative Christians who are standing up for our Biblical values."

At the rally, the group planned to discuss abortion, sex/human trafficking, drag-queen story times, and radical left-wing groups they say are "trying to shut down our businesses and churches."
Well, it wasn't much of a protest.
"The two [Super Happy Fun America] organizers were hilariously outnumbered by pro-LGBT & anti-fascist protesters - and about a dozen police," activist Soraya Colli tweeted.

They were later joined by a member of the white supremacist group, the Proud Boys.
"It would have been pathetic if it weren't so laughable — they really believe anti-fascists are out there throwing bricks and beating up Trump supporters, but instead it was LGBT allies with rubber chickens and cowbells to drown them out," Colli told the Advocate.
After the failure in Dallas, it appears as though the Straight Pride movement, much like the All Lives Matter crowd, is just a reactionary blip on the historical radar, soon to be forgotten.
The gay pride movement, which helped an entire population take massive steps toward equality, has been around for five decades.
However, groups like Straight Pride or All Lives Matter are short-lived because they aren't fighting for their rights, but trying to hold others down.
popular