More
Justin Baldoni, of The CW's 'Jane the Virgin,' is on a mission to change masculinity.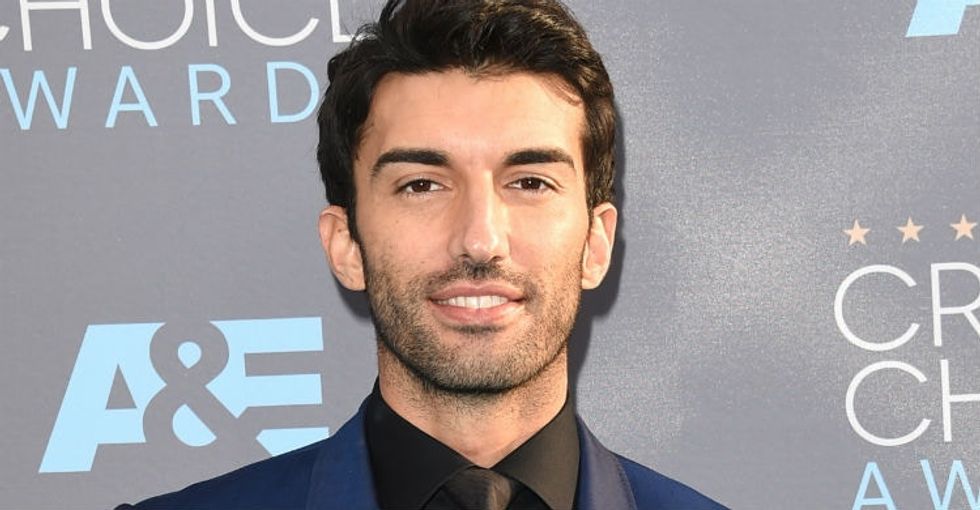 Photo by Jason Merritt/Getty Images.
The reflection staring back at Justin Baldoni in the mirror looks, to him, quite a bit different from the svelte leading man his fans see on television every week.
He sees a version of himself that's about two decades younger.
---
That person is gangly, awkward, and pimply, Baldoni says, complete with crooked teeth hiding behind rows of braces and a large nose that draws taunts from bullies from near and far.
"I didn't have a date for homecoming because nobody wanted to go with me," Baldoni recalls of his teen years. "That's who I still struggle with when I look in the mirror."
"I struggle with massive insecurities about my body," says Baldoni, who plays Rafael on The CW's "Jane the Virgin." "And I'm a guy who takes my shirt off on TV every week."
Baldoni believes he has a form of body dysmorphia. And he's certainly not alone.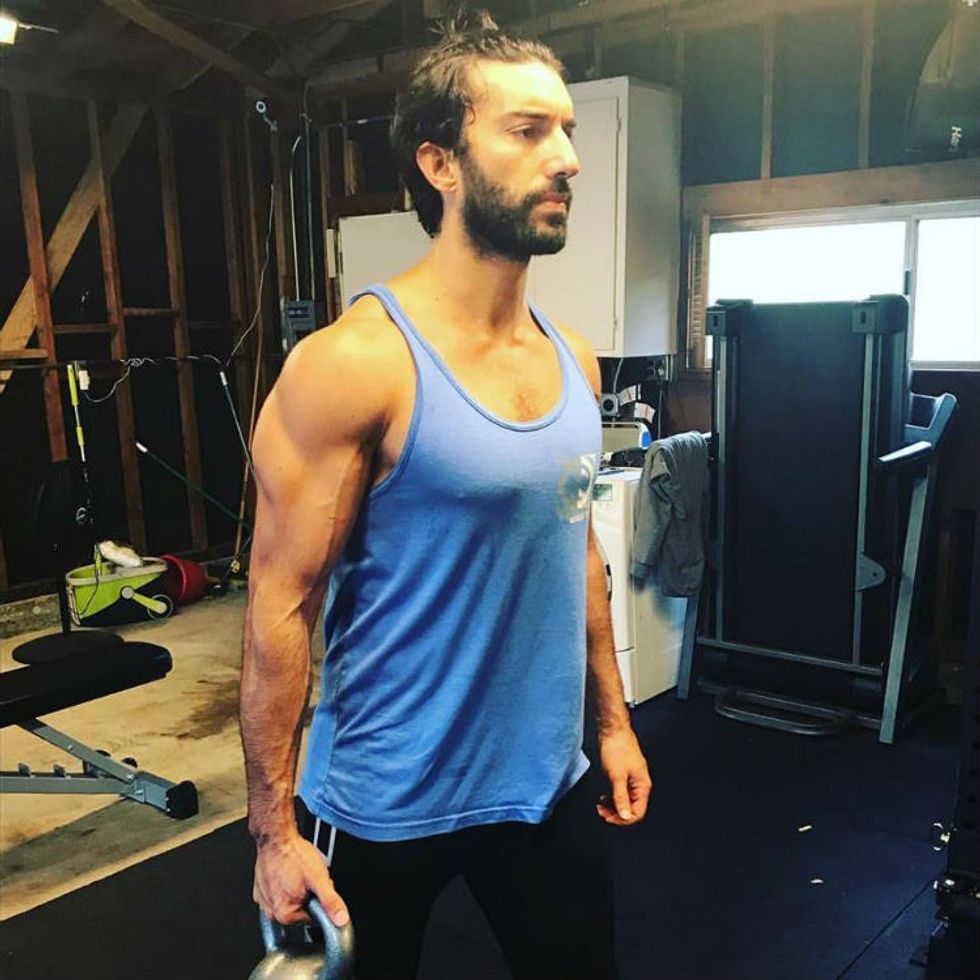 "As a man I can tell you right now that I struggle with my own body image & there are infinite layers that contribute to why," Baldoni writes in his caption on Facebook. Photo courtesy of Justin Baldoni.
Forms of mental illness in men stemming from body image have become an increasingly concerning issue.
It's a topic the actor thinks people aren't talking about enough, and research suggests he's right. Studies show that men with body image issues are far more likely to go undiagnosed and untreated than their female counterparts, because men are more likely to suffer in silence and hold off on accessing help out of shame.
Even though it may be scary, Baldoni knows he's only able to take his shirt off for his day job because of the various forms of privilege he's benefitted from (namely, that his current body conforms to society's standards of male attractiveness). So he's certainly not asking for a pity party in honor of his insecurities.
He is asking, however, for change on behalf of men everywhere.
That's why Baldoni is launching a new talk show focused on exploring what it means to be a man in 2017.
"I believe we need to adjust and change the way we see masculinity," Baldoni notes. "Who says masculinity has to be forceful and powerful and strong? What if it looks different? What if it looks different for every single man?"
[rebelmouse-image 19528283 dam="1" original_size="750x938" caption=""[Men] need to be able to not judge each other," Baldoni wrote on Facebook. "To hold whatever is happening in our lives, to cry together, and listen to each other." Photo courtesy of Justin Baldoni." expand=1]"[Men] need to be able to not judge each other," Baldoni wrote on Facebook. "To hold whatever is happening in our lives, to cry together, and listen to each other." Photo courtesy of Justin Baldoni.
The first two episodes of the series (the title has yet to be determined) are in production this summer by Baldoni's media company, Wayfarer, and will live on an online platform that will also provide viewers with helpful resources on a number of issues affecting men.
Experts and celebrity guests — including actor and activist Matt McGorry ("How to Get Away with Murder") — will help Baldoni parse through a wide variety of topics that affect men of all colors, backgrounds, sexual orientations, and identities, Baldoni explains.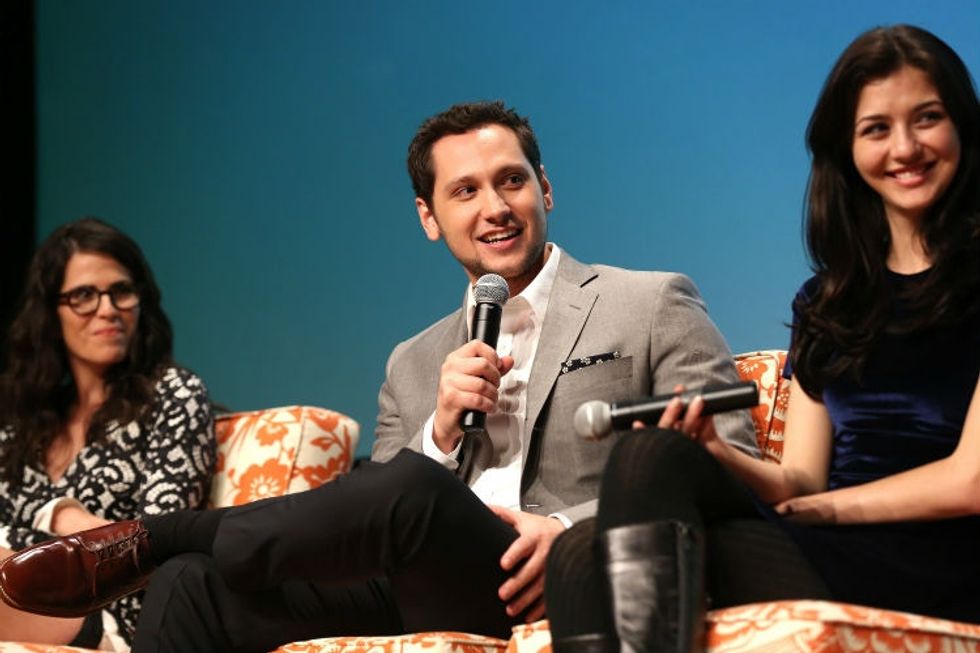 Actor Matt McGorry will be in the first two episodes of Baldoni's new talk show. Photo by Catrina Maxwell/Getty Images for SCAD.
The second episode of the show will be dedicated to body image.
"I'm absolutely nervous," Baldoni admits of the deeply personal endeavor. "I'm also terrified. I'm insecure. I feel very vulnerable and exposed at the same time."
Baldoni began thinking about creating a talk show for men after his marriage proposal video went viral in 2013.
The video, which has amassed a whopping 11 million views to date, was originally meant to be shared with only wedding guests, the actor says. But he and his wife, Emily, reluctantly posted it to YouTube after being egged on by family and friends.
The 27-minute long proposal shows Emily reacting to an epic video pre-recorded by Baldoni — one involving boy band performances and a car chase — as she waits, shocked, in the restaurant where the couple went on their first date. In the video's conclusion, Baldoni appears in the restaurant to ask for Emily's hand in marriage.
Reactions to the proposal online were ... mixed.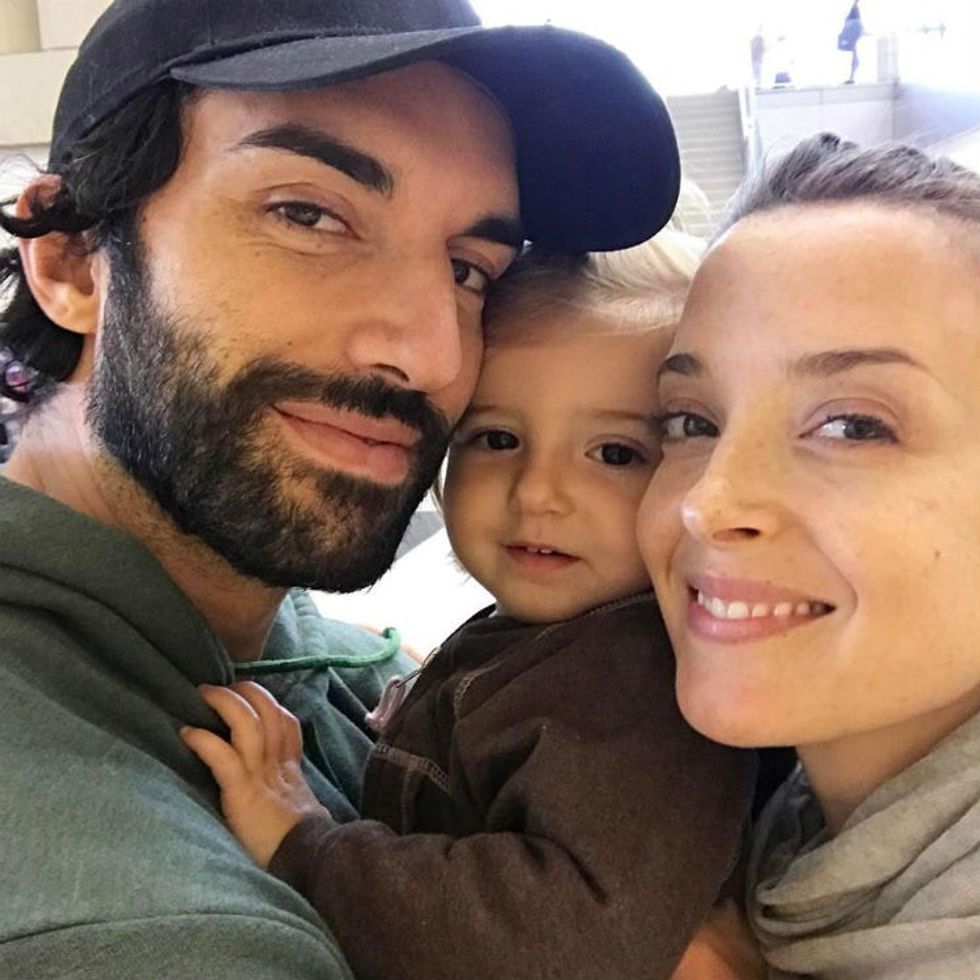 Baldoni with his wife and daughter. "My personal truth is that I get pretty damn sad when my girls leave," he wrote on Facebook. "Even if it's just for a week and a half." Photo courtesy of Justin Baldoni.
Women, overall, seemed to appreciate it, Baldoni recalls. They shared it with friends and excitedly congratulated the couple. Men, on the other hand, tended to either attack or mock Baldoni for the dramatic gesture. At least, that's what they did publicly.
Privately, men complimented Baldoni, emailing him their thoughts and asking for advice in proposing to their own partners. Baldoni remembers an intimidatingly buff stranger at the gym who quietly approached him, admitting the video made him cry.
"I realized we have an issue," Baldoni says. "Men are embarrassed to share their feelings."
That embarrassment — along with a lengthy list of other negative effects sprouting from traditionally held gender roles — has far-reaching ramifications.
"There are too many signs that our world is overrun by the wrong kind of masculinity," Baldoni says.
Suicidal men are literally dying for somebody to talk to. Substance abuse is silently affecting the lives of men refusing to reach out for help.
In Washington, bravado seems to trump substance.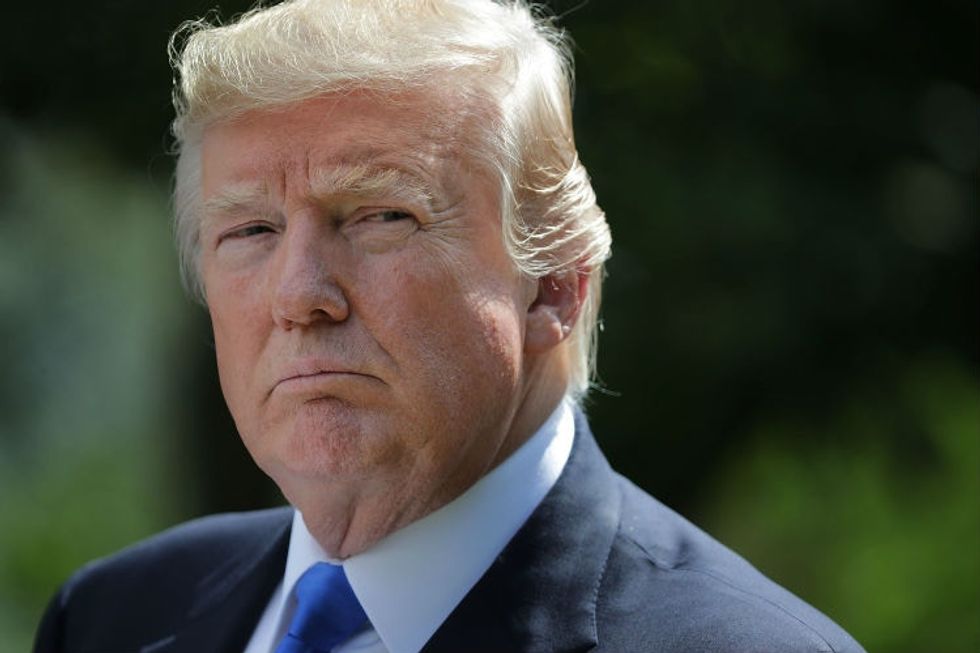 "Trump and other men like him exist everywhere," Baldoni says. "And they've always existed." Photo by Chip Somodevilla/Getty Images.
More men need to know it's OK to be open, to be vulnerable, to be flawed.
"Maybe you're someone who's struggling with depression, or maybe your career isn't going as well as you want it to ... maybe you're addicted to porn and you're so embarrassed about it that you've never talked to anybody," Baldoni says. "Reach out and start to build strong male relationships that don't focus on what game is on or what NBA player is killing it."
"At some point we have to learn how to open up because we need each other," Baldoni notes. "Masculinity doesn't have to be as lonely as it is."
To keep tabs on Baldoni's new talk show, which is slated to premiere in late fall 2017, follow him on Instagram and Facebook.