Connections Academy
True
Teens of today live in a totally different world than the one their parents grew up in. Not only do young people have access to technologies that previous generations barely dreamed of, but they're also constantly bombarded with information from the news and media.

Today's youth are also living through a pandemic that has created an extra layer of difficulty to an already challenging age—and it has taken a toll on their mental health.
According to Mental Health America, nearly 14% of youths ages 12 to 17 experienced a major depressive episode in the past year. In a September 2020 survey of high schoolers by Active Minds, nearly 75% of respondents reported an increase in stress, anxiety, sadness and isolation during the first six months of the pandemic. And in a Pearson and Connections Academy survey of US parents, 66% said their child felt anxious or depressed during the pandemic.
However, the pandemic has only exacerbated youth mental health issues that were already happening before COVID-19.
"Many people associate our current mental health crisis with the pandemic," says Morgan Champion, the head of counseling services for Connections Academy Schools. "In fact, the youth mental health crisis was alarming and on the rise before the pandemic. Today, the alarm continues."
Mental Health America reports that most people who take the organization's online mental health screening test are under 18. According to the American Psychiatric Association, about 50% of cases of mental illness begin by age 14, and the tendency to develop depression and bipolar disorder nearly doubles from age 13 to age 18.
Such statistics demand attention and action, which is why experts say destigmatizing mental health and talking about it is so important.
"Today we see more people talking about mental health openly—in a way that is more akin to physical health," says Champion. She adds that mental health support for young people is being more widely promoted, and kids and teens have greater access to resources, from their school counselors to support organizations.
Parents are encouraging this support too. More than two-thirds of American parents believe children should be introduced to wellness and mental health awareness in primary or middle school, according to a new Global Learner Survey from Pearson. Since early intervention is key to helping young people manage their mental health, these changes are positive developments.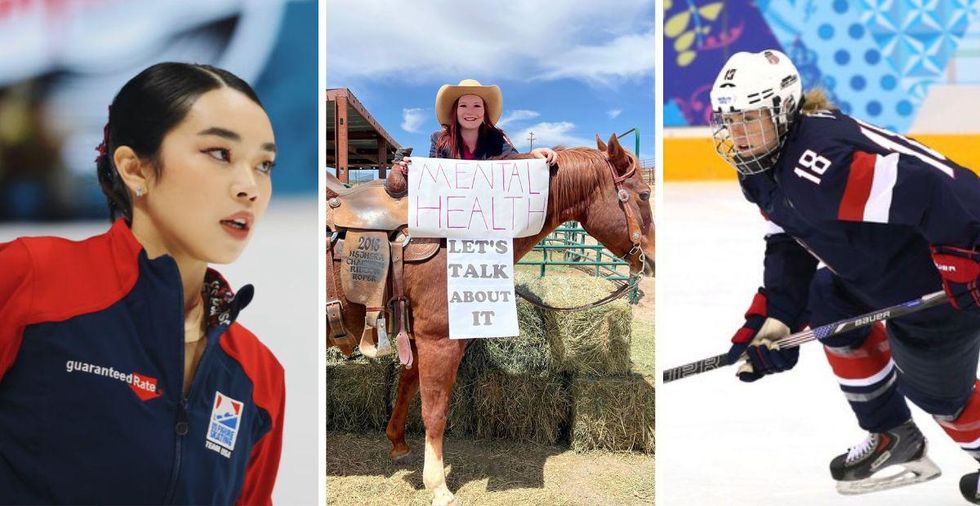 In addition, more and more people in the public eye are sharing their personal mental health experiences as well, which can help inspire young people to open up and seek out the help they need.
"Many celebrities and influencers have come forward with their mental health stories, which can normalize the conversation, and is helpful for younger generations to understand that they are not alone," says Champion.
That's one reason Connections Academy is hosting a series of virtual Emotional Fitness talks with Olympic athletes who are alums of the virtual school during Mental Health Awareness Month. These talks are free, open to the public and include relatable topics such as success and failure, leadership, empowerment and authenticity. For instance, on May 18, Olympic women's ice hockey player Lyndsey Fry will speak on finding your own style of confidence, and on May 25, Olympic figure skater Karen Chen will share advice for keeping calm under pressure.
Family support plays a huge role as well. While the pandemic has been challenging in and of itself, it has actually helped families identify mental health struggles as they've spent more time together.
"Parents gained greater insight into their child's behavior and moods, how they interact with peers and teachers," says Champion. "For many parents this was eye-opening and revealed the need to focus on mental health."
It's not always easy to tell if a teen is dealing with normal emotional ups and downs or if they need extra help, but there are some warning signs caregivers can watch for.
"Being attuned to your child's mood, affect, school performance, and relationships with friends or significant others can help you gauge whether you are dealing with teenage normalcy or something bigger," Champion says. Depending on a child's age, parents should be looking for the following signs, which may be co-occurring:
Perpetual depressed mood
Rocky friend relationships
Spending a lot of time alone and refusing to participate in daily activities
Too much or not enough sleep
Not eating a regular diet
Intense fear or anxiety
Drug or alcohol use
Suicidal ideation (talking about being a burden or giving away possessions) or plans
"You know your child best. If you are unsure if your child is having a rough time or if there is something more serious going on, it is best to reach out to a counselor or doctor to be sure," says Champion. "Always err on the side of caution."
If it appears a student does need help, what next? Talking to a school counselor can be a good first step, since they are easily accessible and free to visit.
"Just getting students to talk about their struggles with a trusted adult is huge," says Champion. "When I meet with students and/or their families, I work with them to help identify the issues they are facing. I listen and recommend next steps, such as referring families to mental health resources in their local areas."
Just as parents would take their child to a doctor for a sprained ankle, they shouldn't be afraid to ask for help if a child is struggling mentally or emotionally. Parents also need to realize that they may not be able to help them on their own, no matter how much love and support they have to offer.
"That is a hard concept to accept when parents can feel solely responsible for their child's welfare and well-being," says Champion. "The adage still stands—it takes a village to raise a child. Be sure you are surrounding yourself and your child with a great support system to help tackle life's many challenges."
That village can include everyone from close family to local community members to public figures. Helping young people learn to manage their mental health is a gift we can all contribute to, one that will serve them for a lifetime.
Join athletes, Connections Academy and Upworthy for candid discussions on mental health during Mental Health Awareness Month. Learn more and find resources here.
As a Gen X parent, it's weird to try to describe my childhood to my kids. We're the generation that didn't grow up with the internet or cell phones, yet are raising kids who have never known a world without them. That difference alone is enough to make our 1980s childhoods feel like a completely different planet, but there are other differences too that often get overlooked.
How do you explain the transition from the brown and orange aesthetic of the '70s to the dusty rose and forest green carpeting of the '80s if you didn't experience it? When I tell my kids there were smoking sections in restaurants and airplanes and ashtrays everywhere, they look horrified (and rightfully so—what were we thinking?!). The fact that we went places with our friends with no quick way to get ahold of our parents? Unbelievable.
One day I described the process of listening to the radio, waiting for my favorite song to come on so I could record it on my tape recorder, and how mad I would get when the deejay talked through the intro of the song until the lyrics started. My Spotify-spoiled kids didn't even understand half of the words I said.
And '80s hair? With the feathered bangs and the terrible perms and the crunchy hair spray? What, why and how?
In some ways, that era was simpler. We weren't bombarded with information and opinions about every issue in the world 24/7 and had the freedom to just be kids. At the same time, I personally have no desire to go back. (My straight, fine hair was not made for the '80s.)
However, one dad is bringing full-on nostalgia to millions of Gen Xers with a viral TikTok he made about sharing his '80s childhood with his 8-year-old son. Justin H (who goes by @shadyraro on TikTok) included photos and descriptions of things all '80s kids will recognize and it's like hopping into a time machine.
Like, the unwound cassette tape struggle was genuinely real. Grab a pencil, start winding and pray. "The A-Team"? Totally. Streetlight curfew? Yep.
@shadyraro

The 80's was the best decade #80s #80skid #oldschool #genx #parents #funny #family #foryou #fyp
The video has been viewed more than 10 million times this week, with commenters neck-deep in their feelings about their childhood flashbacks.
"I miss them days, technology has taken away so much," wrote one commenter.
"Miss the 80s era but unfortunately us kids were the remote control," wrote another. (So true. Changing the channel was exercise.)
"The 80's cannot be explained...it was an experience...a complete vibe all its own...and if you missed it I'm so sorry for you!" wrote another.
And if you feel like there were some things missing, no worries. There's a Part Two:
@shadyraro

The 80's was the best decade Part 2 #80s #80skid #oldschool #genx #parents #funny #family #foryou #fyp
The ashtray in the back of the car seat! The phone booth! The Walkman! The overhead projector. So my childhood. I can practically taste the Tang and Twinkies.
Kids today will never know the ugly beauty of growing up in the '80s, but someday they'll have their own tales to tell their kids that they'll look on with fondness and nostalgia. "We used to spend hours building things with little digital blocks in Minecraft…"
There's never been anything like the '80s and there never will be again. Thanks for the trip down memory lane, Justin H.
Pets
Ginger's family never gave up hope, and it payed off.
A sweet pup is finally home with her family where she belongs after way too many years away.
Ginger the dog was stolen from her family back in 2017. Her owner, Barney Lattimore of Janesville, Wisconsin, never gave up the hope that his sweet girl was out there somewhere. Whenever he'd see a dog listed on a rescue website or humane society website that even remotely resembled his Ginger, he would inquire about the dog. Unfortunately, it was never her. You'd think that after a while he would stop, but if he had, he likely wouldn't have gotten the sweetest reunion.
On May 1, the City of Beloit Police Department posted on Facebook about a dog they had found, asking people to call if they had any information. Lattimore saw the post and reached out, believing that this dog could finally be his long lost Ginger. He learned that the pup had been transferred to the Humane Society of Southern Wisconsin for care while they searched for the animal's owner.
So Barney Lattimore rushed to the Humane Society to see if this was indeed his Ginger. I can only imagine how anxiously excited he must have been at the potential reunion. Five years is a long time, especially for a dog. There is no way to know anything about what had happened to her while she was out of his care. Would she still be the same dog she was when she disappeared? Lattimore didn't care, he just wanted his pet back.
When he arrived at the Humane Society, his prayers were answered. There before him was his baby girl Ginger, after all those years. As soon as they saw each other, it was like no time had passed at all; both of them were just so darn happy to see each other.
The Humane Society of Southern Wisconsin posted about the reunion on its Facebook page.
"Over 5 years ago, Ginger was stolen from her owner, Barney. Ginger's family tried everything they could to get her back. They continuously searched for her and every time they saw a dog that resembled her in the slightest, it would ignite a spark of hope that maybe it was her. Throughout the years, they proceeded to adopt new dogs and even welcomed another child into their home, but they never forgot about Ginger," it wrote.
"Recently, the Beloit Police Department posted on Facebook about a stray female dog, in hopes of reuniting her with her owner. She was eventually brought to HSSW, where we could search as well. After a few days, we received a call from Barney, thinking it was Ginger! When he arrived, staff led Barney to the back of the shelter to make sure it was her. As soon as they saw each other, there was no doubt. The excitement on the family's faces, as well as Ginger's, when they were finally reunited was beyond memorable. Ginger is back with her true family and now has the opportunity to meet her new "pack" members and make up for lost time!"
Lattimore replied to the post, saying "I thank everyone. prayers do get answered she's back home doing well. Thanks again for the love and support. All you people are so amazing and love you all."
Sometimes, never giving up can have a really happy reward. Barney and Ginger are back together, and this is proof that nothing comes between the bond of a dog parent and their pup.
Get stories worth sharing delivered to your inbox
Get stories worth sharing delivered to your inbox