Family
Jogger and her dog bring unexpected comfort to grieving 6-year-old at her father's funeral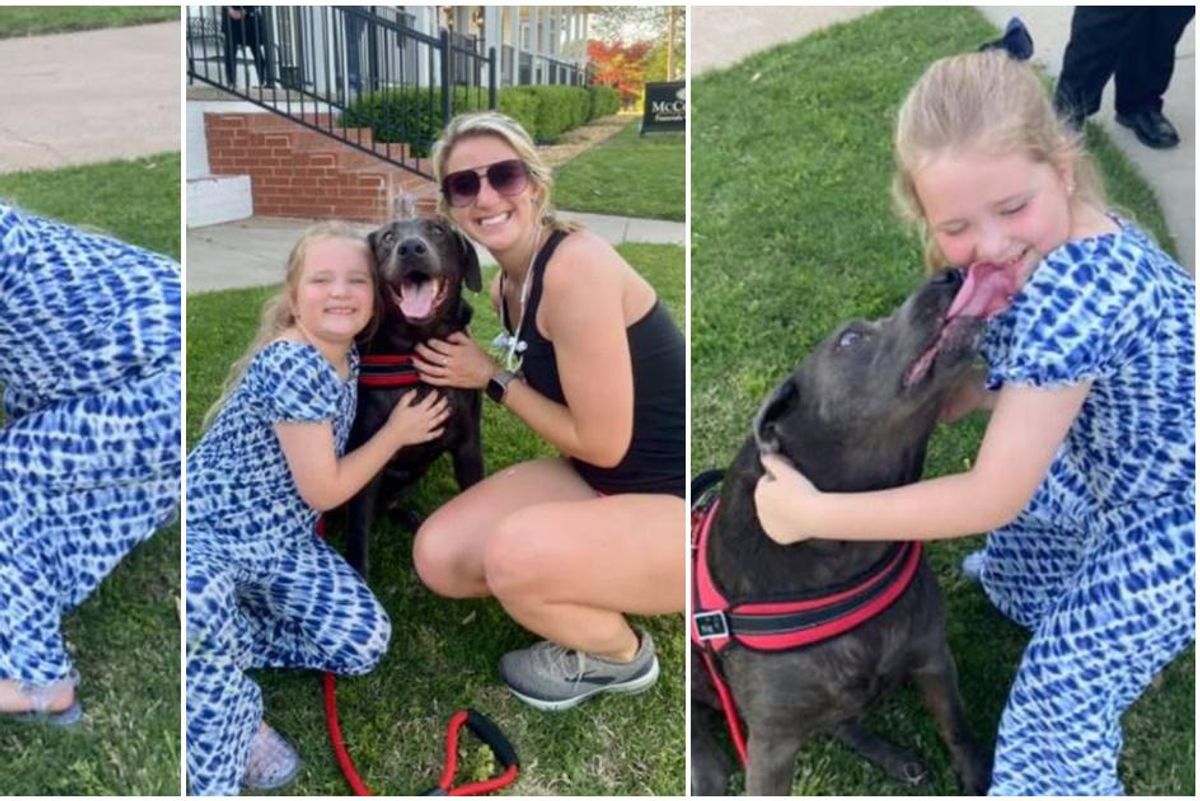 via Emily Bierman / Facebook
Dogs can be a tremendous help to people experiencing grief. They provide unconditional love, always listen, and are so attuned to feelings they're known to comfort people when they're feeling sad.

Six-year-old Raelynn Nast must have known this when she reached out to a stranger and her dog during one of the hardest moments of her young life.
Emily Beineman of Arkansas was jogging with her dog, Blue, recently when she heard a young voice call to her from the steps of a funeral home. "May I pet your puppy?" Raelynn asked. Emily said she could as long as she asked her parents first.
---
However, Raelynn said that her parents weren't able to give her permission at that moment. "Oh my parents aren't out here," Emily recounted in a Facebook post, "my mom's inside and my daddy died... we are at his funeral."
Raelynn's father, Davey, had recently died of colon cancer at the age of 41. Before Emily could say a word, Blue walked up to Raelynn and the young girl wrapped her arms around the dog and wouldn't let go.
The young girl asked Emily if she would like to "come in and meet my dad."

Emily said that she would as long as it was ok that she was in her jogging attire. "Keep in mind I had just got done running 3 miles," she wrote.
"Everyone was kind of looking around like, 'Where did she come from?' And she came in right next to Rae like they'd known each other for so long. There was that connection there," Raelynn's mother, Lacey, told CBS.
Raelynn's mother wasn't shocked that Raelynn invited a stranger to the visitation because she's a "daddy's girl" who "always wanted to introduce her dad to everybody."
Raelynn introduced Emily to her friends and family at the funeral home and then asked if she could stay a few more minutes so she could pet Blue. Raelynn's aunt took the opportunity to walk up to Emily and whisper in her ear.
"I think God led you and Blue over here today for a reason," she said. "Blue's love and gentleness that she has showed her has touched our hearts."
Jogger with dog offers comfort to grieving child during father's funeralwww.youtube.com
Emily believes Blue knew the young girl was experiencing tremendous grief. "I've always referred to Blue as my 'gentle giant' because I've always felt that she could sense when someone is sad/upset/etc. and has this overwhelming calmness about her that is indescribable," she wrote.

"This little girl will probably never realize how special today was for me but it was exactly what I needed," Emily added. "I'm a strong believer that everything happens for a reason. And I truly believe we were meant to meet this little girl."
When Raelynn was asked how she bonded with Emily so quickly she responded, "She helped me feel better."
Raelynn may have lost a father, but she now has a new friend. She and Emily met up again in late April and have promised to "stay friends forever."