YouTubers joined together to combat climate change by planting 20 million trees
10.31.19
Humanity has a lot of work to do to reverse the environmental damage that's led to climate change.

Obviously, the best thing to do is to reduce our collective carbon footprint, but there are things we can do to remove carbon currently in the atmosphere. One of the best ways is by planting trees.
"Through the natural process of photosynthesis, trees absorb CO2 and other pollutant particulates, then store the carbon and emit pure oxygen," the Arbor Day Foundation says on its website.
A tree can absorb as much as 48 pounds of carbon dioxide per year and can sequester one ton of carbon dioxide by the time it reaches 40 years old. So although it would take about ten trillion trees to completely reverse the effects of climate change, every little bit helps.
YouTuber Jimmy Donaldson, known as MrBeast, was recently challenged by his fans on a Reddit forum to plant 20 million trees to celebrate reaching 20 million subscribers on his channel, and it looks like it may become a reality.
Donaldson is best known as YouTube's most popular philanthropist, giving away over a million dollars to random strangers on the media platform. He's also performed random stunts such as riding from North Carolina to L.A. in the same Uber and paying people $10,000 to eat ghost peppers.
Over 600 YouTubers and social media influencers have joined Donaldson to launch the #TeamTrees project that he hopes will raise over $20 million by the end of 2019 and plant 20 million trees.
All donations from the project go directly to the to the Arbor Day Foundation.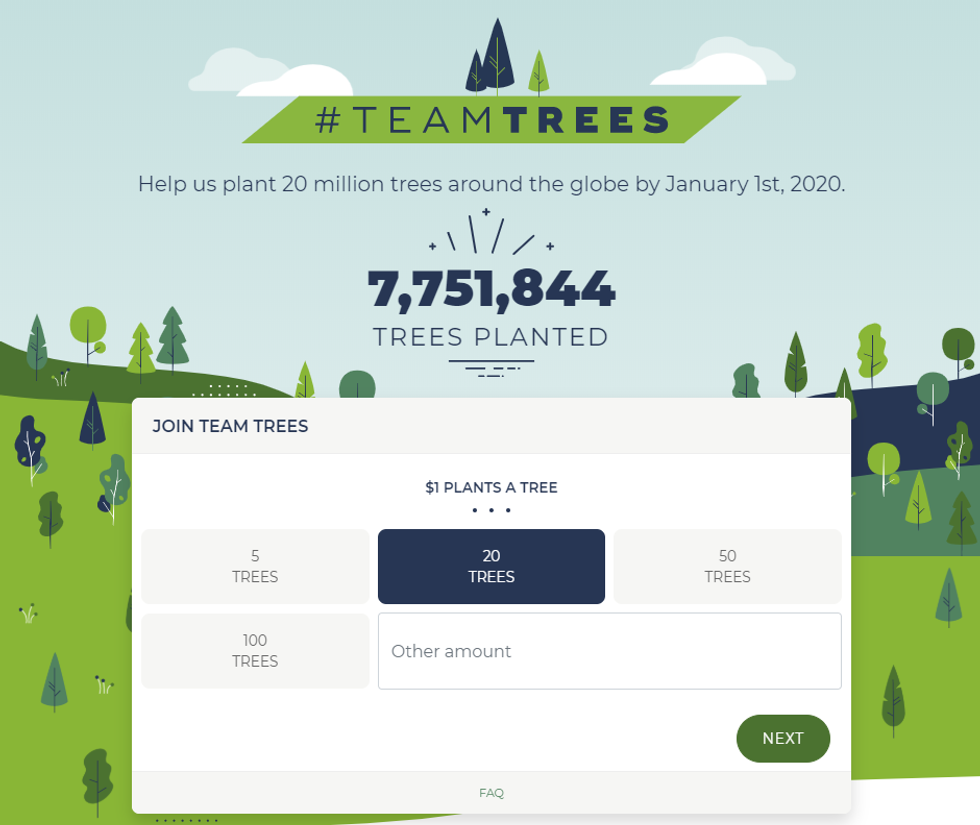 via Team Trees
"Recently, lots of not so great things have been happening to forests. People keep making fun of our generation for retweet activism and not actually doing something, which is why we created TeamTrees.org," Donaldson said in a statement.
In the first six days the project has brought in over $11 million.
SpaceEx CEO Elon Musk made a massive $1 million donation.
He was quickly outdone by one dollar by the founder and CEO of Shopify, Tobi Lutke.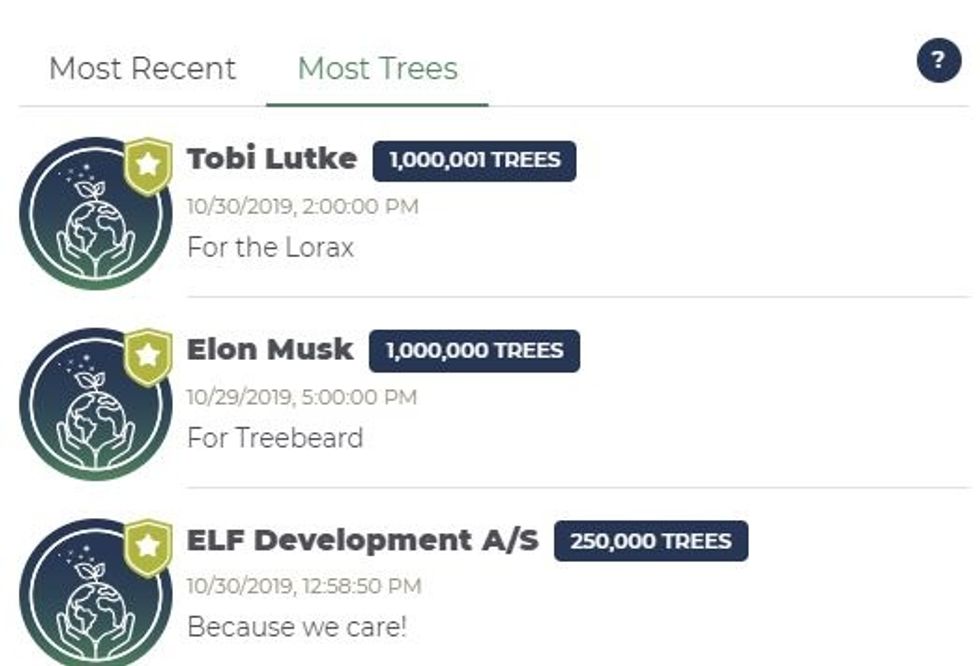 via Team Trees
While 20 million trees won't reverse the effects of climate change the campaign by the YouTubers is a great example of what can happen when like-minded people with platforms pull their supporters together for a common cause.

It's also a great way to expose younger people to the benefits of tree-planting.
"Just to be clear, we all realize 20 million trees won't fix climate change. But at the end of the day 20 million more trees is better than 0! We want to take action because doing nothing is how we got here," Donaldson said.
popular