Sponsored
What will you create on your social media break? Share it at #MyVisionMySight.
True
If you've always lived in a world with social media, it can be tough to truly understand how it affects your life. One of the best ways to grasp its impact is to take a break to see what life is like without being tethered to your phone and distracted by a constant stream of notifications.

Knowing when to disconnect is becoming increasingly important as younger people are becoming aware of the adverse effects screen time can have on their eyes. According to Eyesafe Nielsen, adults are now spending 13-plus hours a day on their digital devices, a 35% increase from 2019.1. Many of us now spend more time staring at screens on a given day than we do sleeping which can impact our eye health.
Normally, you blink around 15 times per minute, however, focusing your eyes on computer screens or other digital displays have been shown to reduce your blink rate by up to 60%.2 Reduced blinking can destabilize your eyes' tear film, causing dry, tired eyes and blurred vision.3
ACUVUEhas been encouraging people to take time off social media and use their newfound time to see their vision, whether that's becoming a makeup influencer, focusing on athletics or embracing their unique talents.
Upworthy caught up with influencer, YouTube star and contact lens wearer Amber Alexander to talk about how she balances her social media use. Recently, she took a social media break while visiting her sister.
"I was able to slow down time and take in each moment," she told Upworthy. "Being on social media 24/7 always puts me in a very overwhelmed and anxious state of mind, so it was so refreshing to put my phone down and see life from a clearer perspective. Every moment felt more meaningful."
"As soon as I put my phone away, I was able to really connect with my family and cherish our time together. I saw how my peace of mind improved when I took a break from social media," she continued.
Alexander understands how social media can have a huge effect on her self-esteem and productivity.
"Scrolling through social media often leads people to compare their own lives, achievements, and physical appearance to people they see online," she told Upworthy. "It is unrealistic and discouraging to see so many attractive, successful people online 24/7. Also, being on social media takes up so much time from our day that could be used socializing with real people, going outside, and working towards meaningful goals."
ACUVUE is challenging young people to take social media breaks to pursue their purposes, visions, missions, and dreams through its Where Vision Meets Sight campaign. But the campaign from ACUVUE is about a lot more than just personal development. They'd like you to inspire others by sharing what you've done during your social media break by using #MyVisionMySight.
Get inspired and learn more on ACUVUE's Where Vision Meets Sight page.
1COVID-19: Screen Time spikes to over 13 hours per day according to Eyesafe Nielsen estimates, published 3/28/20, https://eyesafe.com/covid-19-screen-time-spike-to-....

Joy
Samantha Frye, the newest owner of Rosalie's restaurant, is proving there's more than one way to invest in your future.
Canva
Eighteen year old Samantha Frye has traded college life for entrepreneurship, and she has no regrets.
Frye began working at Rosalie's Restaurant in Strasburg, Ohio at 16 as a dishwasher, working up the ranks as a kitchen prep, server, then line cook. All while working a second job, sometimes third job.
After graduating high school, Frye started college at Ohio State with plans of studying business or environmental engineering. But when she came back to work a shift at Rosalie's for winter break, an opportunity arose—the owners had planned to sell the
restaurant.
"I was thinking that maybe [buying] was something I wanted to do," she told News 5 Cleveland. "I had savings because I was saving for college, so I had quite a bit of money saved away. And I was like, I could possibly do this."
Frye acted on that gut feeling, and used her college funds to buy Rosalie's. Now she spends every day at her new business, either in the kitchen, on the floor or in the office meeting with sales reps.
This Ohio diner is under new ownership: an 18-year-old who started out as a dishwasher and is carrying on a legacy of the past. https://t.co/7VShD0O6n0

— USA TODAY (@USATODAY) May 13, 2023
Though Fyre's mother, Brandi Beitzel, confessed to USA Today that she wasn't initially "on board" with her daughter abandoning college plans, over time she became very "proud" of her for forging her own path, and applauded her "drive and ambition."
That sentiment is echoed both by Rosalie's regulars and staff, who are amazing at the young woman's drive and confidence.
"I just really think she's a great example of a young lady that is following her dreams and doing what she loves," said Leanna Gardner, an employee.
It's no secret that there are significantly less students attending college—down by about a million since the start of the pandemic. And while there are no doubt potential long term collective consequences to that, with exorbitantly high student loan rates, it's easy to see why young adults would avoid massive debt for careers that don't require a college degree.
Luckily, there are more efforts to make college an affordable option being made nationwide, like offering a free two years worth of college to graduating students.

And as Frye is proving by example—not going to college is certainly not a death sentence for one's future. There are many ways to plant seeds for success. Honestly, college or no college, no matter which path is taken, there will likely be more uncertainty than there are guarantees. Perhaps the best bet then is trust those pings of intuition.
"You don't need college to make a decent living, and I think that's what a lot of people think nowadays," Frye attests. "Follow your instinct, honestly. If it feels right, just do it."
Joy
The boyfriend's laugh is incredible.
Family
Why are expectations for mothers and fathers so different?
Get stories worth sharing delivered to your inbox
Community
These people stopped what they were doing to send their high school teacher off with a beautiful sound.
Family
"Ask your parent questions. They might be very healing."
Pop Culture
Right now, new users can use Coupon Code 'UPWORTHY20' for 20-percent off Bombas Women's Ankle Socks.
Editor's Note: Upworthy earns a percentage of revenue from products sold in this article.

In the grand scheme of things, socks seldom take center stage in our daily wardrobe decisions. They're usually tucked away, hidden under shoes and pants, quietly supporting us through our day. Yet, these unsung heroes make a considerable impact on our comfort, productivity, and overall well-being. Think about it - a poorly-fitted sock can turn a simple walk into an uncomfortable trek, while a high-quality, comfortable pair can feel like a warm, loving hug to your feet. In their own understated way, socks are the foundation of our daily attire.
Now, imagine a pair of socks that offered premium comfort and exceptional quality and contributed to a greater cause. That's the idea behind Bombas, a company that has taken the humble sock and elevated it into a product that embodies care, community, and compassion.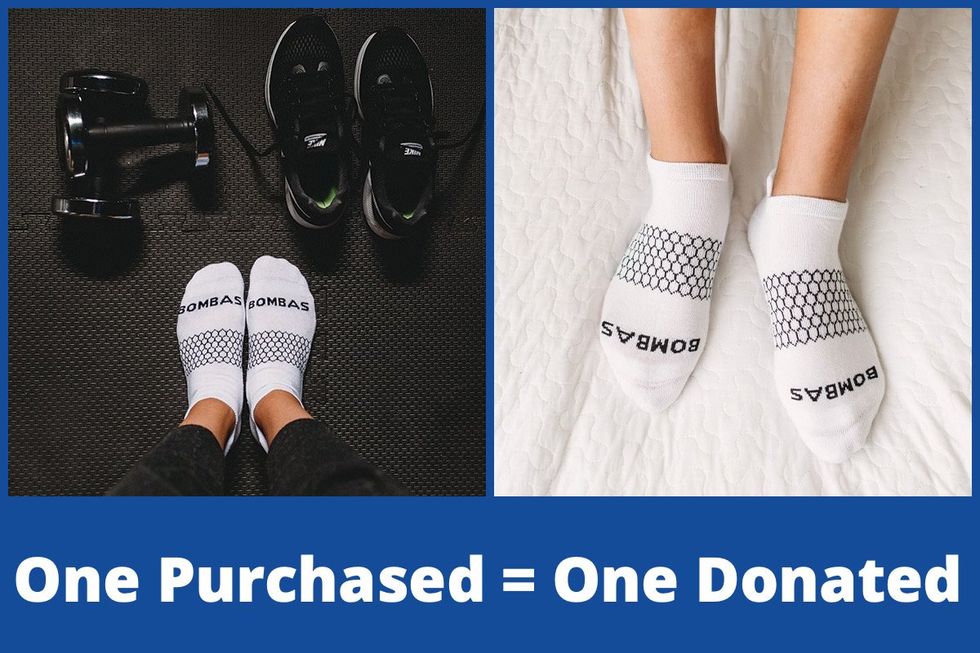 Bombas is all about crafting the best socks in history, but their mission doesn't stop at your sock drawer. With their One Purchased = One Donated™ initiative, they've turned every purchase into an act of kindness, making you a part of their mission to support the homeless community. For every pack of Bombas socks you buy, they donate a pack to someone in need, proving that even something as simple as socks can make a world of difference. Step into a pair of Bombas socks, and you're stepping into a movement that's changing lives, one pair at a time. And right now, new users can use coupon code "UPWORTHY20" for 20-percent off.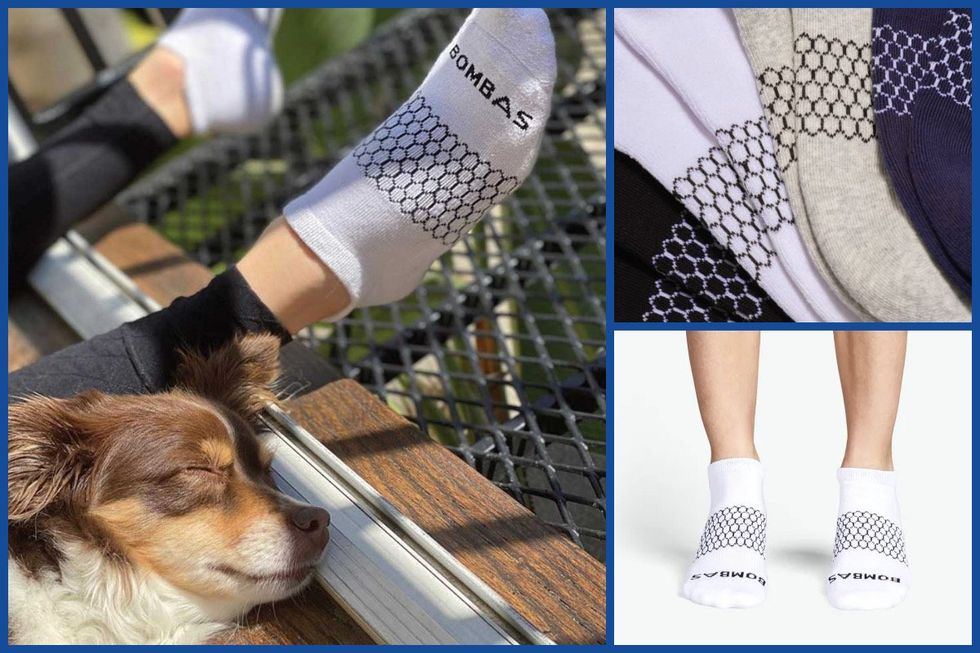 What's in a sock, you ask? Well, if it's a Bombas sock, a lot more than meets the eye. Each Women's Solids Ankle 4-Pack is packed with features that elevate your everyday sock-wearing experience to new heights of comfort.

Let's begin with the Honeycomb Arch Support System - an innovative design element that cradles your midfoot like a firm, comforting hug. It's the perfect balance of support and softness, making each step feel a little more grounded.

Then there's the Seamless Toe. Say goodbye to that annoying little bump that runs across the toes of most socks. Bombas' unique knit stitch makes it a thing of the past. And we can't forget about the Cushioned Footbed. It's not about making the sock thick and unwieldy but providing the right amount of support where you need it. These aren't your everyday sock features, they're what set Bombas apart.

Bombas isn't just your run-of-the-mill sock company. They're pioneers in the industry, meticulously crafting each sock with a commitment to quality that's second to none. These aren't your ordinary, wear-once-and-wash, hope-they-last-a-season type of socks. Bombas socks are meticulously engineered from high-quality yarns, designed to withstand the test of time and the rigors of daily use. This combination of innovation, material choice, and attention to detail all contribute to the longevity and durability of Bombas socks.
This dedication to quality hasn't gone unnoticed by customers. With a resounding 4.8-star rating from over 42,000 reviews, it's clear that Bombas is doing something right. These reviews highlight customers' consistent satisfaction in Bombas' quality, fit, and design.

But don't just take our word for it. The thousands of glowing reviews speak volumes about the comfort Bombas delivers.

Virginia T., a satisfied customer, keeps her review short and sweet with a heartfelt "Love them."

Abby L. echoes the sentiment, noting how the socks fit well and are very comfortable.

And then there's Lydia A., who is buying them not only for herself but for her entire family.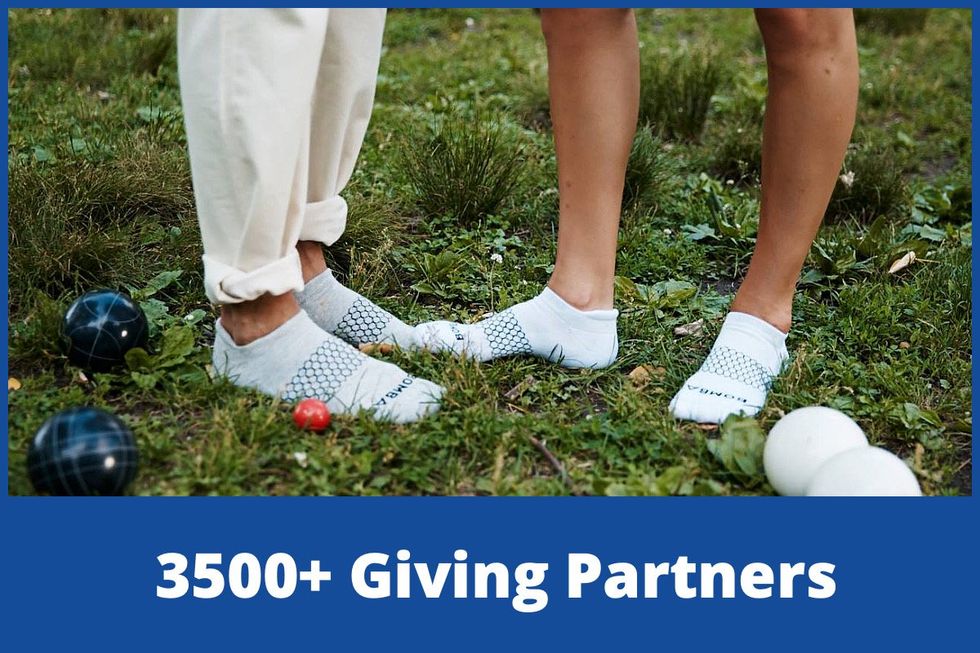 Aside from quaint and comfort, what sets Bombas apart from other sock companies is their unwavering dedication to giving back. With every pair of socks purchased, they pledge to donate a pair to someone in need, a testament to their One Purchased = One Donated™ initiative. This isn't just a feel-good catchphrase - it's a promise embedded in their business model, a commitment to making the world a bit better, one pair of socks at a time. It's a beautiful cycle: you get to enjoy the unparalleled comfort and quality of Bombas socks, and simultaneously, you're helping to provide the same level of comfort to someone less fortunate.
The impact of this initiative is nothing short of astounding. Bombas has donated over 100 million items to those in need, which continues to rise with each purchase. This noble mission is made possible by their network of over 3,500 Giving Partners, who ensure these donations reach the people who need them the most. From overnight shelters and transitional living facilities to rehabilitation centers and outreach teams, Bombas' generosity extends far and wide. So, when you pull on a pair of Bombas socks, you're not just stepping into comfort and quality; you're stepping into a community of giving that spans across the nation.

Bombas' Women's Solids Ankle 4-Pack socks aren't just about quality, comfort, or style, they're about making a difference. These socks offer a unique blend of superior comfort features, outstanding craftsmanship, and a philanthropic mission that truly sets them apart.
So, next time you're shopping for socks, choose Bombas. Not only will you be treating your feet to the comfort they deserve, but you'll also be playing a part in a mission that changes lives. It's not just a purchase; it's a step towards making the world a little bit better, one pair of socks at a time.

And remember, right now, new users can use coupon code "UPWORTHY20" for 20-percent off.
Get stories worth sharing delivered to your inbox